6 Epic Day Trips from Phoenix & What to Do, See, Eat While There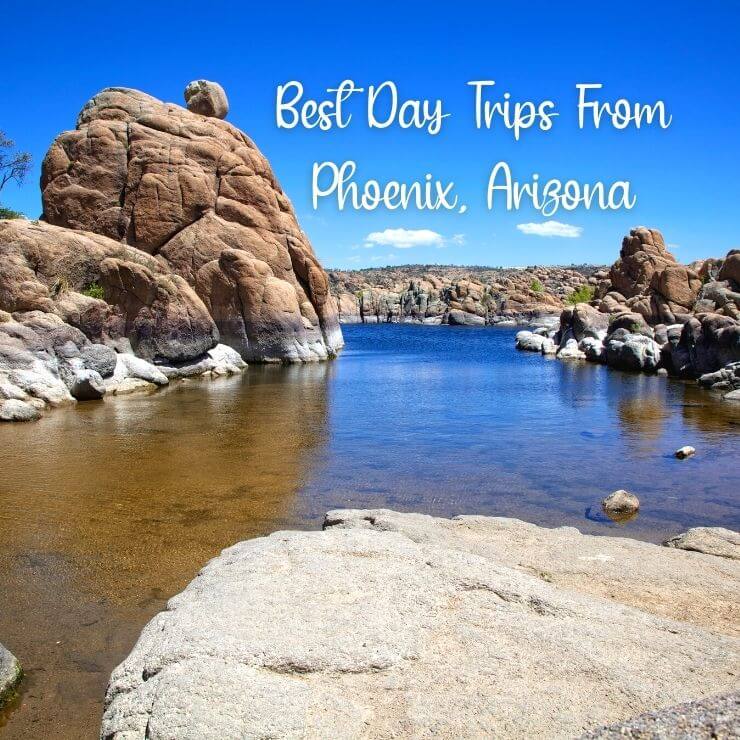 Phoenix, Arizona, is the fifth-largest city in the United States and offers plenty of unique spots for visitors to discover. Plus, some of the best day trips you can do in Arizona are easily accessible from Phoenix!
So, if you're planning a trip to Phoenix, you don't want to miss out on exploring the other remarkable destinations Arizona has to offer. To help you out, we have an Arizona local here to share her list on the best day trips from Phoenix. Be sure to add one (or more!) of these to your itinerary.
Sedona
Distance from Phoenix: 117 miles
Start your day trip to Sedona from Phoenix with a hike in the stunning red rocks before the crowds arrive. Fortunately, Sedona has excellent hikes for all skill levels—West Fork Trail (easy), Devil's Bridge (moderate), and Cathedral Rock (challenging) all offer breathtaking views of the red rocks!
After your hike, stop for some authentic Mexican food at 89Agave. When you're done with lunch, pay a visit to Tlaquepaque Arts & Shopping Village, a shopping center fashioned after a Spanish colonial-style village filled with art galleries, jewelry stores, and other local spots.
If you have more time, visit the iconic Chapel of the Holy Cross, or book a spa treatment or massage at one of Sedona's luxury hotels, like the L'Auberge de Sedona Resort & Spa or Enchantment Resort. And if you're visiting during the summer, don't miss the chance to slide down the natural water slide at Slide Rock State Park!
Flagstaff
Distance from Phoenix: 144 miles
Flagstaff is another excellent day trip destination for outdoor enthusiasts, no matter what time of year you're in Phoenix. If you're visiting during the summer, you can hike Humphrey's Peak. If you're traveling during the winter, you can visit the Arizona Snowbowl Ski Resort—the most popular place for skiing and snowboarding in Arizona.
During your day trip, visit Downtown Flagstaff, home to a portion of the iconic Route 66. Here, you can grab dinner and a drink at top-rated local breweries like Lumberyard Brewing Company and Dark Sky Brewing Company.
Plus, don't miss the chance to pay a visit to the Lowell Observatory—where Pluto was discovered!
Just outside of Flagstaff, you can also visit the Lava Tube Caves, Walnut Canyon National Monument, and Sunset Crater National Monument—all popular spots for sightseeing.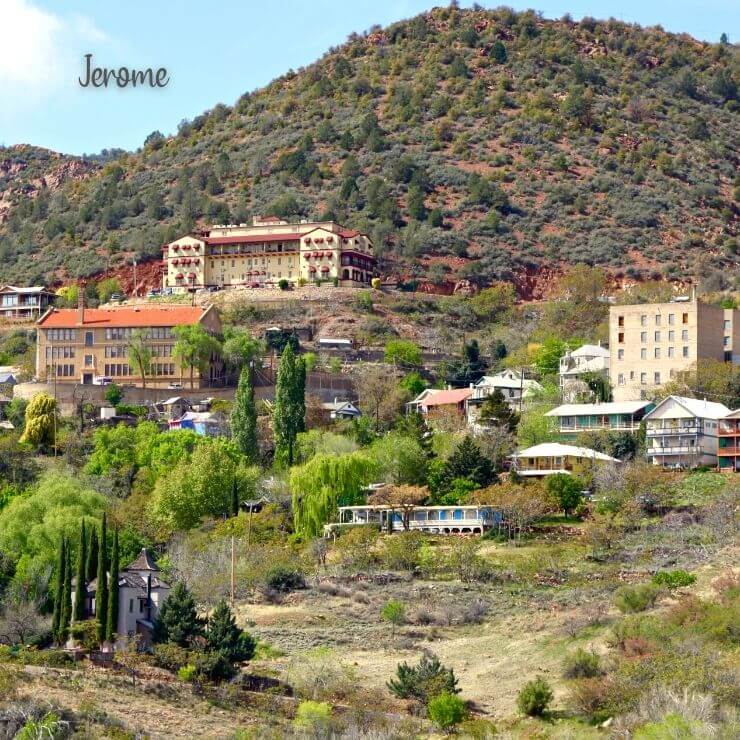 Jerome
Distance from Phoenix: 111 miles
Jerome, Arizona, is the largest ghost town in North America and was nicknamed the "Wickedest Town in the West" for its notorious history as a mining town in the Old West. The city is built on the side of Cleopatra Hill at 5,000 feet elevation, and it offers spectacular views of the Verde Valley, Sedona, and even Flagstaff.
To learn more about Jerome's fascinating history during your day trip, you can visit the Jerome State Historic Park, Jerome's Sliding Jail Park, and the Mine Museum. You can also take a spooky ghost tour to learn more about the haunted stories surrounding Jerome.
You can also visit Nellie Bly's Kaleidoscopes, the largest kaleidoscope shop in the world while exploring Jerome's main street. Before you return to Phoenix, eat dinner at the Haunted Hamburger—an iconic local burger joint in Jerome that offers remarkable views of the surrounding area.
Prescott
Distance from Phoenix: 99 miles
Prescott, Arizona, is a historic western town located in the Prescott National Forest that makes for an excellent day trip from Phoenix.
During the summer, you can go kayaking, paddle boarding, or fishing at one of the town's nearby lakes—Watson Lake, Lynx Lake, and Goldwater Lake, or grab a seat at the "World's Oldest Rodeo" at the Prescott Rodeo Grounds.
In December, you can get in the holiday spirit with a day trip to Prescott since the destination is dubbed Arizona's "Christmas City."
Regardless of when you visit, you can't miss the chance to explore Downtown Prescott. Take a stroll around the Courthouse Square, including the historic Whiskey Row, to find dozens of local bars, restaurants, and shops. You can make a coffee stop at the Wild Iris Coffeehouse or sit down for lunch at Prescott Brewing Company.
Before heading back to Phoenix, stop by Superstition Meadery to try a glass of mead—an alcoholic beverage created by fermenting honey with water.
Read More: Where to Go for an Incredible Girls Getaway in Arizona
Tucson
Distance from Phoenix: 114 miles
Tucson is the second-largest city in Arizona with a population of 550,000 people. The city is gorgeous and has so much to see, easily making it one of the best day trips from Phoenix that you can do.
During your day trip to Tucson, don't miss the chance to visit the Mission San Xavier del Bac, a Spanish Catholic mission with beautiful architecture. The Pima Air & Space Museum is another great spot to visit—it's one of the country's largest aerospace museums and features over 300 aircraft.
If you're looking for outdoor adventures, visit Saguaro National Park, just a 30-minute drive from Downtown Tucson, or Mount Lemmon, the highest point in the Santa Catalina Mountains.
Plus, while you're in Tucson, don't miss the chance to enjoy some authentic Mexican food. El Charo Café, Tumerico, and the Mi Nidito Restaurant are all highly-rated restaurants in Downtown Tucson.
Read More: Best 1-Day Itinerary for Tucson, AZ
Grand Canyon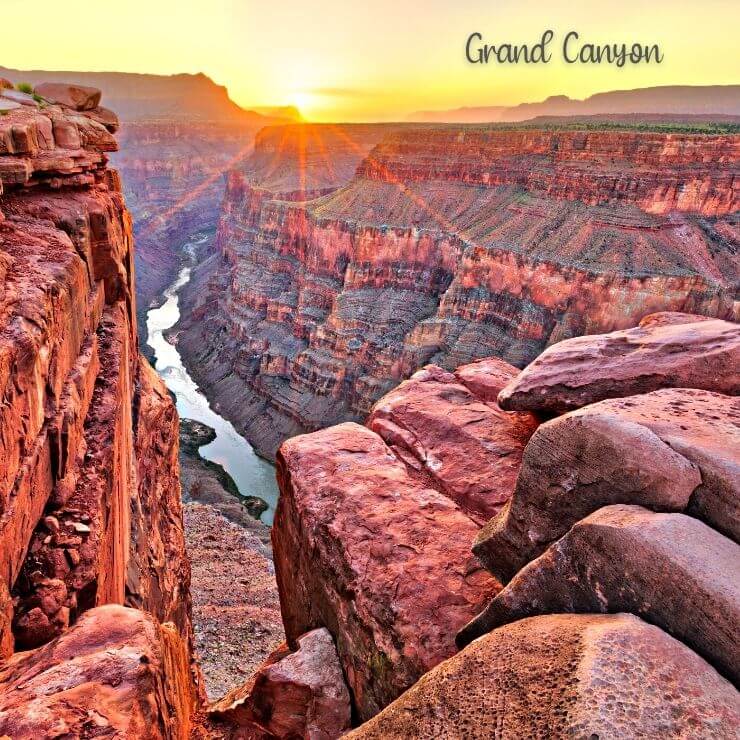 Distance from Phoenix: 229 miles
Even though it's a long day trip, you can't miss the chance to visit the Grand Canyon, one of the seven Natural Wonders of the World, while you're in Arizona.
During your time at the Grand Canyon, you can partially hike the Bright Angel Trail or the South Rim Trail (you likely won't have enough time during a day trip to complete an entire hike at the Grand Canyon). If you're up for an adventure, you can go whitewater rafting through the canyon along the Colorado River. Or, you can simply marvel at the spectacular views on the Grand Canyon Skywalk—a bridge with transparent floors that allows you to walk thousands of feet over the canyon!
On your way back to Phoenix, make a pit-stop in Williams, Arizona, known as the "Gateway to the Grand Canyon." You can dine outdoors along Route 66 at Station 66 Italian Bistro for dinner and then walk next door to Historic Brewing Company for a local beer.
Discover Arizona's Beauty on These Best Day Trips from Phoenix
Arizona is filled with so many awe-inspiring places to explore. Even if you can only squeeze in one of the best day trips from Phoenix during your vacation to the region, you're sure to have a fantastic time visiting any of these memorable locations.
About the Author: Brittany is a travel writer based out of Arizona.