8 Off the Beaten Path Places to Go in the Pacific Northwest for an Epic Girls Weekend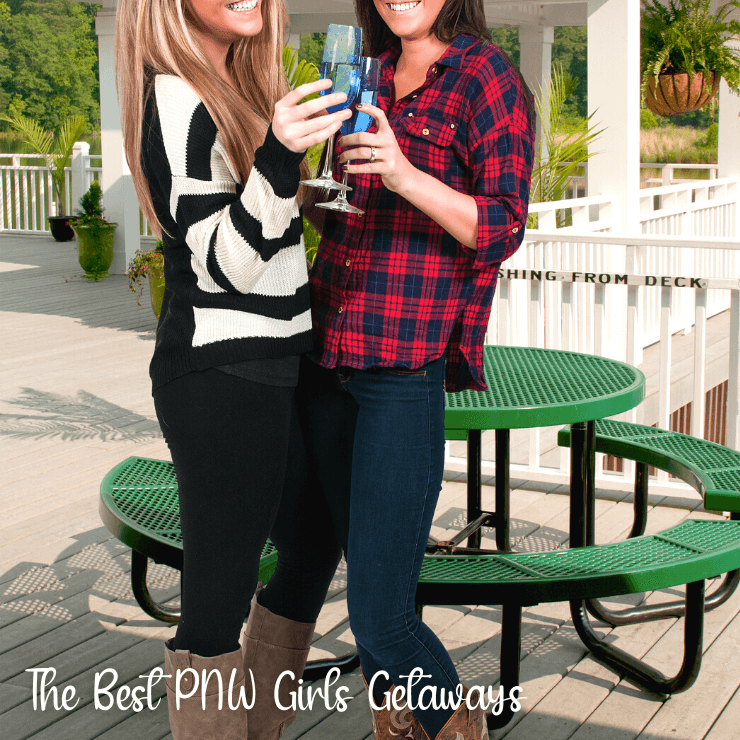 I live in the Pacific Northwest in beautiful Western Washington. One of my favorite things to do is weekend getaways in the area and if I can escape on a girls trip with some of my best friends, even better! I've put together my eight top picks for a girls getaway in Washington or Oregon, and listed them out below with tips on what to do, where to sleep, where to eat and drink, and where to shop.
So round up your favorite ladies and start planning an unforgettable girls weekend in Oregon or Washington at these best places in the Pacific Northwest for a girls trip!
Whidbey Island: Country Island Life Right By Seattle
Whidbey Island, Washington, is connected to the mainland via the Mukilteo-Clinton ferry on its southern end and the stunningly scenic Deception Pass Bridge on its northern end. Stay between those two spots and you are in for an unforgettable Pacific Northwest girls getaway.
Whidbey Island is one of the largest islands in the Puget Sound and despite being close to Seattle, truly feels far from city life.
Whidbey Island has a decidedly country feel, one which is surrounded by the sea. The main town of Langley has some restaurants and shops, but the real allure of Whidbey lies in the nature beyond the seaport towns. Find a vacation rental to rent with your friends and enjoy bonding, salt water views, and the best things to do in Whidbey Island.
Things to Do: Try one of the delicious Whidbey Pies at Greenbank Farm. Get dinner in Langley. Drive north and watch the sunset at Deception Pass. Take a walk along Double Bluff Beach for views of Mount Rainier (visible on a clear day).
Where to Stay: You can find vacation rentals on Whidbey Island through vrbo.com or airbnb.com. Another great option is Saratoga Inn, located right in Langely and within walking distance to restaurants and bars.
—> Click here for pictures and prices for Saratoga Inn.
Where to Eat: Village Pizzeria has excellent pizza with awesome views of the sound and a lovely garden-like outdoor seating area. Since you're on an island you also might want to try some seafood; Saltwater Fish House & Oyster Bar provides just that with fresh catches of the day and local oysters.
Where to Drink: Do some wine tasting at Whidbey Island Winery and Spoiled Dog on the southern end of the island, and at Vail Wine Shop and Tasting Room toward the northern end. Penn Cove Brewing Company in Coupeville is a great place to get a pint of local craft beer.
McMinnville, Oregon: Wine Tasting in the Willamette Valley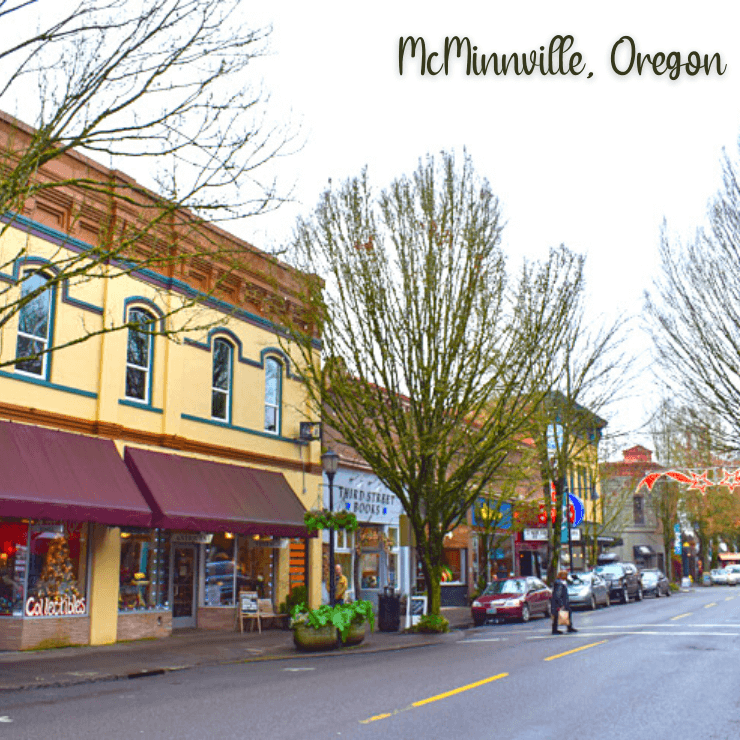 Oregon's wine region is an epic destination for a group fo friends who love wine, and the adorable downtown area of McMinnville is the perfect place to base yourselves for a weekend of wine tasting in Willamette Valley.
Things to Do: Wine tasting is usually at the forefront of the minds of most visitors going to McMinnville. You can do some wine tasting right in town at the likes of R. Stuart and Co. and Willamette Valley Vineyards. Or head farther afield and visit the winery estates of the region, like Stoller and Penner-Ash. Beyond wine tasting, McMinnville is home to the Evergreen Aviation & Space Museum.
Where to Stay: I loved staying at this cool apartment-style lodge that is located on 3rd Street Flats, located on 3rd Street aka McMinnville's Main Street, amidst all the action of downtown McMinnville and is even right above a tasting room! The rooms are eclectic, colorful, and large with multiple bedrooms and kitchens. It's perfect for a girls weekend!
—> Click here for pics and prices of 3rd Street Flats.
Where to Eat: Nick's Italian Cafe is excellent for Italian cuisine with a PNW twist. For a more laidback atmosphere, check out Golden Valley Brewing and Restaurant, which has gastropub fare featuring ingredients from its own farm and a local beer and wine menu. Community Plate is a great place for breakfast.
Where to Drink: Oh gosh, so many places to choose from! Basically head down Main Street and you'll come across several wine bars. I really like the comfortable lounge seating at Terra Vina Wines, which would be great for a wine tasting and conversation with your best girls; Terra Vina Wines also had a number of different varietals, which is actually hard to find in Pinot Noir centric Willamette Valley. McMenamin's is a PNW institution and has some whiskey tasting flights in addition to local brews and wine.
Where to Shop: Try your hand at antiquing at the McMinnville Antiques Mall located right on 3rd Street. It also has handcrafts and vintage jewelry.
Read More: I wrote all about how to have the perfect day in McMinnville here, which you can also apply to your PNW girls trip itinerary for McMinnville!
Woodinville, Washington: the Wine Tasting Mecca of Seattle
Woodinville is a great place to base yourselves for a wine-centric girls trip in Western Washington. Downtown Woodinville is known for its many winery tasting rooms, most of which are pouring vintages from the Walla Walla wine region in eastern Washington. Perhaps best of all, Woodinville is just 20 miles from Seattle.
Woodinville is famously home to Chateau St. Michelle, the oldest winery in Washington. The sprawling grounds of Chateau St. Michelle are a must-see (just as their wine is a must-taste), but don't miss some of the smaller, newer tasting rooms in the popular Hollywood Hill area of town, and the wineries off the beaten path in the nearby Warehouse District such as my personal favorite, Martedi.
Where to Stay: Willows Lodge is a luxurious hotel that's a less than 10-minute walk from the the Hollywood Hill area of Woodinville. You and your girls can enjoy the local wine tastings at the onsite bar, dine in at the highly acclaimed Barking Frog Restaurant, and pamper yourselves at the spa before retiring to your sumptuously appointed rooms.
—> Click here for pictures and prices for gorgeous Willows Lodge.
Where to Eat: The Commons seems to always be where I end up for meals when in Woodinville. It has a hip atmosphere and delicious entrees with local ingredients. I've never been disappointed.
Where to Drink: So, so many options! For a girls trip, consider checking out Patterson Cellars, which has a wine and chocolate pairing tasting menu that is divine! In addition to the wineries I mentioned earlier, you can do a whiskey tasting and distillery tour at Woodinville Whiskey or try some local brews at Triplehorn Brewing Company.
Where to Shop: Woodinville is more known for its wine than its shopping. Instead, head to nearby Bellevue for some downtown city shopping. Downtown Bellevue has high-end designer shops like Louis Vuitton plus chic home brands like West Elm. The Bellevue Mall is home to a Nordstrom and a number of other popular brands.
Suncadia: Pampering Amidst the Great Outdoors
Suncadia is more than just a resort; it's a destination unto itself. But luckily it comes with lots of resort perks, making it perfect for discerning friends traveling together!
What is Suncadia?
Suncadia is a resort and master-planned home community located near Cle Elum, Washington, about 90 minutes east of Seattle. It is located right in the Cascades Mountains and has incredible views of the mountain tops with easy access to hiking trails. It also overlooks the river and a golf course. Other onsite amenities include an Olympic-sized pool and large waterslide, full-service spa, multiple restaurants and bars, and even a wine tasting room.
Things to Do: Check the evening activities for the night you're there to see if the s'mores bonfire is one of them. This is a fun activity Suncadia often hosts: a s'mores bar set up right by a large bonfire where you can roast your marshmallows and then create your perfect s'mores bar. The aforementioned wine tasting isn't located in the resort, but is close by; just down the road at Swiftwater Cellars overlooking the golf course.
Some of the best things to do in Suncadia, however, are outdoor pursuits. Sign up for a fly fishing or horseback riding excursion, or simply walk down the many steps leading to the river behind the resort and then connect with one of the scenic hiking trails to breathe in the nature surrounding you.
In addition to the onsite indoor pool, you can take a little excursion to nearby Nelson Farm where Suncadia resort guests have access to a zero-entry outdoor pool (but double check if it will be open when you're there).
Where to Stay: You have a number of options for where to stay when visiting Suncadia. Many of the homes located in the community operate as vacation rentals. You can also stay in the resort, which has studio rooms and larger one to three-bedroom units, making it ideal for friends wanting their own rooms or to all hang out together in one space.
—> Click here for room options and more pictures of Suncadia Resort!
Where to Eat: Suncadia has a number of eateries. Portals stands out for its seasonally rotating menu and locally-sourced ingredients.
Where to Drink: For coffee and espresso, head to Coal House Caffe. In the evenings, Fifty-6 Degrees Lounge is a fun place to hang out with great views of the surrounding mountains and river.
Where to Shop: The Boutique at Swiftwater Cellars has trendy clothing, jewelry, and some cool homeware items.
Read More: I wrote a whole article about how to have the perfect overnight getaway at Suncadia Resort here.
Bandon, Oregon: Sea Stacks, Starfish, and Seafood
If you and your girlfriends love the wild coastline the PNW is known for, then Bandon, Oregon is your answer for a terrific girls getaway.
Bandon is located in southern Oregon and is home to a charming seaside town and truly breathtaking sea stacks that are mesmerizing to walk around when the tide is out. Amble around the sea stacks and you'll see starfish, sea urchins, crabs, and other sea anemones waiting for the tide to come back in.
In town, get some fresh seafood, walk along the pier or pop into some gift shops.
Things to Do: To take the best advantage of the things mentioned above, head to Face Rock State Scenic Viewpoint for great views (see if you can spot the face in the rock!) and beach access, and to 1st Street and its side streets for restaurants and shopping.
Where to Stay: For budget accommodations, check out the Table Rock Motel, which has simple, but pleasantly decorated rooms and is in walking distance to a rugged stretch of beach. To splurge, check out Windermere on the Beach, which has oceanfront cottages that can sleep up to six people.
—> Click here for Table Rock Motel pictures and prices.
—> For Windermere on the Beach pictures and prices, click here.
Where to Eat: Tony's Crab Shack right by the harbor in downtown Bandon is a must-eat. The fresh seafood sandwiches and crab cakes are excellent. Edgewaters is a great spot for a more upscale dinner with an ocean view.
Where to Drink: Alloro Wine Bar has local wine tasting flights and by the glass (and also serves food with seasonal menus). Foley's is a fun Irish pub to get a pint at in downtown Bandon.
Where to Shop: Bandon Card and Gift Shop had my favorite tshirts and sweatshirts plus other fun souvenirs. If you want to get a little something to bring back for your kids, there is a toy shop next to it, too, called the Toy Room.
Issaquah, Washington: Historic Downtown By Gorgeous Mountain Trails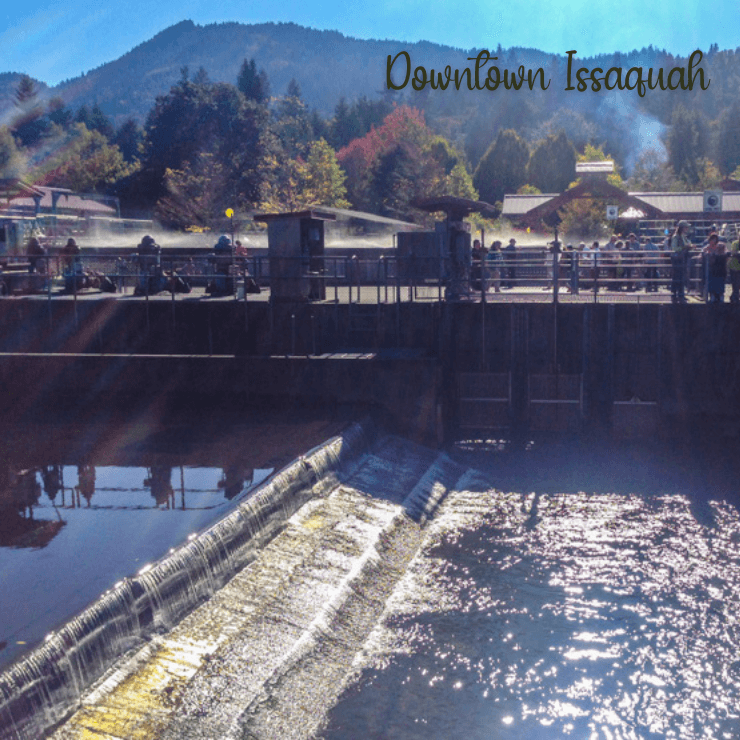 Issaquah is just thirty miles from Seattle, but feels a world away, helping to make it one of the best girlfriend getaways in Washington State. Issaquah has a small, yet charming downtown area and is right by some of the best hiking trails in the region.
Things to Do: Hike to the top of Poo Poo Point (7.2 miles roundtrip so be prepared for a long hiking day!) for one of the best views on the Seattle Eastside. The Salmon hatchery in downtown Issaquah might not seem like a girly thing to do, but it's so interesting, making it worth a spot on your girls getaway itinerary for Issaquah, especially if you're there in the fall when the salmon run in happening. The old train depot in Downtown Issaquah is also worth checking out — grab a coffee from Yum-E Yogurt and Espresso Bar on Front Street before walking around the Depot Park.
Where to Stay: Probably one of the reasons Issaquah stays off the tourist radar is because there really aren't that many places to stay. In downtown Issaquah, your best bet is to find a vacation rental in the area — like this adorable looking craftsman style home. A few miles away on the north end of Gilman Boulevard (the main road going through Issaquah), you'll find a few more hotel chains. My top pick of these is the Homewood Suites. I've stayed here before and thought the indoor pool and hot tub area was quite nice (if simple) and the suites were spacious and clean.
—> Click here for pictures and prices for Homewood Suites Issaquah.
—> Other options in Issaquah: Hilton Garden Inn and Springhill Suites by Marriott
Other Lodging Option: If you want to experience Issaquah, but also want a full-on resort experience, then head a bit farther (a 20-minute drive or so) east down I-90 to the scenic city of Snoqualmie. There you'll find the gorgeous Salish Lodge & Spa nestled against the edge of the spectacular Snoqualmie Falls. It has an excellent full-service spa and highly acclaimed restaurant.
—> Click here to see pictures and prices for Salish Lodge.
Where to Eat: In downtown Issaquah, my top picks are Montalcino's for high-end Italian cuisine owned by Italians, Levitate for local beer and gastropub fare in a laidback setting, and Krawbar for sushi and Asian-fusion cuisine plus some pretty fun oyster shooters.
Where to Drink: Capri Cellars has lots of local wine and does wine tasting flights. Vino Bella is another hot spot for wine and often has live music. On the other side of Issaquah, in walking distance from the Homewood Suites hotel, is Formula Brewing, a local brewery that serves up some delicious pizzas and appetizers along with beer and wine and has a large beer garden.
Where to Shop: Gilman Village is a must-stop on your girls trip to Issaquah. My favorite stores are Lucky Home and Lucky You. There's also Eve's for kid gifts and clothes plus several women's clothing boutiques.
Cannon Beach, Oregon
Cannon Beach is like the Hamptons of the Pacific Northwest. It's the ritzy little seaside city that all the locals know and love. And it's perfect for a girls trip in the PNW.
What makes it so perfect?
For starters, Cannon Beach is gorgeously situated against the Oregon coastline, overlooking the famed Haystack Rock that juts up dramatically from the sea.
Once you can tear yourself away from that view, you're steps away from incredible shopping and dining and even wine tasting. Cannon Beach really is an adorably designed town, with quaint architecture, tree-lined sidewalks, and peeks of the ocean waiting for you. Pretty much all of downtown is filled with seafood and brunch restaurants, beachy bars, fun gift shops, and upscale boutiques.
Cannon Beach also has a plethora of vacation rentals, Bed and Breakfast Inns, and resorts that are just right for a girls getaway with an accommodation option for all types of friend trips.
Top Things to Do: Cannon Beach isn't only about the eating and the shopping. There's also wine tasting at the Wine Shack. And the beach and Haystack Rock is just steps away.
Where to Stay: My top pick for where to stay in Cannon Beach on a girls trip is Stephanie Inn. The name itself sounds like a girls getaway, but it also is right by the beach, has an onsite spa, wine happy hour in the lobby each evening, and ocean view from many of the rooms. Plus, if you're a group of moms looking to get away, you'll appreciate the fact that kids aren't allowed here. You have to be 12 or older to stay.
Another great place to stay in Cannon Beach is Surfsand Resort, which has rooms with views of the ocean and even Haystack Rock. The bright and updated rooms also can be adjoining, which is nice for friends who want space, but can easily hang out together.
—> Click here for more pictures and photos of Surfsand Resort.
Where to Eat: Wayfarer has delicious breakfast and great views of Haystack Rock. Another brunch place to check out is Lazy Susan. They also serve lunch and dinner. EVOO is also an incredible dining experience with wine pairings and chef preparation right before your eyes, but it can be hard to get a reservation so reserve early.
Where to Drink: Wine Shack has tastings and plenty of wine for sale to bring back to where you're staying. Also, you can't miss grabbing a pint at Cannon Beach Hardware & Public House, a hardware store that serves up drinks and food; yup, really.
Where to Shop: Walk along Hemlock Street and its side streets in downtown Cannon Beach and you'll come across several boutiques and gift shops.
Read More: Want to be close to Cannon Beach, but a bit more off the beaten path? Check out my guide for laidback Rockaway Beach, Oregon which has incredible vacation rentals right along the beach and is just 35 minutes south of Cannon Beach.
Olympic National Park: Mountains and Beaches and Cabins Oh My!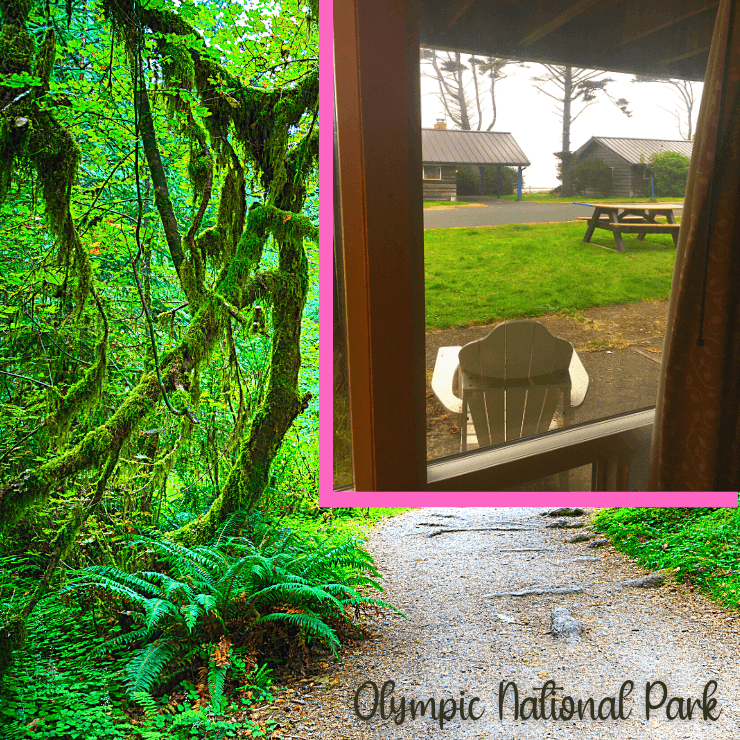 If you and your friends love outdoorsy adventures with mountain or seaside lodges where you can cozy up with wine or tea and talk into the early morning hours, then one of the resorts located within Olympic National Park are a perfect fit for you. You can do day hikes and walk along the beach, enjoy meals from the resort restaurants, and enjoy drinks by the light of a fireplace or outdoor bonfire.
Where to Stay: I especially like Kalaloch Lodge since it is right by the ocean and is a quick drive to the stunning Tree of Life and Ruby Beach. Drive a bit more and you're close to all the lush hiking trails of the Hoh Rain Forest. Kalaloch also has cabins to rent that are perfect for a girls trip. The two-bedroom condos are also nice and have a cabin feel to them complete with a fireplace. I've also eaten at Kalaloch Lodge's onsite restaurant, Creekside Restaurant, multiple times, and haven't been disappointed!
Where to Eat: Obviously the Creekside Restaurant mentioned above! The restaurant at the historic Lake Quinault Lodge is also great; you can even order the food to go and enjoy it on Quinault Lodge's expansive lawn.
Where to Drink: Again, Creekside Restaurant has a great menu with local wine and beer.
Where to Shop: Kaloloch Lodge has a nice gift shop, but let's be real — this is a national park! You're probably not here to do much shopping!
Read More: Check out my weekend getaway guide for the Hoh Rain Forest and Quinault Rain Forest in Olympic National Park!
Hope you have a fantastic girls getaway wherever you choose to go for your trip in Washington or Oregon!
Want more inspirations for where to go for a girls trip? Click here to check out my top destination picks for girls trips all around the USA!
Found this article helpful? Pin to easily read again later!