Top 12 Places for a Fun and Unique Girls Trip in the United States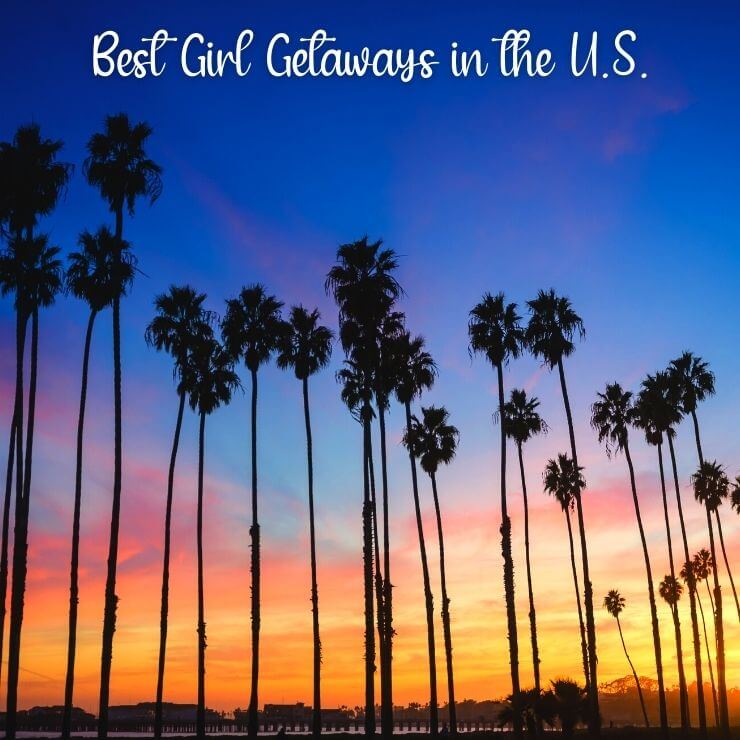 Looking for some destination inspiration for a girls getaway in the United States? After the past couples years we've had, I'm right there with you!
Some quality time with your best girlfriends is just what you need, but you likely still want to go somewhere that makes it easy to be outside and where you can keep your distance from strangers.
With that in mind, I've put together my recommendation for the top 12 girls trips to do in 2022 in the U.S.
Santa Barbara, California
Santa Barbara is located right in the center of California's stunning coastline. It's surprisingly easy to get to thanks to Santa Barbara Airport located on the outskirts of the city, and the airport in nearby San Luis Obispo, plus it's just a few hours from either LAX (Los Angeles) or SFO (San Francisco).
In Santa Barbara, you'll find a sleepier beach city than in those aforementioned ones and you don't have to go far to find incredible views. Look in one direction and there's the glorious blue of the Pacific while in the other direction are the peaks of the mountains.
The neighborhoods within the city itself are also pleasantly adorable with adobe style houses and understated buildings that don't detract from the beautiful natural surroundings.
One of my favorite aspects of Santa Barbara is how walkable it is and easy to spend time outdoors. You and your friends can walk up and down the lovely Main Street which is lined with leafy trees and dotted with the tables of cafés on the sidewalks.
If on a girlfriends getaway to Santa Barbara, you'll no doubt want to take some time popping into some of the shops. Then head down one of the side streets to visit the Santa Barbara County Courthouse; from the bell tower you'll get gorgeous views of the ocean and Santa Barbara's terra-cotta colored rooftops.
You'll also wanna spend some time along the urban wine trail, a fun part of Santa Barbara that is just a mile from Main Street and only a couple blocks from the beach.
The Urban Wine Trail consists of a dozen or so local wineries that have opened little tasting rooms in Santa Barbara. Many of these tasting rooms have funky decor and a hip ambience and several have either an open-air ambience inside or an outdoor patio on which you can taste some of the areas excellent wines.
Then, of course, there's the beach, and Santa Barbara has one of the prettiest in all of California in my opinion (and I'm not just saying that because I got married on it!).
Read More: Insider's Guide for a Perfect Day in Santa Barbara, CA
Another wine option girls getaway in California? Napa! Check out our Napa girls trip guide here.
Big Sky, MT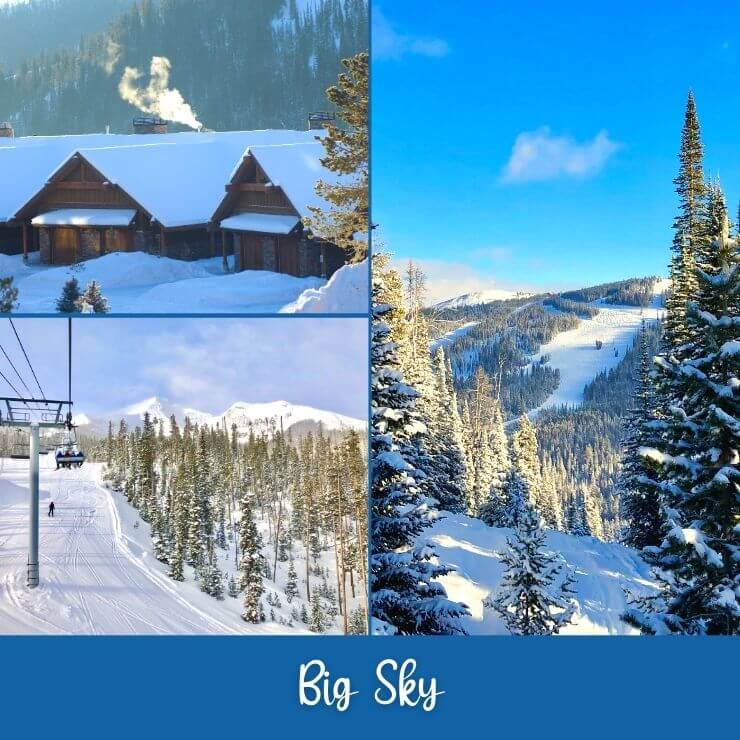 Montana is one destination that has quickly gained prominence during the events of the past year. Long known for its wide open spaces, low population density, and miles up miles of landscape unmarred by civilization has made it a hot spot for weary city dwellers.
Big Sky Resort is a top choice for a girls trip because of it many vacation rentals close to fun outdoor activities.
If there in the winter, you'll have fun on the slopes skiing or snowboarding. In the summer months, those chair lifts take you to epic views and unforgettable hiking trails. Or if you and your girlfriends are feeling extra adventurous, you can even do some mountain biking in the summer or go whitewater rafting on the nearby Gallatin River.
The town center in Big Sky isn't that big, but you're less than 30 minutes from bars, restaurants, and shopping in Bozeman.
Whitefish Mountain is another great spot for some outdoor adventures during a girls getaway in Montana.
Rockaway Beach, Oregon
If you're looking for a lazy, relaxing, beach-filled girls weekend that is devoid of crowds on the west coast, look no farther than Rockaway Beach, Oregon. While I visited there as a family vacation, I also think it's a great spot for a girls getaway in 2022.
When I was there, it was August on a weekend that just happened to be the nicest weekend of the summer — and we still had the beach almost all to ourselves in the evenings! And in the day it was still delightfully uncrowded.
Rockaway Beach's main street is short and unassuming so you won't find many crowds there, such as in popular Cannon Beach to the north. Most shops and restaurants close early.
Rent a vacation house or condo on the beach with your girlfriends, get takeout, cook up some local crab and create fun memories, and just relax as you take in the gorgeous surf of the Pacific.
→ You can read a complete list of the top things to do in and around Rockaway Beach here.
Traverse City, Michigan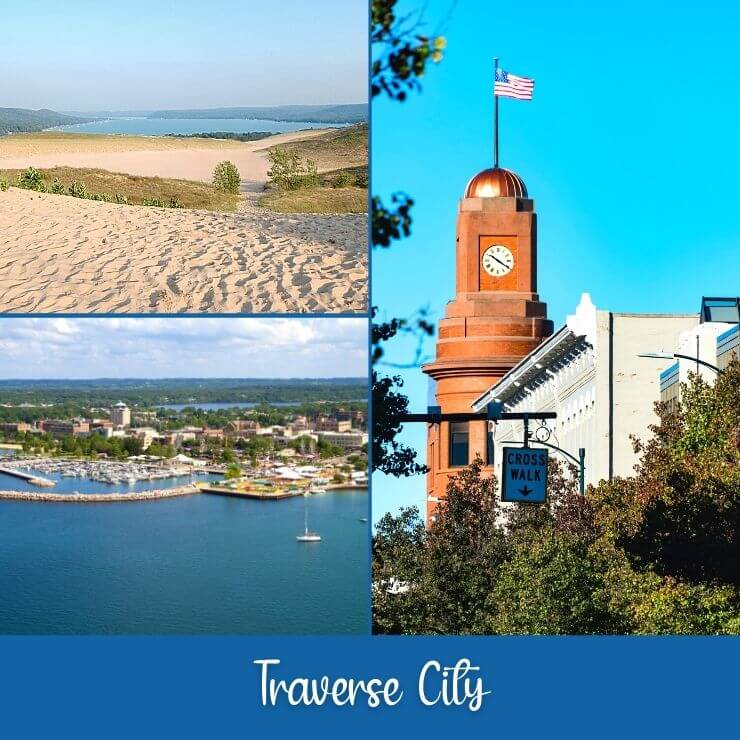 Having family that lives in Michigan, I'm lucky that I have had a chance to explore the state. Most people just think of Michigan as being the big metropolis that is Detroit, but the northern region of Michigan is absolutely gorgeous and in my opinion is one of the best kept travel secrets in America.
While you probably won't want to do a girls trip to northern Michigan in winter (it's cold!), going there in late spring, summer, early fall will have you enjoying pleasant weather that is perfect for visiting all of the lakes nearby or playing on the Sleeping Bear Dunes by Lake Michigan.
In addition, if you time your visit for 4th of July weekend, you can attend the National Cherry Festival (if it's happening). If not, you'll still be there when cherries are in season and you can enjoy some awesome cherry pie and other cherry delicacies.
The downtown area of Traverse City is also fun with lots of cute bars and yummy restaurants.
Wine tasting tours are also epic to do while in the area:
While in Traverse City, you can also do a day trip to gorgeous Mackinac Island, a car-free island that has a swoony old hotel with a wraparound porch that is perfect for a day drink.
North County San Diego, CA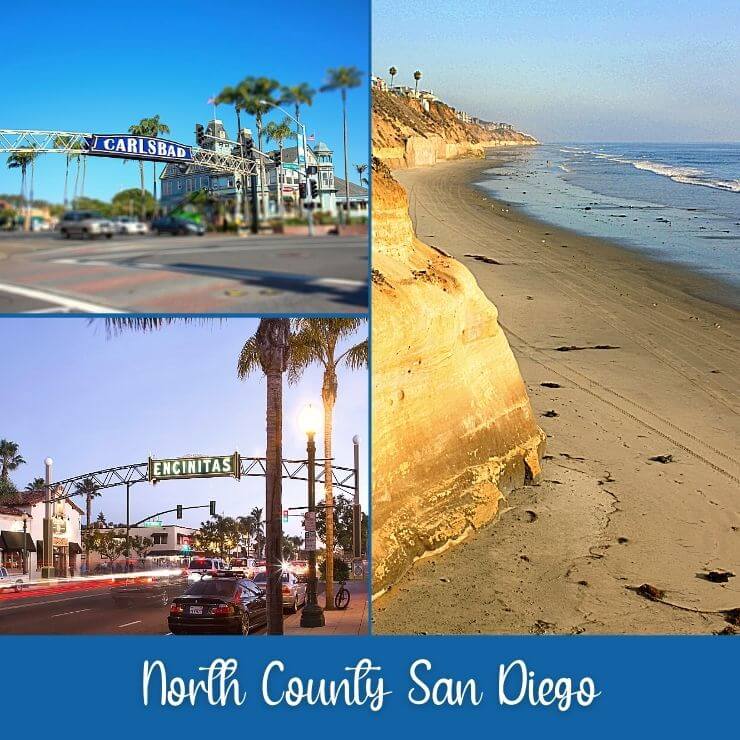 A perennial favorite girls getaway destination is San Diego, California. As much as I love the city sights and beaches of my old hometown of San Diego, in 2022 you may want to turn your attention north and check out what locals refer to as North County.
The small coastal cities (Del Mar, Solana Beach, Encinitas, Carlsbad, Oceanside) leading up the coast of San Diego County all have charming downtown areas, gorgeous beaches, and a wide range of accommodations.
If you don't care about being close to the ocean, move your trip inland to Escondido for better deals and wide open spaces. In Escondido, you can be close to the Safari Park (an incredible extension of the San Diego Zoo) and multiple wineries, plus my favorite beer garden at Stone Brewing Company.
→ If you do want to stay in San Diego, the little community of Shelter Island is a good off-the-beaten-path place to stay in 2022.
Charleston, South Carolina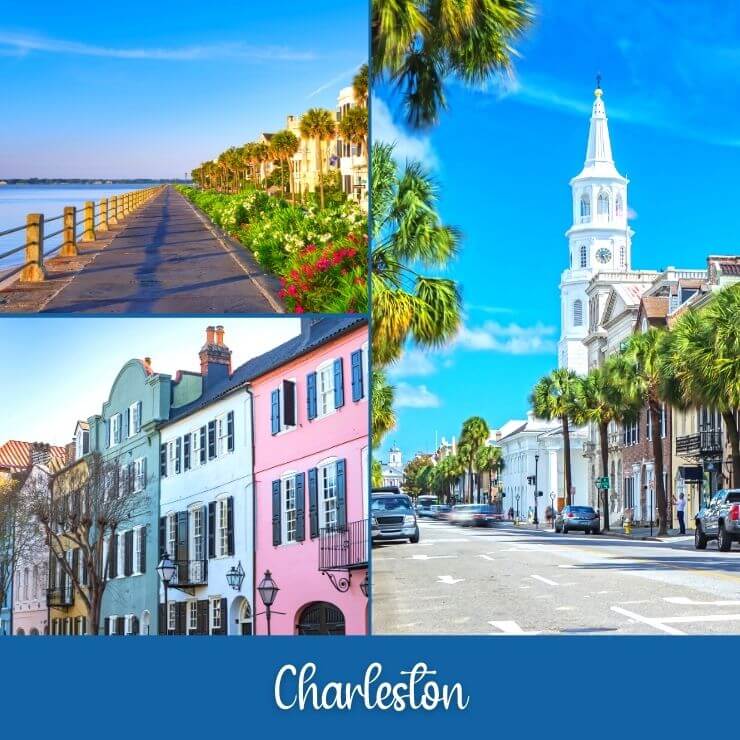 Charleston is one of the hottest destinations in the US right now for travelers. It makes for an incredible girls getaway since you'll find a blend of beaches, restaurants, shopping, and beautiful historic areas.
Those who want to do a little "maybe someday in the future" dreaming will enjoy walking down The Battery where you can see some of Charleston's most epic houses and mansions. Gossip it up with your girlfriends about how you would decorate if you were one of the rich and famous people living there.
For some retail therapy head to Charleston City Market, while Kaminsky's is a great place for dessert.
→ For more tips about things to do in Charleston, read our One Day in Charleston itinerary.
Seattle Suburbs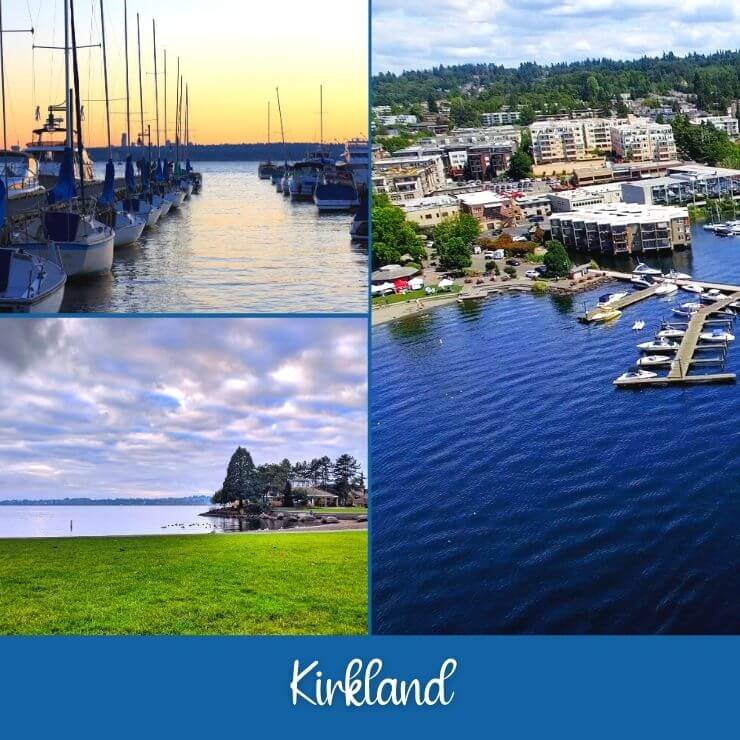 After all the press Seattle has gotten in 2020 you might be thinking it is definitely not where you want to go for a trip right now; however, Seattle is much more than just its city center.
The area around Seattle is jaw-droppingly gorgeous, and there are numerous small cities that have fun nightlife, excellent shopping, and world-class restaurants all within a 30- to 45-minute drive from the Seattle-Tacoma International Airport.
One of those cities is Kirkland.
For a city-based girls trip in the Pacific Northwest I recommend the city of Kirkland because it is located right across from Lake Washington from Seattle and it has adorable little beaches lining that lake. Making these beaches even better is the fact that you can gaze at gorgeous views of the Seattle skyline on a clear day.
Girls Night Tip: For a fun after-dinner drink you and your friends won't forget, head to the adorable Lady Yum bakery for incredible macaroons you can order alongside Champagne.
Kirkland's beaches are also all right next to the city center of Kirkland where you'll find parks, alfresco bars and dining, and lots of shopping.
I also like Kirkland for a getaway because it's a short drive from Woodinville, which is Seattle's little wine tasting area and features tasting rooms for many of the wineries located in Walla Walla (Washington's premier wine growing region).
At Château St. Michelle in Woodinville you can order a bottle of wine and then go have a picnic on the winery's huge grassy area. Plus, there are many more winery tasting rooms to check out where you'll find outdoor patios.
Some other options for fun places to go around Seattle that I recommend are Edmonds, Issaquah, Whidbey Island, and Snoqualmie.
All of these places are close enough that you can do a day trip to Seattle or Mt. Rainier, too:
Chicago, Illinois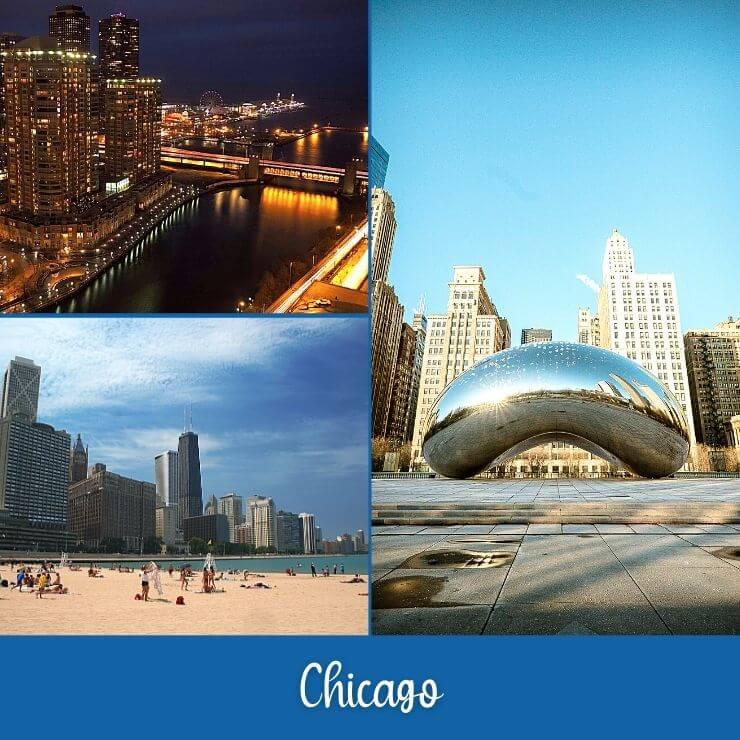 When it comes to girls trips, Chicago will always hold a special place in my heart since it's the first destination getaway I did with two of my college besties when we decided we needed to meet up after several years apart living in different states.
Chicago was the perfect place for our girls weekend, even in the middle of winter. While most people are still going to be staying away from big cities in 2022, travelers in the know are aware that Chicago is one large city that has a lot of outdoor activities you can do.
Granted, unless you're used to cold winter weather you might want to save your outdoor time in Chicago for the spring, summer, or fall months, but there is fun to be had outdoors whenever you go.
But one reason to stick to the warmer months for a girls getaway to Chicago is because of the beaches lining the water's edge of downtown, where you'll find beaches that look like they belong in the Caribbean but are right in the middle of the Midwest!
Another fun place to go for an outdoor stroll is Millennium Park, where you can see the famous "Bean" statue.
Chicago has so many cool tours you an do to make your girls trip in Chicago effortless. Here are some to check out:
One more epic outdoor stroll to take in Chicago is the Magnificent Mile, this is where you'll find loads of Chicago's best restaurants, bars, and shopping.
→ Read More: A Local's Guide for One Day in Chicago
Miami, Florida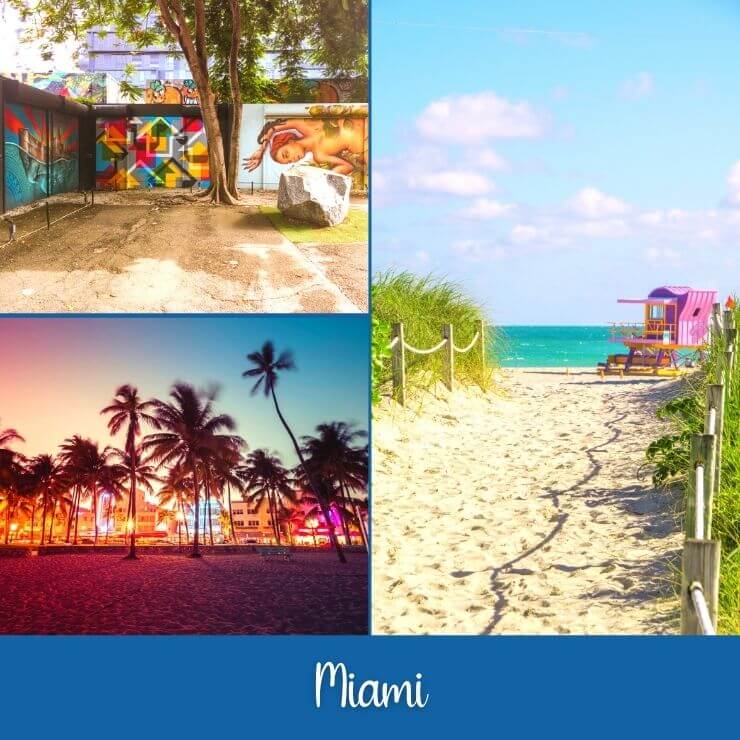 If you're looking for some glitz and glam in a beachy setting, grab your girlfriends and head south for a getaway to Miami.
You can avoid the crowded hotspots like South Beach and still have an incredible time in this popular Florida city.
Experience some local culture on your girls trip with an amble around the outdoor Wynwood Walls, where you can see incredible art street art.
The murals are also located located right in the center of the Wynwood neighborhood where you'll find some of Miami's best restaurants as well as an array of excellent boutiques. This is also where most of Miami's best breweries are located, the majority of which have outdoor patios and seating areas.
→ More Inspiration: The Top 10 Best Day Trips in Florida
Newport, Rhode Island
I just adore Newport, Rhode Island! It's a top pick of mine for a girls getaway in 2022 due to the outdoor walking paths, beautiful downtown area right by the harbor, and incredible old mansions built in the gilded age that you can tour.
Plus, if you and your friends are into the new hit show, the Gilded Age, you'll love walking around Newport and visiting the stately historic homes.
→ Read my complete itinerary on Newport here, which also features an absolutely charming B&B where you and your friends will love to stay!
Dallas, Texas
Have an art and history filled girls weekend in Texas with a trip to Dallas.
Often overlooked by out-of-staters for the hip destination city of Austin, Dallas is also worthy of a weekend away in 2022, with plenty of outdoor spots for dining and sightseeing.
Visit the Grassy Knoll where President Kennedy was assassinated, then tour the Sixth Floor Museum dedicated to his life and the events that conspired that led to his death.
The art museums in Dallas are also worth touring, as is a jaunt to the top of the Reunion Tower for incredible views of the city.
→ Our One Day in Dallas itinerary has a complete self-guided walking tour for the perfect 24 hours in Dallas.
Kauai, Hawaii
Of course you could also go all out for your girls vacation and fly to the exotic, beautiful islands of Hawaii. While traveling far distances is sometimes still concerning in recent years, Hawaii gives you the comfort of not having to worry about international borders closing while still going somewhere that fels exotic. This makes Hawaii a great choice if you do have to fly somewhere to meet up with your best girlfriends.
My top pick for a girls getaway in Hawaii is to the island of Kauai: you and your girlfriends can play on the beach, drive up to Waimea Canyon, go snorkeling, or walk around the open-air shopping center in Princeville.
Another great spot in Hawaii for a girls trip?
The Four Season in Maui — the infinity pool there is all the Insta-worthy beauty you need!
More Girls Getaway Inspiration:
Top 10 Small Cities in California Girls Getaway Guide for Washington D.C.
Suncadia Resort: A Washington Getaway in the Cascades
One Day in McMinnville, the Heart of Oregon's Wine Country
Found this article helpful? Pin to read again later!