One Day in Munich, I Ate Here…
Wining and Dining at Broeding, a Unique Restaurant Experience in Munich
Six courses. No substitutions. Menu changes nightly.
And amazing cuisine.
That about sums up Broeding restaurant in Munich, Germany. Now…do yourself a favor and book a ticket to Munich along with making a reservation at Broeding.
About Broeding Restaurant
Eating at Broeding feels like dining at a 5-star restaurant in someone's home. The owner, Gottfried, is incredibly welcoming and shares his enthusiasm for wine and food with guests. He's friendly and charming, with a crinkly smile reminiscent of a mature Adrian Grenier. His enthusiasm is matched by Andreas, the restaurant's sommelier. These two go around to every table through the night, interacting with customers and telling detailed stories about the food and wine you're about to devour.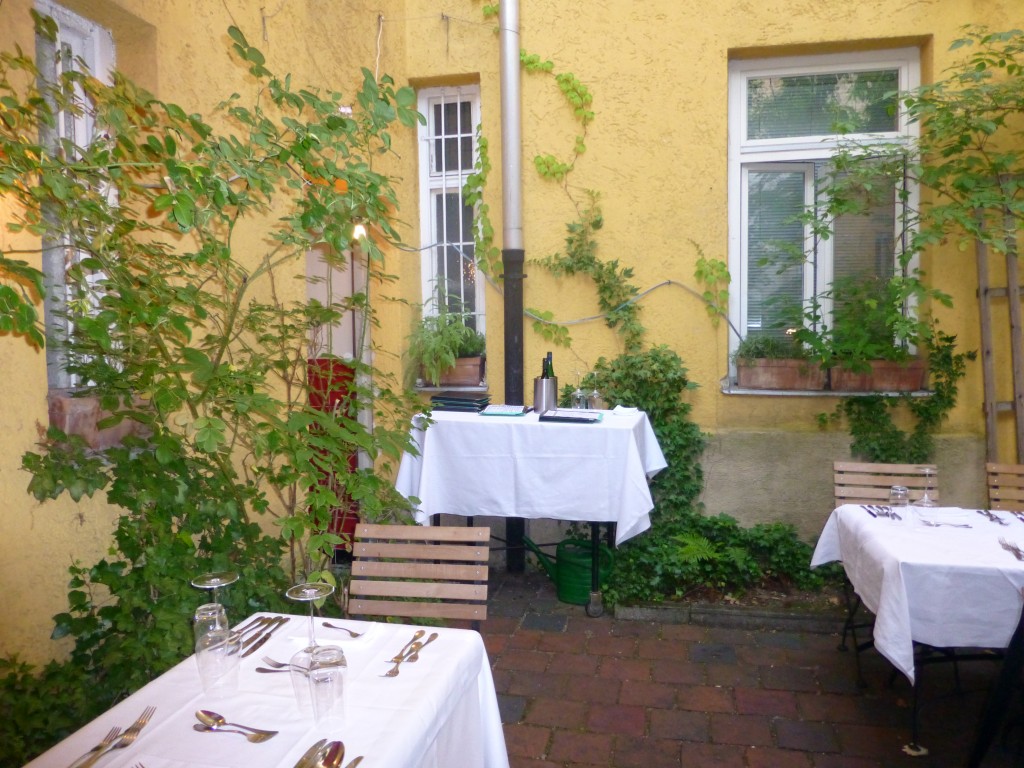 The fact that this small restaurant has a sommelier in-house shows just how dedicated the restaurant is to wine. Many now famous winemakers got their start at Broeding as the restaurant is adept at discovering the best wines at small wineries in Germany and Austria. I've done food and wine pairings multiple times before, but none have had wine complement the food as well as at Broeding.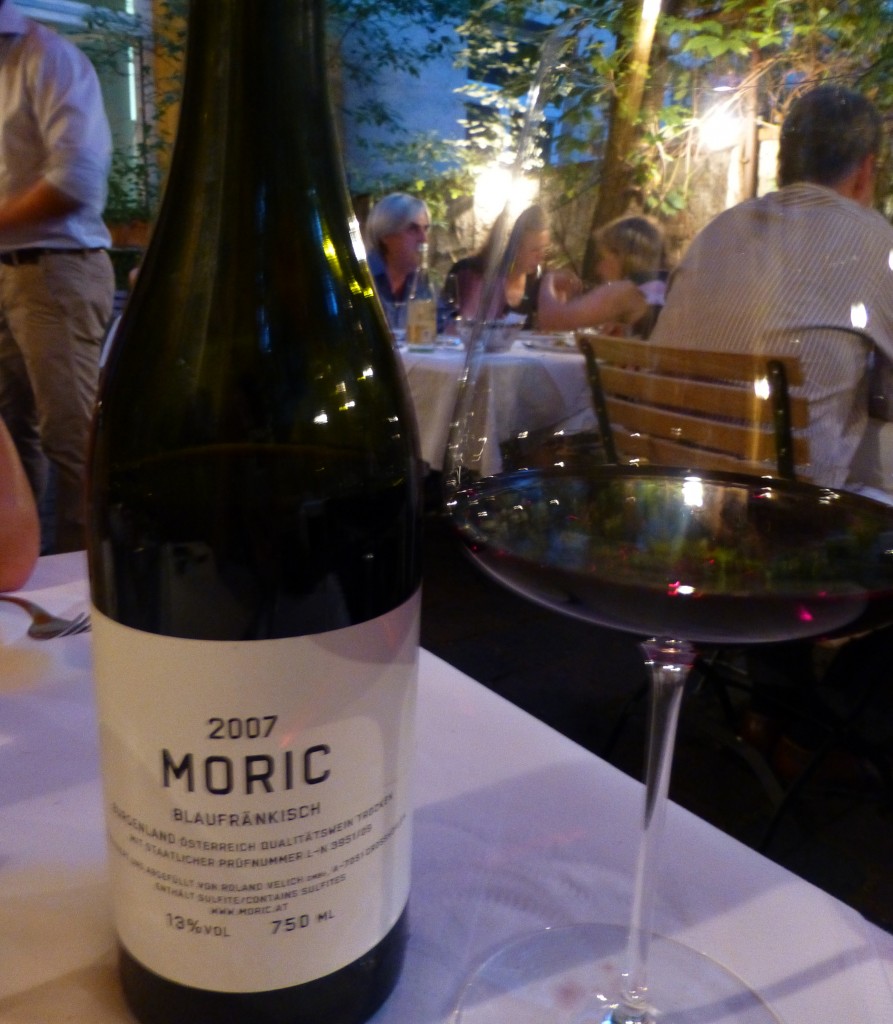 Ah yes, the food. The exquisite, wonderful food of Broeding. Let's get back to that. As I mentioned, there are six courses served at Broeding and they are perfectly prepared under the leadership of Manuel Reheis, Broeding's other owner, who is also head chef.
For those wary of no choices for the menu, know that flexibility in what you're eating means ingredients that have been carefully chosen – usually locally sourced – for each night's menu, which mixes German cuisine with other European flavors. Because the kitchen knows what it's putting out in advance, the food is perfectly prepared with time on the chef's side. This means you get a dish that someone has been working on all day to be perfect – not just since you ordered it.
The Cuisine of Broeding
Here's a sample of what you may get to dine on at Broeding (and what lucky me got to eat!):
Broeding Amouse Bouche: A flaky, flavorful white fish.
Broeding Course 1: Trout and eel with cucumber paired with Beiger Rotgipfler Berry from south of Vienna. The cucumber gave it a fresh flavor and paired especially well with the trout.
This trout came from a nearby lake.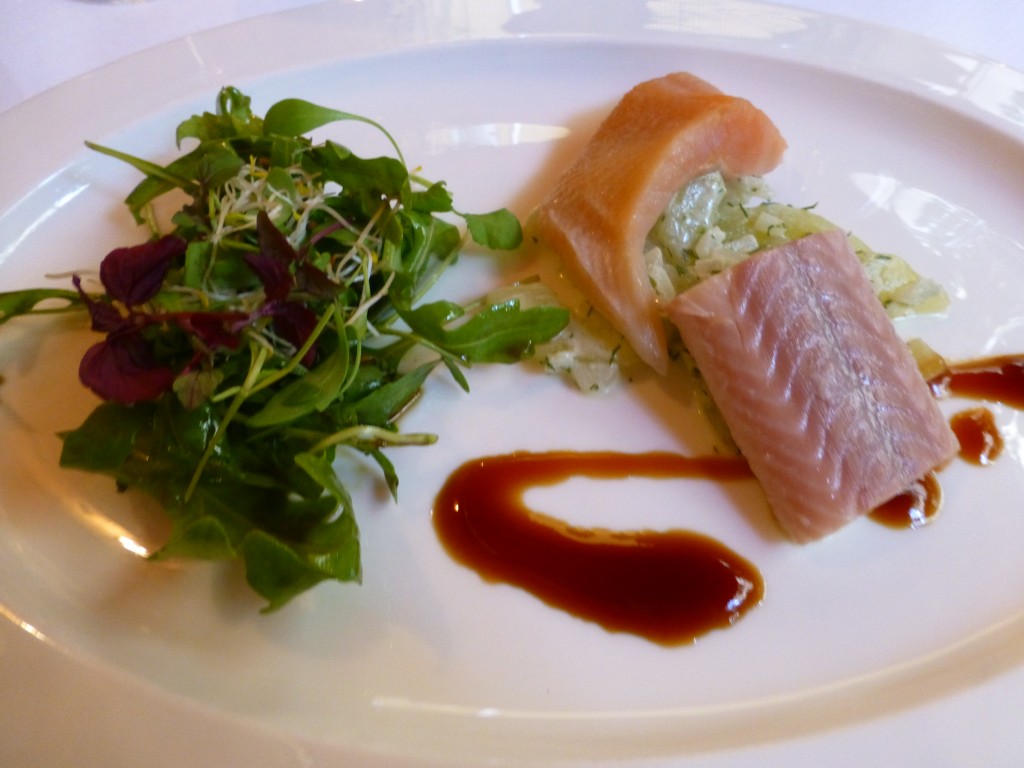 Broeding Course 2: Cold tomato soup with buffalo mozzarella. It had a slight spicy peppery kick to it, which paired amazingly with the sweetness of the Traminer wine.
I loved how Andreas explained this food and wine pairing: a ping pong tennis match in your mouth between the sweetness of the Traminer and the spiciness of the tomato soup. It was so true!
Broeding Course 3: Monkfish with fennel and pesto with cheese. When I had a sip of the paired Gaisberg Riesling followed by a bite of the monkfish, I literally laughed it was so gleefully good. The monkfish had a slightly bitter taste followed by a pepper explosion followed by mellow sweetness from the fish itself and the sturdiness of the fennel and rustic creaminess of the pesto. The wine helped bring all those flavors out as it was the perfect balance of acidity and sweetness with the monkfish.
Broeding Course 4: Duck Breast with Zucchini Flowers and Mushrooms. This dish had a very subtle soy sauce taste and again that slightest hint of a pepper kick, which I noticed in a few of Broeding's dishes – and loved it. This course was paired with Moric 2007 Pinot Noir. Pinot Noir is my favorite wine and I drink a lot of it; this Pinot tasted too dry and bitter to be a Pinot Noir, I thought upon first sip. Then I had it after a bite of the duck and it was the ideal balance of sweetness and tartness – just the type of Pinot Noir I love.
Broeding Course 5: Homemade cheese with Quittenwein Peach Cuvée. It was ridiculously good and came from one cow.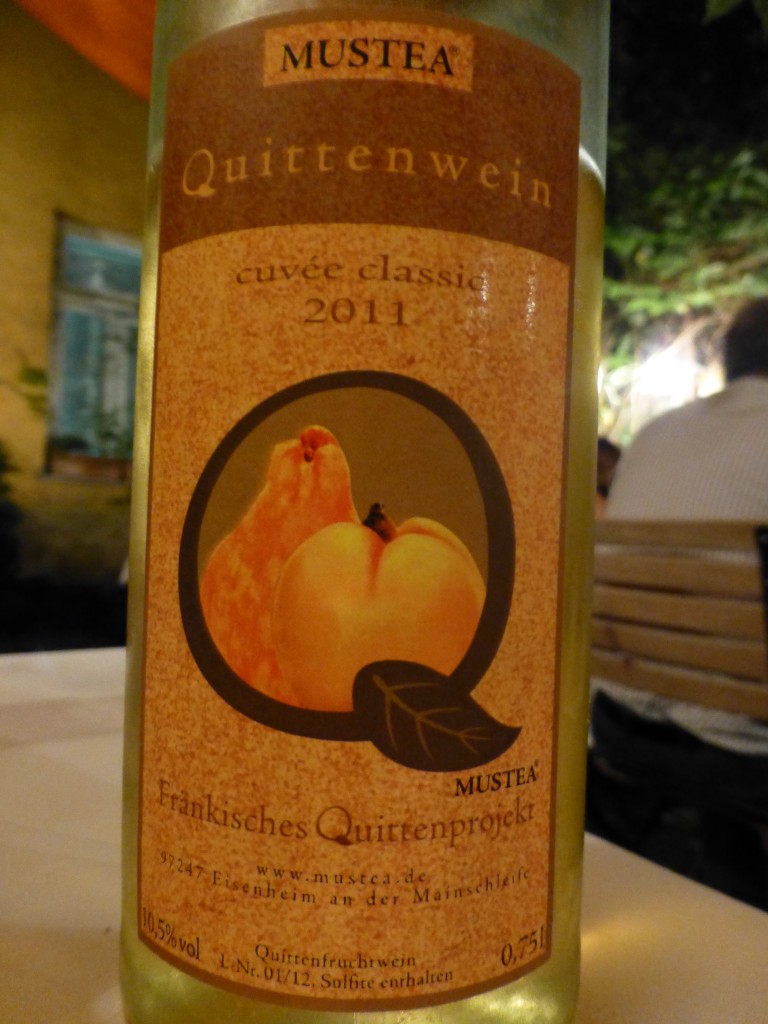 Broeding Course 6: Dessert! Peaches and clotted cream in a shot glass, and chocolate mousse with sweet cherries.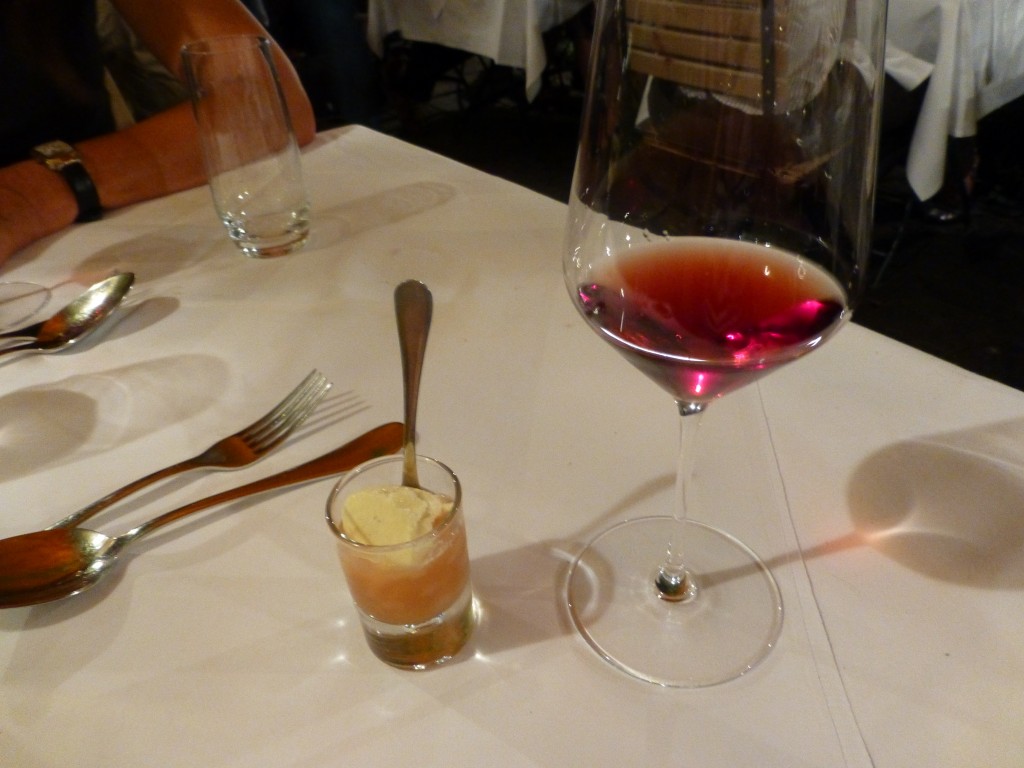 Broeding is rapidly gaining in popularity so be sure to make reservations. Though the restaurant has been around since 1990 (when it started out with a 4-course menu), the digital age has rapidly let its off-the-beaten-path location be known (it's a 10-minute taxi ride from the city center – well, well worth the taxi fare). Despite their popularity, they've kept the same menu structure, an unwavering commitment to quality, and a friendly atmosphere.