A Detailed Itinerary for What to See in Munich in One Day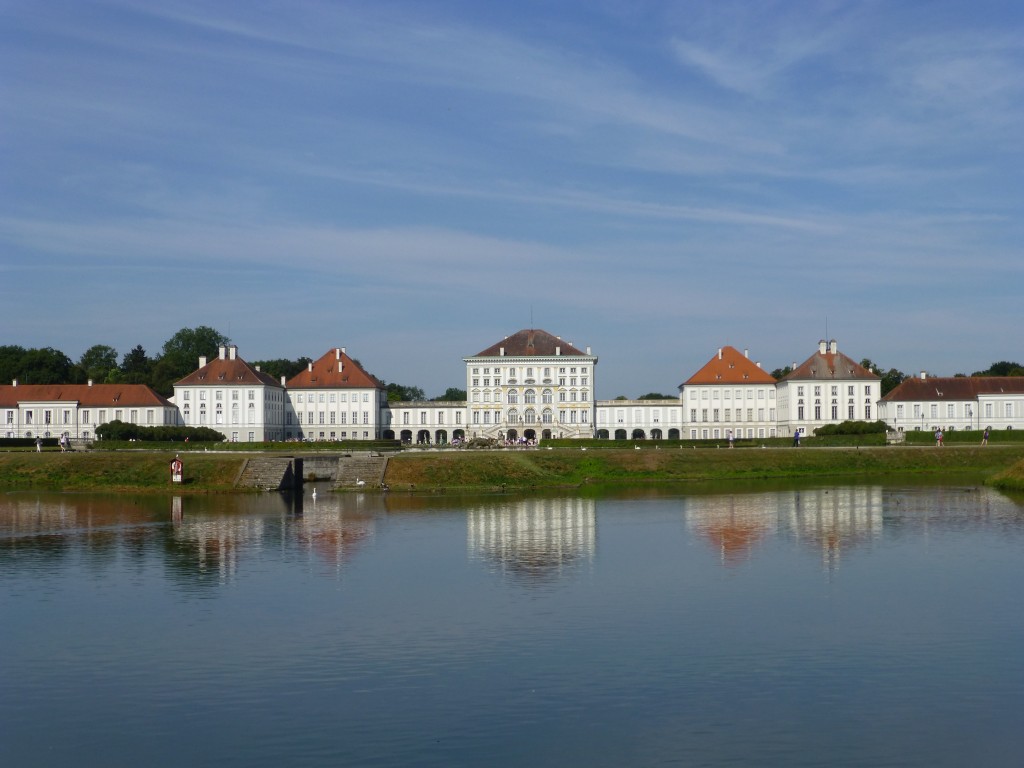 Munich is the third largest city in Germany and the largest in Germany's Bavarian region, an area in southern Germany predominately known for scenic beauty, frescoed buildings, and lots of beer, which can make it hard to narrow down the best places to visit in Munich in one day.
Which is why I extensively researched the best one day in Munich itinerary for you during my time in the incredible city and put it to the test.
Read on to find out out what to see in Munich if short on time and learn why Munich is much more than just its annual Oktoberfest and the majestic Bavarian mountains and plains surrounding it. Even if you only have time to see Munich in one day, it's still possible to experience the culture, sights, and (if you're so inclined) the beer.
But first, wondering the best way to get around Munich? Download my helpful Munich Transportation Tips document…
Munich Transportation Cheat Sheet
Get my free Munich Transportation Cheat Sheet sent to you now by entering your email below. This helpful 2-page document tells you the best ways to get to and around Munich.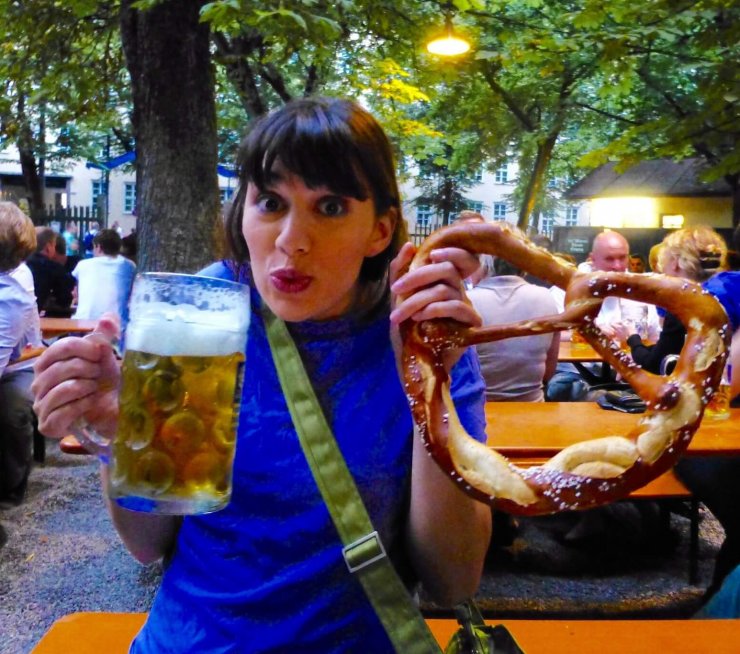 Yes, Munich is much more than beers and pretzels as big as your head…but you should still make time for that! First, though, take in the sights of the city. Here is what I'll be covering in this article to help you have a fantastic day in Munich.
What You'll Find in This Article:
Top 10 Things to See and Do in Munich
Time needed: 1 day
How to See Munich if Short on Time | Top 10 Things to Do if You Have One Day in Munich
Schloss Nymphenburg

A beautiful palace and grounds where the former royalty of Munich and Bavaria spent their summers.

Munich Residenz

The elaborate main residence of Bavaria's former governing family.

Marienplatz

The central square of Munich's old town with government buildings, churches, restaurants, and bars.

Glockenspiel

A cuckoo clock performance on a grand scale.

Deutsches Museum

An engineer's paradise. Non-engineers who love to learn how things work – like cars, airplanes, rockets, and hot air balloons to name a few – will also enjoy the interactive museum.

Beer Gardens

Not to be missed! Even if you're not a beer drinker, stop by one for some cheap grub and to take in the laidback Bavarian ambiance.

Cathedrals

Visit the architectural wonders of Asamkirche, St. Peter's Chapel, and Cathedral Church of our Lady.

Modern Art

At Museum Brandhorst and Pinakothek der Moderne, you'll see works of art by Andy Warhol, Cy Twombly, and more.

Englischer Garden

When you need some peace and solitude in Munich, head to this large park where you can find an uninhabited piece of grass to lay out on. The park is even bigger than New York City's Central Park.

Oktoberfest

This guide doesn't focus on Oktoberfest, but if you're there for the yearly festival that operates from the end of September through the beginning of October, this One Day in Munich itinerary will give you a good overview of what to do when you're not in the beer tent. There is one important tip to remember with Oktoberfest, though: Book early – 10 to 12 months in advance is ideal.
Now, read on for more details about these top things to do in Munich!
Recommended 1-Day Munich Itinerary
For the optimal itinerary to experience a wide range of Munich in a short amount of time – and especially for those who are visiting Munich for the first time, here is what to see in Munich to optimize your time.
Also, modified itinerary ideas based on your special interests are listed at the end of this blog post, and are also a good resource for places to visit in Munich if you find yourself with more than one day in the city.
Now, let's get started on that Munich in one day itinerary!
Royal Palaces of Munich: Schloss Nymphenburg and Munich Residenz
Munich is home to incredible palaces and royal residences. Here are two palatial palaces you don't want to miss out on seeing that are also ideal places to start your day off in Munich.
Schloss Nymphenburg
Start your day by swiftly getting out to Schloss Nymphenburg palace, which is a 20-minute tram ride from the city center. Though it's a bit of a trek to get to compared to other sights in the city, it's worth it to see for its history and grandeur.
Schloss Nymphenburg was the Baroque summer palace of Bavarian sovereigns and served as a retreat from the royal's residence in the city. The Bavarian nobility would spend the summer in the country at Schloss Nymphenburg with their family.
Notable Rooms to See in Schloss Nymphenburg
Festival Room: This is the first room you'll enter of the palace rooms. It is decorated in light colors and frescoes and has a summer feel. The room was used for family celebrations and Ludwig II was even baptized there.
King Ludwig I's Gallery of Beauties: This ornate room has 36 portraits hanging in it. These portraits were created over the course of 20 years and have a notable theme: they are all portraits of women King Ludwig I deemed to be exceptionally beautiful. What is interesting about this is that the portraits are of women from all classes, whether a noble princess or the daughter of the local baker. It was very rare for such a portrait to be done of a commoner back then – especially to then have it hanging in a royal residence.
Short on Time Tip: Just get the ticket to visit the Palace and grounds. The other option is a combination ticket that includes the Marstallmuseum, the Museum of Nymphenburg Palace, and the park palaces. However, if short on time visiting these extra places will take up a lot of your day.
Munich Residenz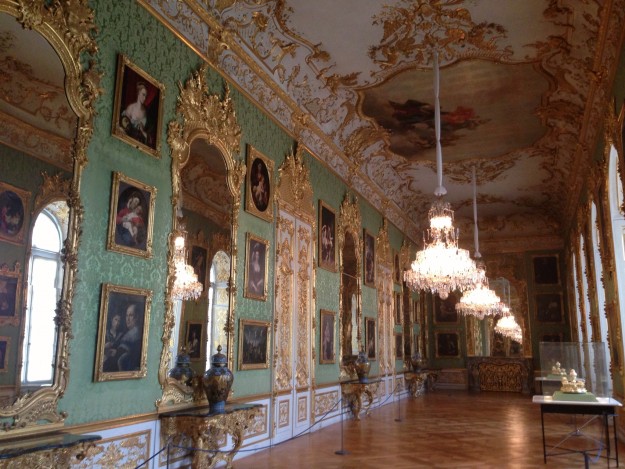 Next up, head to Munich Residenz, the other home of the Bavarian royalty. Heading to Munich Residenz right after Schloss Nymphenburg will give you a great contrast of the two different styles of decorating between a summer and city palace home.
Compared to the white and pastel coloring of Schloss Nymphenburg, the Munich Residenz is darker, bathed in crimsons, browns, and blacks. In addition to being the place of residence for royals from 1508 to 1918, the Munich Residenz also served as the seat of government for the Bavarian rulers.
The Munich Residenz was created within and around the original castle built on its location in 1385. When the original castle was built, clashes were often occurring in the region and the Dukes of Bavaria wanted a residence that would better protect them, which they called Neuveste for 'new fortress'.
Over the centuries the Neuveste was expanded and reflects architecture styles of the late Renaissance, Baroque, Rococo, and Neoclassicism eras. In 1508 the Munich Residenz began to be more of a statement piece than a building for protection as it was expanded into a magnificent palace that served as the royal palace for Bavarian monarchs and not just a fortified palace used mostly for protection.
This was also around the time that the Court Gardens were added to the palace. During World War II, bombings badly damaged Munich Residenz and when the rooms were rebuilt most were reconstructed to their former specifications, though some of them were not done to the same level of extravagance they had before.
Today, many of the rooms are open to the public to view and the Munich Residenz is also home to one of Bavaria's largest museum complexes, including a treasury, plus the old, opulent Cuvilliés Theatre.
Notable Rooms to See in Munich Residenz
Grotto Court: This room was secluded for the king and was made of shells, crystals, and bronze figures. Very elaborate looking.
Antiquarium Hall: This room is full of antiques from the 16th, 17th, and 18th centuries. It's the largest Renaissance hall north of the Alps.
Ancestral Gallery: Portraits in this hall show over 100 members of the House of Wittelsbach and their consorts. The room is was finished in 1703 and also features a genealogy tree toward the center of the hall.
Ornate Chapel: This room was the private oratory Duke Maximilan I. It is where he kept all his personal sacred relics. These were very important to him as sacred relics were considered to be more important than gold. The Pope even granted Duke Maximilan I permission to keep tabernacles containing the Eucharist in the Munich Residenz.
Green Gallery: This room stands out from the rest as it takes a break from the deep crimsons and gold decorating most rooms in the palace and instead has walls covered in green silk damask.

Short on Time Tip: Unless you're really into governing artifacts and royal crowns, skip the treasury and gardens to save time during your day in Munich.
Next Up for Your One Day in Munich: A Munich Beer Break!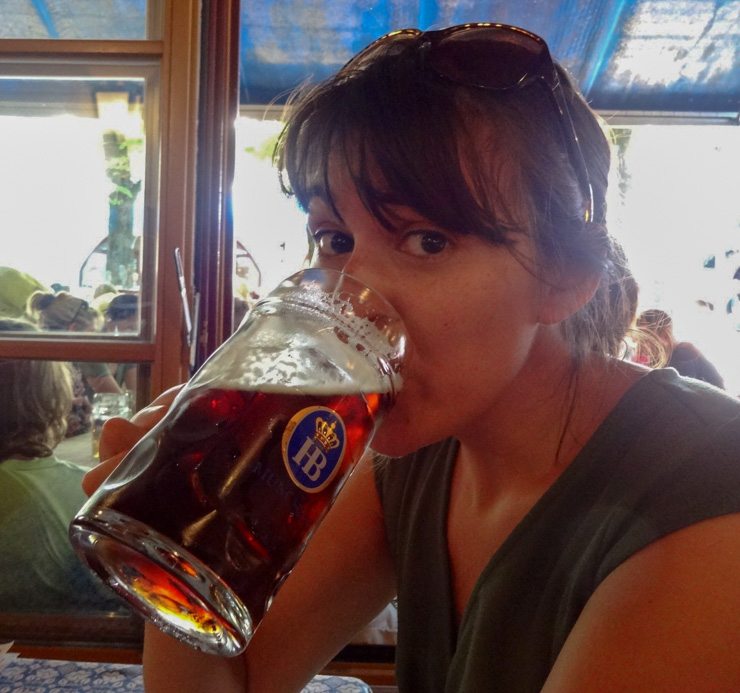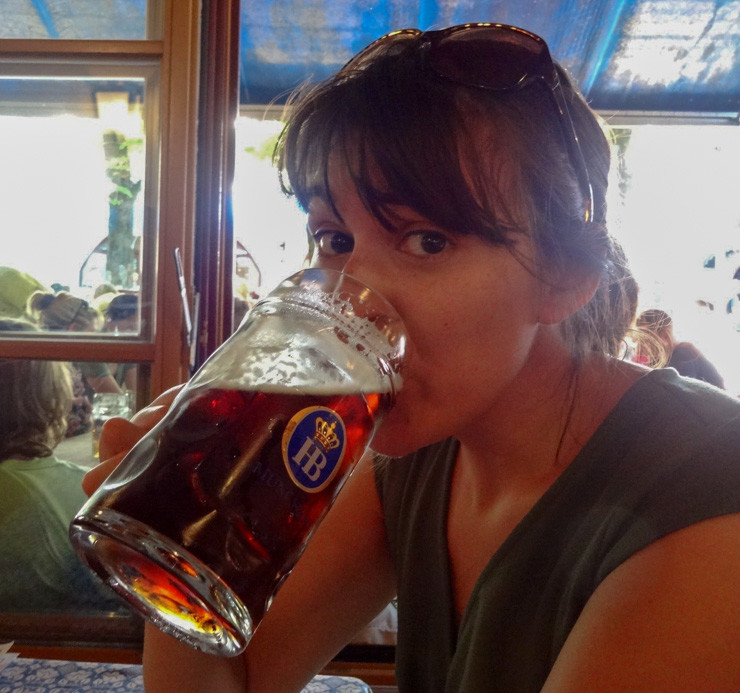 Beer gardens definitely make up some of the best places to visit in Munich in one day. After your morning touring palaces, it's a good time for a break, and when in Munich, you may very well want to include a beer with any breaks so for lunch head to one of Munich's beer gardens.
Here are two beer garden top picks in Munich:
Hofbräuhaus
The most famous beer garden in Munich is Hofbräuhaus. It has been open since the early 1800s and serves up huge portions of German cuisine plus entertains with live German folk music. The outdoor area of Hofbräuhaus fills up fast, so be prepared to wait or opt for a seat indoors in the large dining hall.
Augustiner Keller
If you for sure want to sit outside, head to the massive (and my personal favorite beer garden) Augustiner Keller. This beer garden can seat up to 5,000 people and is split into two sections: one that's self-serve and the other that has table service, all of which consists of picnic-style tables located under leafy trees.
Deutsche Museum: the World's Largest Science & Technology Museum
After lunch and a beer, get prepared to be wowed at Deutsche Museum, the largest science and technology museum in the world. While Munich has its fair share of museums, for one that's quite different from most museums you'll find in European cities, I recommend heading to Munich's Deutsche Museum.
While visiting the Deutsches Museum, you'll learn how planes mimic birds, how hot air balloons work (both current ones and designs from the past), the details of aerodynamics and the birth of different types of planes and helicopters, among many other engineering and technical feats.
Notable Exhibits at Deutsches Museum
Space: The space area features artifacts from past missions and houses a rocket four stories tall.
Model Train: A large, elaborate model train world is set up within Deutsches Museum. The train operates at 11 a.m., 2 p.m., and 4 p.m. each day and has a seating area to watch it perform. You're still able to see the setup of the model train even when it's not in operation.
Ships: See boats from long ago, including a massive sailboat that is cut in half, allowing viewers to see what conditions were like inside ships of the past.
Airplanes: See actual fighter jets from past wars and peer in the interior of other small planes, including some that were the first model of their type ever built.

What to Pack for Your Day in Munich
Here's a quick break in the one day in Munich itinerary to make sure you know what to pack so you're adequately prepared for what you want to do in Munich.
Scarf — Good for tying over your shoulders when touring churches in summer, or adding extra warmth around your face in winter.
Sunglasses
Comfortable shoes — You'll be doing a lot of walking.
A Secure Purse or Daypack — Get one that crosses your body and which you can keep in front of you (no backpacks as they're more susceptible to pickpocketing).
AND THE ONE THING I ALWAYS PACK (Don't just trust your memory!)
Church Time in Munich
Asamkirche: A Baroque Masterpiece
Even if you've seen many cathedrals and churches during your travels and feel you're on cathedral overload, this is not one to miss. It is a small, elaborate church that is an excellent example of Baroque architecture.
Asamkirche was built in the 18th century and gets its name from architect Egid Quirin Asam, who lived in the house next door to the soon-to-be-constructed Asamkirche and built the church along with his brother, Cosmas, as their personal place of worship with the intention of being buried in it.
Unfortunately for Asam, the higher powers of the church claimed the church and demanded it be opened to the public. Fortunately for travelers to Munich, it is still standing today and open to visitors.
The location makes sense when you realize that it wasn't built for the public as, unlike most churches, this one does not stand alone. Instead, it is part of a long row of connected buildings on Sendlinger Straße.
Notable Aspects of Asamkirche
The Altar: Particularly the gleaming sunburst above the altar.
Statue of Jesus: A sculpture to the left side of the pews (when facing the altar) that is a sorrowful rendering of Jesus Christ.
The Ceiling: Look up to see the frescoed motif on the ceiling of the church.
Baroque Architecture Style: Look for the dramatic Baroque-style dichotomy between black accents and bright gold features in the church.
St. Nepomuk: There is a statue of St. Nepomuk above the doorway.
St. Peter's Chapel (Peterskirche)
St. Peter's Chapel (Peterskirche) is the oldest church in Munich, built in 1180 in a Romanesque architecture style.
St. Peter's Chapel smells of incense upon entering and the dim lighting excellently displays the gold sunburst at the top of the altar. More gilded gold statues are displayed below the sunburst amidst solid marble columns. The chapel has a frescoed ceiling with gold statues lining the pews while subdued white walls frame the congregation area.
St. Peter's Chapel also has a tower that can be climbed (several hundred steps) for spectacular views of Munich.
Notable Aspects of St. Peter's Chapel
St. Mundita Skeleton: Located in the second chapel from the left are indeed the actual skeletal remains of St. Mundita, a Christian martyr. The skeleton is housed in a clear box and adorned with jewels, gold, and some eerie fake eyes.
Altar: The Baroque High Altar is impressive and designed in part by Egid Quirin Asam (of Asamkirche fame).
Short on Time Tip: Skip the tower. Munich is a city just as beautiful seen from the ground.
Cathedral Church of Our Lady
You have one more church you should visit during your day in Munich. The Cathedral Church of Our Lady, also called Frauenkirche, was built in the late 1400s and is located close to Marienplatz (next up on our One Day in Munich itinerary).
The Cathedral Church of Our Lady is an impressive landmark of Munich due to its dual domed towers above the entrance. The cathedral showcases a late-Gothic style of architecture and serves as the cathedral church of the Archbishop of Munich and Freising.
For stunning views of the city and nearby Alps head up the south tower, which can be done via steps or an elevator.
Next Stop on Your One Day in Munich: The Main Square of Marienplatz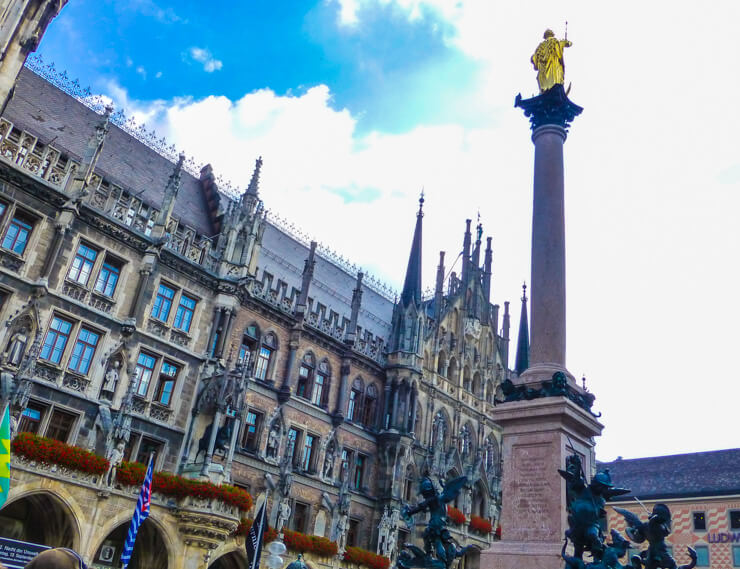 Marienplatz is the main square in Munich. Be prepared to get sucked into Marienplatz's vibrant energy derived from the nearby shopping and restaurants, plus the still in use Old Town Hall and New Town Hall, and – most popular – the Glockenspiel. Visiting the sights of Marienplatz is a must thing to do for your one day in Munich.
Old Town Hall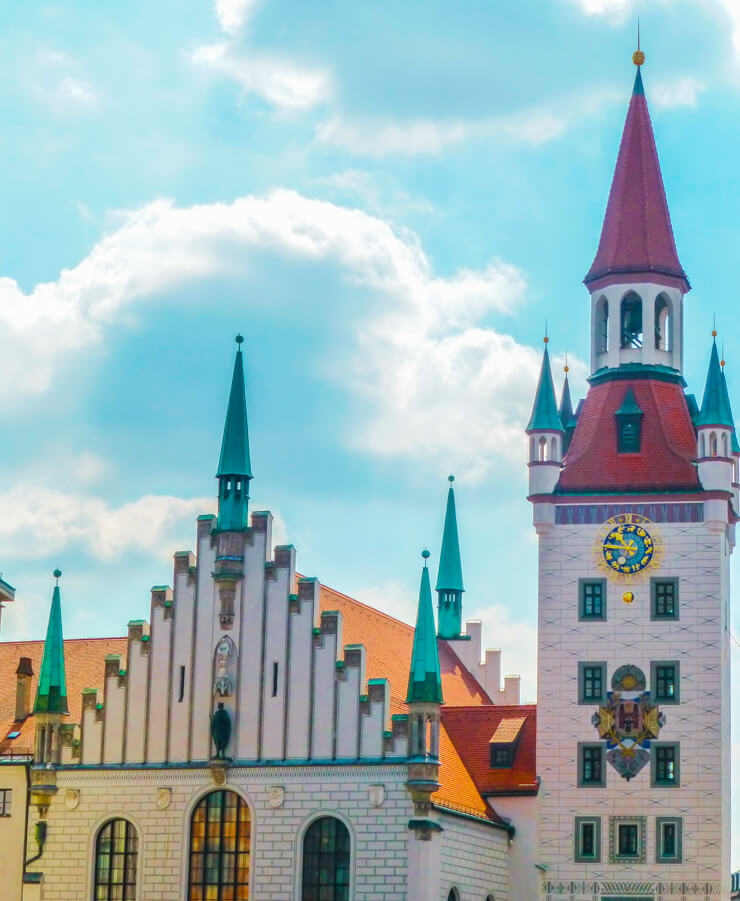 Built in the late 1400s, Old Town Hall stands tall in Marienplatz. Though the outside isn't overly impressive, touring the inside of Old Town Hall introduces you to medieval architecture mixed in with Baroque and Gothic touches as you ascend the geometrical staircase.
The 180-foot tower can also be visited for great views of the city of Munich. The tower also has historical importance as it was built prior to the rest of the town hall and was originally part of fortifications built to protect Munich.

Short on Time Tip: While visiting the tower, you'll see a toy museum located on the top few floors of the tower. The museum is called Spielzeugmuseum and unless you're traveling with children, it is probably ideal to skip so as to not run out of time for other Munich sites.
New Town Hall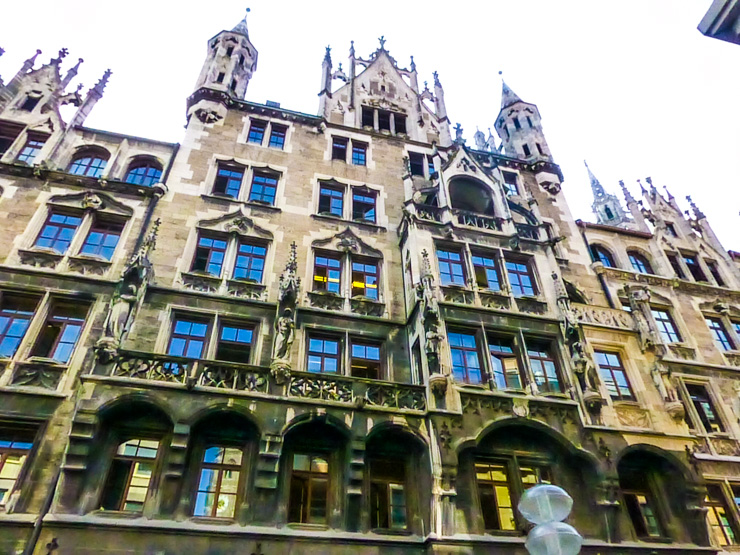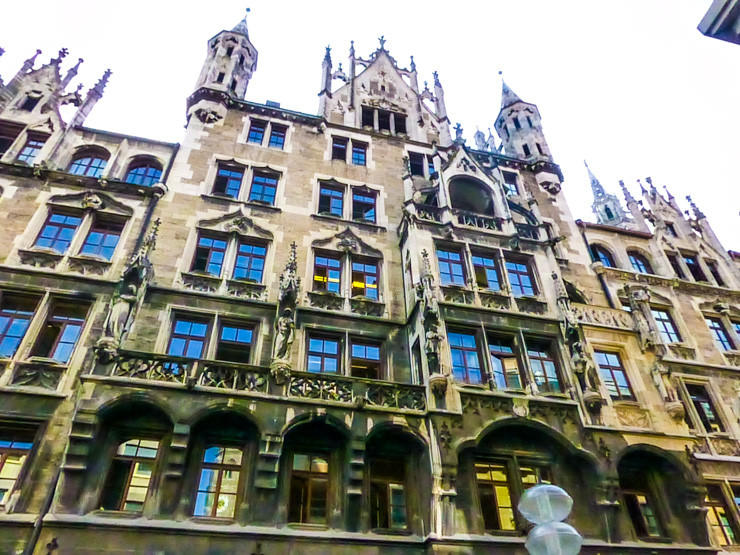 New Town Hall overshadows Old Town Hall in terms of impressive architecture as is encased in Gothic intricacies. Built at the end of the 19th century, the New Town Hall today houses the city council, mayor office, and the headquarters of the city administration. New Town Hall has a tower that can be visited via an elevator for views, and that tower is also home to…
The Glockenspiel
Every day at 11 a.m., 12 p.m., and 5 p.m. (the 5 p.m. performance doesn't occur from November through February) the Glockenspiel performance of motorized figurines dance, joust, and twirl around the inside of the tower of New Town Hall for 12 minutes.
Where to Sleep if One Day in Munich Extends into Night
When it's time for your head to hit the pillow, I have a great recommendation for where to do so: the luxuriously appointed and conveniently located Charles Hotel. I stayed here and loved it. The location is right in the city center, yet situated in a tranquil garden setting. The spa is relaxing and lovely, the rooms are well-appointed, and the service is top-notch.
Other Munich Hotel Options
High End Option: Bayerischer Hof
This luxury hotel in the center of Munich has been open since 1841. Along with a historical building, the Bayerischer Hof offers opulent rooms with a high level of service.
Mid-Range Option: Hotel Exquisit
Hotel Exquisit is ideal for travelers who like a boutique hotel experience without having to pay a fortune for it. The hotel is also excellently located and is within walking distance of the sights and restaurants of Marienplatz.
Budget Option: Pension am Jakobsplatz
A family run pension located right in Marienplatz and just a 5-minute walk to the Marienplatz metro stop. The rooms are simple, but comfortably appointed. The accommodations all have showers in the room, though some rooms have shared toilets located in the hall. In addition, a breakfast is served each morning.
You can also search for Munich hotels using the handy map below. I've placed the star pin where Marienplatz is so you can get an idea how far you are from the center of Munich. You can book now and not pay until you arrive for a lot of places. Munich hotels fill up fast, especially in the summer, so my planning tip if you're still unsure where you want to stay is to at least book somewhere decent sooner than later as long as it has a good cancellation clause. Better to do that than wait too long and be stuck in an undesirable hotel or location.
What to Do in Munich? Eat!
Once night falls, the entertainment still continues in Munich. Head back to a beer garden or for a memorable dinner out, make a reservation at Broeding Restaurant, a set menu dining experience that is gourmet heaven.
Itinerary Modifications for One Day in Munich
Visiting these One Day in Munich Itinerary recommended sites will give you a great feel for the history and culture of Munich. Adding more into the day would really rush things, and you want to enjoy your time at each site.
However, since not everyone places similar value on the same types of attractions when traveling, I've included some additional suggestions of some of the other top sites in Munich you may enjoy substituting into your day. And, if you find yourself with extra time to spend in Munich, these can be done on a second or third day spent in the city.
Also, if you're planning to check out a lot of these sites from both the recommended and modified itinerary, look into getting the Munich CityTourCard, which can save you money, time, and includes transportation. You can a 1-day pass or up to six days.
Modification for History Buffs: Bavarian National Museum
The Bavarian National Museum (Bayerisches Nationalmuseum) is a major museum in Europe featuring historic Bavarian art and culture. The collections range from Late Antiquity to Art Noveau, and visitors to the museum will get the chance to see collections of art from the Wittelsbach era. In addition, oil paintings, Bavarian furniture, sculptures, and tapestries can be viewed.
Notable Sights in the Bavarian National Museum
Christmas Cribs: View a collection of Christmas cribs that are displayed in 60 scenes with figures. The cribs and figures come from the Alps and Italy between the 17th and 20th centuries. Many of the scenes are of the Nativity, though there are some of other biblical events as well. This collection has different opening times from the rest of the museum. From November to January, the Christmas Crib collection can be seen during regular opening times, however, during the rest of the year, visitors must call +49 89 21124227 to make an appointment.
Musical Instruments: See pianos, violins, and more instruments from the 16th to 18th centuries, including instruments that were owned by the Wittelsbach family.
Riemenschneider: There is an entire room in the Bavarian National Museum devoted to 15th century sculptor Tilman Riemenschneider. Look for the impressive 12 Apostles from the Marienkapelle in Würzburg.
Modification for Nature Lovers: Englischer Garten
As Europe's largest park, the Englischer Garten (English Garden) in Munich is impressive. Located in the northeast part of the city alongside Isar River, Englischer Garten stretches over more land than NYC's Central Park and is a relaxing place for nature lovers to while away a few hours. The park dates back to 1789 and received its name because it was designed to be similar to the layout of an English country park.
Over the centuries, the park has been expanded many times, and today it offers trails for bikers and joggers, soccer fields, swimming (and even surf) spots in the river, and gorgeous vistas of Munich from the Greek-style and onsite Monopteros Temple. Englischer Garten also has an onsite Japanese teahouse and beer gardens for those who'd like to get a cup of tea or other drink while visiting the gardens.

Modification for Modern Art Fans: Museum Brandhorst
If you love modern art collections, head to Museum Brandhorst, which highlights the impressive art collection of Udo and Anette Brandhorst. The collection features a vast array of artwork by Cy Twombly, plus over 100 pieces by Andy Warhol. Starting from the 1970s and on, the Brandhorsts amassed one of the world's best collections of pop art plus works by other top artists of the 20th and 21st centuries.
In 2009, the art they'd amassed was housed in the Kunstareal museum complex, adjacent to the Pinakothek der Moderne, and opened to the public for viewing.

For travelers wanting more modern art who have time, also visit the Pinakothek der Moderne museum.
Modification for Historic Art Aficionados: Alte Pinakothek
In the same complex as the modern museums of Museum Brandhorst and Pinakothek der Moderne, you'll find Alte Pinakothek, a museum dedicated to European Old Master paintings.
The museum started out with a collection of paintings that were commissioned by Wilhelm IV, the Duke of Bavaria, and his wife for the Munich Residenz. Today, the Alte Pinakothek houses hundreds of paintings from the 14th to the 18th centuries, including works by Raphael and Leonardo Da Vinci.
One Day Tip: If you visit both Museum Brandhorst and Alte Pinakothek, opt for the day pass that gives you access to both museums, plus Pinakothek der Moderne and Sammlung Schack. Also, museums in Munich are closed on Monday so if museums are important to you, don't time your day in Munich to fall on a Monday.
Modification for Automobile Fans: BMW Welt and Museum
If you love cars, you won't want to miss the BMW Welt and Museum in Munich. Housing some of BMW's most valuable vehicles, including both cars and motorcycles, you'll get amped up to go drive Germany's famed autobahn after visiting the BMW Welt.
While looking at each car, you'll learn about the features that make it great. In the BMW Museum, there is an exhibition going into the details of BMW's history.
Don't forget to download my helpful Munich Transportation Cheat Sheet!
Munich Transportation Cheat Sheet
Get my free Munich Transportation Cheat Sheet sent to you now by entering your email below. This helpful 2-page document tells you the best ways to get to and around Munich.
Munich Tours
And if you're starting to feel overwhelmed about doing this on your own, I have some tour recommendations for you from Viator, a company I've used many times in the past and have always had a great experience on the tours I've booked through them. Here are a few to check out for Munich.
Private Munich Old Town & Third Reich Walking Tour: A two-hour walking tour that takes you through Marienplatz and other parts of Munich while you learn more about Munich's Third Reich history.
City Highlights Tour: Get in a fun workout while you glide around Munich via bike to see some of the city's top sites.
Old Town Walking Tour: Spend a couple hours with a knowledgeable guide as you see some of Munich's top sites, including Marienplatz, Hofbrahaus, and more.
Plus some tours to other destinations near Munich:
Want more tips for visiting Munich? Check out these links:
Two Munich Beer Gardens for Two Different Experiences
Munich Residenz: Visiting Where the Bavarian Monarchs Lived
Charles Hotel in Munich: Luxury Service in the City
Relaxing at the Charles Hotel Pool and Spa
History of Munich
Curious about the history of Munich, too? Here's a quick little summary I put together to get you started on learning about the city's past:
Munich is located in southern Germany, about two hours north of the Austrian border.
Many may think Munich is synonymous with Oktoberfest, but its German spelling, München, actually stands for "Home of the Monks". This naming makes sense as Munich traces its roots back to the Benedictine Monastery, which was established in the 8th century in Munich. So important were the monks to this region that the Duke of Bavaria in 1157 granted them the right to build a marketplace and trade goods. For the next century, much of the activity in Munich was conducted by the monks.
This changed – along with Munich's course in history – in 1255 when the Wittelsbach family decided to move their place of residence to Munich. The Wittelsbachs were the rulers of Bavaria and their presence in Munich over the next 700 years greatly influenced the way we see Munich today. Under the Wittelsbachs' influence, Munich was greatly expanded. Magnificent palaces were constructed on its land and gardens and the arts were made a strong focal point in the city. In the early 1900s, the Wittelsbach rulers were abdicated and the two World Wars had a strong impact on Munich through much of the early 20th century. Hitler even conducted some of his earliest secret strategy meetings in a basement of a bar in Munich.
During WWII, Munich was heavily bombed. Many of its landmarks, including St. Peter's Cathedral and Munich Residenz were severely damaged. In the years after WWII, Munich painstakingly reconstructed them to their former glory. Over the past several decades, Munich has transformed itself into both a cultural and technological center, and enjoys much prosperity.
Today Munich is known for its frescoed painted buildings, fun and elaborate beer gardens, incredible museums, and scenic parks.
Heading to other places in Germany during your trip? You may also be interested in these articles:
One Day in Berlin
One Day in Bavaria
Tips for Visiting Neuschwanstein Castle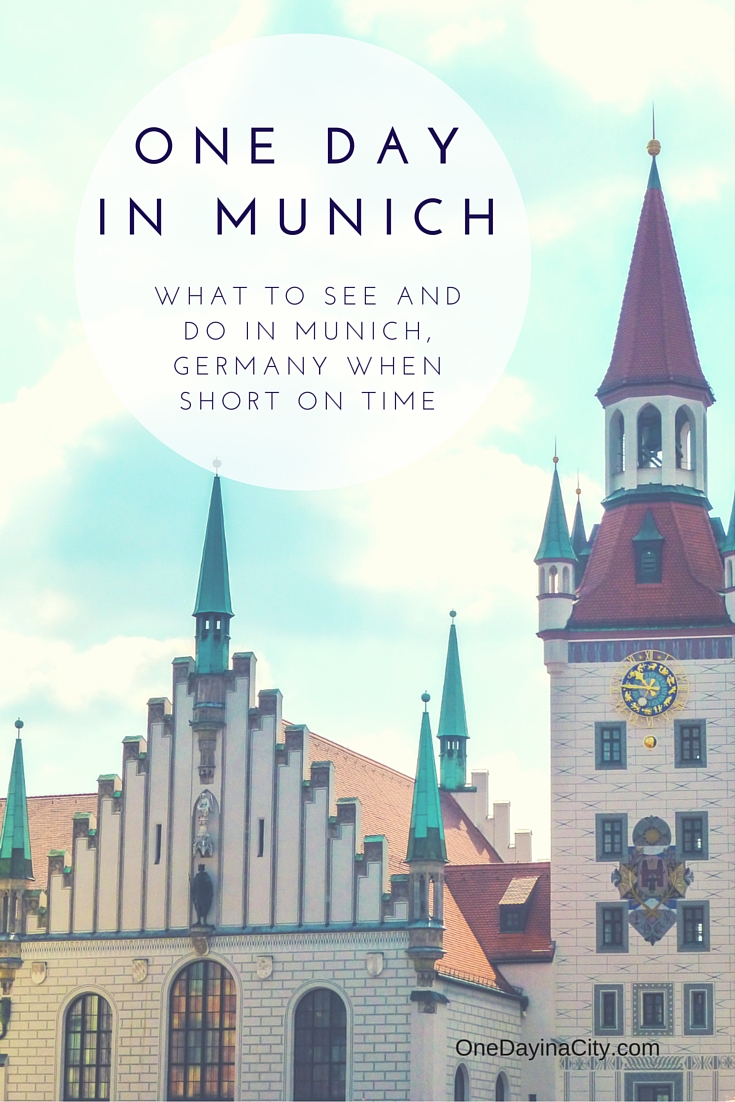 Found this post helpful? Pin for later!

This article was originally published on January 6, 2014 and was extensively updated in 2019.