A One Day in a City Itinerary: Munich, Germany
Things to Do in Munich in One Day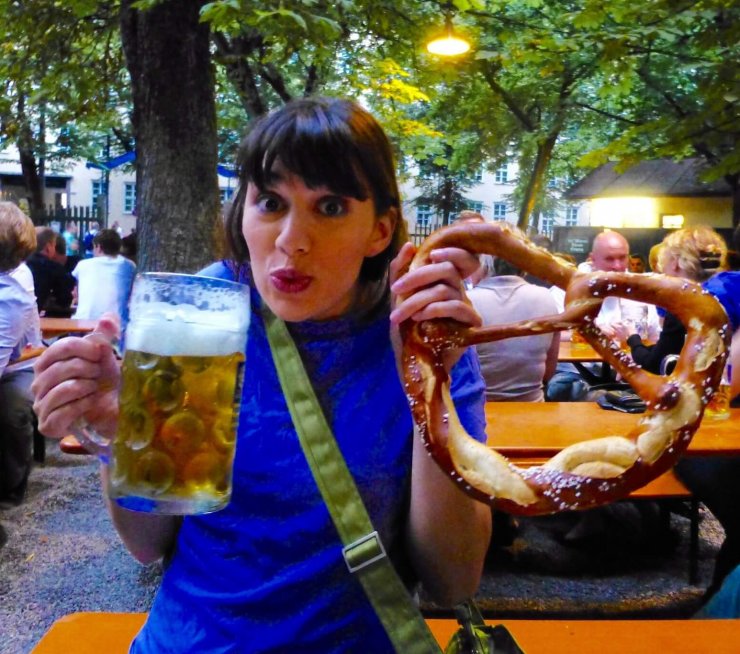 Munich is the third largest city in Germany and the largest in Germany's Bavarian region, an area in southern Germany predominately known for scenic beauty, frescoed buildings, and lots of beer. But Munich is much more than just its annual Oktoberfest and the majestic Bavarian mountains and plains surrounding it. If short on time in Munich, don't despair: it's still possible to experience the culture, sights, and (of course) the beer. Here's what to do with one day in Munich.
But first, wondering the best way to get around Munich? Download my helpful Munich Transportation Tips document…
Munich Transportation Cheat Sheet
Get my free Munich Transportation Cheat Sheet sent to you now by entering your email below. This helpful 2-page document tells you the best ways to get to and around Munich.
Things to Do, See, Eat, and Drink in Munich
Schloss Nymphenburg and Munich Residenz: Palatial Places to Start Your Day in Munich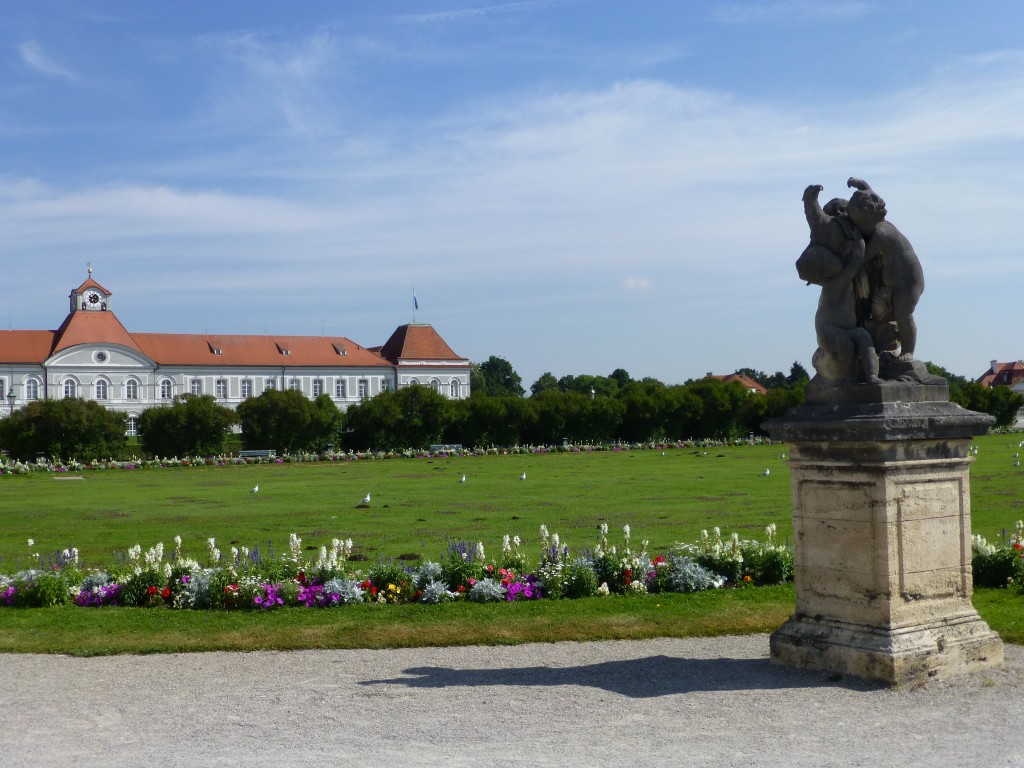 This post contains affiliate links, which means I get paid a percentage of any purchases made through those links at no extra cost to you, which helps me cover the costs of running this site so I can bring you more helpful travel content.
Start your day by swiftly getting out to Schloss Nymphenburg palace, a 20 minute tram ride from the city center. Though it's a bit of a trek to get to compared to other sights in the city, it's worth it to see for its history and grandeur. Schloss Nymphenburg was the Baroque summer palace of Bavarian sovereigns and served as a retreat from the royal's residence in the city. The Bavarian nobility would spend the summer in the country at Schloss Nymphenburg with their family. Make sure you don't miss seeing the frescoed Festival Room and intriguing Gallery of Beauties.
Next up, head to Munich Residenz, the other home of the Bavarian royalty. Heading to Munich Residenz right after Schloss Nymphenburg will give you a great contrast of the two different styles of decorating between a summer and city palace home. Compared to the white and pastel coloring of Schloss Nymphenburg, the Munich Residenz is darker, bathed in crimsons, browns, and blacks. In addition to being the place of residence for royals from 1508 to 1918, the Munich Residenz also served as the seat of government for the Bavarian rulers. Today, many of the rooms are open to the public to view and the Munich Residenz is also home to one of Bavaria's largest museum complexes, including a treasury, plus the old, opulent Cuvilliés Theatre. Be sure to see the elaborate Grotto Room, the massive Antiquarium Hall, and the portrait-filled Ancestral Gallery.
Then it's Time for a Munich Beer Break!
After your morning touring palaces, it's time for a break, and when in Munich, you'd be wise to include a beer with any breaks. For lunch head to one of Munich's beer gardens. The most famous beer garden is Hofbräuhaus. It has been open since the early 1800s and serves up huge portions of German cuisine plus entertains with live German folk music. The outdoor area of Hofbräuhaus fills up fast, so be prepared to wait or opt for a seat indoors in the large dining hall.
If you for sure want to sit outside, head to the massive (and my personal favorite beer garden) Augustiner Keller. This beer garden can seat up to 5,000 people and is split into two sections: one that's self-serve and the other that has table service, all of which consists of picnic-style tables located under leafy trees.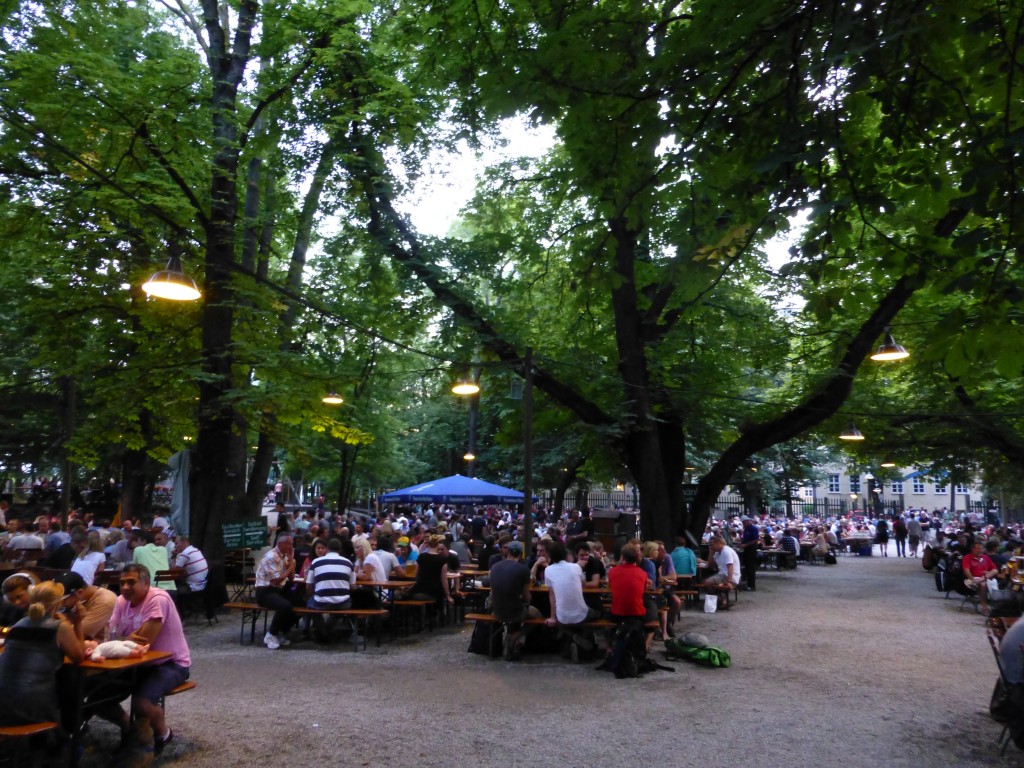 Deutsche Museum: the World's Largest Science & Technology Museum
After lunch and a beer, get prepared to be wowed at Deutsche Museum, the largest science and technology museum in the world. While Munich has its fair share of museums, for one that's quite different from most museums you'll find in European cities, I recommend heading to Munich's Deutsche Museum.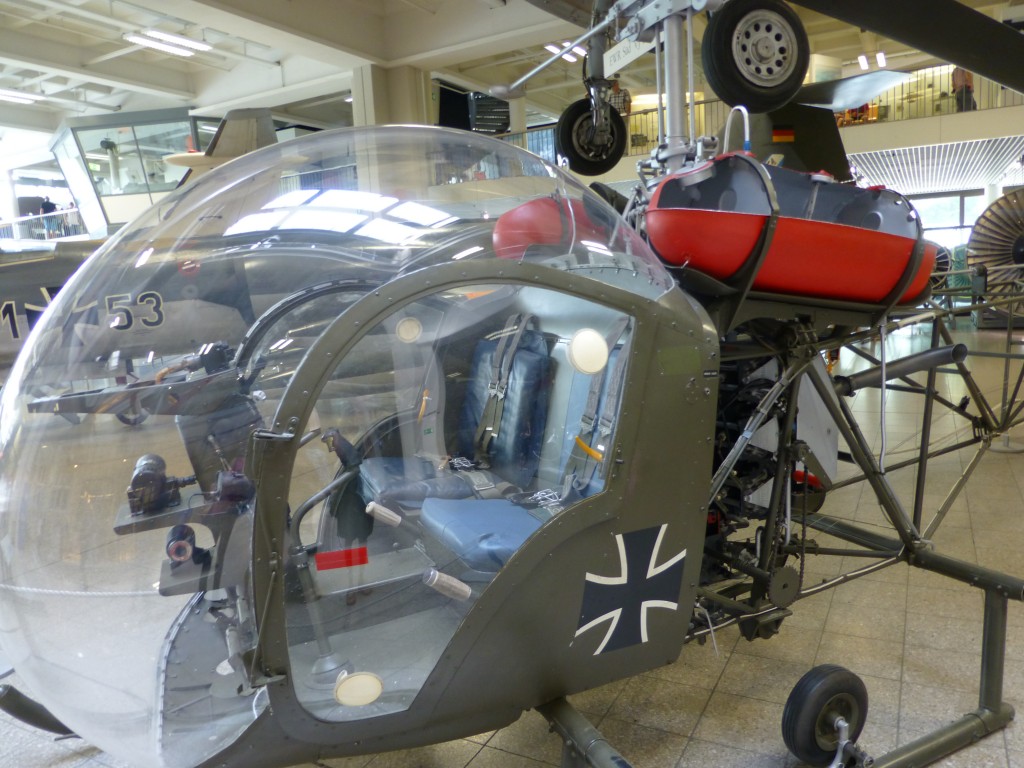 While visiting the Deutsches Museum, you'll learn how planes mimic birds, how hot air balloons work (both current ones and designs from the past), the details of aerodynamics and the birth of different types of planes and helicopters, among many other engineering and technical feats.
What to Pack for Your Day in Munich
Scarf — Good for tying over your shoulders when touring churches in summer, or adding extra warmth around your face in winter.
Sunglasses
Comfortable shoes — You'll be doing a lot of walking.
A Secure Purse or Daypack — Get one that crosses your body and which you can keep in front of you (no backpacks as they're more susceptible to pickpocketing).
AND THE ONE THING I ALWAYS PACK (Don't just trust your memory!)
Church Time in Munich
Asamkirche: A Baroque Masterpiece
Even if you've seen many cathedrals and churches during your travels and feel you're on cathedral overload, the small, elaborate Asamkirche is one church not to miss and is an excellent example of Baroque architecture. Another church to see during your one day in Munich is St. Peter's Chapel (Peterskirche), the oldest church in Munich, which was built in 1180 in a Romanesque architecture style. Also located in St. Peter's Chapel are the eerie skeletal remains of St. Mundita, a Christian martyr. The skeleton is housed in a clear box and adorned with jewels, gold, and some spooky fake eyes.
You have one more church you should visit during your day in Munich. The Cathedral Church of Our Lady, also called Frauenkirche, was built in the late 1400s and is an impressive landmark of Munich due to its late-Gothic style of architecture and dual domed towers above the entrance. Frauenkirche also serves as the cathedral church of the Archbishop of Munich and Freising.
Town Halls, Clocks & Shopping in Marienplatz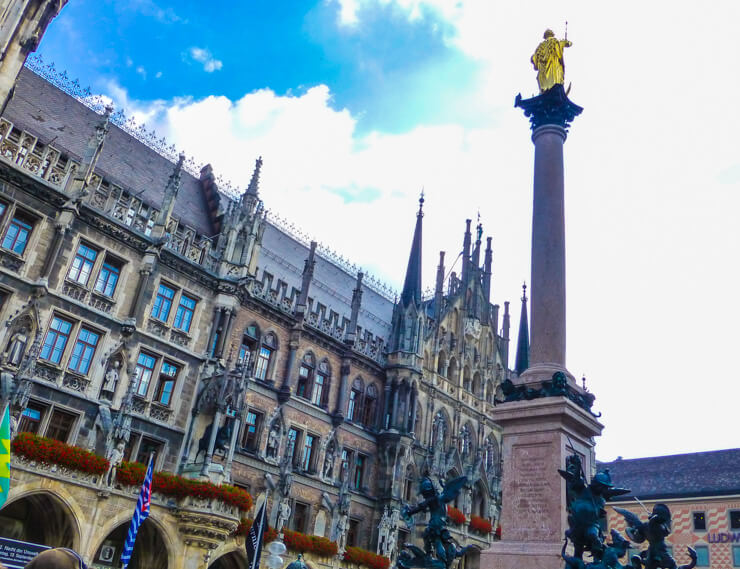 Marienplatz is the main square in Munich. Be prepared to get sucked into Marienplatz's vibrant energy derived from the nearby shopping and restaurants, plus the still in use Old Town Hall and New Town Hall, and – most popular – the Glockenspiel. Visiting the sights of Marienplatz is a must thing to do for your one day in Munich.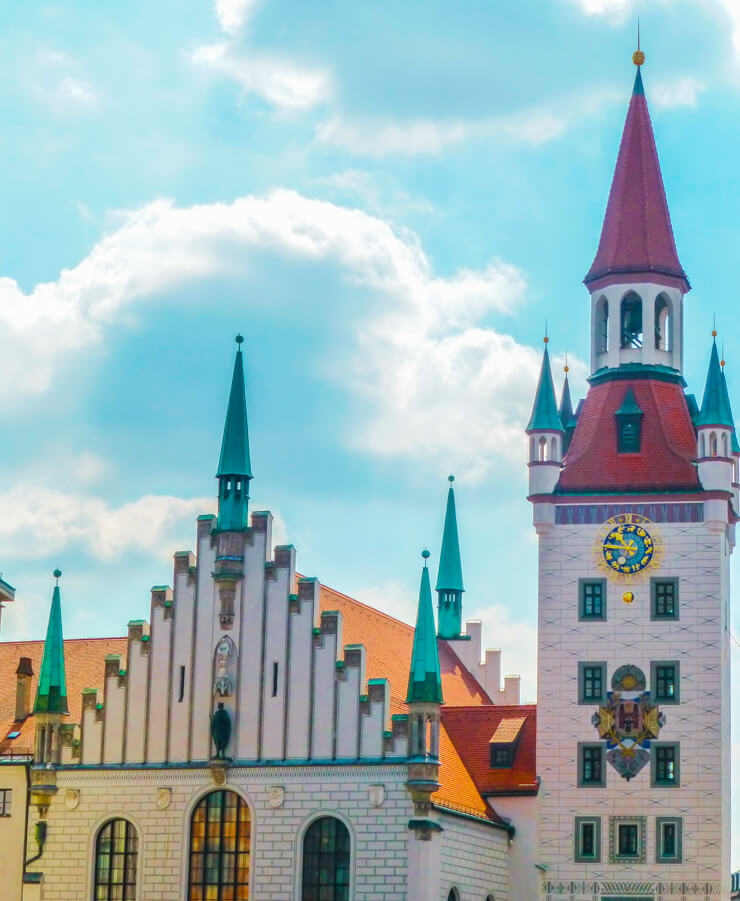 The medieval Old Town Hall was built in the 1400s and has a 180-foot tower that offers great views of the square.
New Town Hall overshadows Old Town Hall in terms of impressive architecture as is encased in Gothic intricacies and is also home to…
The Glockenspiel.
Every day at 11 a.m., 12 p.m., and 5 p.m. (the 5 p.m. performance doesn't occur from November through February) the Glockenspiel performance of motorized figurines dance, joust, and twirl around the inside of the tower of New Town Hall for 12 minutes.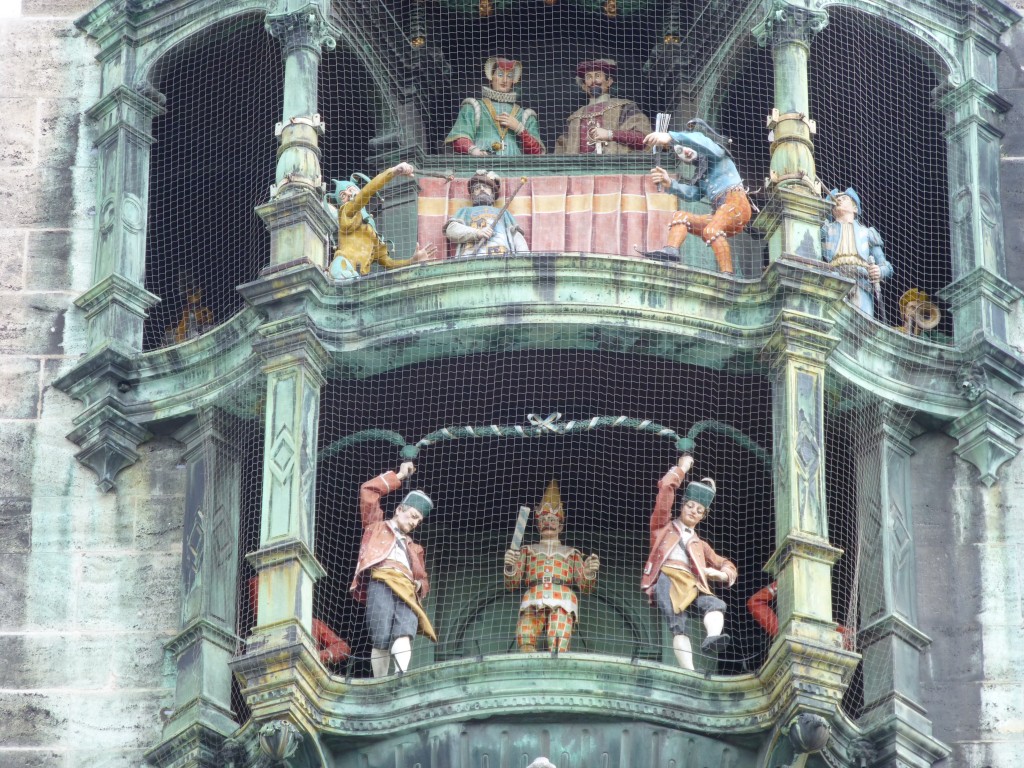 Where to Sleep in Munich
When it's time for your head to hit the pillow, I have a great recommendation for where to do so: the luxuriously appointed and conveniently located Charles Hotel. I stayed here and loved it. The location is right in the city center, yet situated in a tranquil garden setting. The spa is relaxing and lovely, the rooms are well-appointed, and the service is top-notch.
You can also search for Munich hotels on Booking.com, which is one my favorite accommodation booking sites. It's super easy to use, has the lowest pricing, and you can book now and not pay until you arrive for most rooms. Munich hotels fill up fast, especially in the summer, so my planning tip if you're still unsure where you want to stay is to at least book somewhere decent sooner than later as long as it has a good cancellation clause, than wait too long and be stuck in an undesirable hotel or location.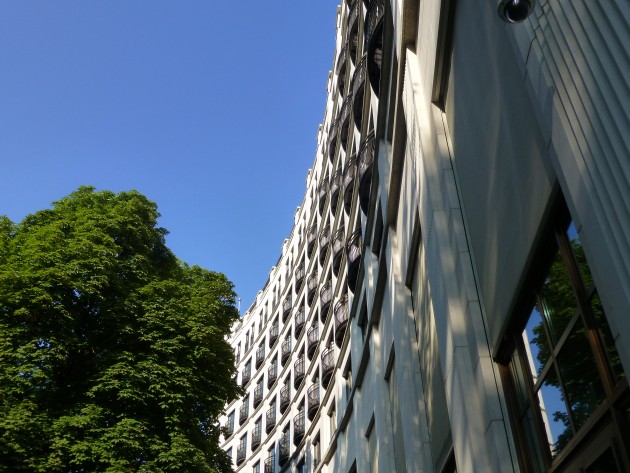 Where to Eat in Munich
Once night falls, the entertainment still continues in Munich. Head back to a beer garden or for a memorable dinner out, make a reservation at Broeding Restaurant, a set menu dining experience that is gourmet heaven.
Don't forget to download my helpful Munich Transportation Cheat Sheet!
Munich Transportation Cheat Sheet
Get my free Munich Transportation Cheat Sheet sent to you now by entering your email below. This helpful 2-page document tells you the best ways to get to and around Munich.
Heading to other places in Germany during your trip? You may also be interested in these articles:
One Day in Berlin
One Day in Bavaria
Tips for Visiting Neuschwanstein Castle
Want more tips for visiting Munich? Check out these links:
Two Munich Beer Gardens for Two Different Experiences
Munich Residenz: Visiting Where the Bavarian Monarchs Lived
Charles Hotel in Munich: Luxury Service in the City
Relaxing at the Charles Hotel Pool and Spa
Also, follow me on Instagram for more travel inspiration and tips!