Tips to Maximize Your First Day on Board Your Cruise Ship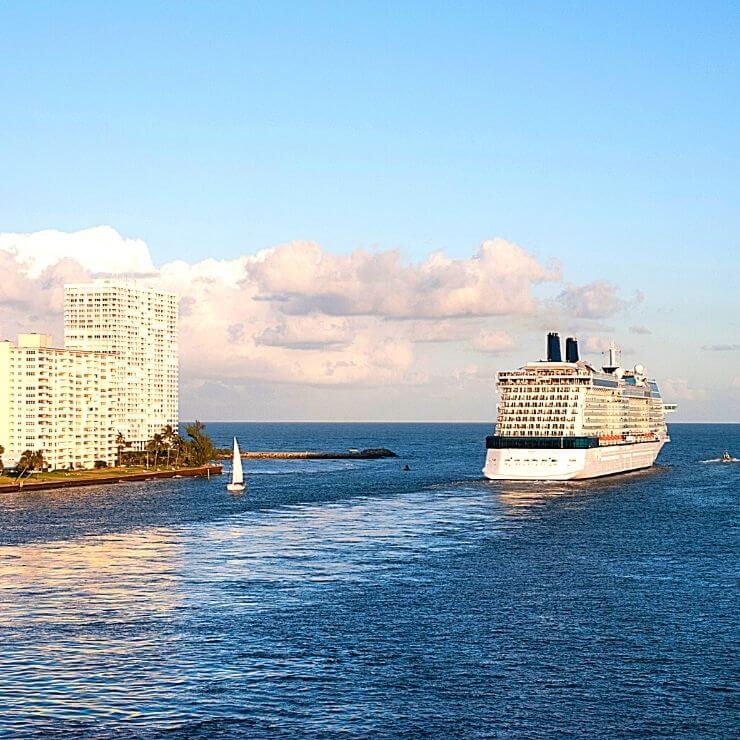 The first day of a cruise can be a whirlwind, especially if you don't know how to get the most out of it. Here are some Dos and Don'ts to ensure a fun and relaxing first day on board your cruise.
Do Check-In Online Before Arriving to the Embarkation Port
If your cruise line has on online check-in option that lets you fill out some of the required embarkation paperwork, it's smart to go ahead and do it before you arrive. It will save you time during the embarkation process and get you on the ship faster.
Don't Automatically Take the Cruise Ship Elevators
With everyone exploring the ship, heading to the buffet, and finding their stateroom, it can take awhile to get an elevator on the first day of your cruise.
Instead of waiting for an elevator, consider taking the stairs if you're able to and only need to go up or down a few decks. Another option is to take stair breaks on each deck to explore it before going on to the next level.  
Do Figure Out Where to Eat on Embarkation Day
It's a good plan to spend your first day on board your cruise ship finding something delicious to eat – both for that day and later on in your cruise since some sumptuous restaurants on the ship will require reservations.
Also, specialty restaurants typically offer a discount for dining on the first night of your cruise so consider checking one of those out – maybe as celebration of the start of your cruise – and then experiencing the Main Dining Room the following night.
Don't Assume the Buffet is Your Only Option
For eating on embarkation day, you'll find that most people head straight to the buffet to have lunch and wait for their staterooms to open. But make sure your stateroom or suite doesn't have a special place for you to dine for lunch. Some categories for certain cruise lines come with that perk.
Do Make Dinner Reservations
The first day is also a good time to make a reservation for dining at specialty restaurants later on during your cruise if you haven't done so yet.
Specialty restaurants can fill up quickly, especially for prime nights (i.e. the nights not in port or non-themed menu nights in the Main Dining Room – most people don't want to miss out on lobster night so will book reservations for specialty restaurants on other nights).
Use your first day on the ship to check out the specialty restaurants on board and figure out where you want to dine. Then head to the concierge desk to make your reservations. You can always change the day and time later if desired (and if there's space available).
Don't Assume You'll Have Access to Your Luggage Immediately
The embarkation process involves dropping off your luggage upon check-in and having it delivered to your stateroom. This helps avoid a clogged gangway and elevators so everyone can more effortlessly board the ship.
However, don't assume you'll get your suitcases right after you find your stateroom or suite. It can sometimes take a couple hours before they are delivered to you.
Read More:
What to Pack for a Caribbean Cruise
What to Pack for a Mediterranean Cruise
Do Bring a Daypack for Embarkation Day
When figuring out what to bring for your cruise, you'll want to stick in a daypack for days in ports. That daypack can also come in handy on embarkation day.
Pre-pack it before arriving at the cruise terminal with a few items you may want right away on the ship, such as sunscreen, chargers for electronics, change of clothes, sandals, and your toothbrush.
It's also wise to keep all medications with you in a daypack when boarding the ship.
Do Pack Your Swimsuit in the Daypack
Get some pool time ahead of the crowds by being savvy and packing your swimsuit in your daypack.
Then you can immediately change into it after boarding and hit the pool lounge chairs without having to wait for your luggage to be delivered to your stateroom.
Do Take Time to Settle Into Your Cruise Stateroom
Once you have your luggage in your stateroom, take some time to put away your clothing and other items and stow away your suitcases and duffel bags so you can settle in and start to feel like your cruise is your home away from home.
Introduce yourself to your stateroom stewards as well – your steward will help make your cruise memorable, keep your room clean, and deliver any information you might need about the cruise.
Don't Fall Asleep
After a day of traveling it may be tempting to take a nap in your comfortable cruise bed, but instead head to the cafe and get a cup of coffee to make sure you don't miss out on any of the fun of embarkation day.
Plus, skipping a nap and going to sleep at your usual (vacation mode) time will help you adjust your body clock to any time zone changes.
Do Get Some Pampering
Spa services are often discounted on embarkation day. In addition, you can get a tour of the facility on embarkation day and schedule services for later in your cruise.
Don't Assume You Have Phone Coverage
If you're setting sail from a port close to where you live, don't assume you still have phone coverage just because you're close to home. International data plans (which can be very expensive!) can kick in after you're a certain distance from shore.
Check with your mobile plan provider before you leave to find out where and what's covered for you.
Do Take a Photo Before Your Cruise Ship Sails
Before your ship leaves the embarkation port, use your phone camera and snap a photo of you having a blast on the ship and upload it to social media to make all those friends back home on the west coast jealous!
Then spend the rest of your cruise embarkation day exploring the ship and relaxing into vacation mode.