Make Sure You're Ready for Your Caribbean Cruise with These Must-Have Items to Pack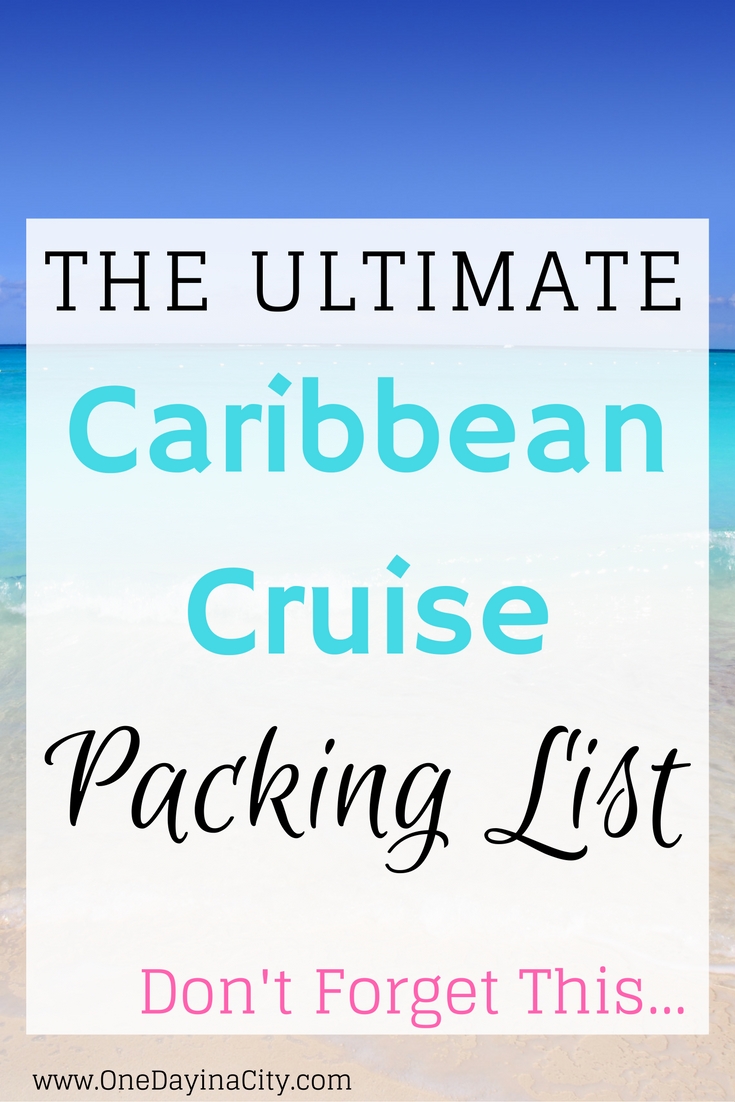 Heading on a cruise to the Caribbean? Get ready for sunshine, salty sea, and onboard fun. I've worked in the cruise industry for ten years and some of my favorite cruise memories are from the Caribbean — I love how a Caribbean cruise offers so many opportunities for different types of experiences and adventures. But that also means needing to pack properly to cover all those adventures, so before you leave for your cruise make sure you have your suitcase ready with my must-have items to pack for a Caribbean cruise.
Note: This post contains affiliate links, which means I get a percentage of any purchases you make from applicable links, which helps me to cover the costs of running this site. I only recommend things I use and like! Thanks for supporting One Day in a City! 
Multiple Swimsuits
The Caribbean is all about the water so you're going to probably want to spend a lot of time in it, plus your cruise ship will have a pool and hot tub. If you don't want to constantly be putting on a damp suit, bring multiple swimsuits. Ladies, bringing different swimsuit styles is wise, too:
Swim Cover-ups
Most cruise lines require your swimsuit is covered when walking around the ship so have a cover-up you can easily throw on for the walk to the pool or if you decide to head to the Lido deck for a snack. Here are a couple cute options:
Shoes and More Shoes
When it comes to shoes, I usually try to pack as minimally as possible since they take up so much room, but on a Caribbean cruise, you're going to want numerous pairs. Here's what shoes you'll want and why.
Sun Coverage — Important Not to Forget to Pack This for Your Caribbean Cruise
Think about the Caribbean and you probably think about blissful sunshine. Nothing can ruin a vacation faster, though, than a bad sunburn, so make sure you're covered.
Caribbean Port Day Attire to Pack
When deciding what to pack for your days in port during your Caribbean cruise, it's important to first decide what you're going to do in port. Are you going to spend every day at the beach? Are you doing some active shore excursions? Are you doing some city touring? Figuring this out will help you know what you need to pack to be comfortable for those activities. As a general rule of thumb, though, here's what you'll likely want to pack for port days.
Caribbean Cruise Ship Attire to Pack
Beyond the pool, there are some other clothing items you'll want for your time on board the cruise ship.
If your cruise ship has action activities on board, most of what you packed for your time in port will suffice, though you may also want some workout type attire.
On temperature: Sea breezes can be tricky; sometimes they'll feel warm and humid and other times they'll feel cool. Plus, air conditioning may be more chilly in some areas of the ship than others. This means layering is key to being comfortable on board and not having to run back to your stateroom (which, depending on the size ship you're on, could be a five to 10 minute walk away). For evenings onboard, here is what I suggest that'll take you from dining to shows to a jaunt out to the deck to take in to sea air:
Some cruise ships have much more informal dress codes in the evening. If that's the case, you should be fine in jeans or other casual attire, but double check the evening dress code for your ship before leaving.
Your cruise ship also may have formal nights during which you have to be dressed up in formal attire to eat in the main dining room (if you don't participate you can eat at the buffet, typically served on the Lido deck, or order room service). While some people dress up in gowns and tuxedos, you'll be fine in a short cocktail dress or suit, too (though like above, always double check your particular ship's policy).
Cruise ships also usually rent tuxedos onboard if you want to save packing space or think you won't participate in formal night and then change your mind later.
A note on formal nights: these are super fun! More and more cruise ships are doing away with them, but if your cruise ship still has them, take part in it. When else do you get the chance to dress to the nines in formal attire? Ladies, reuse any stylish bridesmaid dresses – they can be a good option for formal nights.
With these Caribbean cruise packing tips, you'll be ready for every adventure that comes your way on your cruise. Happy sailing!
You also might enjoy reading: 
Touring Castillo San Cristobal Fort in Puerto Rico
Ziplining Through Pic Paradis in St. Martin
✕
Upgrade Your Travels
Learn how to create a 5-star travel experience on any budget with my eBook, yours FREE when you sign up for my newsletter, which features exclusive travel tips and stories.