Don't Miss These Day Trips From Vienna Recommended by Travelers Like You
If you're vacationing in Vienna, Austria, and have extra time, don't miss out on some of the scenic and architecturally astounding day trips you can do from the city. I've compiled 10 day trips from Vienna you won't want to miss, with input from other travel bloggers and experts on vacationing around Central Europe, as well as my some of my own recommendations.
Read on for a comprehensive list of the most unforgettable day trips from Vienna.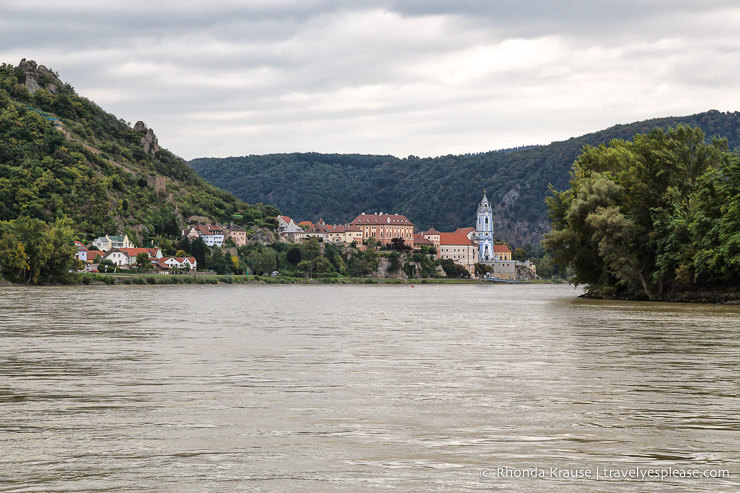 Best Day Trip from Vienna #1: Wachau Valley
For travelers looking to experience some natural scenery on a day trip from Vienna, visiting the Wachau Valley is a great choice.
This scenic stretch of land along the Danube River, between Melk and Krems, is packed full of beautiful landscapes, historic sites, and attractive small towns. A popular way to explore the region is with a two hour river cruise, but travelers can also explore by bike for some extra flexibility.
From Vienna, the town of Melk can be reached by train in about an hour. A natural first stop is Melk Abbey, a Benedictine monastery whose current Baroque construction dates back to the 18th century. The abbey is known for its beautiful library and decadent ceiling paintings.
Further down the Wachau Valley en route to Krems, travelers will see hillside vineyards, ruined castles, and rural villages. Dürnstein is an especially interesting town, as it's home to a ruined castle where Richard the Lionheart was once imprisoned. The hike up to the castle offers some wonderful views of the Danube River.
A visit to the Wachau Valley can be capped off with a tasting at one of the region's wineries, before returning back to Vienna by train from Krems.
-Recommendation from Rhonda Krause, travel blogger at Travel Yes Please; read more about her time in Wachau Valley on her river cruise through the region.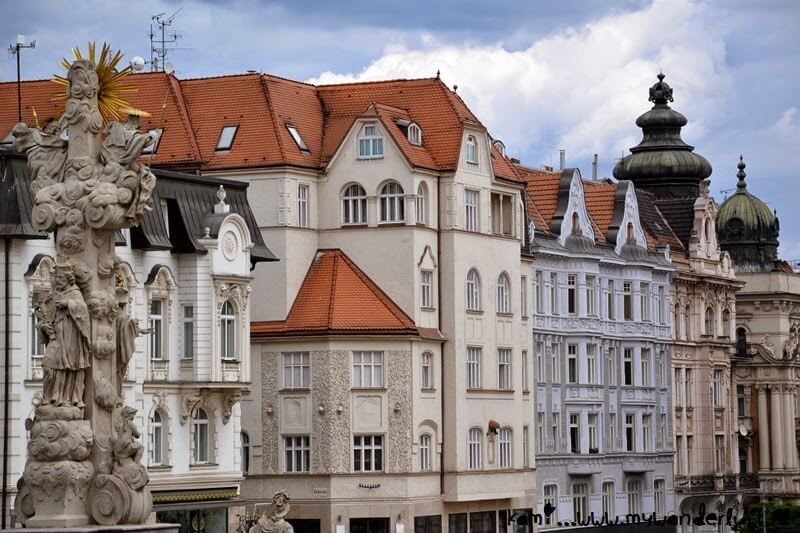 Best Day Trip From Vienna #2: Brno
Brno, the second largest city in the Czech Republic, makes a perfect day trip from Vienna. It takes only one and a half hours by train to travel between the cities, and there are connections every two hours. If you buy the ticket online in advance, you should pay a bit over 20€ for a one-way ticket.
A few years ago Brno made it to the prestigious New York Times' list of "52 Places to Visit" and it was a well-deserved spot.
Brno is beautiful, a perfect Central European city with pastel houses, winding lanes and numerous cafes. Even if not so many tourists visit Brno, the center is usually bustling since there is always something going on, particularly since the city has one of the largest student populations in the Czech Republic.
Once you have seen the center with its numerous attractions head to the nearby castle hill to see the city from a different perspective. For all the fans of modern architecture, Brno has a real gem – Tugendhat Villa (part of the UNESCO World Heritage List). If you want to visit it inside, remember to purchase the ticket in advance.
Before heading back to Vienna, make sure to stop in one of the Czech restaurants to try some of the typical dishes like svíčková na smetaně (marinated sirloin) or smažený sýr (fried cheese). And don't forget to order a famous Czech beer to go with the food!
-Recommended by blogger Kamila Napora who writes about her travels at Kami and the Rest of the World.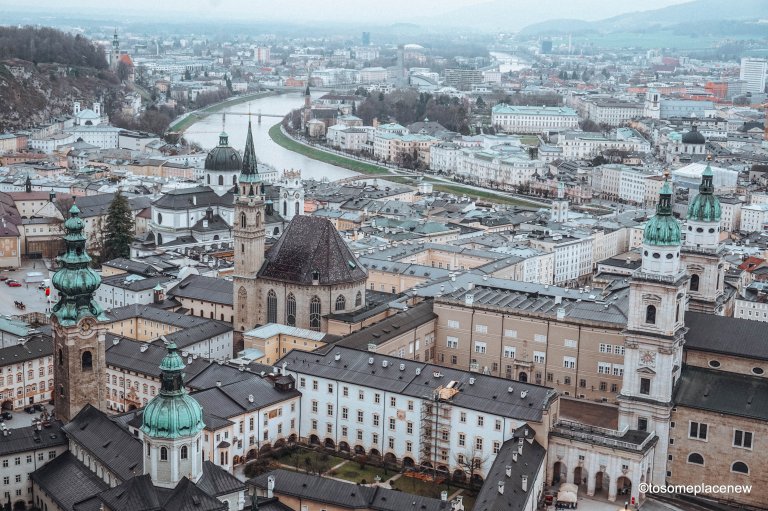 Day Trip From Vienna #3: Salzburg, Austria
If you want to experience another iconic city in Austria in addition to your travels in Vienna, then head to Salzburg. The city of Salzburg is a perfect day trip destination from Vienna. Salzburg is located about a 3-hour drive away from Vienna. For a day trip, in order to maximize the sightseeing in Salzburg, opt for a high speed train from Vienna. High speed trains to Salzburg take about 2.5 hours and train fares typically start at 19 euros one way.
Salzburg is characterized by the stunning Hohensalzburg fortress and the Salzach river that flows through the town.
For one day in Salzburg, here are the top things to see and do:
Wander through the old city (Altstadt). The old town is just 20 minutes away from the central train station.

Visit Mozart Square – Mozart was born in Salzburg, and there are statues, cafes and a museum dedicated to him.

Take a Sound of Music tour to view the on-location scenes of the famous movie.

Head to Hohensalzburg Fortress – The castle is located on a hilltop. Funicular services are available to reach the top. Hiking up the hill one way takes 20 minutes. The views from the fortress top are absolutely stunning. There are museums, cannon stations, a church, and restaurants located at the castle.

Other interesting tourist spots include Mirabell Gardens, Salzburg Cathedral, and Schloss Hellbrunn.

Take a dinner cruise on the Salzach River.
Salzburg makes a great day trip from Vienna due to the medieval historical setting. The fortress and the Salzach river, along with the Austrian alps backdrop makes Salzburg a dreamy destination. For music and movie lovers who enjoy the works of Mozart and the Sound of Music, Salzburg is definitely a must visit.
-This recommendation was provided by Mayuri, a blogger at To Some Place New. Read more about her adventures in Salzburg with this 48-hour Salzburg itinerary. 
Now, here are a couple of my recommendations on where to take day trips from Vienna to!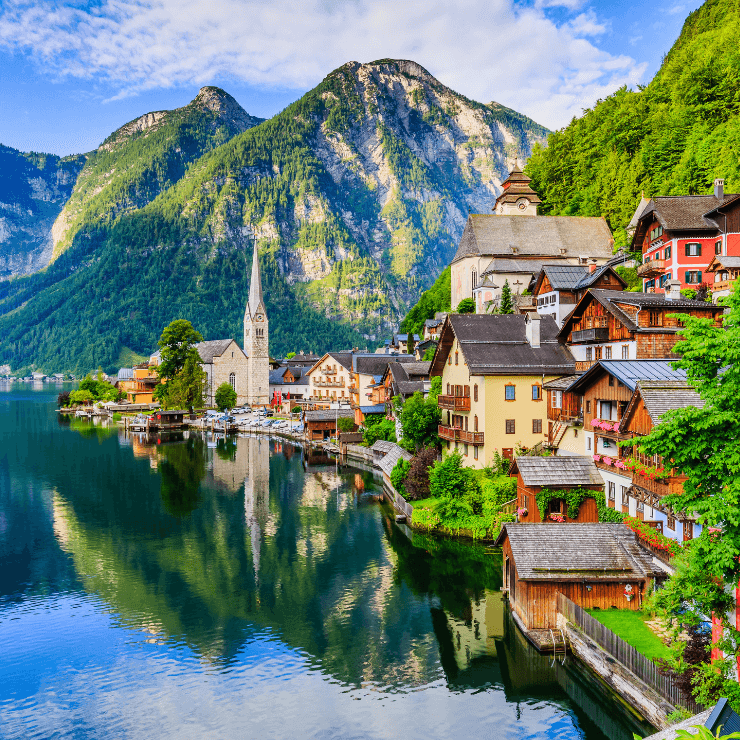 Day Trip From Vienna #4: Hallstatt
Austria may be landlocked, but that doesn't mean you can't have a blissful day by the water while visiting the country. Located  roughly 180 miles from Vienna is Hallstatt, situated right on the lake of the same name. In addition to being ridiculously scenic, the town itself is oozing with charm thanks to its 16th century Alpine architecture.
It takes a little over three hours to drive to Hallstatt from Vienna, but you'll have gorgeous scenery along the way. Trains also run between Vienna and Hallstatt, making it convenient to do a day trip from Vienna for those who aren't renting a car while traveling.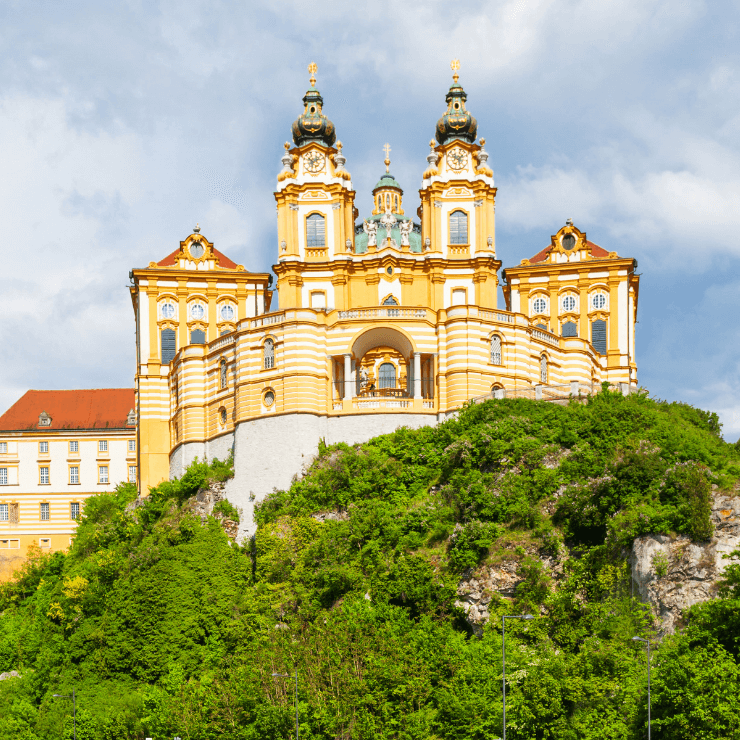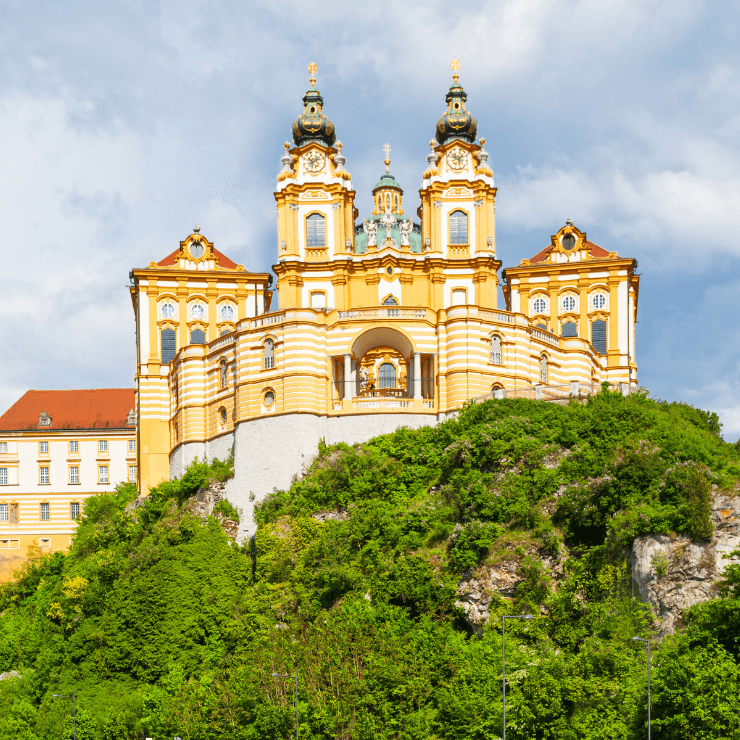 Day Trip From Vienna #5: Melk Abbey
Melk Abbey is a large and stately looking Benedictine Abbey situated high on a hill above the town of Melk, Austria. Its architecture has mostly Baroque influences and its two steeples and central dome create an impressive visual, especially with the bright green Austrian countryside surrounding it. Due to its impressive build and vast history (the current building's construction began in 1702, but the abbey itself dates back to 1089 when Leopold II gifted the location to Benedictine monks from Lambach), it's a UNESCO World Heritage Site and is open to visitors to tour.
Melk Abbey is located about an hour west of Vienna, making it a perfectly situated day trip from Vienna. And, as my blogger friend Rhonda mentioned earlier in this article, there are many other things around Wachau Valley you can do while there, but I think Melk Abbey is so special that it deserves its own section, too!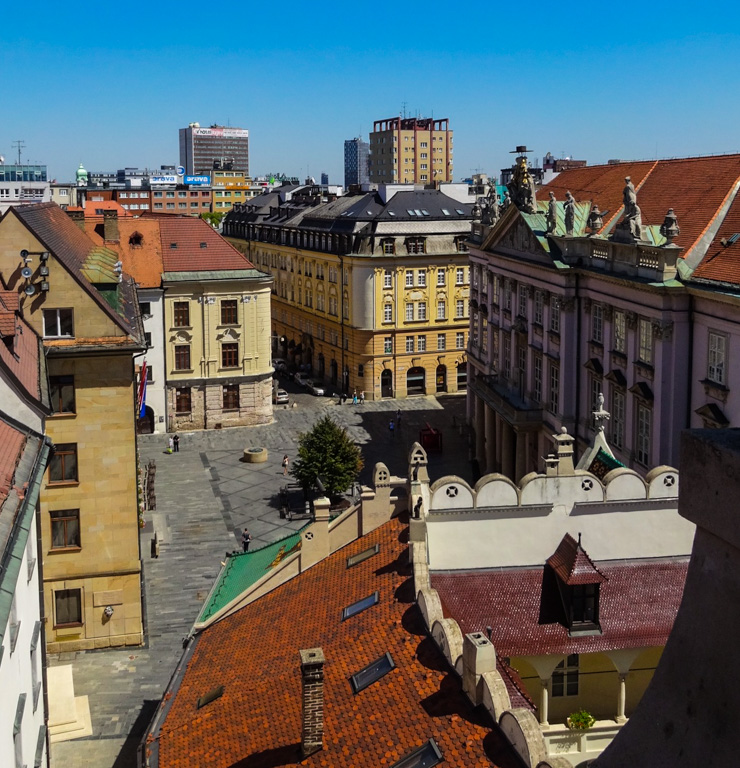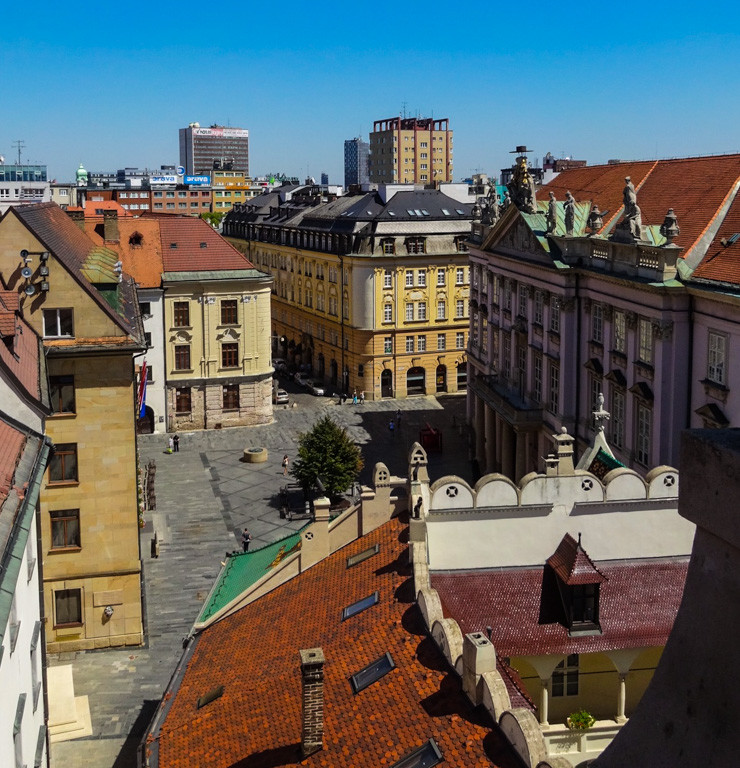 Day Trip From Vienna #6: Bratislava, Slovakia
At just 50 miles from Vienna, you can easily drive or take a scenic train ride to Bratislava for the day.
I love that Bratislava has a less touristy vibe than some of the other big cities in Europe, and was delighted by its cuisine, wine bars, and outdoor reading areas.
If you have a day in Bratislava, I recommend walking around the Old Town area and getting a cup of coffee or glass of wine in Hlavné námestie square to soak up the ambiance. The Bratislava Castle is also intriguing to walk around and was remarkably uncrowded when I was there at the height of summer. My favorite building, though, was St. Elizabeth's Church that is painted in a delightful light blue color.
For lunch or dinner, Halušky is a must-eat; it's the Slovakian national dish and is a delicious type of potato dumpling.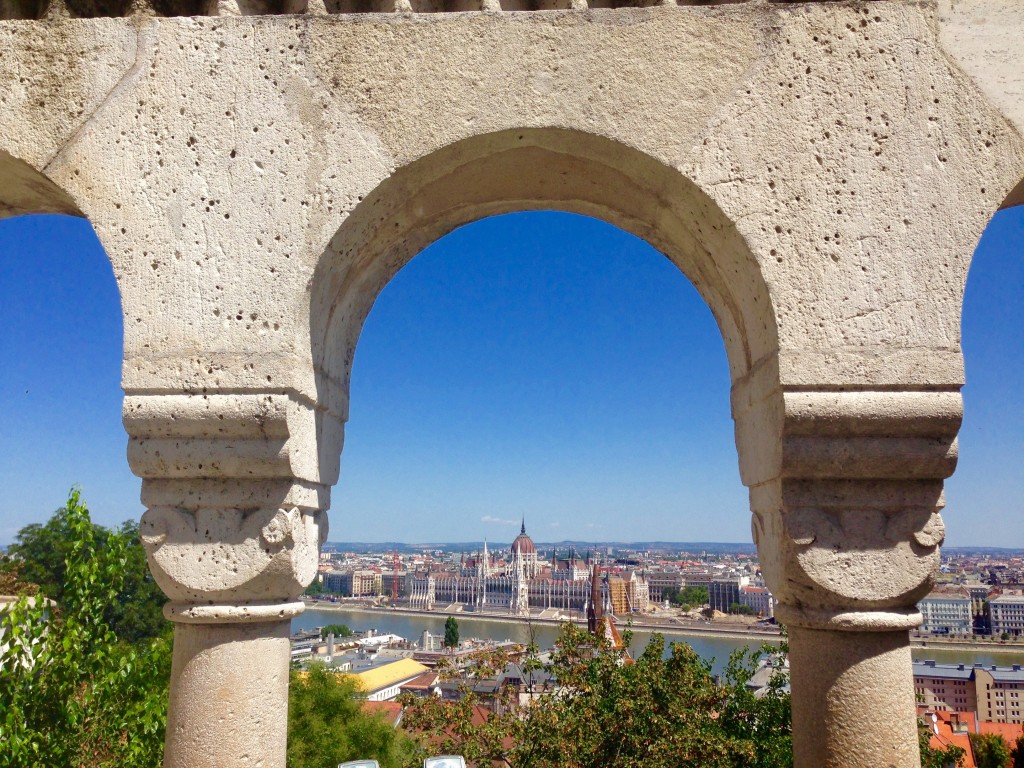 Day Trip From Vienna #7: Budapest, Hungary
Want to hit up one more country during your time in Austria? Then make the long day trip from Vienna to Budapest.
At roughly 2.5 hours from Vienna by train or car, visiting Budapest will make for a long day, but you'll get to see the wonders of the Baroque city, which is split into two distinct parts by the Danube River: Buda and Pest.  The west side of the river is referred to as Buda while Pest is to the east of the body of water. The sides are connected by many bridges, including the famous Charles Bridge.
To find out more about what you can do on each side of the river flowing through Budapest, check out my One Day in Budapest itinerary.
Day Trips #8, 9, & 10: Castles Galore!
I love a good castle and Austria has plenty. Here are some of the best ones you can visit on day trips from Vienna.
Liechtenstein Castle
A short day trip from Vienna is Liechtenstein Castle, which is located only about a thirty-minute drive southwest of Vienna's city center in the town of Maria Enzersdorf. Liechtenstein Castle dates back to the 12th century, though much of it was destroyed in the 16th and 17th centuries by the Ottomans. In 1884, rebuilding of the castle began, making for an impressive and intact structure that you can tour today. Adding to its prowess is its prominent location overlooking the vast Vienna Woods.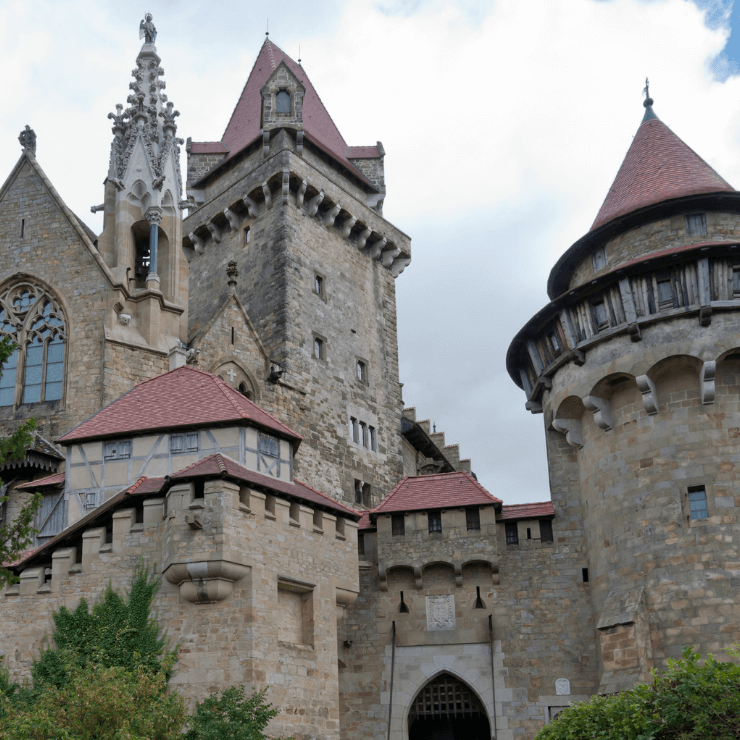 Kreuzenstein Castle
Kreuzenstein Castle is another 12th century castle in Austria that's easy to get to from Vienna since it's located just about thirty minutes away in Leobendorf. The journey is worth it, though. Kreuzenstein Castle looks like something out of a fairytale with its round towers and pointy red towers.
Franzensburg Castle
Located in Laxenburg, Franzensburg Castle is another castle that's just a short half-hour or so from Vienna. Franzensburg Castle is gorgeously nestled on an island within the center of Schlossteich Lake. A guided tour is required in order to visit the castle and they're offered at select times between March and November. Franzensburg Castle was completed in 1836 and named after Emperor Francis I of Austria.
Which of these day trips from Vienna are you most excited to go on? Or, perhaps you'll need to extend your trip to Vienna so you can do all of them!
Found this post helpful? Pin it to read again later!