One Day in Berlin, this Happened…
One thing I love about traveling is how a chance meeting with a friendly local can totally change your night and give you a fun memory of a location. In Berlin, that special someone was an enthusiastic taxi driver…
"Maybe a taxi can just drive us by the East Side Gallery?" I suggested tiredly.
Mom and I had just finished up dinner at Sage Restaurant in Berlin a bit later than we expected (this may be because I decided to get the 7-course surprise menu).
We were tired from a full day of sightseeing and also I was so full I could barely move (ahem 7-course meal), but we were supposed to go see the last sight on our must-see list, the East Side Gallery.
Dusk was settling in around us and the hotel room was starting to sound much more appealing than walking along a street. I didn't want to miss the East Side Gallery, though.
"A taxi sounds like an excellent idea," Mom agreed.
The Sage hostess hailed us a taxi.
"We're going to Cosmo Hotel," I instructed the taxi driver, "but first do you mind driving us by the East Side Gallery? We don't mind paying extra for a longer route."
The taxi driver's eyes lit up, which I thought at first was because we were giving him a higher fare, but then I realized it was because of the East Side Gallery. He seemed very excited to take us there.
It seems we had gotten the perfect taxi driver. We were about to learn exactly how awesome he was, though.
The East Side Gallery is a collection of street art painted onto a long stretch of the Berlin Wall that is still standing off of Mühlenstraße street in Berlin, and is one of my top recommendations for what to do in Berlin. The East Side Gallery is nearly a mile long and was painted shortly after the fall of East Berlin. Over 100 paintings by 118 different artists that hailed from many different countries decorate the wall. Many of the paintings reflect political situations that were going on during 1989 and 1990 after the wall came down. Many of the images seen on the East Side Gallery Wall have become quite iconic, such as this one:
"Here! Here!" our driver suddenly proclaimed excitedly.
I should probably point out that our taxi driver was not German. He looked to be from southeast Asia, though I couldn't place exactly where, and he spoke broken English. I reasoned that may have been why he was just as excited about the East Side Gallery as we were. Maybe the sights of Berlin were still as much a new novelty to him as they were to us.
I looked out the window and grinned as an East Side Gallery mural came into view.
The window was rolled down and I stuck my camera out to take some pictures.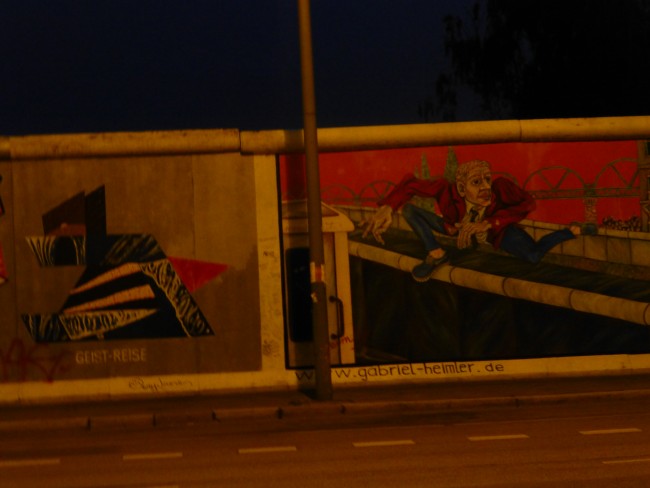 "Hmmm, they're a bit blurry," I murmured to mom as I scanned back through the East Side Gallery photos I just took.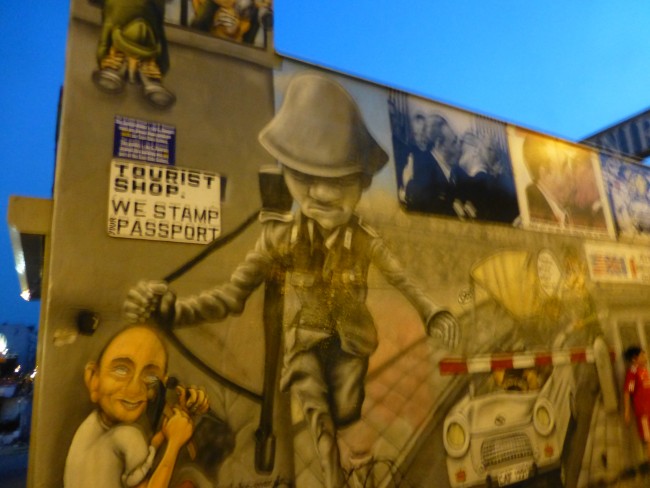 "Can we pull over for just a minute?" Mom asked the taxi driver.
He pulled over and we snapped a few more pictures of the East Side Gallery from across the street.
Suddenly, he hopped out of the car and held his hand out for my camera through the window. Too surprised to do anything else besides hand it over, I gave it to him.
Next thing I knew, he was dodging traffic as he ran across the street to get closer up pictures.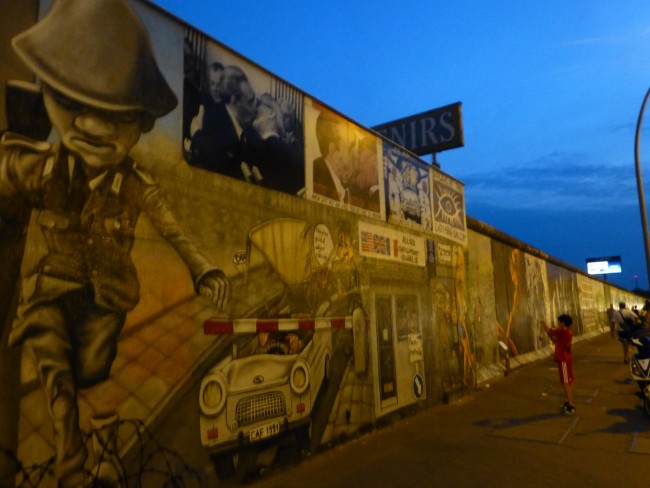 Mom and I both burst out into delighted laughter as we watched him run across the street.
"Oh my gosh! Best taxi driver ever!" I exclaimed.
He came back with a big proud smile on his face and handed me my camera back.
"Thank you!" I said.
We got a few more glimpses of the wall as we continued down the street and then we were off to Cosmo Hotel. Needless to say, Mr. Taxi Driver got a big tip.