The Best Room in the Schloss Nymphenburg? King Ludwig I's Gallery of Beauties
Schloss Nymphenburg is one of the top things to see — maybe even the top — when you travel to Munich. Schloss Nymphenburg is the old summer residence of Bavarian Royalty, built so they could get away to the country. Considering it was only located 4.5 miles from what was their main home, the Munich Residenz, it's a pretty elaborate getaway just to get out of the city. And as you'll soon find out, they filled the country palace with some of their favorite things…and people.
The Nyphenburg palace wasn't always so grand. It started out as a small cottage that belonged to the mother of Duke Maximillian II Emanuel. In 1663 Emanuel (as he went by) started construction on the cottage to turn it into the palatial residence it is today, which was enjoyed for many generations of Bavarian royalty. Schloss Nymphenburg has dozens of rooms, but there was one that stood out among the others…
King Ludwig I's Gallery of Beauties
King Ludwig I's Gallery of Beauties is a room in the Schloss Nyphenburg strictly dedicated to women that King Ludwig I found beautiful. These attractive ladies where painted and hung in his room – 36 of them, which were created over the course of more than 20 years (1826 – 1850). King Ludwig I wasn't biased in who he deemed the fairest in the land; both royalty and common folk hang on this wall. You'll see portraits of princesses plus the baker's daughter. This was actually a big deal back then, as it was very rare for anyone besides nobility to be painted by a royal artist, let alone have it hung in a royal residence. King Ludwig I was fascinated by female beauty, partly because in the 1800s, physical attraction was considered to be a sign of moral perfection.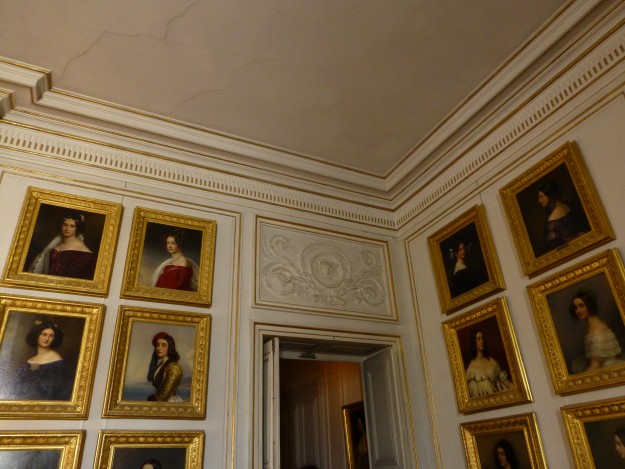 King Ludwig I's Gallery of Beauties isn't the most impressive room in the Nyphenburg palace in terms of colors, ornateness, or size; yet it caught my attention by being quite different than other palace rooma, both in the Schloss Nymphenburg and other palaces found around the world. Bet most of these lovely ladies didn't think their portrait would be stared at by thousands of visitors every year.