The Ultimate List of Girls Trip Destinations in North Carolina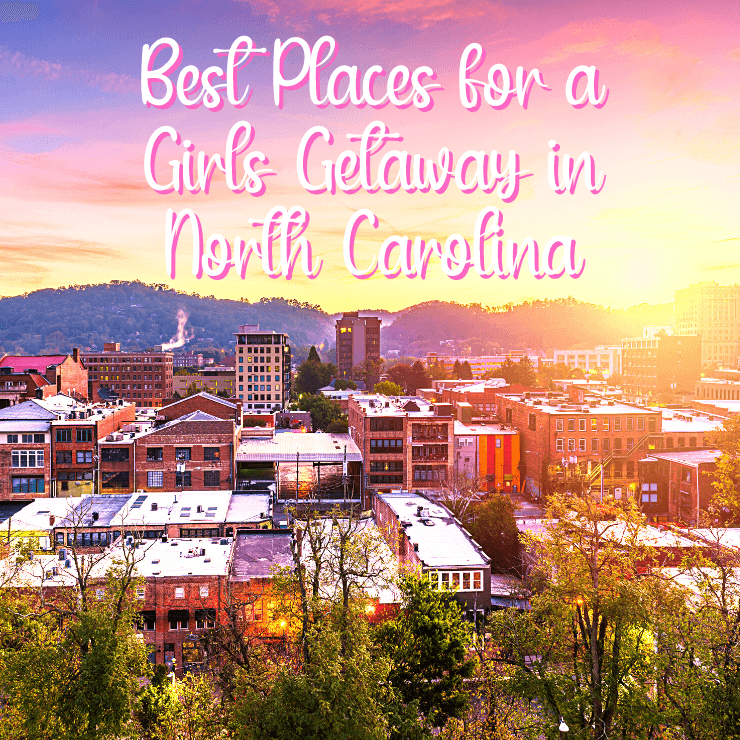 Are you and your best friends looking for a perfect girls trip destination? North Carolina is a great option for a fun and memorable trip. From stunning mountain views to relaxing beach getaways, North Carolina has something to offer all sorts of friend groups.
In this article, we'll explore some of the best girls trip destinations in the state. So, grab your besties and get ready to explore the great state of North Carolina!
Bald Head Island
If you're aiming for a beach getaway with your girlfriends, Bald Head Island in North Carolina is sure to please.
Even though the island is known for catering to couples and families, it is fast becoming a favorite destination for girl-only getaways on the incredible North Carolina Coast. The folks there understand the need for unwinding and catching up with your besties every now and again.
Whether your jam is spending the whole day at the beach, hiking, drinking wine in an ocean-front restaurant or rental house porch, indulging in a spa, or all of the above, Bald Head Island will deliver.
Group-friendly activities include touring Old Baldy Lighthouse, kayaking through the Bald Head Island Conservancy, bike riding along the boardwalk, as well as yoga and art classes. Be advised that you're all sure to get hooked and eager to return as soon as possible!
Charlotte
They say friendship bonds strengthen with time spent together, and what better way to do that than going on a girl getaway with your friends? If you're all looking for some bonding time in the city, Charlotte is an amazing option.
With unique city experiences sans the hassles of big cities, Charlotte offers an eclectic art scene, killer shopping options, and a nice array of dining & wining options. As if that weren't enough, beautiful nature abounds in and around the city.
Put simply, the tagline "Charlotte's got a lot" is right on spot. Among the experiences you can share with your BFFs in the city are taking art at The Mint Museum, catching a show at the Carowinds Performing Arts Center, shopping at South Park Mall and Charlotte Outlet Malls, and visiting some local breweries.
For hair-raising fun with your gal pals, how about braving the rides at Carowinds Amusement Park? The so-called Queen City has something to offer everyone, including 8 lakes at its doorstep, in case one or all of you are looking for some nature adventure and water sports.
Asheville
Asheville is a great city for a girl's getaway, with a nice range of dining options and activities for whatever your and your girlfriends' personalities and interests are.
With world-class shopping and dining options, the stunning natural beauty of the Blue Ridge Mountains, a good dose of historic highlights, tons of breweries, and a buzzing nightlife scene, Asheville is sure to keep you all happily entertained. And yes, Asheville is home to several fine spas for you to enjoy together too.
A favorite Asheville activity is ogling at the stunning Biltmore House and Estate, the largest privately owned mansion in the US. Then, head together to the city's vibrant downtown area to get into the laid-back, artsy vibe of this mountainside destination. It is here that you'll find a wide array of art galleries, craft breweries, independent shops, and dining options. Lively strolling musicians and street performers will help you get into the relaxed, eclectic vibe very quickly.
You'll also get a look at some of the 279 historic buildings in the Historic Downtown area, including the impressive Buncombe County Courthouse and the Basilica of St. Lawrence.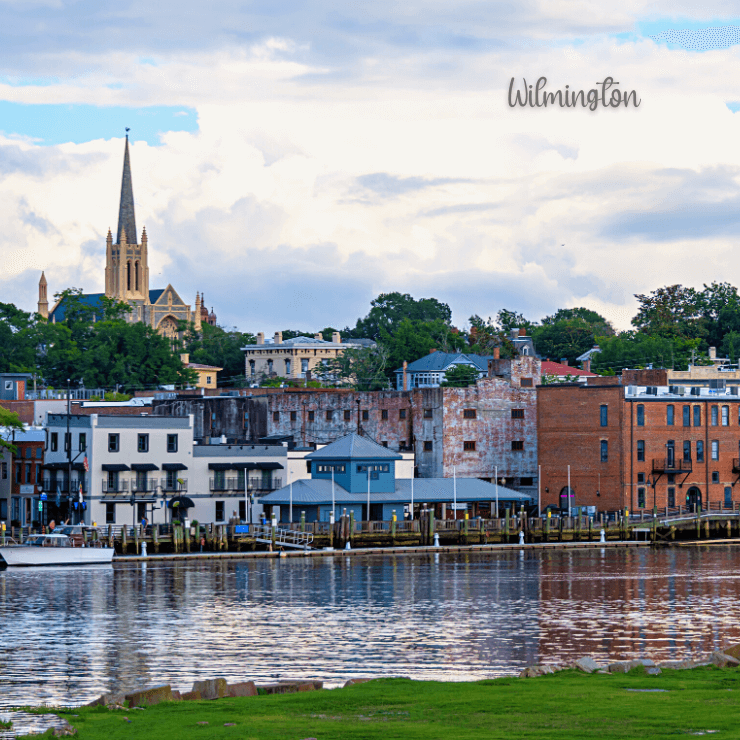 Wilmington
Are you and your girlfriend fans of Dawson's Creek, One Tree Hill, or Nicholas Sparks movies? Then you'll love visiting Wilmington and seeing many of the locations where these movies were filmed. Whether you decide to tour "A Walk to Remember" on your own or take the guided 90-minute Hollywood Location Walk, you'll be guaranteed to have loads of fun.
Of course, there are many more activities to enjoy together in this charming beach town while spending quality time and creating more memories. Stroll along the Riverwalk on Cape Fear River, lined with restaurants, cafes, and shops. If you want to learn about the history of the area, do the African-American Heritage Walk, tour a plantation, and visit the Historic District in Downtown Wilmington.
You'll find an incredible array of restaurants, bars, and shops amid the gorgeous 19th-century architecture the town boasts. Last but certainly not least, Wilmington is the gateway to wonderful nearby beaches.
Bryson City
If your idea of a girl getaway in North Carolina is to spend some time in a small but fun mountain town, Bryson City has you covered. Famous for being the gateway to the Great Smoky Mountain National Park, Bryson City offers all kinds of outdoor adventures.
Bryson City isn't lacking in cosmopolitan pursuits, though. It is home to museums, delicious restaurants, arts and crafts galleries, and cute coffee shops where you can spend hours relaxing while catching up. This beautiful town has fantastic vibes that will leave you with beautiful long-lasting memories.
Outdoor attractions in Bryson City include visiting waterfalls, white-water rafting tours, and fantastic hiking trails for outdoor enthusiasts. If you want to experience the mountains' beauty in a more laid-back manner, the Smoky Mountain Railroad offers different excursions and experiences.
A favorite that will suit you to a tee is the Carolina Shine Moonshine Experience, which is served in first-class cars with no children allowed (sorry, kids, it's big girls' time to have fun!).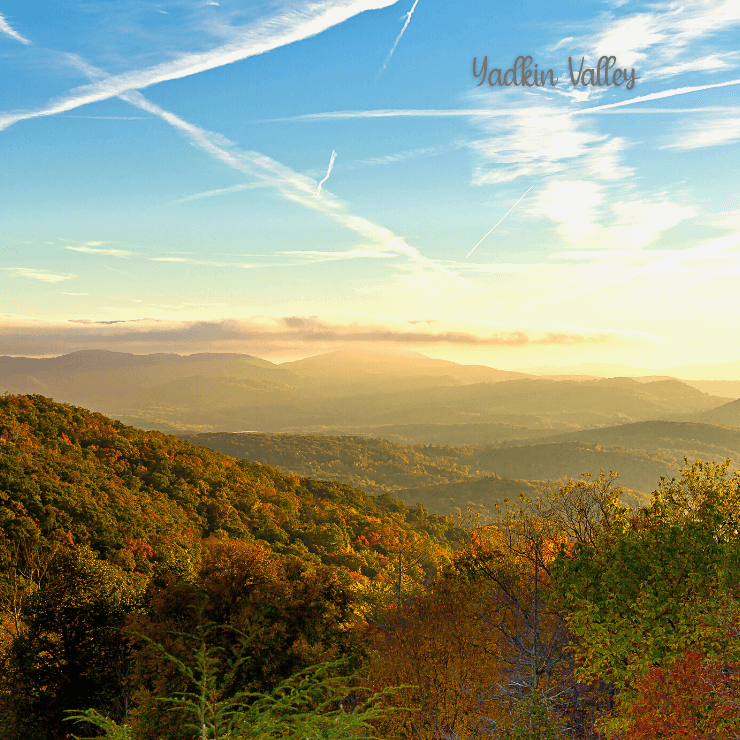 Yadkin Valley
If you and your besties love wine, the Yadkin Valley is one of the best girlfriend getaways in North Carolina to do.
Book yourselves a couple of rooms at one of the bed and breakfasts in Yadkin Valley. Then get dressed up for the Yadkin Valley Wine Trail. With 40 wineries to explore, you'll get to choose among tasting rooms ranging from small quaint vineyards to grand operations.
Located 90 miles from Winston-Valley, the region is famous for growing a nice variety of grapes that are used for making the whole gamut from sweet whites to dry reds. All you have to do is decide whether to tour the wineries on your own or take a guided visit, with transportation and tastings included.
Blowing Rock
Dubbed "the Crown of the Blue Ridge Mountains", Blowing Rock is upscale, pretty, and the perfect place to spend one of the best girl getaways in North Carolina.
Nestled on the crest of the Blue Ridge Mountains, it features rejuvenating crisp mountain air, jaw-dropping views, and exciting outdoor activities, including a visit to the famous rock that gave the place its name.
If that doesn't sound like your idea of a girl getaway spot, worry not, as unique independent shops and big outlets make Blowing Rock a prime shopping destination, while top mountain spas offer a huge array of treatments and experiences. Whether you're yearning for massages, facials, exotic treatments, or yoga and natural cooking classes, Blowing Rock is one of the best places for a girlfriends spa getaway in North Carolina.
Raleigh
Taking a girls' trip to Raleigh, NC is an amazing way to explore the city and have some fun with your closest friends. With a variety of activities, restaurants, and exciting nightlife, Raleigh has something for everyone.
For an exciting day of fun, you and your friends can check out the North Carolina Museum of Art, go shopping at Crabtree Valley Mall or explore the trails at William B. Umstead State Park.
After a day of sightseeing, you can check out some of Raleigh's best restaurants like Poole's Diner, Beasley's Chicken + Honey, or Bida Manda. To top off the night, you can hit up some of the local bars and clubs like The London Bridge Pub or Alchemy.
Looking for More Ideas for Where to Go on Your Girls Trip? Check These Out: