I love Carlsbad, California in San Diego County. It's where I lived for many years and I've often said it's a good alternative for families who don't want to stay in busy downtown San Diego or the crazy-party beach communities that are in the city. So when I was approached by Grand Pacific Resorts about staying at their Carlsbad-located Grand Pacific Palisades Resort for a weekend, I jumped at the chance to play Carlsbad tourist for a couple days.
Grand Pacific Palisades has an enviable spot on a hill less than half a mile from the ocean. The grounds and westward facing rooms have gorgeous views of the Pacific plus during spring the hill in front of it is awash in colors of red, yellow, and pink as it is home to the impressive Carlsbad Flower Fields. My husband and I got to stay in a one-bedroom suite facing the ocean and this was our view: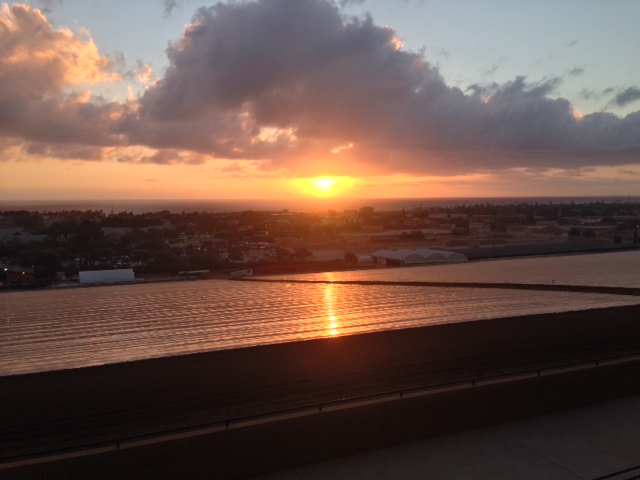 Inside the room was a full kitchen perfect for families who want to save money on eating out. The kitchen opened up into a large, comfortable living room of which the fireplace was my favorite touch.
The bathroom was huge! No family squabbles due to getting in each other's space will happen here. It had two sinks divided by a wall plus a separated bathtub and shower.
A basket with microwave popcorn, coffee, and coupons made the apartment feel even more welcoming. Part of the reason the accommodations are so large is because the suites are actually timeshare condos that are rented out when not in use.
The grounds of Grand Pacific Palisades Resort is also ideal for families — or couples looking for a relaxing getaway as Tom as I were doing. There is an adult only pool with ocean views plus a kid-friendly pool adjacent to a little water park and the playground.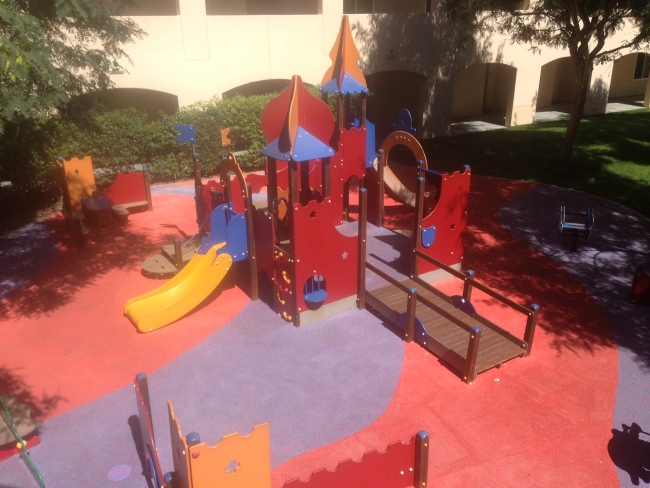 Other activities like an arcade and ping pong tables are also onsite.
Room service is available through the restaurant on property, Karl Strauss Brewing Company. I am a huge fan of this restaurant as I am obsessed with the boneless chicken wings and also love its craft beer. The entire menu is good, though. Can't say I've ever had a disappointing meal there.
Other good restaurants that are nearby include Vigilucci's for Italian, the Green Tavern for gourmet comfort food (and Revolutionary War memorabilia) or the modern Twenty/20 restaurant at the nearby Sheraton Carlsbad Resort and Spa. Best of all, Grand Pacific Palisades offers a complimentary shuttle service to anywhere within a 5-mile radius so you can go out to eat offsite without worrying about driving and parking it having to get a taxi.
There is plenty to do in the area while staying at Grand Pacific Palisades. First and foremost for families is Legoland, which is literally right across the street from the hotel. It took Tom and I less than 10 minutes to walk from our room to the Legoland entrance. If you've never been to Legoland before here's the deal with it: It is AWESOME for kids (Everything is awesome…) so being close to it is a major bonus especially since it also has a massive waterpark and educational aquarium on its premises. For couples visiting without kids, Legoland isn't quite as exciting though it's still fun to see – it's impressive what they're able to put together just using Legos!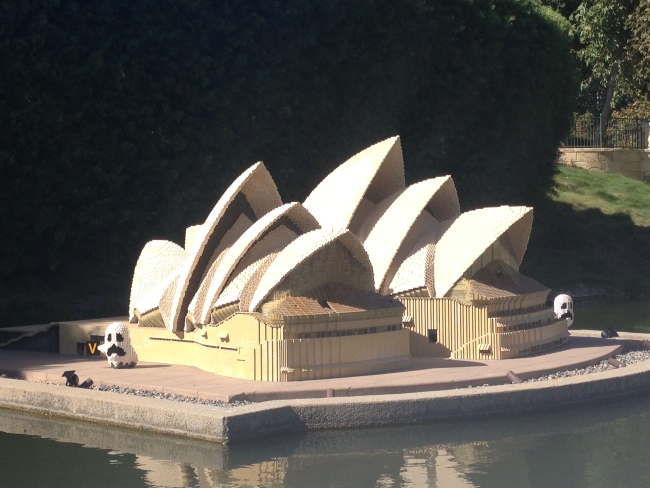 The Carlsbad Premium Outlets mall is also nearby, located at the base of the Carlsbad Flower Fields. Get great deals in shops like Banana Republic, Carter's, Barneys, Juicy Couture, Nine West and many more.
Head west just a bit more and you're at the beach. Carlsbad is home to one of San Diego County's best beaches. Long wide stretches of soft sand frame waves perfect for boogie boarding or surfing (head to Tamarack Beach if you're an experienced surfer to get better waves).
Carlsbad is also only 30 miles from downtown San Diego so it's easy to visit the popular spots of America's Finest City like the San Diego Zoo, Balboa Park, and the Gaslamp Quarter. Then at the end of your day sightseeing you get to return to the relaxing cocoon of Carlsbad and Grand Pacific Palisades.
Grand Pacific Palisades also has two sister properties in Carlsbad: Carlsbad Seapointe Resort and Hilton Grand Vacations Club Marbrisa located adjacent to the Sheraton Carlsbad Resort and Spa property. These properties are managed by Grand Pacific Resorts who has offered a 20% discount for readers of One Day in the City. To take advantage of this deal, book at either of these three properties using this link and code Y0Q1B by December 31, 2014 for travel through 2015 (holidays excluded).
Note: I was a guest of Grand Pacific Resorts and received a complimentary stay, but — as always — all opinions are completely my own.