Wine Tasting While Biking through Marlborough County in New Zealand: Where to Rent, Wine Taste & Other Tips
The Marlborough wine region is a gorgeous area of vineyards set among hazy views of mountains on the South Island of New Zealand. Marlborough's popular wine trail is located in the town of Renwick, and is an ideal route fore exploring the Marlborough wineries by bike since the tasting rooms are located quite close to each other and the wineries are also host to a variety of lunch options.
The Marlborough wineries welcome bikers warmly and have bike racks outside each tasting room to park your bike. No locks are provided by the bike rental companies and the idea of theft seems to be a forgotten crime in this friendly area of New Zealand.
15 years ago you would have been hard pressed to find a fee at any of the tasting rooms in the region. Today, there are still many Marlborough wineries that offer free tastings, but some now charge a small tasting fee, usually $3-$5 dollars and nearly always waived if you end up buying a bottle of wine.
Where to Rent a Bicycle in the Marlborough Wine Region
Rent a bicycle through a company that provides saddle bags for the back of the bike to put wine bottles in. Tom and I rented our bikes through where we were staying at Watson's Way. The price is $15 for people staying at Watson's Way and $25 for people not staying there. If you're not staying at the lodge and are in need of bikes, it's worth it to rent from Watson's Way just to meet the marvelously sweet and friendly Pat and Paul, the couple who own the lodge and bike rentals.
Getting to the wine trail from Watson's Way means first riding through the tiny downtown area of Renwick; meaning you do your longest ride with no winery stops at the beginning of your journey down the trail.
"While you're fresh," Pat said wisely.
Choosing Marlborough Wineries
After that there are many wineries to stop at. Choose 5 wineries to stop at along the entire route in order to not do too many towards the beginning, run out of time, and have to ride a long way back.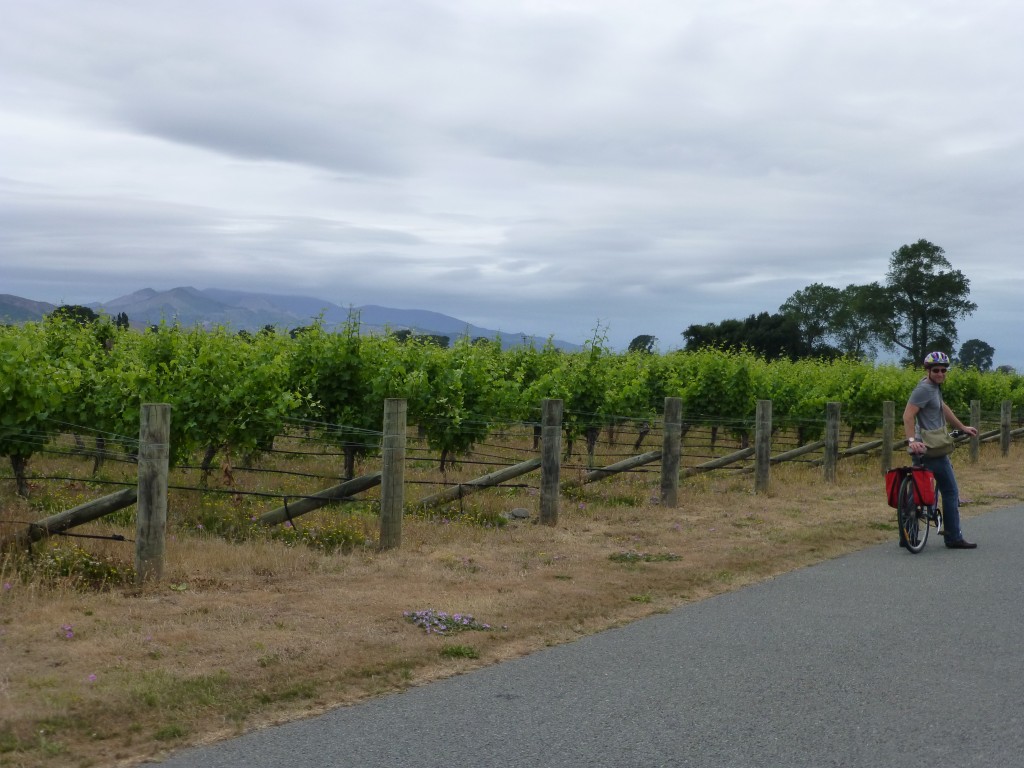 "If you begin to feel tipsy," Pat warned. "Get off your bike and walk. DUI's are given for bikes as well and they're just as expensive as if you're in a car."
Yikes.
"Or if you're feeling tipsy, just take a few zzz's under a tree," she added cheerfully in her lilting Kiwi accent.
Pat also gave us a map with her own notes on it that had insider tips for the wineries. After she talked us through the wine trail while pointing out locations on the map, we were off.
Tom and I were happy to find that our bike rentals had comfortable seats and 21 gears. We were a bit worried after our foray into renting bikes last year in Cambodia which had been painfully uncomfortable. Not so in New Zealand. The bikes rode well along the flat surface of Marlborough County's wine trail. There aren't any hills on the wine trail and very few inclines, making it easy for a leisurely ride that is spent looking around at the gorgeous countryside of Marlborough and the luscious vineyards.
Other Tips for Biking to the Marlborough Wineries
1) Drink lots of water. The exercise derived from riding the bike helps to stem off getting too drunk, but you'll still want to compound that with drinking plenty of water in between tastings to stay lawful and safe while riding your bike.
2) Don't forget to eat. Many wineries offer food so it won't be hard to find something to eat. You can choose between cafes or sit-down restaurants. If you're on a budget, you can bring your own picnic lunch and eat at one of the many wineries with picnic tables on their premises.
3) Keep in mind when wineries are open. Most wineries open at 10am and close at 4:30 or 5pm. If there's a winery you really want to taste at and it's toward the end of the bike route, make sure you leave yourself enough time to bike there.
4) Bring a rain jacket. Biking does mean you're outside and New Zealand is no stranger to rain, particularly in their summer months. Check the weather report and if it even hints at rain, stick a rain parka or jacket in the saddle bag.
5) Ride on the left hand side of the road. In New Zealand, cars drive on the left hand side of the road, which means you'll want to ride your bike on the left hand side as well. The roads aren't very busy, but you should still use hand signals and stay cautiously to the side of the road. Also, don't be surprised if you see more tractors on the road than cars.
6) Know the legal limit for alcohol. In New Zealand the legal limit for alcohol in your system while driving is .04. This is quite low considering it's .08 in the USA so be mindful that you're going to be over the limit faster. (See #1 and #2 again.)
7) Wear a helmet. It doesn't matter how unfashionable you think it is or how much it will mess up your hair – in New Zealand you must wear a bike helmet. It's the law. And come on, if you're combining drinking and bike riding, isn't a bike helmet just common sense?
For more information on the wineries of Marlborough County, check out this helpful site.
Pin this article for reading later!