A Local Shares the Top Things to Do on the South Island of New Zealand
Visiting New Zealand's South Island is a bucket list travel destination for most people. But once you're there, you'll need to figure out the best things to do and see. And for that, you'll need another bucket list – a South Island bucket list!
After living in and traveling around the South Island for over a year, I've discovered some of the best experiences the island has to offer. From snowy mountain peaks and glaciers to pristine beaches, NZ's South Island really offers diverse landscapes with amazing things to do.
In this blog, I've narrowed it down to my very top 10 experiences to create the ultimate New Zealand South Island bucket list.
Cruise in Milford Sound
Milford Sound is one of the biggest tourist attractions in New Zealand and for good reason. This fiord is simply stunning. Between the towering cliff faces, hundreds of waterfalls, and abundant wildlife, it is a must-visit destination for any outdoor enthusiast.
The best way to explore Milford Sound is on a cruise. Sure, from land you can walk the shore and even up to a viewpoint, but you can't explore the fiord to the same extent as you can from out on the water.
On a cruise, you'll see all of Milford Sound while spotting wildlife (seeing seals is almost guaranteed) and cruising right up to waterfalls where you can actually fill a cup with glacier-fed water that you can drink.
Cruises depart from the Milford Sound foreshore every day of the year. You can either drive yourself there through Fiordland National Park or book a tour with transport from Queenstown or Te Anau.
Explore Queenstown, New Zealand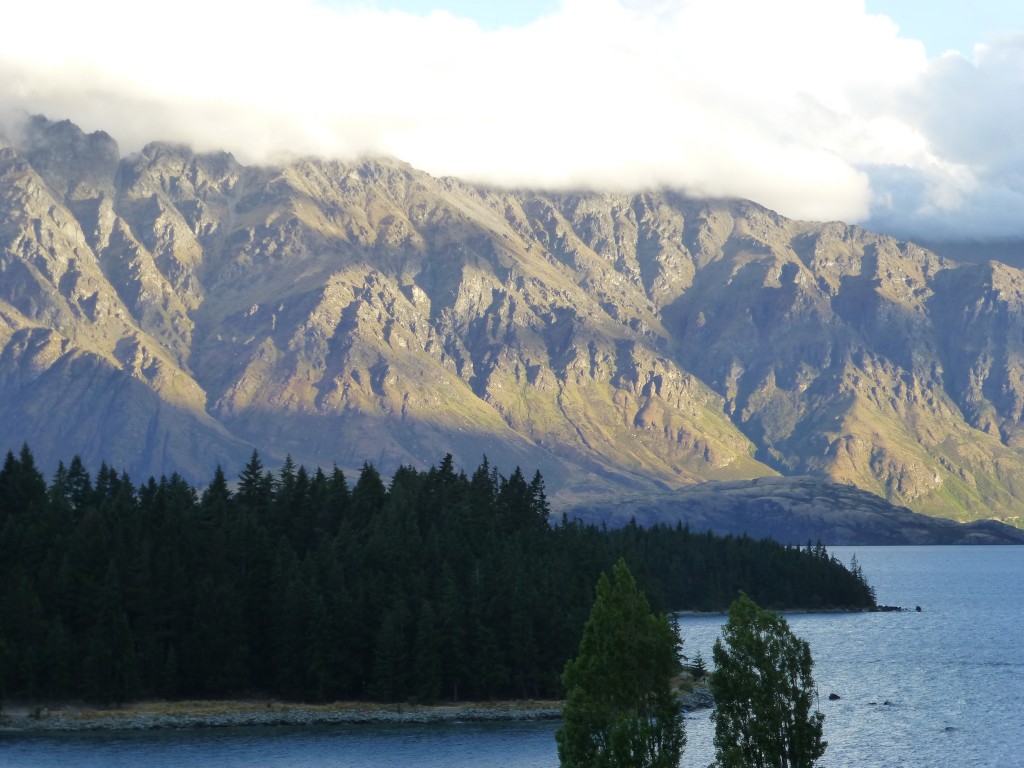 Queenstown is my favorite town on the South Island. In fact, there are so many things to do in Queenstown that you'll likely have a hard time deciding what to do and what to miss.
First of all, Queenstown is the adventure capital of New Zealand boasting some extreme activities.
The tallest bungy jump in New Zealand is located here, not to mention a canyon swing, catapult, and various ziplines. You can go skydiving, paragliding, downhill mountain biking, skiing, and so much more.
If that all sounds a little too thrilling, you can always opt to hike instead. There are some epic day hikes in Queenstown including Ben Lomond, Queenstown Hill, and countless more.
Queenstown is also a vibrant little town with tons of trendy bars, restaurants, and cafes. The craft beer scene is exploding and a handful of world-renowned wineries are only a stone-throw away. Enjoy a drink with a view in Queenstown after a busy day exploring.
You could easily spend a week exploring Queenstown and its surrounding area, but don't worry if you don't have that much time. There are also ways to enjoy Queenstown in just one day or two!
Hike Roy's Peak
Roy's Peak is one of the absolute best hikes in New Zealand. This stunning peak can be hiked in only a day and offers panoramic views of Lake Wanaka and the Southern Alps.
A view this amazing doesn't come easily though, and hiking Roy's Peak involves a 1,260-meter elevation gain. The hike is steep and relentless until it reaches the first viewpoint. During the summer months, there is often a queue here of people waiting to get their photo taken at this famous lookout.
Don't turn back here though. This is only the viewpoint, and you must hike for another 30 minutes or so to reach the actual summit of Roy's Peak.
Roy's Peak is located only a few minutes outside of Wanaka. It takes most people about 7 hours to hike the entire trail up and back (a total of 16 kilometers.)
Swim with Dolphins
One thing that many people don't know about the South Island is that it's possible to see and swim with dolphins! From Kaikoura, you can jump on a boat and have an encounter with wild dolphins in the ocean.
Now, this is a natural and ethical encounter that does not involve feeding the dolphins. You simply jump into the water and hope the dolphins come to see you. You are not allowed to touch the dolphins either.
Tours depart daily all year round and there are a couple of different tour operators to choose from. Some tours even depart from Christchurch and include transport. Expect to pay around $200 NZD for a tour for an adult. Tours are half-day experiences that involve taking a boat out to find the dolphins before gearing up (the water is cold) and jumping in!
Fly over the Southern Alps
Nothing is more bucket list-worthy than a scenic flight over the Southern Alps of New Zealand. Scenic flights are offered from various destinations across the South Island with the most popular being Franz Josef Glacier, Mount Cook National Park, Queenstown, and Milford Sound. All of these destinations offer incredible bird's-eye views that you just have to see to believe.
There are two different types of scenic flights you can choose between: a small fixed-wing plane or a helicopter. Personally, helicopters are my favorite simply because they are really exciting to ride in and can get very close to mountain peaks.
Of course, scenic flights don't come cheap and you can expect to pay a couple of hundred dollars for only a short 20-minute flight with other travelers onboard. The longer the flight, the more expensive it is.
Hike One of New Zealand's Great Walks
There are 10 Great Walks in New Zealand. These are all multi-day hikes that offer views of some of the most stunning and diverse landscapes. There are 7 Great Walks on the South Island, including the Kepler Track, Routeburn Track, Milford Sound Track, Abel Tasman Coast Track, Rakiura Track, Heaphy Track, and the Paparoa Track.
Chances are that you won't have time to hike all of the Great Walks on the South Island, which is fine, doing just one is good enough. Choose a hike to your liking and book the campsites or huts to stay in along the way on the Department of Conservation website. The huts on the Great Walks are all very nice and comfortable to stay in.
Visit Mount Cook National Park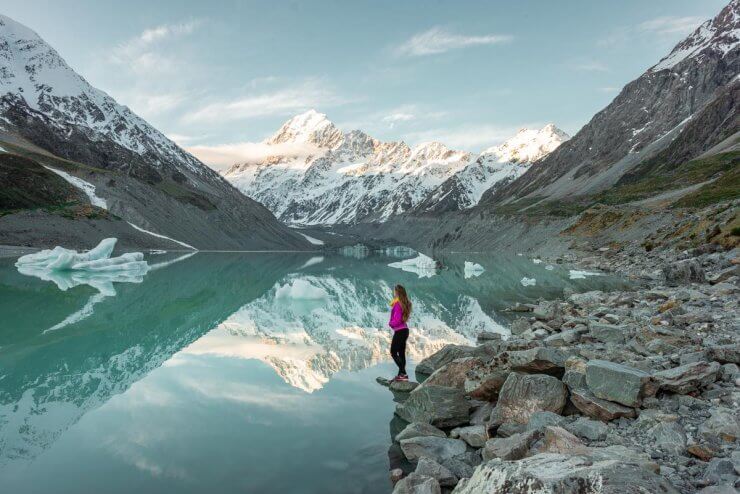 No South Island bucket list would be complete without mentioning Mount Cook National Park. Mount Cook is the tallest mountain in New Zealand and it is the center of the national park.
Mount Cook Village is where most people stay when they visit Mount Cook National Park. This tiny village is surrounded by towering mountains and lots of amazing hikes.
The Hooker Valley Track is easily one of the best hikes on the South Island. It's a fairly flat 5-kilometer long out and back trail that winds its way through the national park with views of Mount Cook and Hooker Lake.
Other hikes in the area include the Tasman River Viewpoint, Sealy Tarns, and Mueller Hut. But if you're not a hiker, you can still enjoy this area simply from the village or by jumping on a scenic flight.
Walk on a Glacier
The South Island of New Zealand is glacier country, and one of the best ways to explore them for yourself is to actually walk on one.
There are a few different glaciers on the South Island where this is possible, with the most popular being Franz Josef Glacier on the west coast. Here, there are multiple glacier tours that involve walking on the glacier, exploring crevasses, and enjoying epic views. If you want to be really fancy, you can pair a glacier walk with a helicopter ride where the helicopter lands right on the glacier!
These tours, like many other top-notch experiences in New Zealand, don't come cheap – but believe me, they are worth it.
See a Kiwi
Kiwis (the birds, not the people) are native to New Zealand and also very rare to see in the wild. As such, this is definitely a bucket list experience.
The truth is that seeing a wild kiwi is very unlikely. There aren't many of them around, and they are good at hiding and most often are active at night. For your best chance at spotting one, head to Stewart Island. This predator-free island is a safe haven for them and if you're lucky, you might just spot one.
If you can't spot a kiwi in the wild, don't fret, you can still see one while you're in New Zealand. There are a couple of different rescue centers on the South Island where you can definitely see kiwis. West Coast Wildlife Center in Franz Josef has a kiwi breeding program that works with the Department of Conservation, so they always have kiwis.
The Kiwi Birdlife Park in Queenstown also has rescued kiwis that you can see for yourself.
Seriously, these birds are so cute!
Relax in the Marlborough Sounds
Not everything in New Zealand is about adventure and hiking. As such, one of your bucket list things to do should be relaxing on a beach in a calm bay surrounded by lush greenery on white sand. The Marlborough Sounds is the perfect place for doing this.
The Marlborough Sounds are located in the north of the South Island and are made up of hundreds of small islands. You can jump on a cruise here to enjoy the views and spot wildlife, or just go relax at one of the isolated beach hotels that can only be reached by boat from Picton. Otherwise, you can always base yourself in Picton and explore beaches on day trips from there.
Bonus Bucket List Item: Love wine tasting? Then you also might want to add a bike ride through the South Island's Marlborough Wine Country to your bucket list.
Enjoy Your Adventures on the South Island of New Zealand!
The South Island of New Zealand is incredible with a ton of amazing things to see and do. This blog just hits a few of my personal favorite, but I'm sure you'll discover a few more on your own during your travels.
About the Author: Bailey is a Canadian-born travel blogger who after traveling the world for years, decided to make Queenstown, New Zealand her home. She shares her passion for New Zealand on her blog, My Queenstown Diary. 
Found this article helpful? Pin to read again later!