What to Do with Just One Day in Queenstown
Queenstown's self-proclaimed tagline is the "adventure capital of the world" and it's not hard to see why. Seemingly every square foot of the city and surrounding area, located in the southwest region of New Zealand's South Island, offers some sort of outdoor activity, whether it's skydiving, bungee jumping, jet boating, or hiking.
The small city nature of Queenstown makes exploring the central area of Queenstown easy when short on time. The tricky part when dealing with limited hours in Queenstown is combining the outdoor activities surrounding Queenstown with the lively vibe downtown.
To do that best, get up early to get a hike in. Queenstown has gorgeous hiking trails that are not to be missed, of which the easiest one if short on time is the Queenstown Hill hike, a hiking trail easily accessible from downtown area; the start is located at the end of Belfast Street. The hike takes around three hours and though it's steep and challenging in parts, it's well worth it for the views at the top.
After hiking, refuel with some lunch back in town. If you're looking for a quick meal, try one of the bakeries in town. Pies and sausage rolls are an institution in New Zealand and with fresh ingredients, they're some of the best you may ever try.
Get your lunch to go and walk around Queenstown Gardens. The Queenstown Gardens are a lovely showcase for the various flora and fauna that make New Zealand the lushly green country it is. Add in botanical components to the garden and you've got a peaceful park to walk through with flowers and trees you can observe and learn the names of. With picnic tables, bridges over streams, water fountains, and gazebos, the Queenstown Gardens are elevated into a lovely park that is ideal for walking through and not just observing.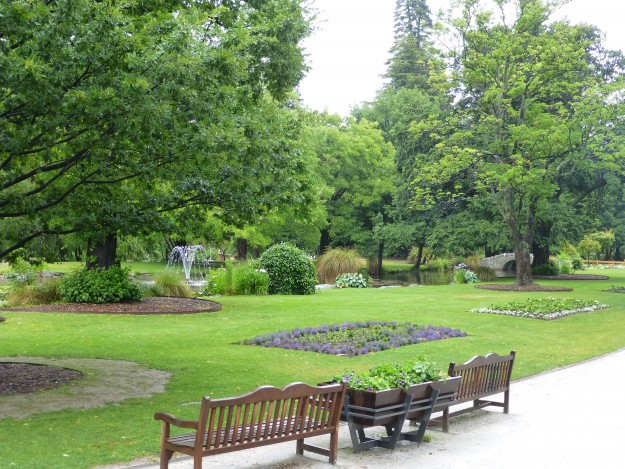 In the afternoon, take advantage of Queenstown's death-defying activities. Bungee jumping is one of the most popular activities since it originated in Queenstown and there are many different spots to do it from , though the Nevis bungee jump is the most famous for being the highest. You can also spend your adventure afternoon going for a fast jet boat ride over the nearby Shotover River. Sky diving is also a popular option since the views are incredible to take in once your freefall is over.
End your day with a cold New Zealand pint in town or glass of wine from the South Island's Marlborough wine region and boast about your day's adventure.
For more ideas on how to spend your one day in Queenstown, plus restaurant and nightlife tips, check out my eGuidebook One Day in Queenstown for your Kindle.