How to Spend the Perfect 24 Hours in Bratislava, Slovakia
Bratislava is the capital of Slovakia and has a gorgeous location right beside the Danube River. Bratislava has a population of about half a million, but the city itself does not feel big at all and most things are around its center. If you only have one day in Bratislava, this helps make it possible to see most of Bratislava's most popular landmarks.
Bratislava is a must-see city to add to your Europe bucket list and my itinerary for spending a day there will help you make the most of your time in Bratislava.
Getting To and Around Bratislava
Bratislava is close to Austria and its capital city of Vienna. The two capitals are separated by a 1-hour ride. Between the two cities is Vienna International Airport with worldwide connections. In less than an hour, it's easy to get from Vienna airport to Bratislava by bus. 
—> Click here for our One Day in Vienna Guide!
Another famous close-by capital is Budapest, Hungary. Both cities are well-connected by busses and trains. Traveling from Budapest to Bratislava takes about 2.5 to 3 hours.
—> Click here for our One Day in Budapest Guide!
Bratislava Public Transport
Bratislava is a walkable city and as previously mentioned, the main landmarks are around the city centre. But if needed, then the capital is well covered by public transport with trams and buses. For tourists, a 24-hour ticket costs 3.5 euros with unlimited transport usage. It's better to use trams more if possible because buses might get stuck in traffic jams.
Top Sights to see in Bratislava in 1 Day
Now for all the thing to do and see during your day in Bratislava!
Bratislava Old Town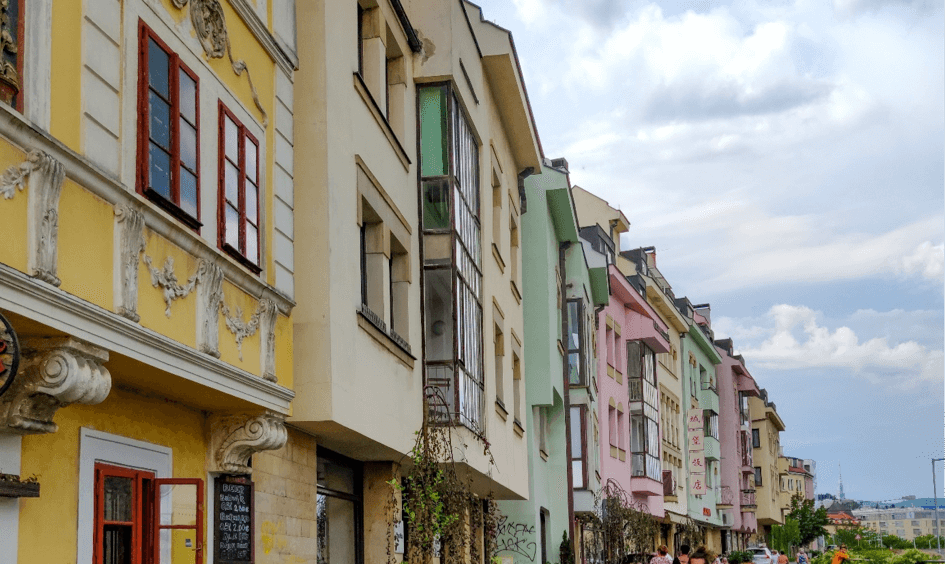 The pearl of Bratislava is its Old Town neighborhood, which has narrow streets, beautiful vivid buildings, main squares, and well-renovated medieval buildings.
Around the Old Town are many restaurants, bars, and cafes to try out local food and drinks. Prices are relatively cheap when taking into account average costs in European capitals. 
Bratislava's Old Town is filled with medieval buildings while other neighborhoods close to the city center have newer urban sections with modern residential and business areas, which is why most people prefer to spend most of their time in Bratislava's Old Town when visiting the city. You'll also see traditional Slavic architecture all around Bratislava.
Main spots see around Bratislava's Old Town:
Hviezdoslav Square – It is said that the square has lasted in that spot for over a thousand years. Next to the square is the Slovak National Theatre, embassies, and restaurants.
Ganymede's Fountain – It is also a part of Hviezdoslav Square, but worth a mention to make sure you don't miss seeing it. The fountain is located in front of the Slovak National Theatre. 
Man at Work – There are several sculptures around Bratislava, but "Man at Work", also known as Čumil is the most popular and photographed one. When strolling around Bratislava, then saying "hi" to Čumil is a must-do. Also when tapping the sculpture head, then it's the right time to make a wish. 
Primatial Palace – Also referred to as Primate's Palace, this is often called the most beautiful building in Bratislava. Inside the palace you can see the Hall of Mirrors and a rare collection of English tapestries.
Michael's Gate – This one of the oldest buildings in Bratislava and was built around 1300. It once served as the entrance to the city, but nowadays it is a landmark for Bratislava, hosting a museum of medieval fortification of Bratislava.
Bratislava Castle
The most prominent building in the capital is Bratislava Castle. It is located at the top of the hill next to the city center. The castle complex is open for tours around gardens and even the inside rooms of the medieval building. It's also the main viewpoint to see Bratislava city from above. 
Blue Church
A picturesque Blue Church is on the east side of Bratislava's old town. Built-in 1913 and referred to as "The Little Blue Church". The church was named that way because of the blue facade and roof. Definitely, a building to do a picture with.
UFO Observation Deck
Probably the most unique and iconic building in Bratislava is the UFO Observation Deck. From a height of 95 meters, it has 360-degree views all around Bratislava. It is the best panoramic viewpoint for seeing Bratislava.
UFO is located on the pillars of the UFO bridge over the Danube river. It is also the 7th largest hanging bridge in the world. 
On the top is also a restaurant, where you can can enjoy drinks and local food with views. If you're hoping to eat in the restaurant, it's wise to book ahead. Otherwise, it's possible to visit the observation deck anytime during opening hours.
In my opinion, the best time to visit the UFO Observation Deck is after the sun goes down, when you can see Bratislava's city lights all gleaming in the night sky.
During seasonal periods (April – October) there is an opportunity for a bit more adrenaline activity: Skywalk. The Skywalk is one of the top things to do in Bratislava for those looking for a thrill since it involves strolling around the edge of the UFO Observation Deck.
Slavín Memorial
Slavin is a military cemetery and monument for Soviet Union soldiers who fell in World War II. It is located next to the city center on Slavin hill. The Monument area offers magnificent views of Bratislava. Away from the city noise, it's a popular and quiet spot even for locals. 
Presidential Palace
The Presidential Palace in Bratislava is Slovakia's Presidential residence, also known as Slovakia's White House. As the name already hints, it's also the official seat of the president of Slovakia.
Located between Old Town and the railway station, it's just a short walk from the centrum.
In front of the building is the Earth fountain, which represents freedom. In the back of the palace is the Presidential Garden, which is open to the public. 
Kuchajda Lake
Kuchajda Lake is the closest natural swimming lake to downtown Bratislava. It's about four kilometers away from the city center, connected with convenient public transport. In addition to swimming, there is also a running path around the lake, outdoor gym facilities, and other sports fields. It also has plenty of restaurants, pubs, and a big mall.
It's a great place to visit, when wanting to be around Slovakian culture with local people during your day in Bratislava.
Devin Castle
Devin Castle is a bit away from Bratislava's Old Town at about 12 km distance, but it is easily reached by fast public transport. The castle itself is situated on a 212-meter high hill with excellent views of the Danube River.
The whole site is mostly in ruins, but every visitor will get a feeling of how it looked back in its glory days. It has several attractions, like a medieval workshop and a historical museum. It is a well-renovated castle site with many things to see and do, making it a great place to do a small trip outside of Bratislava.
Best Time to Visit Bratislava
Most of the places mentioned above are available for visitors all year round. But like everywhere in Europe the high season is during the summer months. During that time, pretty much every place is open. But you'll find most of the main sights are open year-round, and the chance to try delicious local Slovak cuisine also has no time boundaries. So whenever you find yourself with a day to explore Bratislava, you'll find its a suitable city to visit all year round.  
About the Author: Erki is a traveler and blogger for genemtravels.com (https://genemtravels.com/). He loves adventures with his backpack and without any major plans. Many spontaneous trips. In his blog, he writes about destinations he has been to, about backpacking Europe, and about alternative ways of traveling.