Mexico City 24-Hour Itinerary: Things to Do in Mexico City for an Unforgettable Day
Looking for the best way to spend one day in Mexico City? You're in the right place! Shelley is a fellow traveler who lives in Mexico and she is here to share her top tips for the best things to do and see in Mexico City in one day.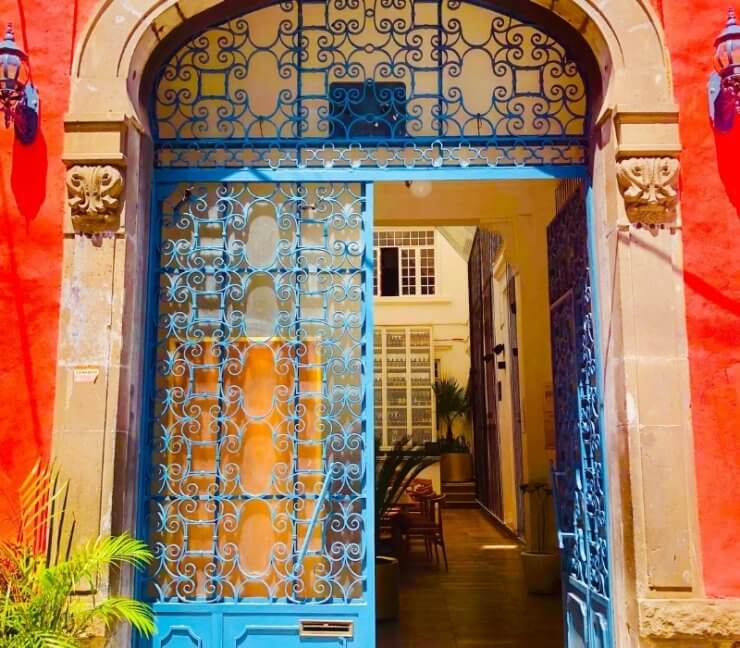 Though Mexico City is a huge city, it's still possible to enjoy this amazing place with only one day to do so. The key to getting the most out of Mexico City, or CDMX as it's known to locals, is to plan ahead of time and stay in neighborhoods not too far from one another.
With a population of nearly nine million, Mexico City has some epic traffic. To maximize the time you're traveling in the city, and minimize the time wasted traveling to things in the city, you're going to want to pick one to two neighborhoods, and stick to those.
Getting Around Mexico City
Speaking of getting around, keep in mind you do not want to rent a car. Driving and parking in Mexico City are both hectic endeavors, and not conducive to enjoying your day. While there's buses and a metro, with only one day, you're going to want to use Uber.
The good news about Uber in Mexico City is that it costs about 50% to 75% less than in many U.S. cities. Though prices of course vary, as a ballpark figure, you'll pay about $7 to $8 for a 45-minute Uber ride.
Now that you know exactly what you need to do for logistics, let's discover some of the most fun, colorful, and iconic places to see during your one day in Mexico City.
Mexico City 24-Hour Itinerary
Now it's time to cover what you should do with your one day in Mexico City! From breakfast to sightseeing to nightlife, there is so much to see and do in North America's largest city. Read on for what you can't miss:
First Mexico City Stop: Coyoacan/Frida Kahlo Museum
Coyoacan is a historic neighborhood in the southern part of Mexico City. This historic neighborhood will make you feel like you've gone back in time to the Mexico City of centuries past. There's even the beautiful, 16th century Iglesia de San Juan Bautista Cathedral in the zocalo (main square), to really make you feel like you've stepped into the past.
When you're headed to Coyoacan, have your Uber drop you off at Parque Centenario. This is the park surrounding the zocalo. Spend a little time walking through the park, and don't miss the gorgeous architecture and Fuente de los Coyotes (Coyote Fountain).
The town's name comes from the Aztec word meaning "a place of coyotes" and the fountain in the center of town pays homage to its name. Continue walking and enjoying the colorful, historic buildings, as you make your way to Cafe El Jarocho, one of the oldest cafes in Coyoacan.
After a nice breakfast, walk to the Casa Azul (Blue House), better known as the Frida Kahlo Museum. As the name might have alerted you, this was her actual house! Unlike a traditional museum, this one will give you a glimpse into both her life and her art. You'll get to see her paintings on display as you learn more about this fascinating woman.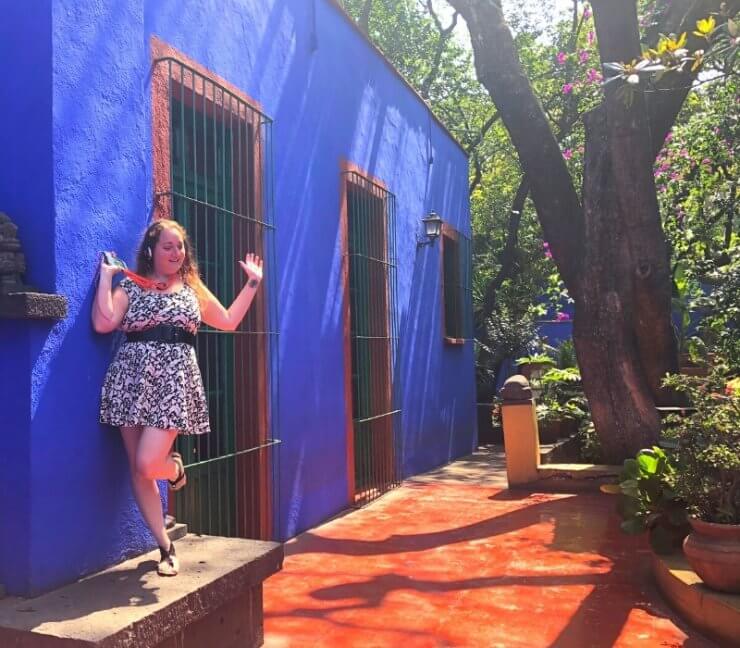 Here's the one thing you need to know about visiting the Frida Kahlo Museum: As a house, it is much smaller than a regular museum. Because of its smaller size, only a handful of people enter at a time and the line can build up quickly. To save yourself hours in line — yes, hours — you'll want to purchase your ticket in advance.
When purchasing, you select the date and time you want to visit. You'll want at least one hour in the museum, so aim for the 11am time slot. If you aren't able to purchase in advance, just show up at 10am when they open and the line shouldn't be long yet.
Start wrapping up your time in the museum at noon, and call an Uber to take you to Xochimilco.
Second Mexico City Stop: Xochimilco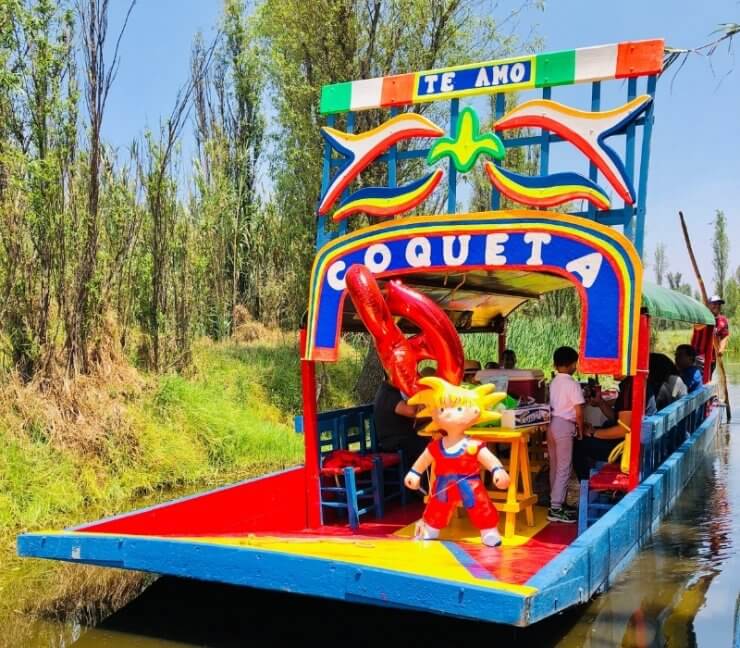 Located about 30 to 45 minutes south of Coyoacan, you'll find the Floating Gardens of Xochimilco (pronounced so-chee-mill-co). These man-made canals and islands, built by the Aztecs in the 16th century, are now a UNESCO World Heritage Site.
They are also super fun, and the colorful trajineras (gondola boats) are fast becoming one of the iconic symbols of Mexico City.
Once you arrive in Xochimilco, hire a trajinera boat captain to take you out on the water for a 1- to 2-hour boat ride. While cruising, you'll see several boats passing by selling tacos, tamales and other food, plus beer and pulque.
About pulque: This prehispanic adult beverage, known as "the drink of the gods," is made from the agave plant, just like tequila and mezcal. It is, however, white in color since it's not distilled like the other two.
Pulque is an acquired taste, but definitely worth sampling during your day in Mexico City. Since it's not served everywhere, grab one when a pulque boat passes you in Xochimilco. If you like unique flavors and tastes, try it straight up; if not, opt for pulque con coco (coconut) or another flavor.
Complete the Xochimilco experience by hiring one of the passing mariachi musician boats to play a few songs for you. As this style of music is actually not from Mexico City (it's from Jalisco state), you won't find mariachis in many places.
Much like trying pulque, listening to some mariachi music is another one of the quintessentially Xochimilco experiences that make visiting fun.
After the boat ride, call another Uber to take you to the Condesa neighborhood.
Third Mexico City Stop: Dinner (Two Options)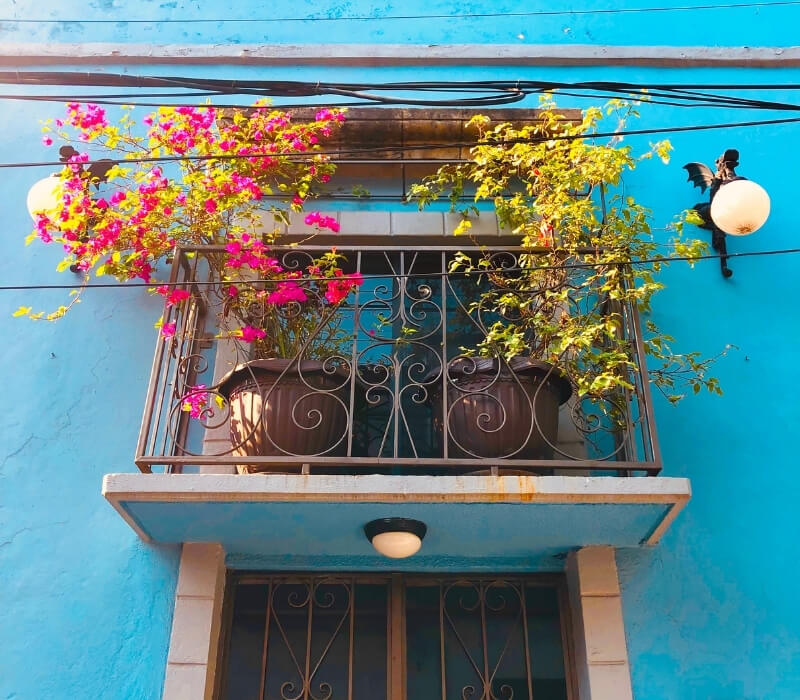 La Condesa is a hip-yet-tranquil place. It combines cool street art and beautiful urban parks, namely Parque Mexico and Parque España. This neighborhood also has some amazing restaurants, taquerias (taco shops), and bars.
For those who want to keep it casual, there's really only one way to go: tacos!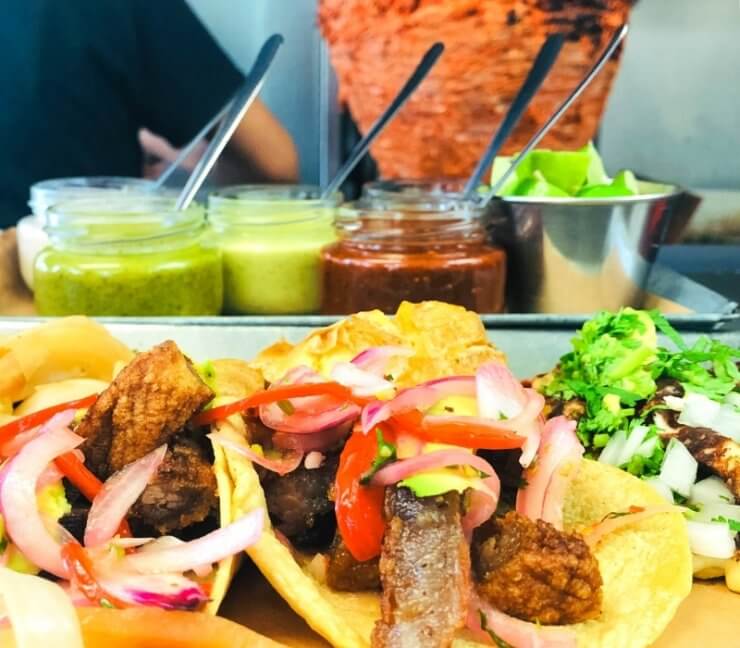 Since this is Mexico City, you're going to want to have what the city is known for, tacos al pastor (pork tacos). For vegans, head to Por Siempre Taquería Vegana, known as CDMX's best vegan taco spot.
In Condesa, there's one place that has made a name for itself in the tacos al pastor world by making a very bold claim. That place is El Tizoncito — and their claim is that they invented tacos al pastor!
While some debate this claim, El Tizoncito has been around for some time and also now has several locations in Mexico City, so they definitely make a good taco. A few other notable Condesa tacos al pastor places include Tacos Don Juan, Tortas al Fuego, and El Huequito.
Looking for more of a sit down dinner? This area of Mexico City has so many amazing restaurant options, including Azul Condesa. Famed Mexican chef Ricardo Muñoz Zurita offers a wonderful menu of traditional foods, with a gourmet twist at his beautiful Condesa restaurant.
For adventurous eaters, try the escamoles (ant larvae) AKA "Mexican caviar." This delicacy dates back to prehispanic times and is only available a few months a year, so try it while you can if it's available during your 24 hours in Mexico City. If that's not for you (or it's not in season), get the mole negro (black mole) and sopa azteca (tortilla soup).
Read More Articles About Mexico:
Scuba Diving in a Cenote in Mexico
Eating in a Cave Restaurant in Playa Del Carmen
Visiting the Kukulkan Pyramid in Chichen Itza, Mexico
Fourth Mexico City Stop: Nightcap (Plenty of Options!)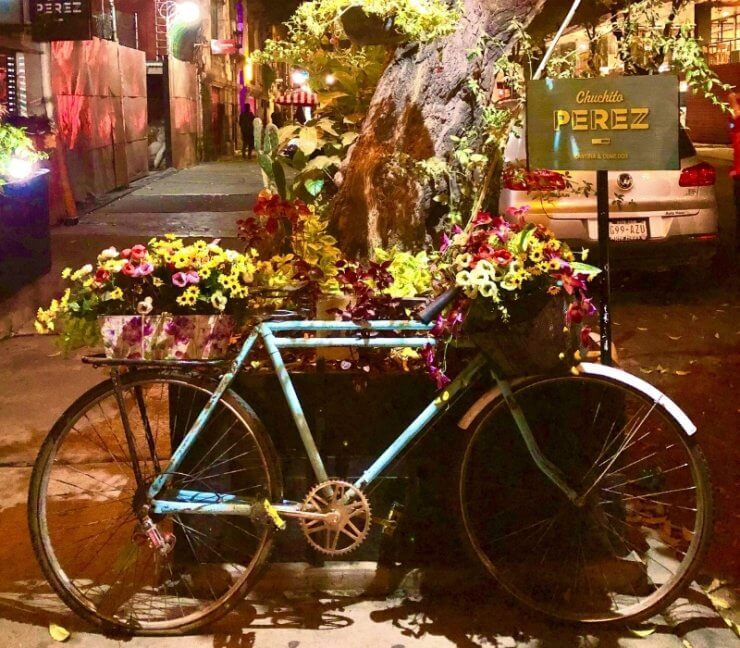 If you did choose to eat at Azul Condesa, you're in luck because there's a great bar right next door called La Xampañería. This bar serves everything, but specializes in unique champagne cocktails.
Some of Condesa's other great bars include Wallace Whisky Bar, Salón Malafama, Felina, Baltra, and the rooftop bar at Hotel Condesa DF.
If you're looking to sample some mezcal, head to La Clandestina, one of the most famous mezcal bars in the city. If you can't do mezcal straight up, the bar right next door, La Lavanderia, does mezcal cocktails.
While Mexico City in general is pretty safe, definitely make sure to Uber from place to place at night. Also, make sure to Uber home, even if it's close, and especially if you've been drinking.
___________________
About the Writer: Shelley is a former Miami travel magazine editor who ditched the office for the world! After traveling solo to 14 states in Mexico, she decided to live in Merida, Mexico full time. Shelley now helps other women cross Solo Travel and Mexico Travel off their bucket list through her Travel Mexico Solo blog and Dream To Destination podcast. You can also follow her on Instagram and Facebook.