A Local Shares How to Spend the Perfect Day in Nagoya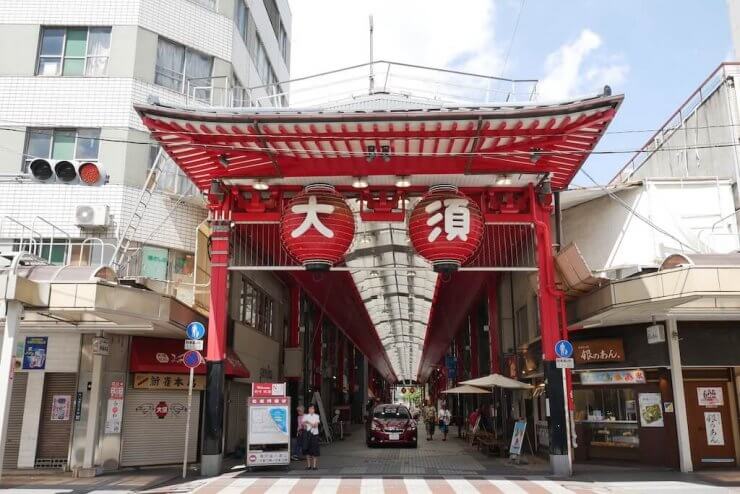 Written by Lena Scheidler from Nagoya Foodie
One day in Nagoya is enough to get a good overview of the city and to visit the most important sights and eat the most delicious dishes. But I still recommend staying a little bit longer if you have the chance.
Nagoya is the 4th largest city by population, but it is not on many Japan travelers' bucket list. I believe it should be even if you're short on time and only have a day to spend in Nagoya. There is a lot of history and culture to be discovered, not to mention the excellent local cuisine called Nagoya Meshi.
If you do happen to pass through Nagoya, below are my tips for how you can spend 24 hours there. In addition, after my recommended One Day in Nagoya Itinerary for History and Food Lovers, I share additional itinerary modifications for families with children, those who want to do some shopping, and travelers who want even more delicious food while in Nagoya.
One Day in Nagoya Itinerary for History and Food Lovers
This is a sample itinerary for people interested in learning about the history and culture of a place by visiting historical sights and museums. Nagoya has a lot of such places and a fascinating history to be discovered.
Itinerary Overview
Breakfast: Nagoya Morning Service with Ogura Toast at Komeda's Coffee
Toyota Commemorative Museum of Industry and Technology
Nagoya Castle
Lunch: Miso Nikomi Udon at Yamamotoya
Tokugawa Art Museum
Atsuta Shrine
Dinner: Hitsumabushi at Hitsumabushi Ino
Breakfast: Nagoya Morning Service with Ogura Toast at Komeda's Coffee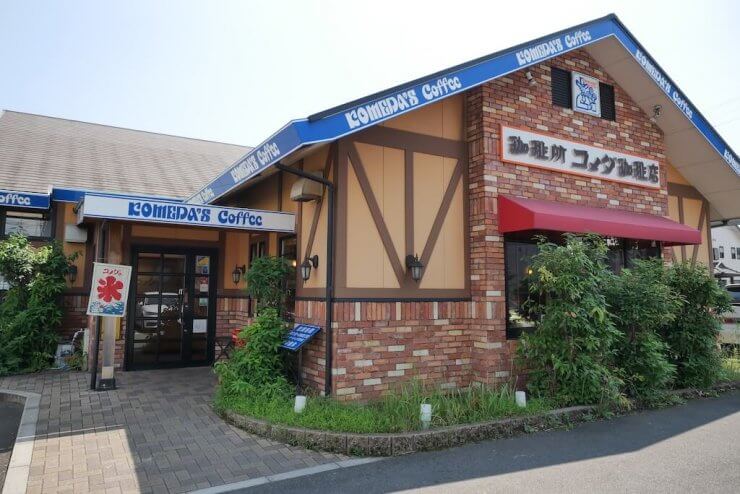 The so-called Nagoya Morning Service is something you can find for breakfast at almost every coffee shop in the city. For the price of your beverage (usually coffee or tea), you get a free small breakfast usually consisting of a slice of toast and an egg. Other variations include a small salad or different kinds of spreads for the toast.
Komeda's Coffee is a coffee shop chain that originated in Nagoya and you can find a shop at literally every corner in the city. It is the perfect way to start your day in Nagoya. In a relaxed atmosphere, with great coffee and their special Nagoya Morning Service.
They have three options but I recommend you try the Ogura Toast, another breakfast specialty from Nagoya. Toast with a spread of sweet red bean paste.
Toyota Commemorative Museum of Industry and Technology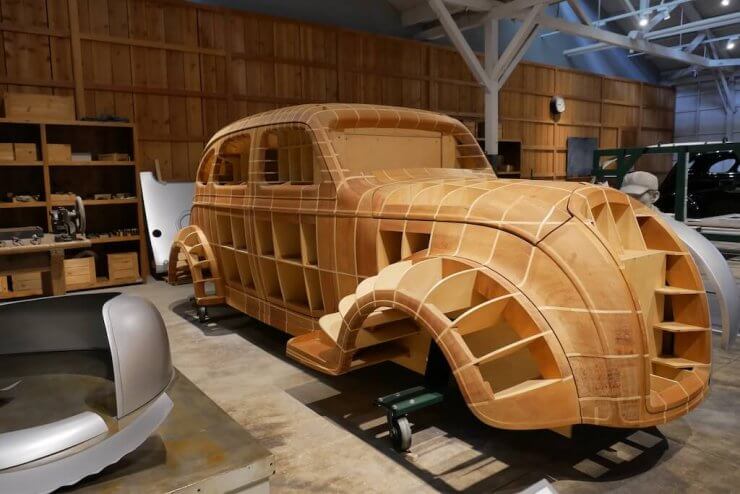 The famous Japanese carmaker didn't start out as such. At the beginning of the 20th century Toyota specialized in manufacturing textiles. At the Toyota Commemorative Museum of Industry and Technology, you can learn about the history of Toyota from textile maker to one of the biggest car makers in the world.
All explanations at the museum are in Japanese and English. There is an audio guide available you can download directly to your smartphone or you can join a free guided tour to make the most of your visit.
Nagoya Castle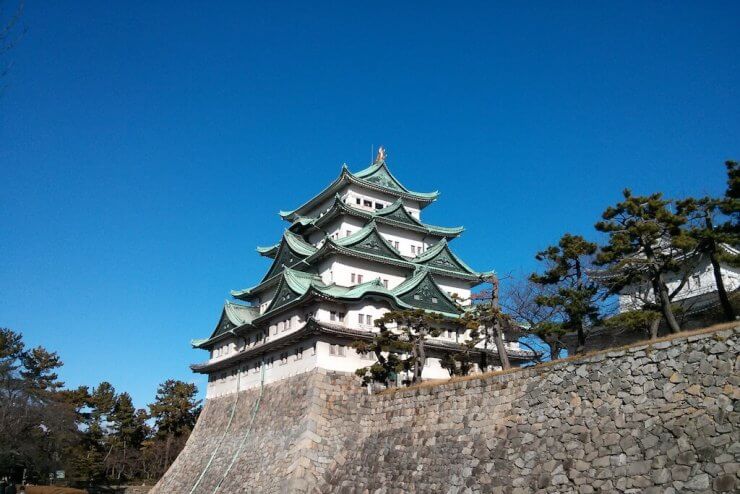 Nagoya Castle is the symbol of Nagoya and is a must-see during your one day in in Nagoya. Not only that, but it can also be considered the birthplace of Nagoya. With the castle construction in the 17th century, a city started to develop around it.
The highlight of Nagoya Castle is the newly constructed Honmaru Palace. It was constructed using only traditional techniques and amazing craftsmanship. The wooden structure is simple on the outside, but on the inside it is impressively colorful and has beautifully intricate details.
Lunch: Miso Nikomi Udon at Yamamotoya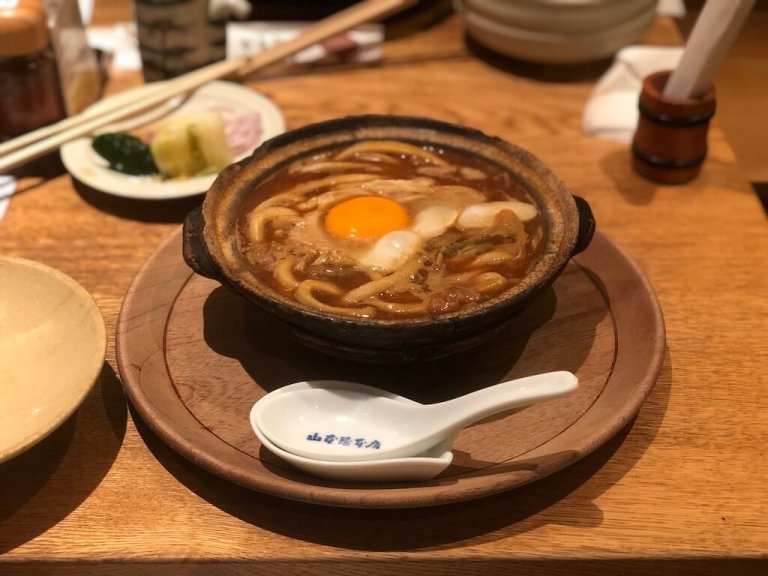 Next to Nagoya Castle is the new food town called Kinshachi Yokocho. Here you will find representatives of the best Nagoya cuisine. I recommend to check out Yamamotoya, a restaurant serving Miso Nikomi Udon. A real Nagoya staple dish.
Miso Nikomi Udon is made from the local Hatcho Miso, a Miso paste made by fermenting soybeans for more than two years. The resulting Miso broth is very dark and has a strong flavor. It goes very well with the thick and firm Udon noodles that are used especially for this dish.
Tokugawa Art Museum
With a full belly and new energy head to the Tokugawa Art Museum and learn about the aspects of history you couldn't see at Nagoya Castle. This museum features all the beautiful artifacts of the inhabitants of Nagoya Castle, the Owari Clan.
Marvel at original swords and armor, learn about Noh Theater and tea ceremony and have a look at the impressive collection of old scrolls and books in the library collection.
After your visit to the museum, make a stop at the Tokugawa Garden, for a stroll in this tranquil landscape garden with a central pond, streams, and small waterfalls.
Atsuta Shrine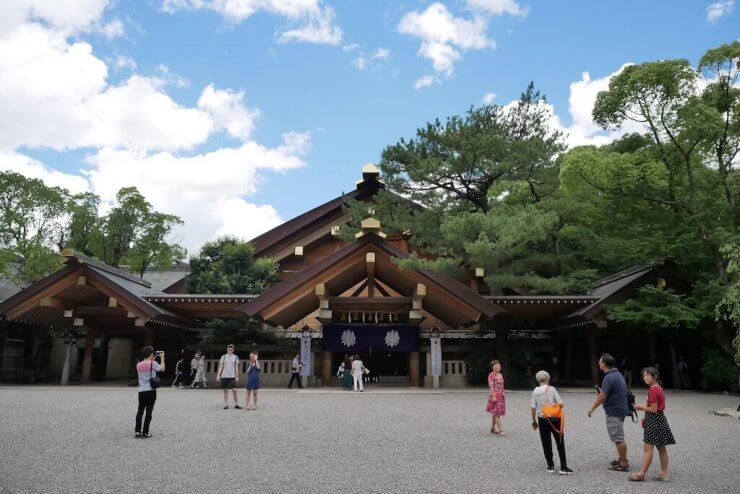 Even though Nagoya city developed with the construction of Nagoya Castle there have been inhabitants for a very long time. The Atsuta Shrine in the south of the city is believed to be almost 2000 years old.
It is the most sacred place in Nagoya and holds an important position in the Shinto belief, which is the Japanese religion.
Atsuta Shrine houses the sacred sword which was given by the sun goddess Amaterasu to the emperor. It gives him the right to rule over Japan.
While the sword isn't viewable by the public, the shrine is a beautiful place for a stroll past smaller shrines leading to the main shrine. On the way, you can pray to the different gods and make a wish.
Dinner: Hitsumabushi at Hitsumabushi Ino
End the day with a memorable dinner. Eel is a real specialty in Japan, and Hitsumabushi — the local dish from Nagoya — is a real treat.
The eel, called Unagi in Japanese, is grilled whole and dipped in a characteristic sweet and dark sauce, then served on rice. The crispiness outside and the juicy meat inside are just a dream which goes very well with rice.
There are numerous restaurants in Nagoya that serve Hitsumabushi. I recommend Hitsumabushi Ino, which has a restaurant in the Esca underground shopping street on the west side of Nagoya Station. They make an excellent Hitsumabushi, and if you happen to be traveling with someone who doesn't like eel or fish, they also serve other kinds of rice bowls with meat toppings.
Itinerary Modifications for Your One Day in Nagoya
Below are some modification ideas for the itinerary above. Depending on your personal preferences you might want to switch out one or the other activity.
Itinerary Modifications If You Love Shopping
If you love to shop, no matter what or how much time you have, there are places you can go to during your one day in Nagoya to get just about anything your heart desires.
Osu Shopping District
If you want to shop in Nagoya, you could visit the Osu shopping district. These roofed-over shopping arcades not only have a lot of charm but they are filled with shops where you can buy anything for a good price.
Many shops here are second-hand. If you are looking for a Kimono, musical instrument, or brand items visit Komehyo.
If you are a fan of Manga, Anime, Cosplay, or video games you will find a wide range of shops catering to your interests in Osu.
Sakae District
For the more high-end of the shopping spectrum visit Sakae district, just north of Osu. Here you will find multiple department stores with Japanese and international brands. If you are looking for jewelry or fashion and you have the necessary change visit Sakae.
Itinerary Modifications for Nagoya with Children
If you are traveling with children, they might get bored visiting yet another museum. But there are actually a couple of activities families with children will love to do in Nagoya, and some of them even are museums.
Railway Museum, Railway Park & Legoland
The Railway Museum of Nagoya is a great place to spend a couple of hours with your family, especially if it is a rainy day.
It houses a collection of different trains from the old steam locomotive to the newest bullet trains. Another highlight at the museum is the train simulators where you can become the train operator for a couple of minutes.
If you have some more time in Nagoya with your family you might want to check out Legoland Japan which is located right next to the Railway Park. But you'll probably need a whole day to really explore there.
Nagoya Planetarium at the Nagoya City Science Museum
Inside the Nagoya City Science Museum is one of the most impressive planetariums in Japan. The program of the planetarium changes every month and focuses on current astronomical phenomena.
It's important to note that the shows are conducted in Japanese only.
More Things to Eat During Your 1 Day in Nagoya
With my website name being 'Nagoya Foodie' it is no surprise that I have a couple more food recommendations for Nagoya.
Kishimen at Miya Kishimen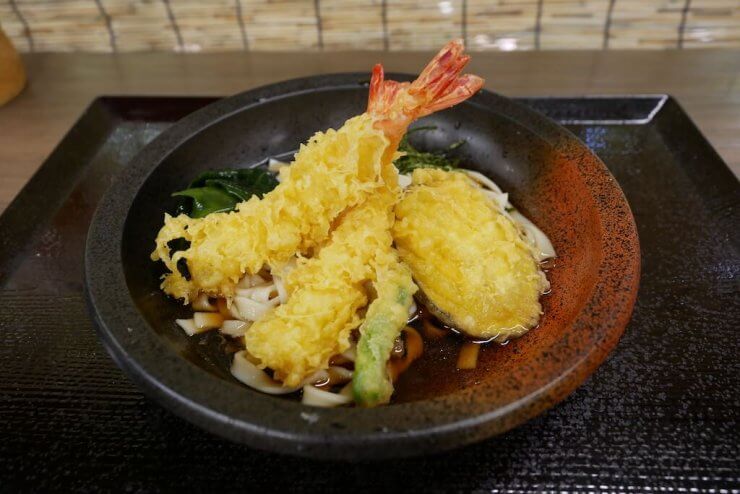 A different kind of Udon noodles only found in the Aichi region, of which Nagoya is the capital, are Kishimen noodles. These are made from the same basic ingredients but are broad and flat. With a shorter cooking time, Kishimen have a very different texture from Udon noodles.
The best place to try some delicious Kishimen in Nagoya is Miya Kishimen on the grounds of Atsuta Shrine.
Miso Katsu at Yabaton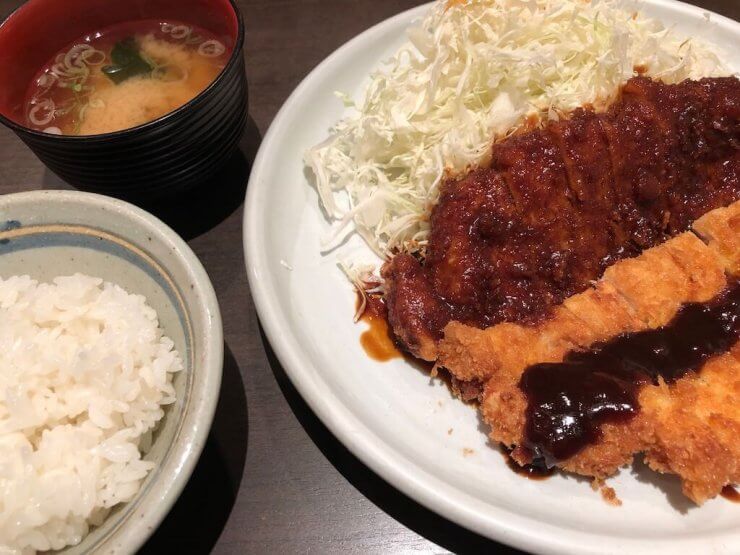 If you are looking for a delicious meat dish, you should visit Yabaton. They make amazingly juicy and crispy Miso Katsu, deep-fried pork cutlets served in a Miso-based sauce.
There are multiple Yabaton restaurants close to Nagoya Station, one is at the Kinshachi food town next to Nagoya Castle and some others are sprinkled throughout the city.
Tenmusu at Senju
For a quick snack try some typical Nagoya-style rice balls called Tenmusu. These rice balls are filled with a deep-fried shrimp and taste best when they are still steaming hot.
The best restaurant to try some authentic Tenmusu is Senju, the original Tenmusu shop in Osu district. You can buy takeout all day long but if you want to eat at the restaurant you can only do that during lunchtime.
Join a Nagoya Meshi Food Tour
If all of this sounds delicious to you and you want to try more of the food Nagoya has to offer during your day in the city, I suggest you join a Nagoya Meshi Food Tour! During a tour, you will have the opportunity to sample some of the dishes mentioned above as well as other delicious local snacks while learning about the history and culture of Nagoya and Japan.
You can find more information about my food tours on the Nagoya Foodie website.
Where to Sleep in Nagoya
If you decided to spend the night in Nagoya you have many great options, most cheaper than in other Japanese cities.
I picked one hotel in each price category that is located close to Nagoya Station, which is the most convenient area to stay in Nagoya.
Luxury Hotel: Nagoya Marriott Associa Hotel
Marriott Associa is a worldwide known hotel brand with some of the finest luxury hotels. One of these hotels can be found right inside Nagoya Station.
The hotel offers its guests an indoor pool, fitness center, and sauna. There are nine restaurants on-site including one on the 52nd floor with a panoramic view of the city.
Mid-Range Hotel: Meitetsu New Grand Hotel
If you are looking for a mid-range business type hotel you won't go wrong with one of the Meitetsu hotels. There are multiple options of these hotels around Nagoya Station, but the one with the most convenient location is Meitetsu New Grand Hotel.
The 3-star hotel is an only 1-minute walk from Nagoya Station and offers comfortable rooms with the usual amenities. The restaurant serves breakfast, lunch, and dinner at an additional charge.
Budget Hotel: Leo Star Hostel
For the budget travelers among you, I recommend the conveniently located Leo Star Hostel. It's a modern mix of Japanese and Western-style hostel, with Japanese and Western rooms, plus a shared lounge and kitchen to meet other travelers.
About the Author: Lena is in love with Japanese food and she wants to share this love with all travelers coming to Japan. Her home Nagoya has a lot to offer in terms of travel and unique food culture which she shares with the world on her website Nagoya Foodie. Find Nagoya Foodie on Facebook and Twitter.
Share on Pinterest!