One Day in a City Itinerary: Exploring the City of Siem Reap, Cambodia and the Nearby Temples of Angkor
The early morning air is cool, a surprising predecessor to the stark heat that will arrive later. The black fringe of the night is keeping the heat at bay, but from my lookout point on the back steps of a one-room ruin, I can see the first blink of daylight. Etched in the light, ever so vague, is the powerful outline of Angkor Wat, the world's largest religious temple. I shiver from a combination of the morning air and excitement, lean forward and will the sun to come up faster to showcase the great temple in all its glory.
Yes, this was the perfect way to start my day here, I think.
Begin Your Day in Siem Reap at Angkor Wat for Sunrise
If you have just one day in Siem Reap, a large portion of it should be spent at the ruins of Angkor, a UNESCO World Heritage Site located less than five miles from the city center of Siem Reap, and which expand from the main temple of Angkor Wat unto miles of ruins, each temple unique.
Many visitors to Siem Reap start their day well before sunrise and travel the ten miles or so to Angkor Wat from their hotel in the dark in order to be there before the sun starts its ascent. Then you can watch the sun slowly appear behind the temple, as I did. To do this, you'll need to arrive in Siem Reap the night before.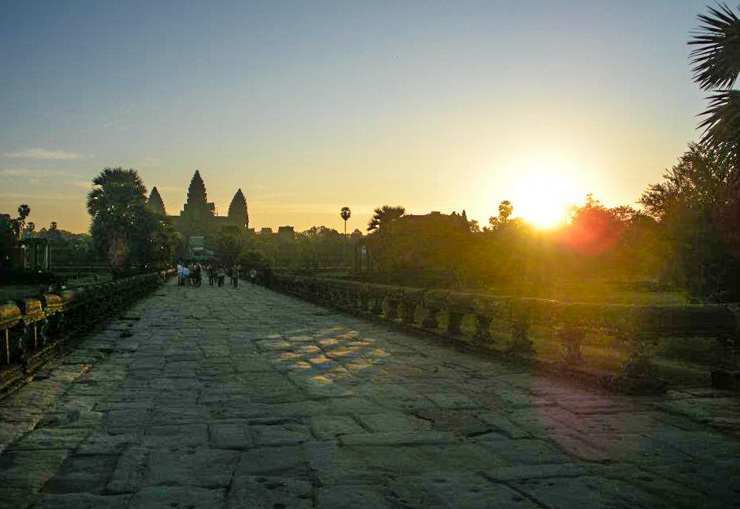 If you're not arriving into Siem Reap until that morning, or you're just not a morning person and don't mind missing the sunrise, you'll still want to begin your day's activities at the ancient ruins of Angkor in order to see as many of the temples as possible.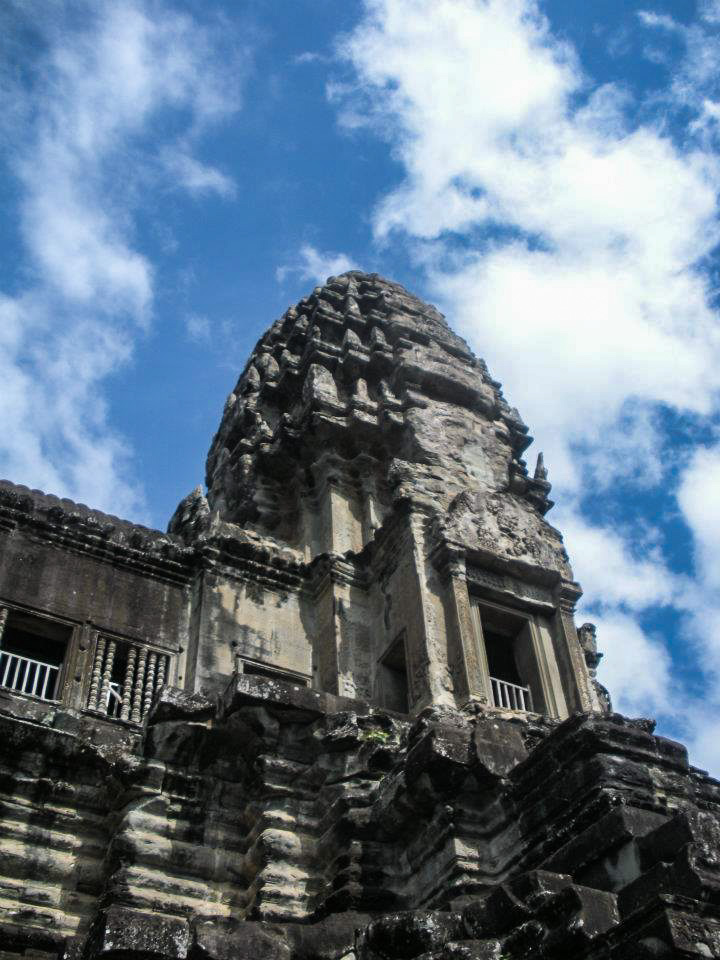 Note: This post contains affiliate links, which means I get paid a percentage of any purchases made through those links at no extra cost to you, which helps me cover the costs of running this site so I can bring you more great travel content.
You've heard of Angkor Wat, but What About Angkor Thom?
Get ready to play favorites with the temples of Angkor because you're not going to be able to see all of them in just one day. The most popular to visit if you're short on time are Angkor Wat, Angkor Thom and my personal favorite — the "Tomb Raider Temple" (also known as Ta Prohm to non-Angelina Jolie fans; this temple is where parts of the movie Tomb Raider was filmed).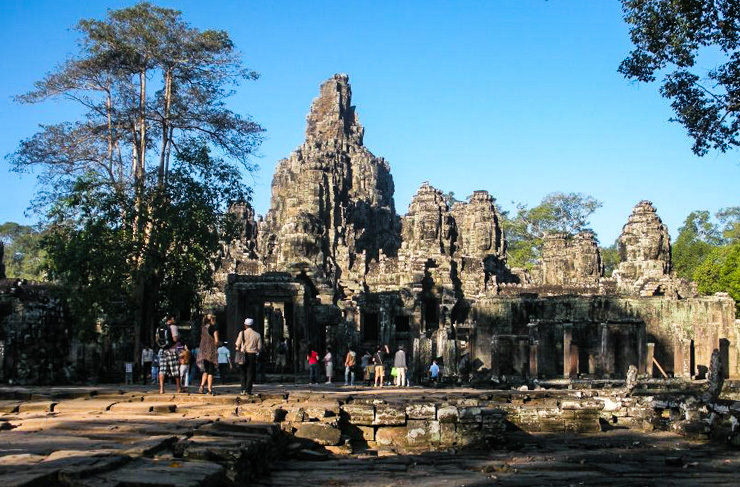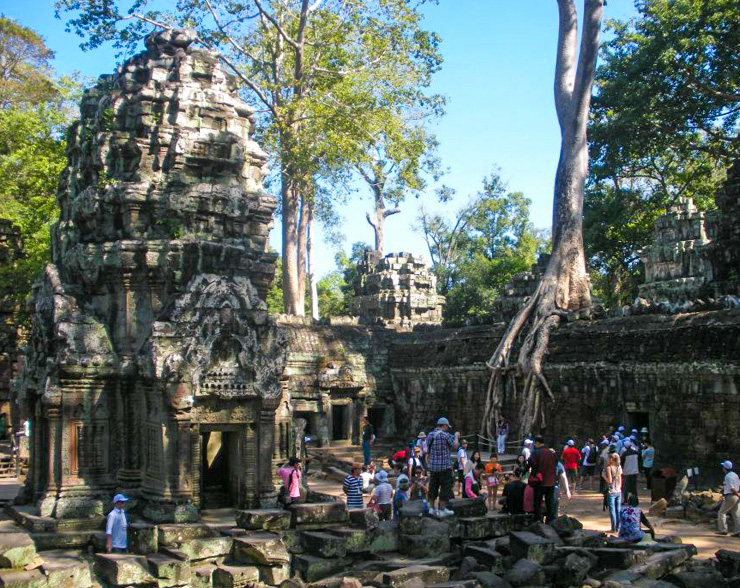 I especially loved Ta Prohm because of the tall trees and their massive trunks with roots that snaked over the ground and ruins.
When walking around the ruins, you'll quickly learn there's a reason they also sell 3-day and 1-week passes to the park in addition to the 1-day pass – there is simply too much to see in one day – or even two days. Therefore, if you only have one day, maximize your time by hiring a guide.
Your hotel should be able to help you arrange this. With a guide you'll also need a tuk-tuk driver. Expect to pay around $25 for the guide and $15 for the tuk-tuk.
If thoughts of bus tours and traveling around with 30 other people pops into your mind at the mention of "guide" – don't worry, this guided tour is nothing like that. For this price, your Angkor Wat guide is just for you and your travel companions.
It's an amazing deal and an incredible experience. Having your own personal historian lets you learn the ancient stories of the temples and land of Angkor while still being able to go at your own pace.
Our guide always gave my travel partner and me the option of climbing to the top of at temple if we wanted. When I wanted to go to a different part of the Angkor Wat courtyard to get a better shot of the sunrise, he had no problem waiting until I'd gotten my picture fix. And he very patiently and expertly answered all my questions.
Thanks to having a guide I learned things about the temples I never would have known if I'd gone around the site just on my own. Our guide also suggested sites within the park he thought we would like that he took us around to and explained the history of, which we may not have visited otherwise.
Returning to Siem Reap from Angkor Wat
Your day at Angkor Wat will probably end around one or two if you started at dawn and hired a guide. A nap will probably sound very enticing when you get back to your hotel, but try to resist. You need to make the most of your one day in Siem Reap.
Instead of napping, relax your sore muscles by heading to one of the dozens of massage studios in Siem Reap. I got an excellent massage at Body Tune, located next to the Old Market in Siem Reap. Though a bit more expensive than some of the other studios (I paid $18 for an hour long oil massage compared to seeing $10 advertised at other places) it was well worth it – the place was clean and modern with a peaceful ambiance and most importantly, the massage was incredibly relaxing. Absolute bliss.
After getting your muscles nice and relaxed, take a stroll around town (yes, yes, I know – more walking, but worth it – I promise) and browse in the many shops and markets. Pretty much everywhere in Siem Reap takes U.S. dollars, which makes it easy to negotiate and quickly understand what the counter offer is. Be prepared for some friendly, but still aggressive vendors trying to coerce you over to their shop, which is likely to be selling anything from t-shirts to jade necklaces to leather purses.
Siem Reap is also home to Wat Preah Prom Rath, an old temple that has been well-preserved and is still used by monks today and is free to walk through. It is close to Old Market and has many statues and gardens to walk among.
Eating and Nightlife in Siem Reap
If it's hot in Siem Reap the day you're there (which is likely) and you need something cold to help take your mind off the heat, Swensen's has delicious ice cream treats and is located a couple block away from Old Market in a little shopping complex.
When you're ready for an actual meal, sampling the local khmer cuisine is a must. Angkor Palm restaurant has a sampler entrée which lets you try many different types of meals popular to the region, such as fish amok and chicken with mango.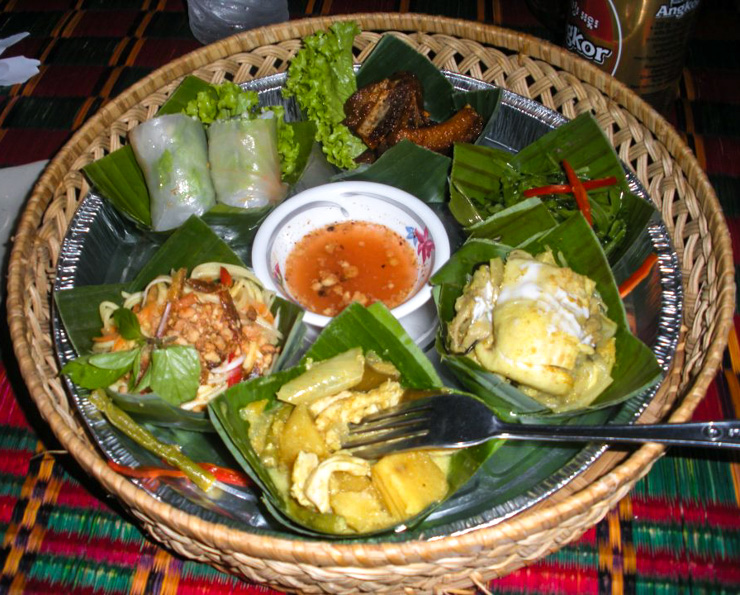 After dinner, if you're in the mood for loud music and alcoholic drinks served in bowls – and served with a free T-shirt – head to Angkor What? or Temple Club. Or switch between the two. They're located right across from each other on Street 8 and are often jam-packed full of backpackers. Red Piano Restaurant on the same street is a more relaxed option to head to for drinks.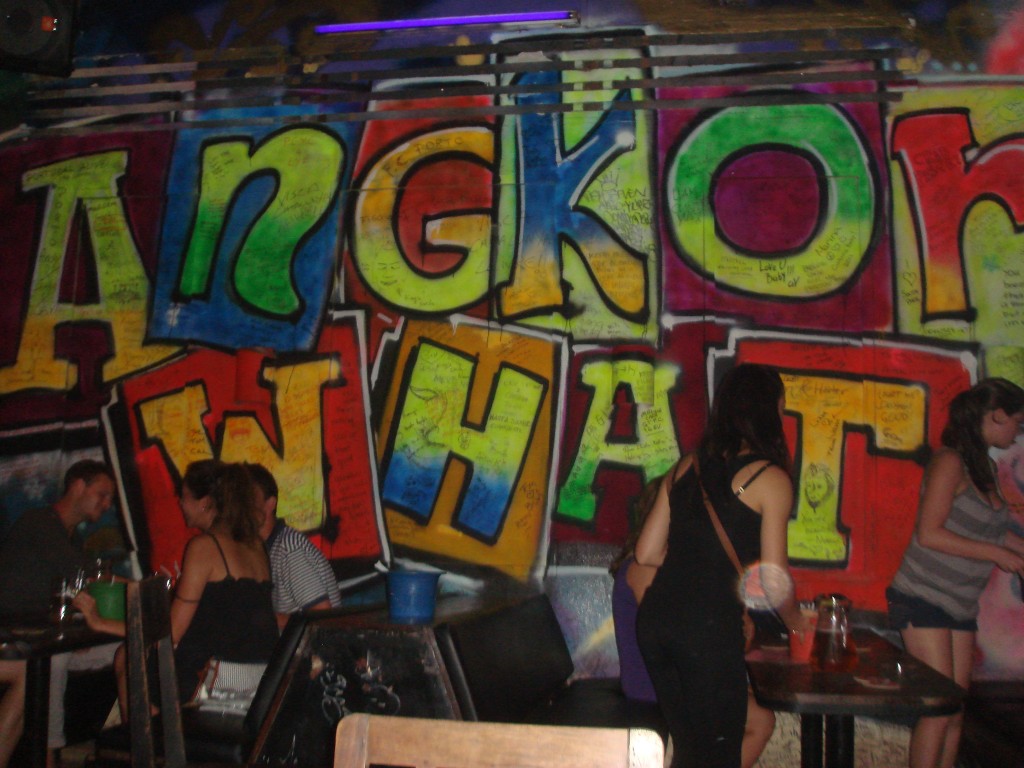 If partying isn't your thing check out the Siem Reap night market for some great finds – everything from jewelry to watches to clothing to dishes.
Where to Sleep in Siem Reap
And if you need a place to rest your head after all that loud music or shop 'til you drop market hunting, Shadow of Angkor Villa  is a calm and clean hotel located just outside the town center across the river. It's easy walking distance from the restaurants and night life yet away from all the noise. The rooms are clean, nicely furnished with a decent-sized bathroom, and the property has an onsite restaurant and relaxing pool. Several rooms also have balconies. And it's quite affordable for just $24 to $40 a night. Click here for photos and rates for Shadow of Angkor Villa.
Or search for hotels in Siem Reap using one of my favorite accommodation booking sites, Booking.com. It's a really user-friendly set-up, has the lowest pricing, and you can book now and not pay until you arrive for most rooms.


Getting to Siem Reap: The Fast and the Slow
There are two ways to get to Siem Reap: by plane and by vehicle.
Planes arrive from major cities in Southeast Asia into Siem Reap's International airport (it's an easy one hour flight from Bangkok). Once at the airport, it's a 20 minute taxi drive into town.
Another common option for visitors who are first traveling through Thailand is to take a bus to the Thailand-Cambodia border (A four hour bus ride from Bangkok) and then take a two hour taxi ride from the border into Siem Reap. You'll also want to allot about two hours for just getting through customs. A lot of standing in lines, but it makes for an interesting experience and introduction to the country of Cambodia — and will likely be much cheaper than flying.
You also may be interested in reading:
One Day in Bangkok
Tips for Biking to Angkor Wat
Tricky Food in Cambodia
A Night Out at the Bars in Siem Reap
Did you find this post helpful? Pin to read again later!
This post was originally published on February 9, 2012, and was updated on June 13, 2016.
✕
Upgrade Your Travels
Learn how to create a 5-star travel experience on any budget with my eBook, yours FREE when you sign up for my newsletter, which features exclusive travel tips and stories.