A Local Shares the Best Things to Do in Omaha in Just 24 Hours
Often referred to as the "heart of America", Nebraska is a fun and quirky state in the middle of the country, and Omaha is an excellent introduction to it. Omaha can often be overlooked as a travel destination, especially because most people think of the Midwest and automatically assume, "flyover state."
But, I can tell you from my experience growing up in Nebraska – it's definitely worth visiting. And with my One Day in Omaha itinerary, you'll see exactly why that is. 
Omaha, although not the capital of Nebraska, is the largest city in the state. It's where the main airport is located, where the College World Series is played each year, and where the billionaire Warren Buffet resides. The people are kind, the city is affordable, and it's a destination that should be on everybody's radar thanks to all the incredible things to do in Omaha.
Arrival into Omaha + Transportation
The airport that services the Omaha region is Eppley Airfield, and it is only about four miles from downtown Omaha, where many of the best attractions are.
If you're planning to explore a majority of the downtown area, you can get by on foot. However, if you plan to venture to other neighborhoods in Omaha you will definitely need a car. You can either get a rental at the airport or rely on Uber/Lyft to transport you around town.
One Day in Omaha Itinerary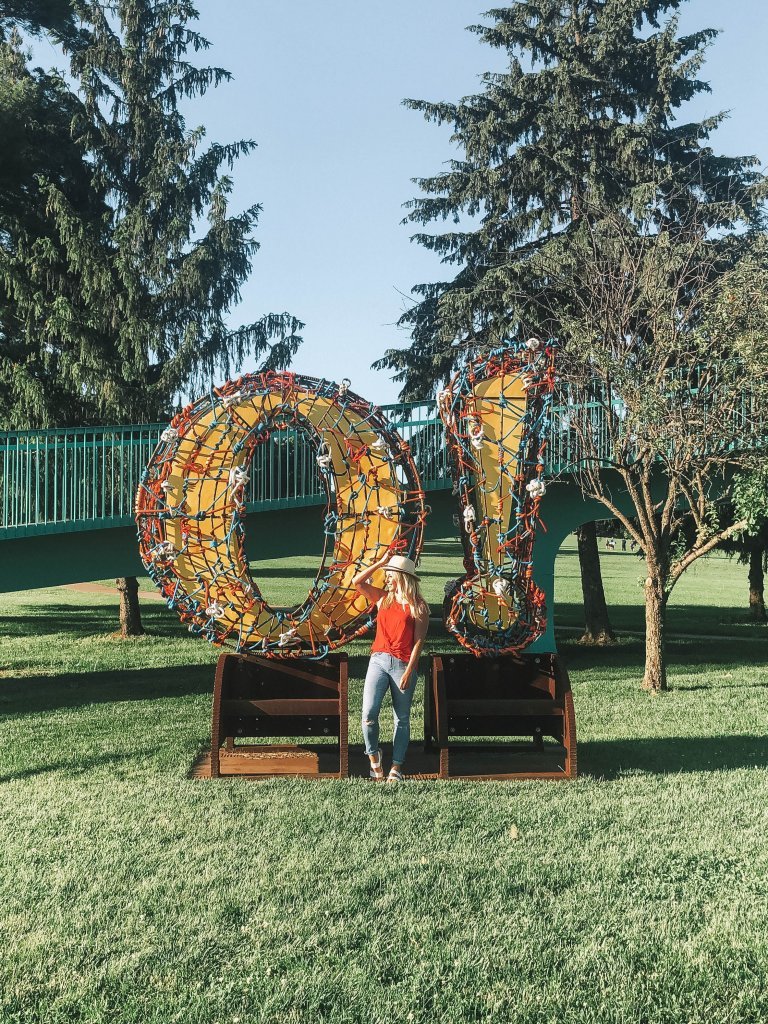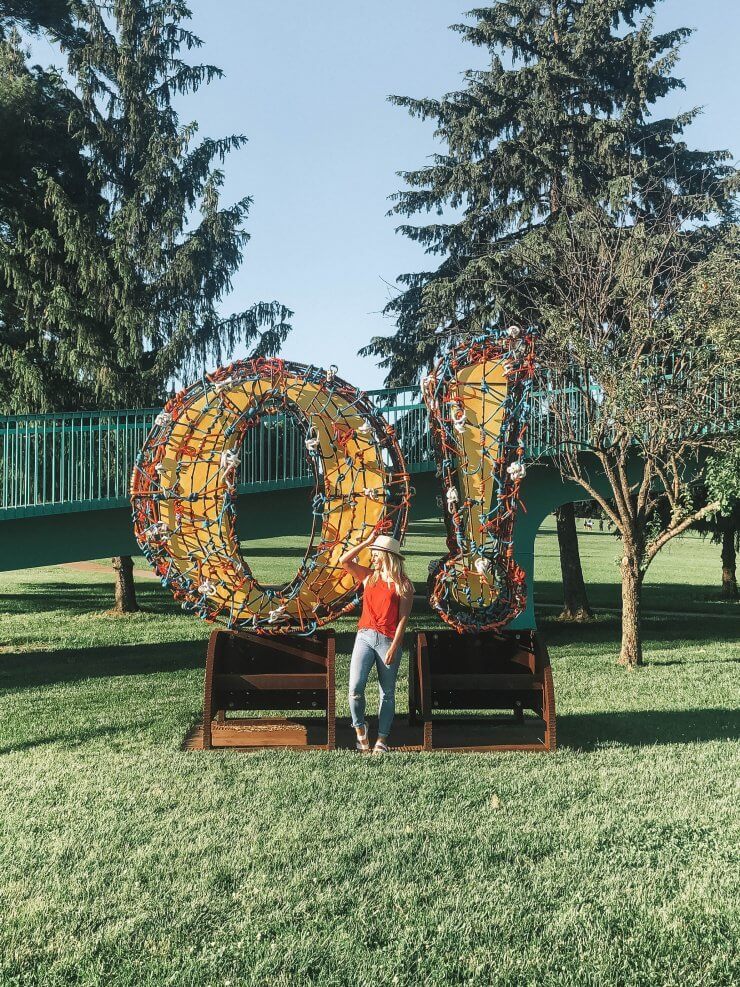 Now for the itinerary! Here are all the must-see stops to include in your itinerary for your Omaha trip.
Stop 1: Henry Doorly Zoo
Upon arrival in Omaha, make your first stop at the Omaha Henry Doorly Zoo.
The Omaha Henry Doorly Zoo is continuously ranked highly as one of the best zoos in the world. There are over 15 different attractions and 962 animal species to learn about. This zoo is unique compared to others because it has been built to reflect the habitat of the animals it houses. For one example of this, there's an indoor desert dome – the biggest indoor desert in the world – which emulates three different desert habitats: the Namib Desert, the Red Center of Australia, and the Sonoran Desert.
You could spend hours at the zoo but don't spend too much time there as there's still more to see during your day in Omaha!
Stop 2: The Durham Museum
From the Henry Doorly Zoo walk two miles north until you come to The Durham Museum.
The Durham Museum is located in the old Union Station, once a popular stop along the way for people moving east to west. This museum is dedicated to preserving, displaying, and teaching others about the history of the western region of the United States.
Stop 3: The Old Market
The Old Market is one of Omaha's most historic neighborhoods and is only half a mile from The Durham Museum. The cobblestone streets are lined with boutique shops, bars, restaurants, and you'll occasionally see a horse-drawn carriage trotting by.
The best lunch options in the Old Market are La Buvette Wine & Grocery, a wine-focused restaurant/store serving small plates, or Blue Sushi Sake Grill for sushi connoisseurs.
Read More: The Best USA Destinations for a Girls Weekend
Stop 4: Joslyn Art Museum
After exploring the Old Market and filling up on lunch, 1-mile northeast you'll come upon the Joslyn Art Museum.
The Joslyn Art Museum opened in 1931 and exhibits fine arts from around the world. They have both permanent and temporary exhibits so make sure to check out what's on display before visiting.
Stop 5: Bob Kerrey Pedestrian Bridge
Before heading out of downtown to explore other areas of Omaha, stop by the Bob Kerry Pedestrian Bridge.
This footbridge is 3,000 feet long and spans the Missouri River, connecting Iowa and Nebraska. Here you can be in two places at once by straddling the state lines!
Stop 6:  Dundee Neighborhood
After leaving downtown, catch a car and head to a different part of town to explore more of what Omaha has to offer. About three miles west of downtown you'll find Dundee – a quaint and historic neighborhood.
Dundee was Omaha's first suburb developed in 1880. It was bombed by Japan in WWII with a goal to create mass chaos, but the story was suppressed by the US military until the war was over. Today it's a quiet residential area with a street of bars, restaurants, and shopping.
While you're in Dundee make sure to walk along Underwood Avenue, the main street in the neighborhood. Pop into the small dive bar, Dundee Cork & Bottle for a Moscow Mule or a locally brewed beer.
If you're looking for dinner options head to Pitch Pizzeria for pizza or Avioli for Italian cuisine.
Trip Additions for a Weekend in Omaha
If you have more than one day to spend in Omaha, there are other neighborhoods to explore around the city.
Make your way to the Blackstone District to be surrounded by a younger crowd. Stay out late drinking at the Red Lion Lounge, finishing the night with tachos and crab rangoons at Nite Owl.  
Or visit Benson, a neighborhood that has some of the best restaurants in Omaha. Eat upscale sushi at Yoshitomo or laid back European fare at Au Courant Regional Kitchen.
If you're looking to venture outside of Omaha and want to visit the rest of Nebraska, then head west to see some of the quirkiest attractions the state offers. For a complete road trip itinerary, make sure to read my 2-Day Road Trip to Western Nebraska. 
Where to Stay in Omaha
If you plan to spend the night in Omaha, there are a couple of great accommodations in town.
The Magnolia Hotel Omaha is located downtown and is a chic and whimsical hotel that has been thoughtfully designed. It's where most celebrities stay who come to town, so who knows… you may end up rubbing elbows with a star.
If you want to stay somewhere aside from downtown, opt for the gorgeous and modern hotel – Kimpton Cottonwood Hotel – located in the Blackstone District. The 1920's building has been revitalized and transformed into a hotel that will make you feel as though you've stepped into a timeless hideaway.
Read More: One Day in Chicago
Start Planning Your Day in Omaha
Next time you hear about Nebraska or want to visit a city that is more off the beaten path, I urge you to give Omaha a chance. It's a fun and affordable city with tons of activities, incredible restaurants, and a fun nightlife scene.
Plus, the saying "Nebraska nice" is true – come see for yourself.
About the Author: Kylee Nelson is from Nebraska and works as a travel nurse. She is the creator of Passports and Preemies. You can follow her on Instagram and Facebook.