One Day in a City Itinerary: Croatian National Park of Plitvice Lakes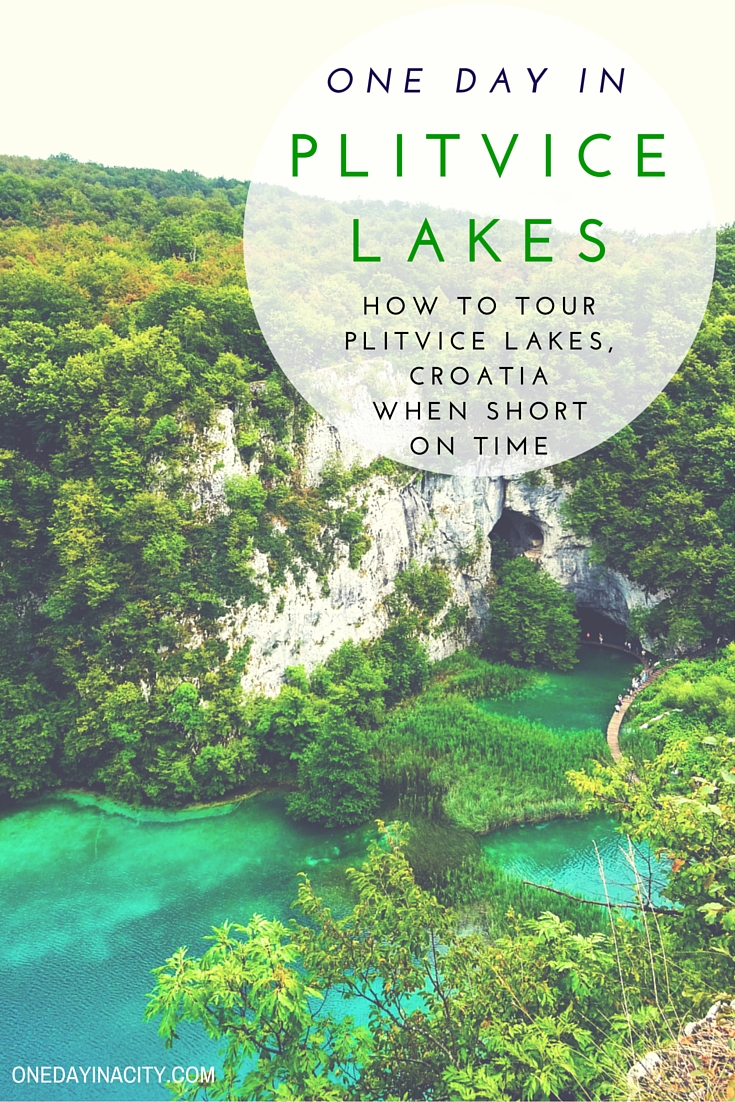 I had one day to spend in Plitvice Lakes, the gorgeous series of interconnected lakes cascading through a forested region of Croatia, and after dreaming about this Croatia National Park for years I wanted to make sure I navigated it in a way that would let me see a wide range of the lakes, but not feel rushed.
Luckily, Plitvice Lakes makes this easy to do. For starters, there aren't a ton of trail options if you stick to the Lower and Upper Lakes, and secondly – most importantly for time – there are places where you can take transportation to get from one region of the lake to another. This is key since walking around the entire Upper and Lower Lakes in one day is probably impossible for most visitors.
Where to Start Your Day in Plitvice Lakes
Two different entrances exist for Plitvice Lakes. I recommend starting your exploration of the park at Entrance 1, which is located on the eastern end of the park. By starting here, you'll be taking the high trail in, which means the water views are going to be in front of you and provide you with beautiful vistas of the lakes. If you end your day at entrance 1, you'll be walking away from those pretty views.
I started my day veering down this viewpoint trail and following signs for P3. Before I got to P3, I arrived at my first major waterfall in Plitvice Lakes, Velike Slap.
Veliki Slap Falls
The walk down to Veliki Slap from the main trail only takes a few minutes. At the bottom is a clearing with large wooden platforms in front of the falls. If you want a fun photo op, stand on the top of it with the falls cascading behind you.
Next to Veliki Slap and up some stairs is a scenic viewpoint from which you can see the Lower Lakes. At the top of the stairs is also a random little hut (which you'll need to go to the right of it to see the viewpoint) and after taking in the view, I headed back toward the hut and continued straight (would have been to my left on way up) instead of going back down the stairs to save some time. This route is more direct to P3, where I needed to get to in order to take a boat to the Upper Lakes. On the way back if you have time, you have the option of walking the longer path right next to the small Lower Lakes if you so desire.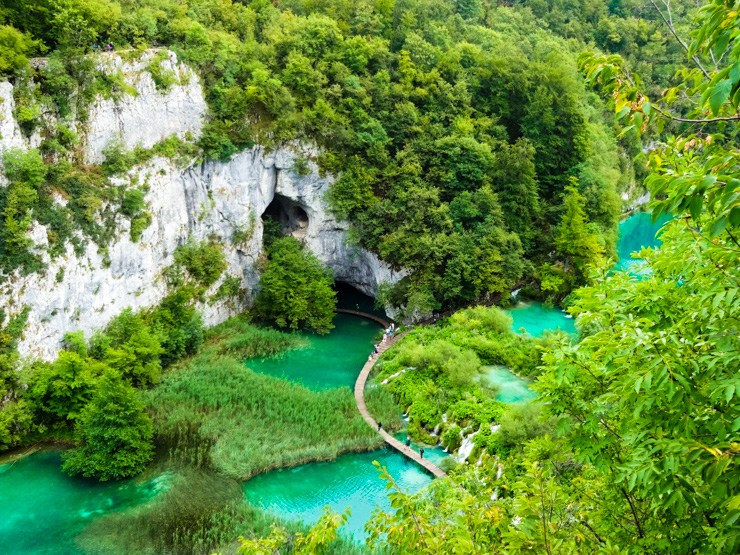 Along this shortcut route keep an eye open for the lookout point, which has a gorgeous view of where the Lower and Upper Lakes meet.
Break and Boat Ride
I soon found myself at P3 and the end of the trail. This is where Plitvice Lake visitors must get in line to take a boat across Jezero Kozjac, the largest lake. The boat ride is included in the price of the Plitvice Lakes entrance ticket.
Before you get in line to take the boat across, you can grab a snack and enjoy it sitting at one of the many picnic tables dotting the grass in front of the water. There's ice cream, coffee, and self-serve meals available at this stopping point, plus a gift shop and bathrooms. (To save money, pack your own lunch to enjoy here.) The gift shops also comes in handy if you're caught in rain unprepared, like I was, since it sells rain ponchos for about $8.
The line for the boat gets long fast during high season so my mom (who I was traveling with) and I took turns saving a place in line while we each took a bathroom break and grabbed a coffee.
The Upper Lakes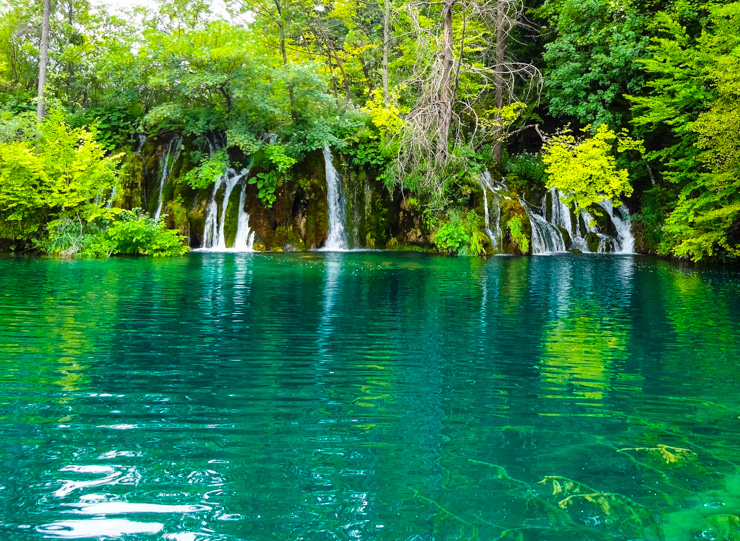 Once off the boat at the P2 stop, it was time to walk around the Upper Lakes: the large Gradinsko up to the smaller Okrugljak. I just stayed around the outer perimeter of these lakes for time sake, though there are inner trails that go between them.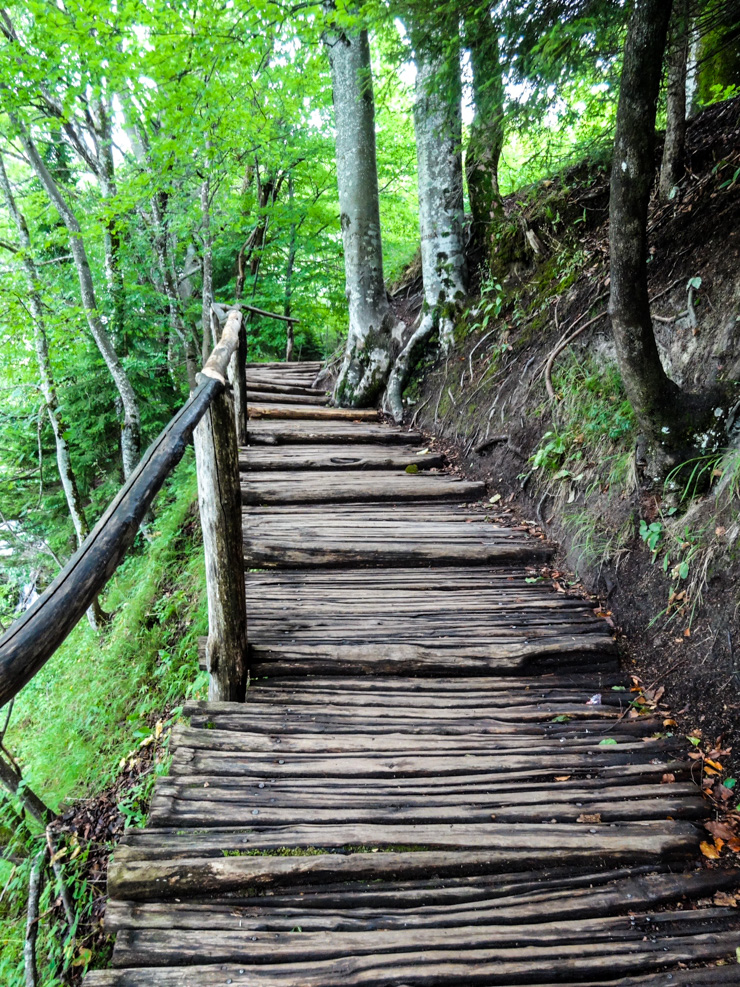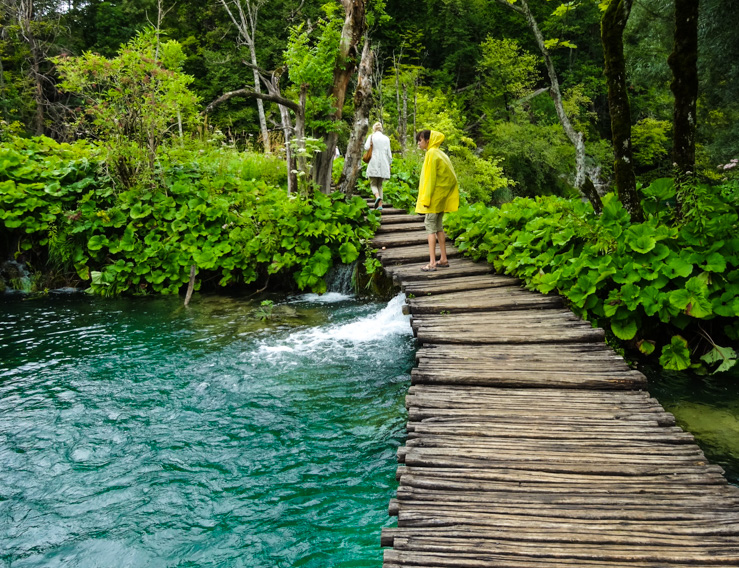 Overall, this area of Plitvice Lakes was probably my favorite. The water is almost eerily clear, showing every mossy facet of underwater branches and rocks. Fish swim lazily in the small lake pools, their every scale noticeable beneath the surface. I also loved this circular shaped waterfall.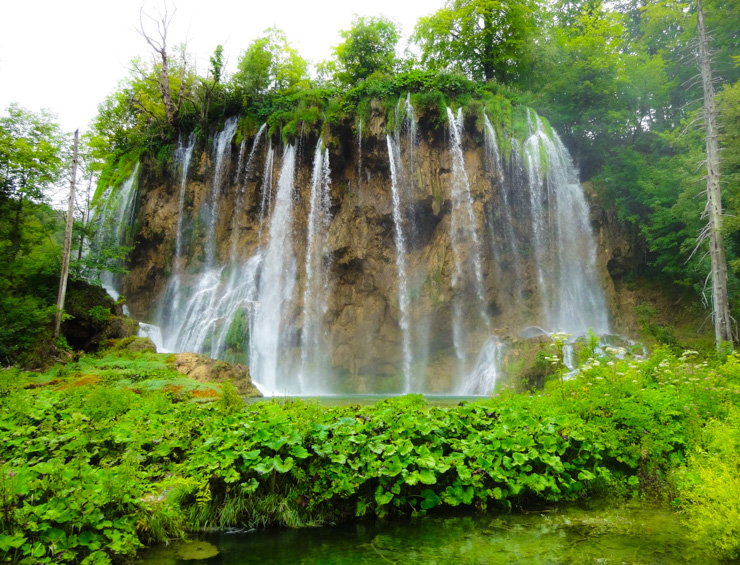 Though that waterfall was my favorite, there was no shortage of falling water to behold while walking around the Upper Lakes.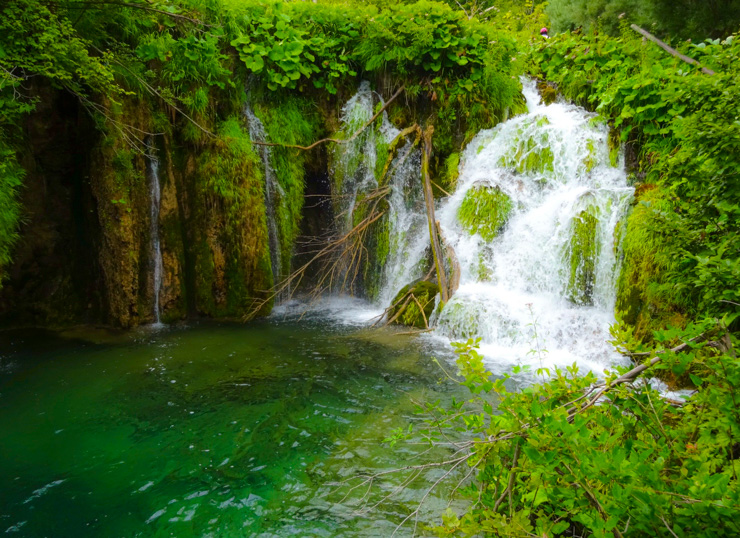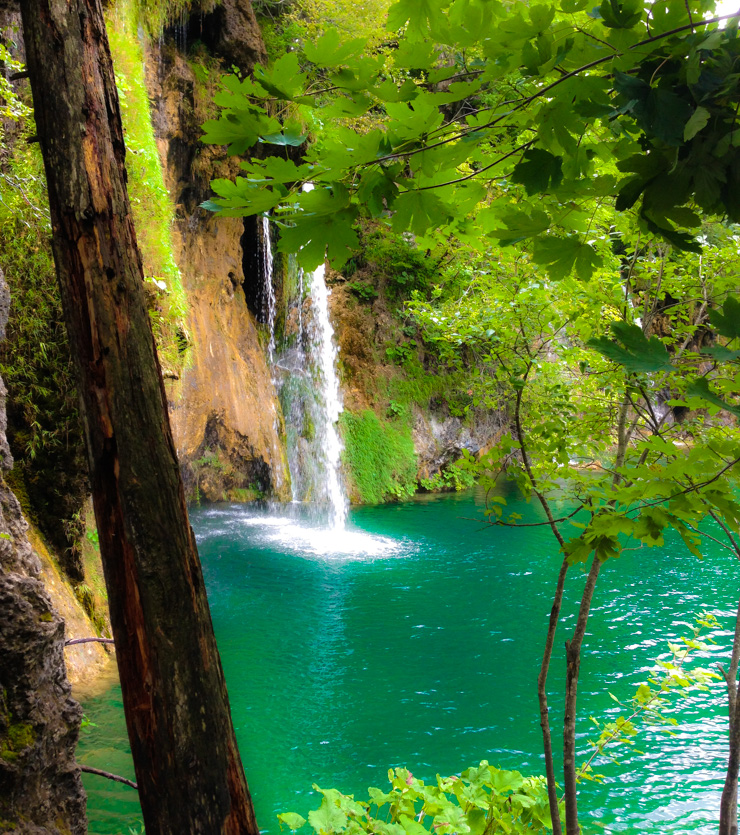 Second Break and Train Ride
After curving around Okrugljak, there is another break point with a café, called ST3 (it has cheeseburgers, sausages, sandwiches, and chicken roasts along with drinks such as cappuccino, hot chocolate, and cold beer) and another mode of transportation: this time a shuttle train. While you can walk this part of the lake, the train is convenient to take if you only have one day in Plitivice Lakes since it effortlessly and quickly takes you down toward Entrance 2.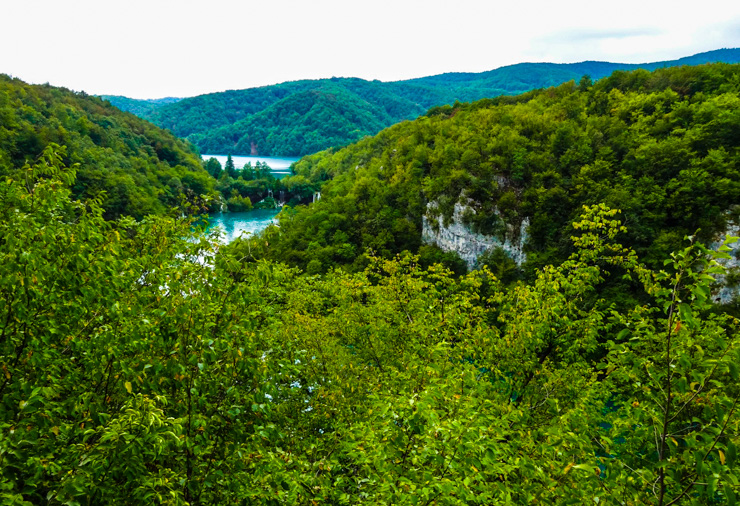 When going down the hill on the train — as you'll be doing if you follow my route — choose a forward facing seat on the left side as this will be next to the lake for pretty views.
Hollow Cave and Over the Lake Path
You can take the train all the way to Entrance 2, but I recommend getting off at the second stop (confirm beforehand this is still the stop number) of the train ride and following signs to P1. This is where you'll find the very cool Hollow Cave. This point of interest stood out to me since it's different from the other main attractions in Plitvice Lakes. There are stairs leading down through the cave, which I took.
At the bottom of the cave, I followed the path that led across the lake and came to a series of mini waterfalls.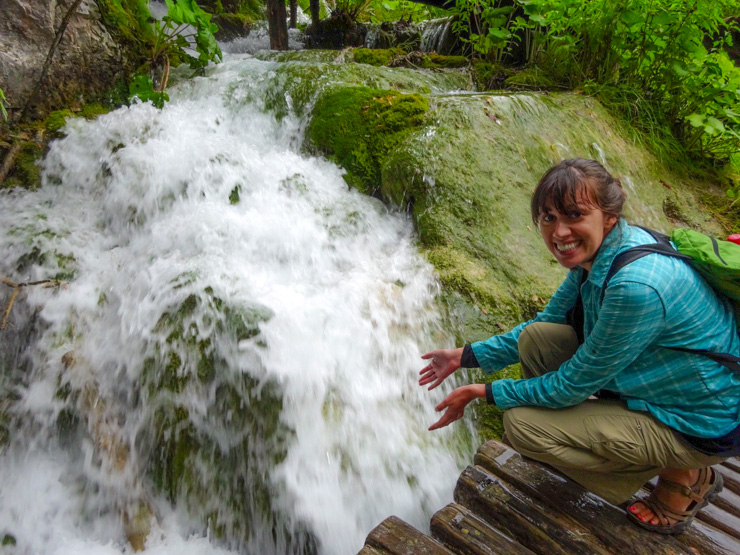 To finish up your day at Plitvice Lakes, keep to the right by the mini waterfalls – you'll see a sign for P1 – and keep walking on the path elevated over the water.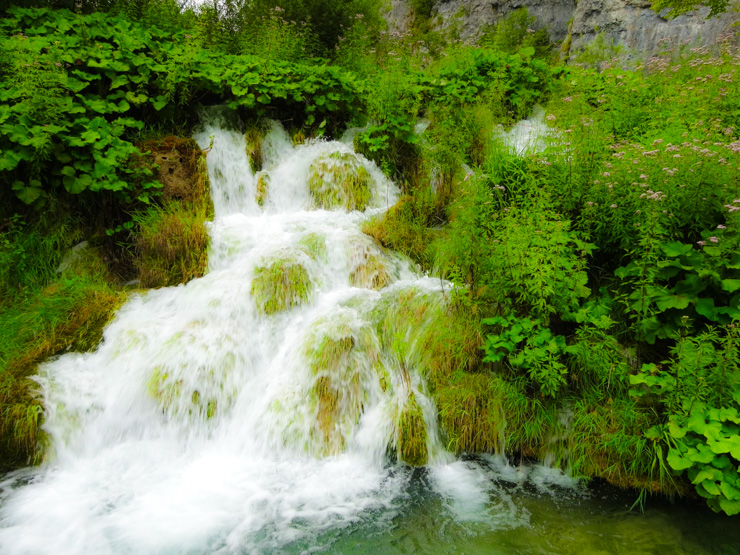 Turn right to cross back over the lake and head back up to P1, then once back on land continue onto ST2 which is right by Entrance 2. From there you can head back to your hotel or take the train shuttle back towared Entrance 1. If doing the latter option, you'll get off at the ST1 stop from which you'll still have a short hike back to Entrance 1.
Transportation Tips for Getting to and from Plitvice Lakes
While in the towns nearby Plitvice Lakes, private drivers can be seen driving white vans, sometimes marked with a taxi sign, sometimes not. They can be hailed if available, and this was my plan since I assumed it would be easy to get a bus or taxi back to the hotel since we didn't have a car rental. Turned out this wasn't as easy as I thought it would be; the bus I thought was coming never did and though I saw lots of taxis driving by, it took awhile to find one that actually was available and not on their way to and from picking up another scheduled client.
Because of that, I recommend just skipping the bus since a taxi ride likely won't be that much if you're staying close by and checking with your hotel if they have the number of a taxi service you can call to pick you up when finished at Plitvice Lakes. The taxi driver who did eventually pick us up gave my mom and me his number and we then called him the next morning for transportation to the bus station. If we'd had his number to begin with it would have saved us a bit of a headache – and time! – at the end of our day at Plitvice Lakes.
Still, despite the longer wait to get back to our hotel than we had predicted (which wouldn't have been so bad if it hadn't been pouring rain at that point of the day), my day in Plitvice Lakes was beautifully memorable and the park definitely lived up to the hype.
Do I wish I'd had more than one day to spend at Plitvice Lakes? Yes, but mostly just because the day I was there was cloudy and the next day was of course sunny! Other than that, I felt one day was enough time to explore the park. If I'd had more time in the area, I probably would have rather spent another day at Barac Cave or another natural wonder nearby than another day at Plitvice Lakes. As great as it is, it's pretty crowded and it'd be nicer to also spend another day in the region somewhere more off the beaten path.
Where to Sleep in Plitvice Lakes
There are three hotels located next to entrance 2. These are nice to stay in if you want easy access to Plitvice Lakes, but they can get pretty pricey. For a more affordable option that doesn't skimp on amenities or comfort, I really liked where we stayed at Hotel Degenija, which was a 5-minute drive from the park. It is modern with friendly service, had a marvelous and peaceful patio overlooking green space, and has an adjacent restaurant that was home to the best pizza I've ever had. As I mentioned earlier, just be sure to figure out transportation back to the hotel before you leave for the park.
The three hotels located right by Plitvice Lakes are:
(These hotels are linked to their property pages on Booking.com, a website I love and often use for booking my hotel accommodations around the world, especially for Europe. I'm an affiliate of Booking.com, which means if you book your Plitvice Lakes hotel using the links above, I get a percentage of the commission — but it costs absolutely nothing extra for you — and that helps me cover the costs of running this site. Thanks for supporting One Day in a City!)