My daughter has recently become obsessed with the Little Mermaid. We sing along to the songs and point out all the different under the sea animals, and when the scene with the shark comes along (who is trying to eat Ariel and Flounder) I make sure to point out that this shark might be a big meanie, but sharks are actually our friends.
Me saying that doesn't matter. One of her favorite games is "Aaaah! There's a shark coming!" And then we have to go hide.
So, seeing how young the "sharks are evil" message is permeated in pop culture, is it any reason I was terrified of sharks for most of my life?
"I am not scuba diving with sharks…at least not on purpose," I had repeatedly said to my husband over the years ever since he had gotten me a dive certification course back when we were still dating.
Considering how much I had to conquer my fear of scuba diving in the first place to get certified, I felt this was reasonable.
"But it's so cool," my husband would reply, launching into stories about the time he'd been diving with sharks at night (so cool) or the time a fellow diver grabbed the fin of a sleeping tiger shark (so not cool).
But I was steadfast in my refusal to scuba dive somewhere I would likely see sharks.
And each time I dove I worried "what if" a shark would appear suddenly and what would happen.
"You just stay calm and keep breathing," my husband would say with a roll of his eyes.
Hmmm, I wasn't so sure.
I wasn't even sure what I was more afraid of. A shark actually taking a bite out of me, which I knew was extremely unlikely, and something I really only worried about on the surface, or me being afraid of the actual physical act of seeing one underwater. If the latter sounds ridiculous, that's because it is, but I hate being scared. I hate watching scary movies, I hate going through haunted houses and people jumping out at me, I just hate that feeling. Some people love it. I don't.
And I worried about having that scared feeling if a shark was to suddenly appear in front of me. Heck, I couldn't even handle a remora fish getting too close to me. (To be fair, that was my first dive after getting certified and I'd come a long way since then, but still…it seemed a clear signal I shouldn't seek out any sharks.)
So what finally got me to dive with sharks?
A dream writing assignment for a cruise around French Polynesia, that included an article about scuba diving. I accepted the assignment before even finding what the dives were and then waited nervously to hear which ones the company would be sending me on.
The first scuba dive location: Toopua in Bora Bora. Stingrays – yay! Colorful clams – yay! Sharks? Probably not – yay!
The second scuba dive location: Moorea. Sharks? Yes…
Yikes.
But the sharks I would see would likely be reef sharks. Reef sharks don't eat people. I was quite certain of that. They might be a little scary to see, but I figured if I could handle swimming with whale sharks, I could handle diving with reef sharks.
There was a chance of seeing lemon sharks, too, but I didn't dwell on that, telling myself it was probably unlikely.
I shouldn't have been so sure.
But first, Bora Bora. My easy, relaxing dive.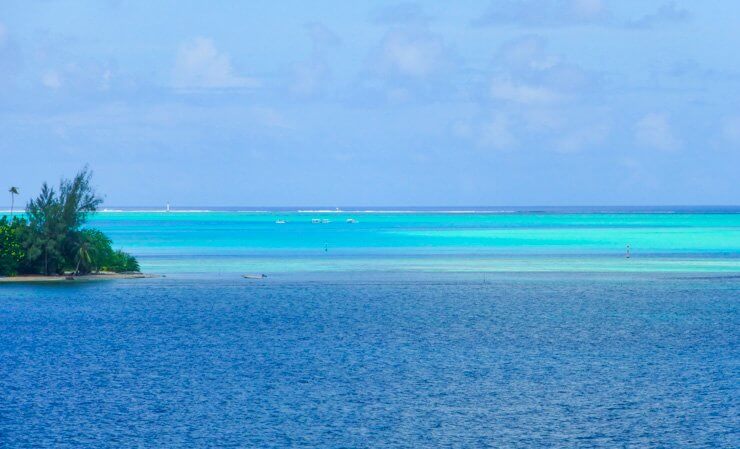 Before sliding off the side of the dive boat into Bora Bora's famous lagoon, I double checked with my dive master.
"Will we see sharks?"
"Ah, no, not here," he said in his French accent.
I smiled in relief. At least I could fully enjoy this dive. I covered my mouthpiece and flopped into the turquoise water.
Toopua was where I fell in love with scuba diving. Up to this point, I'd always liked scuba diving, but I never loved it. I didn't have the same passion for it that my husband and other friends had.
That changed somewhere 70 feet below the lagoon surface of Bora Bora. Why, you may be wondering?
Well, there was the marvelously warm water that was so, so clear.
There was the gentle, rolling gliding of the stingrays that lulled me into a sense of total awe.
There was the assortment of fish swimming all around.
There was the vibrant color of the clams, gleaming in neon, iridescent hues from where they were embedded in the coral reef.
There were a few other technical aspects: buoyancy control with breath, pain-free ears, breathing too fast – all stuff I had trouble with before finally clicked somewhere along the reef of Toopua, and I finally felt at ease and fully relaxed with scuba diving.
The dive felt meditative and calm.
And then there was the shark.
After we'd been down for probably about 30 minutes, I was swimming past a low, flat part of the reef that went back for about 25 feet before jutting up into a low wall – and that's when I saw it. Zipping and zigzagging its way over the coral reef in front of the wall.
A shark.
There was no mistaking it.
This was the moment I'd been nervous about while diving for so long. So worried about the fear of seeing one that I'd never let myself fully relax while diving, and now, right when I had my guard down, my first encounter with a shark in the depths of the ocean was happening.
To my surprise, I felt no fear.
Instead, I felt awe and found myself kicking closer to it to get a better look.
I was delighted with how it moved. So effortlessly yet so precisely. Each flip of its fin propelled it forward in a serious yet zippy manner. The shark moved quickly down the reef with its meticulous, powerful swimming before disappearing behind a large coral covered formation.
The dive master had noticed it too by this point. He gave me the signal for shark.
I gave him the ok sign with as much of a grin as I could muster behind my breathing apparatus.
Oh, yes, everything was ok.
When we reached the surface, I excitedly began bubbling words to my guide.
"We saw a shark!"
"Yes, that was unusual," he replied matter-of-factly.
"It was so cool!"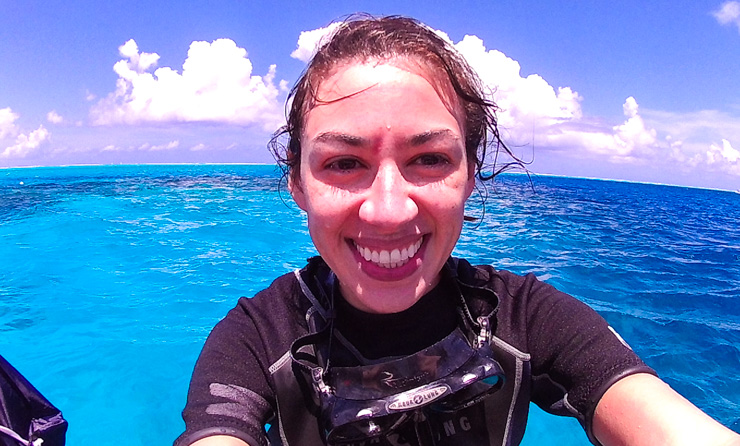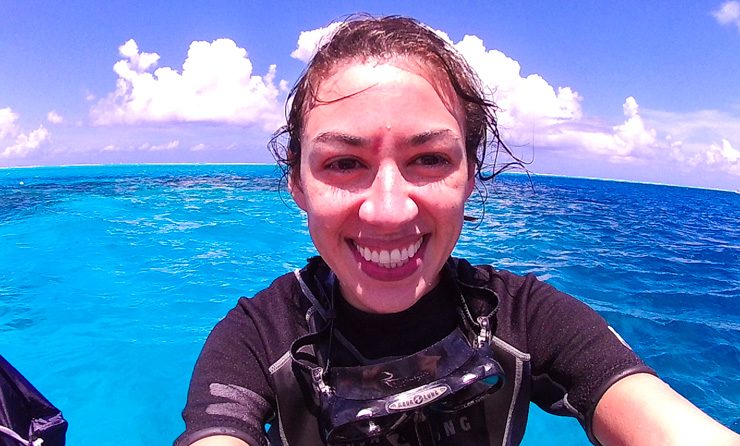 Sharks were awesome. Who knew? (Besides, you know, my husband and practically every other person who has ever dove with them.)
Suddenly, I wasn't so scared for my next dive. In fact, I was excited to see more of these streamlined, intriguing creatures.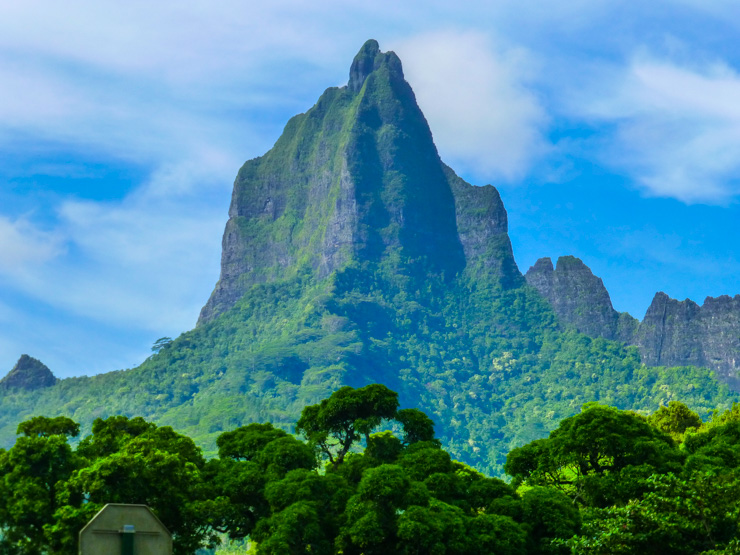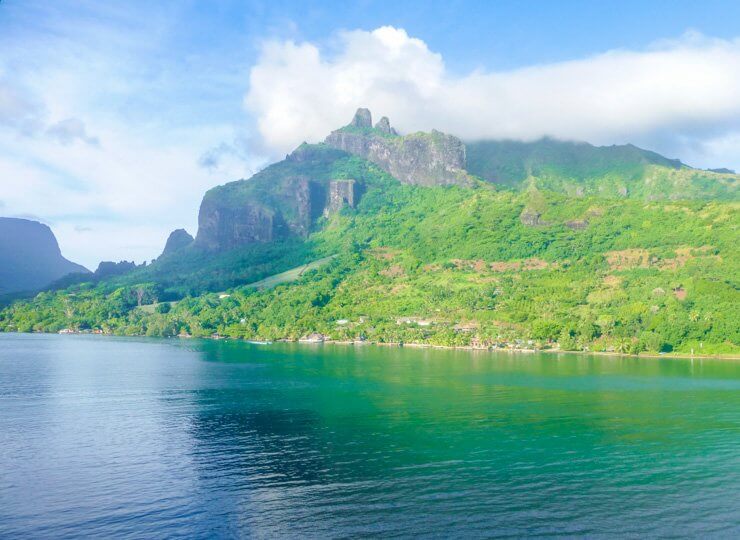 Near the island of Moorea, I'd be making my way to a massive underwater rock wall that would be teeming with coral, fish, and other sea animals.
The highlight of this dive was getting up close and personal with a sea turtle. (Sorry sharks, sea turtles will always have my heart.) Literally. My guide suddenly started motioning to me to look to my right, which I did and right next to me so close I could reach out and touch it (I didn't) was a sea turtle half my size just hanging 10 next to me.
It completely startled me, way more than the reef sharks I'd seen zipping along the wall had done up to this point.
I followed the sea turtle for as long as it let me, absolutely ecstatic to be in its presence.
By the time it swam off to another part of the reef, I had nearly forgotten all about sharks.
Until a massive shadow started coming toward me under the water.
It happened so fast I barely had time to register it, but my heart certainly did. It was beating so fast under my wetsuit and I reminded myself to take slow, calming breaths.
Like with the reef shark, I found myself fascinated by it, intrigued by the way this shark moved slower than the reef sharks, and more graceful and methodic, yet still so powerfully through the water. There was no doubt in my mind that it could move faster if it wanted to. Thanks to the fish attached at its sides, it seemed like it was just out on a leisurely stroll with its buddies.
But the size! And the shape! Fascination or not, I'm not going to lie, this shark scared me a little. It didn't zap a panic inducing fear into me that caused me to breathe through my entire tank in minutes like I'd worried about, but it definitely conjured up images of Jaws as it went by me, its hulking shape becoming clearer as it swam by me and then disappeared into the depths with rhythmic twists of its body.
The dive guide gave me the ok sign – there was no need to point out it was a shark! And I gave one back, though a bit more hesitantly this time.
Yet I was ok.
The lemon shark was easily at least ten feet long.
It could have changed its path and been atop me in a mere second to eat me if it had wanted to. But it didn't. (Because sharks don't want to eat people.) My heart rate returned to normal and I found myself conflicted between not wanting to see the lemon shark again in case it caused the same adrenaline racing response, and wanting it to come back so I could get a better, longer look because…sharks are awesome!
Mr. Lemon Shark didn't come back, and that was ok. The sea turtle did! (Maybe it disappeared for a bit because of the shark.) And I saw many more reef sharks.
All too soon, it was time to start making our way back up to the surface.
As I mentioned before, I usually feel most scared of sharks when floating on the surface in open water. So the worst part of getting certified in San Diego was having to do a land entry, which meant being on the surface of the water a good 50 feet out for a long swim to and from the dive spot…a week after a shark had been spotted there. One thing that kept me going during dives when I worried about sharks was that I knew the majority (if not 99.9%) of all shark attacks happened from below. On the ocean floor I felt safe, but hovering on the surface I felt like perfect shark bait.
And now as I did my safety stop about halfway to the surface, I could see numerous black tip reef sharks circling below me.
They were small shadows in the depths, though it was no mistaking they were sharks. It was nerve-wracking, but also eerily hypnotic. And just plain cool.
Still…when we finally ascended all the way to the surface, I was being slow at getting my fins off and was the last one to get out of the water. That last minute being the only one in the water definitely heightened my adrenaline and I felt a low dose shot of "fight or flight" panic urging me to hurry up and get out of the water.
But…of course…nothing happened and soon I was back on the dive boat smiling ecstatically about my encounter with the magnificent beasts below.
I may always get a bit of an adrenaline rush from sharks, but now I also find them utterly fascinating and hope to dive with them again one day.
Want to learn more about sharks and why they're so important to the ocean's ecosystem? Follow @juansharks and @oceanramsey on Instagram. Their feeds are amazing and they're doing great work to help save sharks.
Enjoyed this post? I'd love if you share it on Pinterest!