Got an extra seat for your baby on the plane? Enjoy the space and remember these tips.
I was lucky my first time flying with a baby. Not only was my husband, Tom, with me, we also had a seat purchased just for Lulu thanks to this being a work-related trip for the whole family through my husband's job. Otherwise, 5-month old Lulu would definitely have been sitting on my lap.
I've done flying with Lulu now as a lap baby, too, and let me tell you – flying with a carseat that can be put on its own seat is all sorts of amazingness (except for that darn extra plane ticket cost factor…).
Still, there was a bit of a learning curve. Here are some takeaways I discovered for flying with a baby in a carseat when the baby has his or her own seat.
Go Through Airport Security Like a Champ
The baby needs to be taken out of the carseat to go through security. This is different from traveling with a lapbaby who is allowed to stay in a baby carrier like an Ergo when going through security (of course, you can always put the baby in the Ergo for security and just carry the carseat – I recommend this and would have done this had I known at the time the baby can stay in the carrier, but that is another story).
Bring Your Stroller for the Airport Terminals
Bring a carseat adaptable stroller, like the Chicco Click n' Go. It will make going through the terminal so much easier so you're not lugging the carseat over the crook of your arm — and thinking about how nice it will be when you can just travel with a foldable booster seat!
Check the stroller once you're at the gate so you'll have it again when you get off the plane.
I almost convinced my husband that a stroller was going to be too annoying to bring through security and the airport; luckily he convinced me otherwise. The stroller was so handy and convenient. Plus, if Lulu wasn't sitting in it, we could just pile all our luggage into it while going through the airport.
Secure the Car Seat with the Seatbelt Correctly
The seatbelt goes through the tabs on the side of the carseat and you strap it into the seat similar to if you were using the carseat in a car without the base, which is something you'll get used to doing if you travel with baby enough.
Decide When to Nurse
You may have a carseat versus boob dilemma upon take-off if you're breastfeeding. If you're not sure how your little one is going to react to the change in pressure and hurting ears, then feeding her upon take-off is a smart idea as the suckling helps regulate ear pressure and helps the ears to pop. On the other hand, the car seat is the safest place for the baby to be upon take-off and landing since that is when the plane is most at risk for sudden turbulence. If you use a bottle, then this is easy – leave the baby in the carseat and give him or her the bottle. If you nurse and don't want to deal with bottles through security (which I didn't) and you don't want to take your baby out of the safety of the carseat, try a pacifier as that helps, too.
Take Your Time Getting Off the Plane
Unless you're in a huge hurry, wait for everyone else to deplane. Carseats are cumbersome and waiting to get off at the end will help ensure your stroller is already off the plane and you can just click in and go without having to wait for it.
Choose Your Seats Wisely
Get a window and middle seat if you're not traveling with anyone else and won't have the whole row. The car seat can only be rear facing in the window seat, otherwise it blocks the row and provides an obstacle to exit in the case of an emergency.
Take Advantage of Some Down Time
One last takeaway: When your baby (hopefully) sleeps in the car seat on the flight and you have both hands free AND you're far, far away from the demands of piled up laundry and dishes, but you're too nervous about being on a plane with your baby to sleep, take advantage. Finally read that magazine that is three months out of date. Or start that book you've been wanting to read. Granted, it may take another several flights to finish it, but hey, at least you started it. Just relax.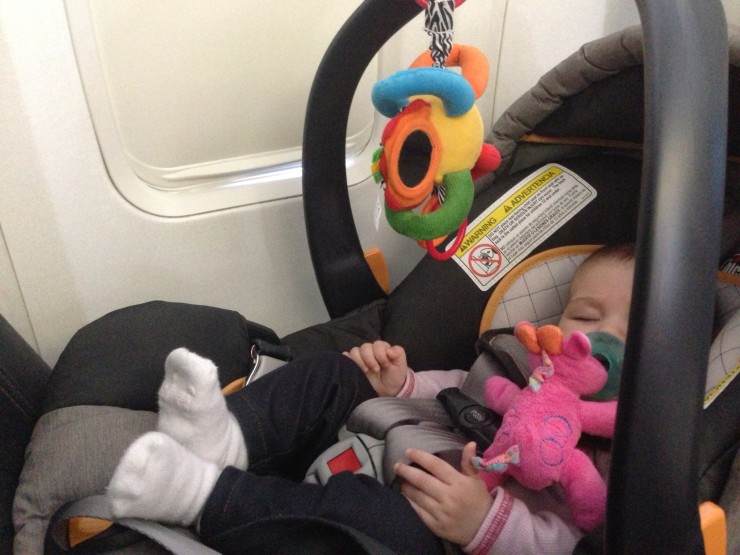 Wait — relax when flying with a baby? Well, you can try. While in your seat, just remind yourself that at least you're not in the airplane bathroom trying to change a messy diaper!