Tre Cime di Lavaredo: Why It's the Hike You Don't Want to Miss in the Italian Dolomites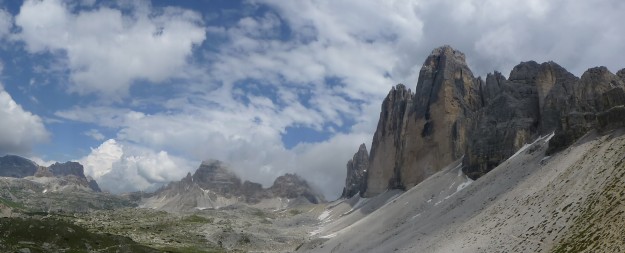 My first exploration of the Dolomites mountain range in Italy was the Tre Cime di Lavaredo, an iconic formation found in the Dolomites of three towering slabs of rock. Each one evolved into a sharp peak at the top with its base splaying out at a sharp angle below. This formation is aptly named as tre cime, which means "three peaks" in Italian. These peaks are visible from the entire hiking trail and make for a formidable, unforgettable hike.
It also helps that the hike is a pretty easy one as it stays mostly flat, meaning an easier time to keep your head up looking at those gorgeous Tre Cime di Lavaredo views.
There are also rifugios (mountain refuges which are often the home to accommodations and restaurants in the Dolomites) are placed throughout the hike, which also helps to make it an easy hike since you have multiple opportunities to take a relaxing break and have a drink or snack.
Getting to Tre Cime di Lavaredo
It is a 15 to 20 minute drive from Cortina, Italy to get to Tre Cime di Lavaredo and costs 22 euros per car to get onto the road leading to it. You'll follow signs to Rifugio Auronzo where you can take a quick bathroom break or grab a cappuccino or a bottle of water before starting the hike.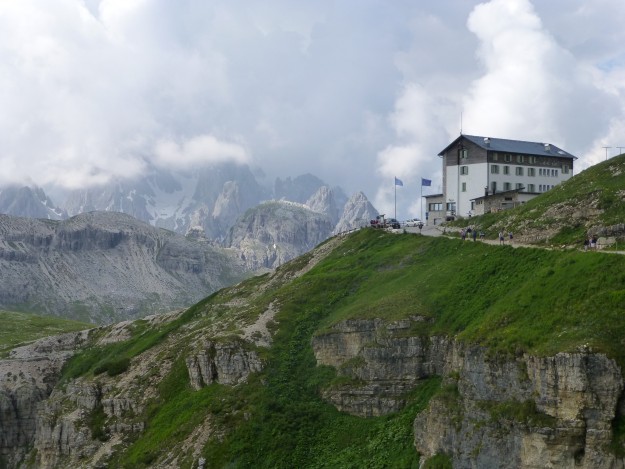 How to Start Your Tre Cime di Lavaredo Hike
I started the hike heading east from Rifugio Auronzo, which takes you onto a trail right beside the Tre Cime di Lavaredo peaks. Around the halfway point of this first trail, there are some old monuments in the grass a few minutes walk off the trail. From there the view of Tre Cime di Lavaredo is fantastic. Snow snaking its way down the mountain  between long slabs of gray rock. Whitewashed rocks dot the grass with yellow flowers. And in the background, the soaring peaks of Tre Cime di Lavaredo.
If you took Yellowstone and the Grand Tetons, substitute the buffalo for some interesting looking cows, then add in wide green spaces reminiscent of the Sound of Music, you'll have a close resemblance to the Dolomites and the Tre Cime di Lavaredo hike is one of the best examples of Dolomites scenery.
After curving around the end of the tre cime, the landscape began to look like a rock strewn battlefield. Amidst that rocky scenery is another rifugio, the Rifugio Lazaredo. Stop in for a bite to eat or bathroom break, otherwise keep heading right, where you'll come to snow fields if the conditions are right. The brown dirt covering a large portion of the snow combined with the light hitting the icy cold substance makes it look like a rippling maroon ocean.
Since the hike takes several hours, it's a wise idea to take a food break to keep your energy up. Rifugio Langalm is a great place to stop and eat about 2/3 through the hike. The food is delicious and the views astounding.
After Rifugio Langalm, the rest of the hike alternates between trails perusing through grassy flower fields or cutting a line through barren landscape.
There is also a trail for more experienced hikers that goes along the side of the Tre Cime base. I walked along it for about 15 minutes before turning back since it was too rocky and steep to be that much fun walking along. With the snow mingling into the trail and the loose rocks, it seemed one misplaced foot would send me cascading down the side and so I decided it was a bit too precarious.
Plus, the views of the magnificent Tre Cime were much more spectacular from the other trail.
What to Bring with You to Tre Cime di Lavaredo
Even though it's an easier hike, you'll still want to be prepared with the right things so you can enjoy the day and fantastic views. Here are some items to bring with you:
Day Pack: Make sure it's comfortable and water proof in case of rain.
Water: I like bringing collapsible pouches over water bottles since they're easier to pack and less bulky. You can also get a carabiner clip and clip it to the side of your day pack.
Sunglasses: With the snow and minimal trees for shade you'll want sunglasses to shield your eyes from the sun and its reflection. I prefer polarized sunglasses for traveling.
Layers: If hiking on a warm day, remember it's still the mountains and parts of the trail may be colder than others. This might be a good time to get out those dorky zip-off pants you have! 😉 A foldable rain poncho is also a good idea.
Hiking Shoes/Boots: It's an easy hike, but there are still loose rocks, snow, and uneven terrain — protect your ankles and yourself from falls with hiking shoes that have good traction.
Try a via ferrata hike in the Dolomites, too. Here's my post on climbing the degli Alpini via ferrata in the Dolomites. (Click through for tips on climbing/hiking it or just to see a picture of me hanging off the side of a mountain. 😉
Pin to read this post again later!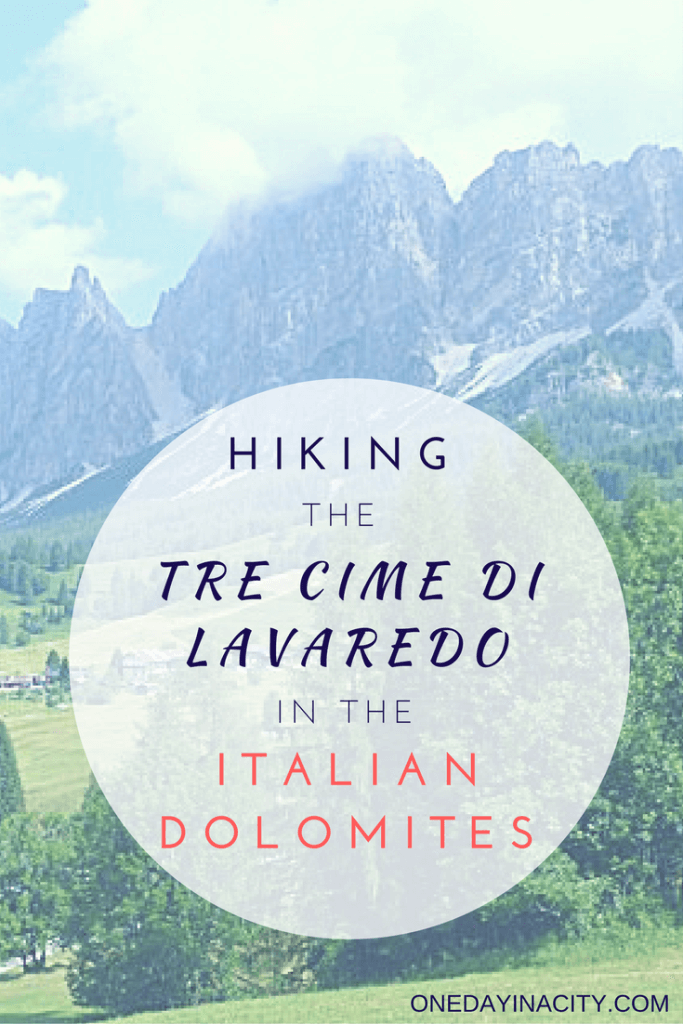 This post was originally published on November 8, 2013, and updated on January 27, 2018.