Local's Guide to the Greatest Weekend Trips in Upstate New York
New York State has so much more to than just the Big Apple, but many tourists never leave Manhattan. Big mistake! While others are paying way too much to get into the Empire State Building, you could be taking in beautiful landscapes on a weekend getaway to upstate New York.
Whether you like basking in nature or bustling cities, there's a vacation spot in upstate New York for you!
This travel guide is written by one of One Day in a City's writers who grew up in New York. I'm excited to have Brianna share her top five places to visit in upstate New York, including some hidden gems.
She'll also show you the best ways to get to each travel destination to make your upstate New York trip planning easier. Pack a weekend bag and get ready to truly explore this famous state.
Woodstock / Bethel
Did you know that the Woodstock music festival didn't take place in Woodstock? It was actually held in nearby Bethel, NY.
With that in mind, relive the '60s with a visit to the Museum at Bethel Woods, on a weekend getaway to this famous upstate New York location. The Museum at Bethel Woods features art, music, and other artifacts from this groovy point in history.
Afterwards, head to Woodstock's Karma Triyana Dharmachakara, a Tibetan monastery with guided tours, workshops, and free weekly classes.
You can grab souvenirs at Mower's Saturday Market and the independent shops on Tinker Street – in an area this small, it's great to support local businesses.
Getting There: Woodstock and Bethel are two hours away from New York City and an hour away from Albany, the state capital. Despite being small towns, you can get there by taking a Trailways bus. However, it's easier to rent a car and drive over, especially since there isn't a mass transit system that connects to this area. If you're arriving by plane, fly into Albany International Airport or John F. Kennedy Airport.
Cooperstown
Cooperstown, NY is home to the National Baseball Hall of Fame, so you'll have no problem getting sports fans excited to visit this village of less than 2,000 residents.
That's not the only educational opportunity you'll find here, though. If the folk art exhibition at the Fenimore Art Museum doesn't intrigue you, spend an afternoon at the Farmer's Museum watching livestock shows.
Those with a flexible schedule should visit Cooperstown in the summer, when you can take a boat tour of Otsego Lake. There's a swimming area at Glimmerglass State Park, so pack a swimsuit and sunblock for your trip.
Getting There: This small town is an hour and a half away from Albany, which is also the best city to fly into. You can also get to Cooperstown by taking a Trailways bus. However, since this is the smallest destination on our list, you'd benefit from renting a car – the nearest public bus system operates in a city 30 minutes away.
Niagara Falls
These three giant waterfalls sit on the border of Canada and the United States, but you won't need a passport if you stay on the New York side.
A weekend trip is an ideal way to visit Niagara Falls so you can be there at night; the Falls illuminate at night, and sometimes, the colors coordinate with different events and holidays.
While you're there, take the Maid of the Mist boat tour or walk through the Cave of the Winds. Both of these attractions bring you close enough to the Falls to truly appreciate them – simply viewing them from the observation deck isn't the same!
Getting There: Niagara Falls is nearly seven hours away from NYC and a half hour away from Buffalo (another city worth visiting if have the time). The town has an airport, but you might find cheaper flights if you land in Buffalo. Niagara Falls also has an Amtrak station – just be mindful that you're getting off in New York and not in Ontario. The New York station is abbreviated NFL, whereas Canada's station is NFS.
Syracuse
Cooperstown isn't the only place to get your sports fix in upstate New York. Syracuse University's football team plays throughout the fall, and their women's basketball season runs from late fall into winter.
When you're not spending time on campus, you can visit the Rosamond Gifford Zoo and Beaver Lake Nature Center, both of which are open year-round.
Alternatively, spend your upstate New York weekend in Syracuse browsing the city's many art galleries.
As one of the state's larger cities, you might not even get to see everything you want to in one weekend so be prepared to be busy.
Getting There: Syracuse is roughly two hours away from Albany and four hours away from New York City. The city has its own airport and Amtrak station, making it easy for tourists to visit. If you don't want to rent a car, consider taking local public transportation to save money.
Albany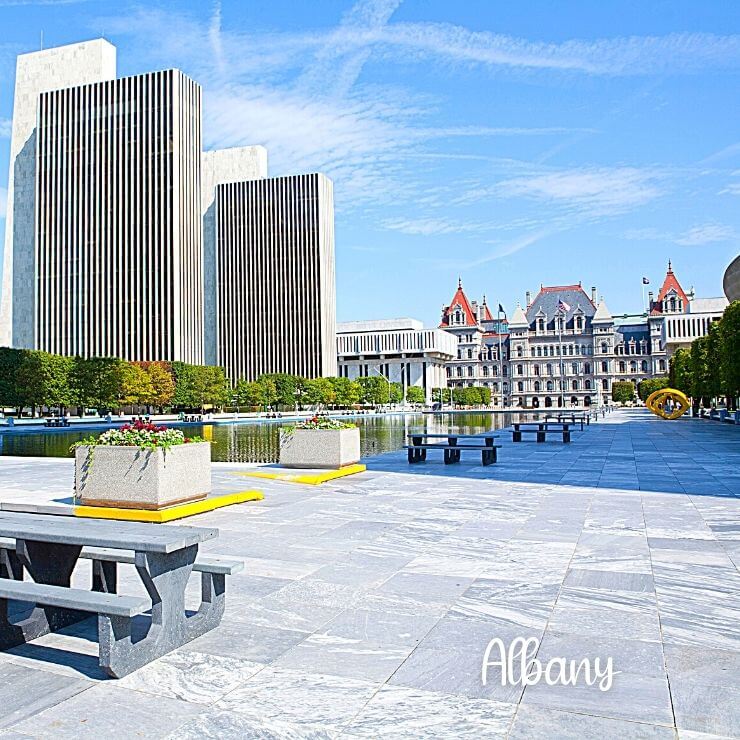 Some people argue over whether or not Albany is truly in upstate New York. Either way, it's close and still worth visiting! It is the capital city of New York, after all, and its Capitol building is a must-see.
Head downtown to visit the New York State Museum, where you can learn about the state's archeology, Native American heritage, and the 9/11 attacks.
In recent years, the local Crossgates Mall has become so much of a tourist attraction that a hotel was built across the street from it. With a comedy club, a bowling alley, and a movie theatre, you can spend an entire day there.
Since Albany is home to several colleges, you're bound to find a busy bar – try hitting up Pearl Street Pub or Washington Tavern on a Saturday night.
Getting There: Albany is two and a half hours away from New York City, and you can get there easily by plane, train, or bus. The city also has a mass transit system that eliminates the need for a car, though it still makes sense to rent one to save time. If you'll be drinking during your weekend getaway, take a CDTA bus home instead of calling for a cab to save cash.
Read More: How to Spend One Perfect Day in New York City
---
New York City will always be a national treasure, but don't forget about what the rest of the state has to offer. From beautiful parks to bustling college towns, there are so many fun places to visit in upstate New York. How many of these weekend trip destinations are you adding to your travel bucket list?