The Hidden Gems to Add to Your Travel Bucket List for the United States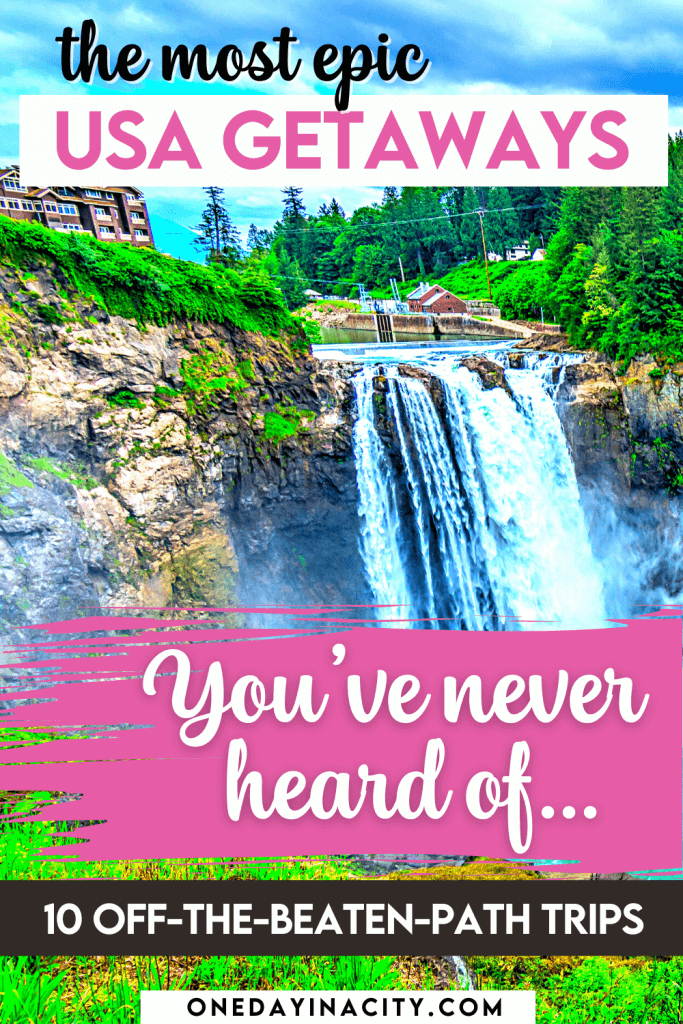 Get to these hidden gems in the USA before everyone else discovers them!
Whether you're looking for beaches or mountains, wineries or boutiques, this list of the top 10 hidden vacation spots in the United States will have you getting off the beaten path while still having an epic trip.
Read on for why I chose each of these spots, what makes it special, top things to do, and where to stay while there.
Traverse City, Michigan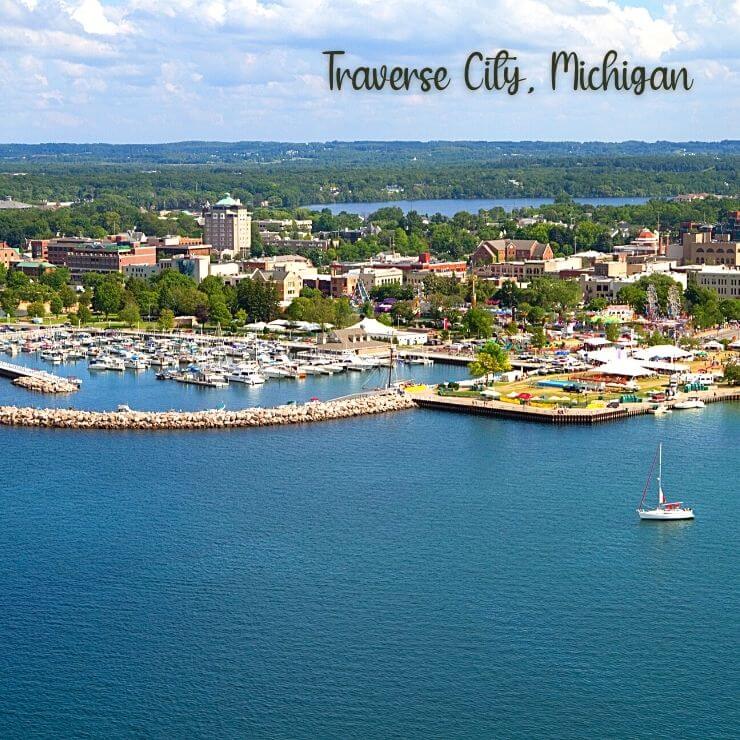 My husband's family is from Michigan and he grew up spending part of every summer vacation in the Traverse City area of Michigan. The first time he brought me there, I was shocked! After all, I grew up in Minnesota, not that far from Michigan; how did I not know about the wonders of upstate Michigan?
After a few more trips, I'm here to tell you that the Traverse City and its surrounding areas may be the USA's best kept travel secret.
It has wineries (don't miss visiting the gorgeous Chateau Chantal!), it has gorgeous sand dunes, it has excellent restaurants and breweries…it even plays host to the National Cherry Festival! (Held each July in Traverse City, coinciding with the 4th of July.) The shores of Lake Michigan look more like they're from the oceanfront instead of a lake. Plus, there are dozens of smaller lakes all around the region that make for wonderful boating or lazy days reading on the dock.
Where to Stay: Bayshore Resort
This is my top pick for where to stay in Traverse City because it has well-appointed rooms, a nice indoor pool for cold or rainy days, and — best of all — a large private, sandy beach right on the shores of West Grand Traverse Bay. Plus, it's in walking distance to town; you should be there in 15 minutes or less, depending on where you're headed.
—> Click here for photos and prices of Bayshore Resort. (Check out that fabulous private beach!)
Read More: The Ultimate Day Trip to Mackinac Island, Michigan
Southeast Montana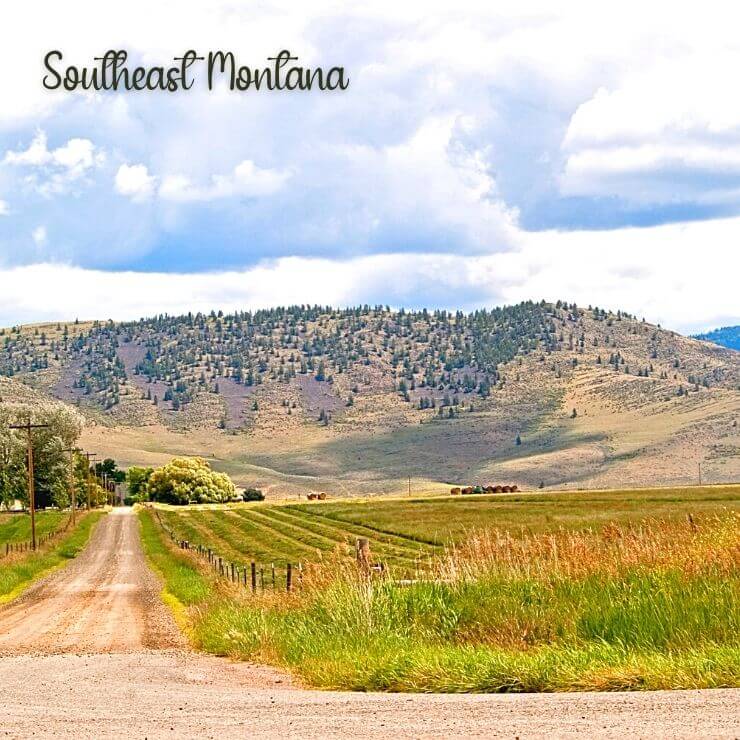 Southeast Montana is full of incredible state parks, national monuments, award-winning breweries, and gorgeous scenery, yet it often gets overlooked by Western Montana as a vacation destination. Southeast Montana may not feel as grand as the towering mountains and national parks and ritzy ski towns and lake resorts over on the west side of the state, but rest assured: Southeast Montana will provide you with an incredible trip that will show you an authentic side of Montana and really give you a taste (literally and figuratively!) of how Montanans live.
Top things to do is seeing Pompey's Pillar, checking items off the dinosaur trail in Glendive and Makoshika State Park, doing the Billings Brew Trail, hiking around the Rims of Billings, and visiting the Little Bighorn Battlefield National Monument.
I'm from Southeast Montana and while I understand the allure of the majestic mountains of the west, there is truly something understated and special about southeast Montana. It's definitely worth putting on your bucket list and you'll for sure escape some of the crowds that descend upon Glacier, Yellowstone, and the rest of Western Montana in the summer.
(If you're going to Montana in winter I'm assuming you're doing some skiing, in which case Southeast Montana might be tough unless it's cross-country skiing. For downhill skiing, my hidden gem recommendation for Montana is Showdown, a little over an hour south of Great Falls.)
Where to Stay in Southeast Montana: The Northern Hotel
The city of Billings, MT is a good spot to base yourself while exploring Southeast Montana. My top hotel pick for Billings is the Northern, which mixes upscale vibes with rustic charm, and is in walking distance to the breweries and restaurants of downtown Billings.
—> Click here for photos and prices for the Northern Hotel.
Bandon, Oregon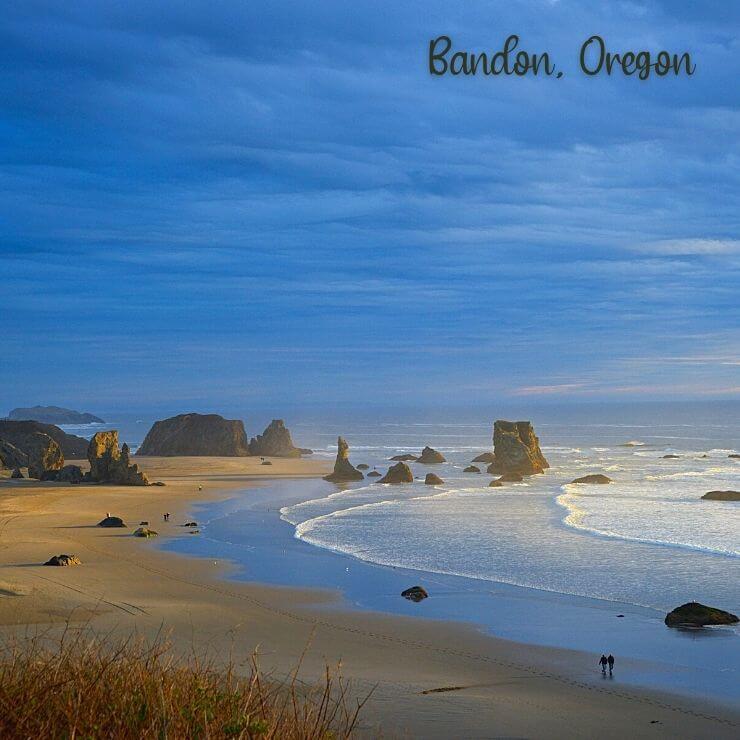 Bandon is easily one of the best unknown places to visit in the USA. It's just far enough south in Oregon that it doesn't get the crowds like Cannon Beach and Seaside on the northern coast of Oregon. But it's just (if not more!) beautiful.
Living in Seattle, my family often takes summer trips and weekend getaways to the Oregon Coast, but we usually end up in the northern area of the Oregon Coast. Then a couple summers ago we drove even farther and stayed in Bandon and it was epic! During that trip, we drove the entire Oregon coast from California up to Washington, but a highlight was for sure was Bandon, a small beach city located in the southern region of Oregon.
Bandon is a place that is a great travel spot for all ages. We were all wowed by the expanse of sand during low tide that revealed starfish, mussels, and other sea urchins at the base of the many sea stacks lining the shore. My children had a blast running all around the sand and splashing in tide pools, while I enjoyed simply gazing at some of the most beautiful coastal scenery I'd ever seen.
In town, there was cute shops to browse and delicious seafood. We especially enjoyed the food and laidback seaside atmosphere at Tony's Crab Shack.
Where to Stay: Table Rock Motel
This motel is affordable, bright, and has beach-themed rooms that aren't kitschy. The rooms have peaceful little balconies and patios, too. It's right by a trail leading down to the water and the staff at the front desk were super friendly and welcoming. Table Rock Motel also operates some adjacent vacation rentals if you're looking for someplace larger.
—> Click here for pictures and prices for Table Rock Motel.
Read More: Ultimate Guide to Rockaway Beach, Oregon – another hidden gem in Oregon we love!
Boundary Waters, Minnesota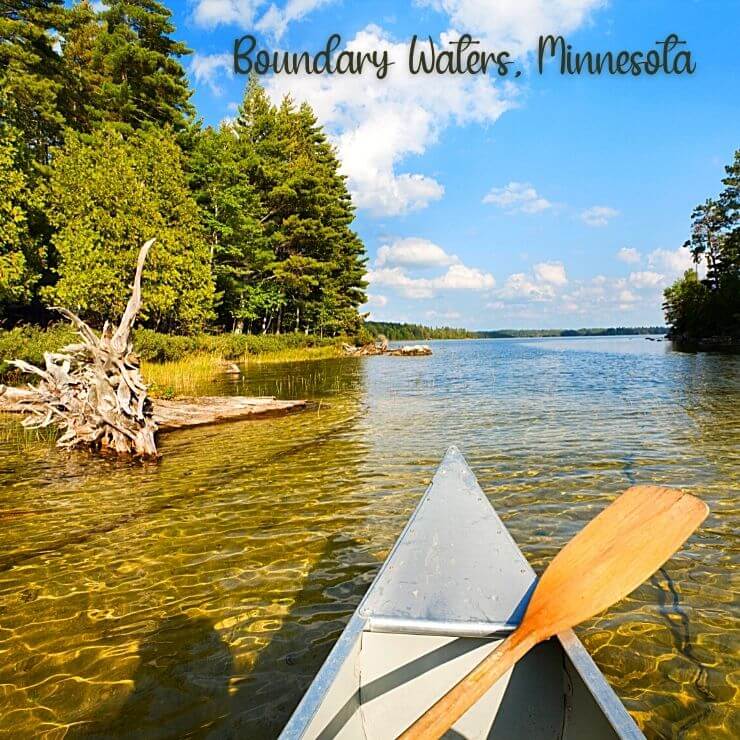 If you're from Minnesota, you've definitely heard of the Boundary Waters. If you're not…well, chances are you haven't heard of it unless you're really in canoeing. And I'm here to tell you: it's time to get really into canoeing.
That's because the Boundary Waters is one of the most beautiful parts of the United States. It's a pristine wilderness area where no motorized boats are allowed and the "leave no trace" philosophy is strictly enforced.
The Boundary Waters Canoe Area Wilderness (BWCA) consists of a series of small islands connected by tranquil water. You spend your days paddling around the water, portaging your canoe and other equipment across the land, and relaxing at peaceful, remote campsites in the evening.
Where to Stay
The Boundary Waters Wilderness Area is nestled between northern Minnesota and Canada. If you get there the night before your canoe trip, check into a hotel in Grand Marais before you begin your BWCA adventure. Clearwater Historic Lodge has peaceful cabins by Clearwater Lake, a hearty breakfast, and an outfitter store (Clearwater Outfitters) where they can get you set up with any additional gear you need for your BWCA trip.
Snoqualmie, Washington
Chances are you haven't heard of Snoqualmie, Washington, a mountain city of the Cascades that is located in Western Washington. And if you have heard of it, you've probably just stopped by its famous waterfall while en route to Seattle via I-90, which is 40 minutes away.
Snoqualmie's waterfall is a must-see, but this little city has so much more to offer.
It has a charming little Old Town area by Snoqualmie River. Old Town Snoqualmie is right next to the historic Snoqualmie Depot and small, but informative Northwest Railway Museum. Next to the museum and tracks is a grassy area with old train cars places on it that you can explore (when open).
You'll also find some delicious cafes, restaurants and bars in Old Town serving up yummy grub and local craft beer, or you can go right to the source and do a beer tasting at Snoqualmie Brewing Company. Over in the Snoqualmie Ridge neighborhood, you'll also find No Boat Brewery, a popular brewery with locals.
Where to Stay: Salish Lodge & Spa
Salish Lodge is located right next to Snoqualmie Falls and is one of the best spa resorts in the region. It has incredible views of the top of the falls; you can even see the mist from the water drifting past the windows on days the falls are heavy. It has world-class dining right onsite (the brunch in particular is outstanding!) and a full-service spa perfect for a day of pampering.
—> Click here to see some gorgeous photo of Salish Lodge and get room pricing.
Read More: Best Girls Trips in the Pacific Northwest
Jupiter, Florida
Skip the crowds in Miami and Key West and head to the sleepier beach town of Jupiter, Florida. It's still right by the beach on the west side of Florida. The beaches of Jupiter are gorgeous — soft, white sand being lapped by clear, warm water. Mahon D. MacArthur Beach State Park is a great one to visit.
Another popular thing to do by the surf is visit the Jupiter Inlet Lighthouse and Museum, which is a quaint, reddish-hued lighthouse that was built in 1860.
Head away from the sand and in town you'll find lots of delicious restaurants, some of which line the harbor.
A great day trip from Jupiter is to the Loggerhead Marinelife Center, a Sea Turtle sanctuary where sea turtles are cared for while they're being rehabilitated to be released back into the ocean. Another place to learn about local wildlife while in Jupiter is at the Busch Wildlife Sanctuary.
Where to Stay: Jupiter Beach Resort and Spa
My husband's good friends got married here, and it's such a great resort! We loved our stay there: it has an excellent outdoor pool area, with an adjacent bar serving up yummy drinks and food. The onsite spa is a nice perk as are the views of the ocean! And of course, there's that nice sandy beach right by the sparkling blue of the Atlantic.
—> Click here for photos and pricing for Jupiter Beach Resort and Spa.
Read More: Best Girl Getaways in Florida
Avila Beach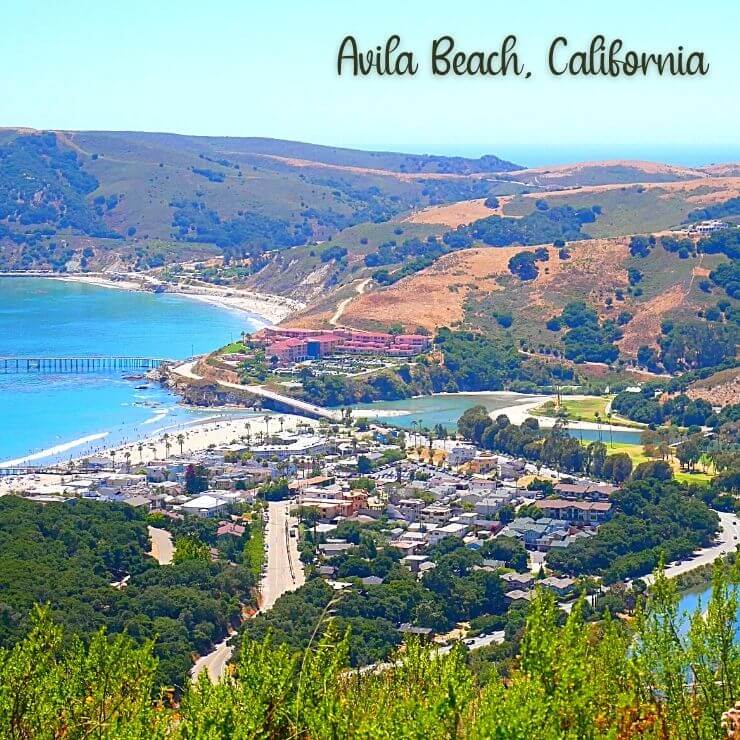 It's hard to come up with an off-the-beaten-path destination in California! I lived there for a decade of my adult life and traveled extensively and let me tell you…unless you travel to a remote inland town on the eastern edge of California, it's pretty hard to escape the crowds.
Still, one place surprised me when I finally visited it and made me wonder why more locals don't flock there on the weekends, and that place is Avila Beach.
Avila Beach is located just far enough off the I-5 that it's not a common place to stop to check out on a PCH road trip. Plus, it's located between San Luis Obispo and Pismo Beach, two cities that get far more acclaim. So Avila Beach is kind of forgotten about except for those in the know — which is now you! 
Here's why I love Avila Beach: it has a huge, sandy beach where you can easily find your own spot and not be by others; the little main town is right by the boardwalk and has cute architecture; in that main town you'll find several wine tasting rooms…right by the beach! No need to drive into nearby Paso Robles or Santa Ynez Valley; you can choose from several restaurants in town that differ in vibes and ingredients, but all offer some tasty seafood.
To the north of downtown Avila Beach, you'll find Avila Beach's charming Port San Luis pier (not to be confused with the Avila Beach Pier right by downtown), which has restaurants on it, lots of seal spotting, and some local history to learn about on informational signs located along the pier. Right across the pier is Fat Cats Cafe, which is an excellent breakfast spot. There is a parking lot across from the pier.
Where to Stay: Avila Lighthouse Suites
Avila Lighthouse Suites Resort is bright and cheery and located steps from the action of Avila Beach's main street. It has a pool and views of the ocean (it's also a quick walk to the beach; it's right across the street!). The rooms are decorated with fun nautical touches and some suites have separate sleeping and living area. You can also get an oceanview room.
—> Click here for pictures and prices for Avila Lighthouse Suites.
Read More: Avila Beach is also a good day trip from Santa Barbara – get our 1-day Santa Barbara Itinerary here!
Priest Lake, Idaho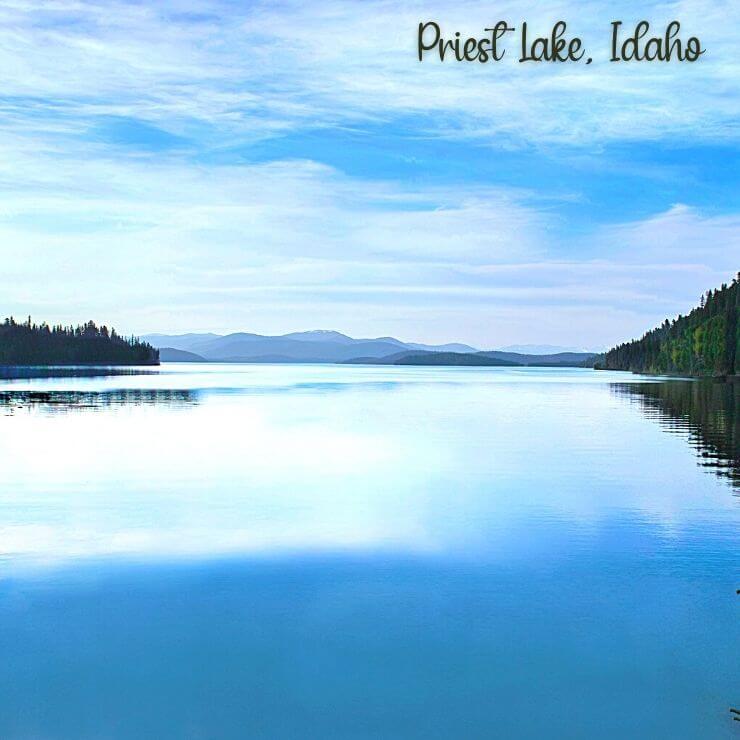 Priest Lake is located in the nortwest corner of the little panhandle that makes up the top of Idaho. It often gets overlooked for the resort towns of Cour d'Alene and Sandpoint to the south, but don't bypass Priest Lake because it takes a bit more driving time.
At Priest Lake you'll find a vibrant lake community without as many crowds. It has a decidedly family feel with an emphasis on nature and enjoying time outdoors. I first heard of Priest Lake because my good friend in Seattle vacations there every summer with her family and it sounds like a wonderfully idyllic place to get away.
Where to Stay: Elkins Resort
Elkins Resort dates back tot he 1930s and still has that nostalgic vibe of days gone by, while being updated for the 21st century. You'll have your own cedar cabin and access to all the lake amenities for an unforgettable lakefront stay that feels secluded, peaceful, and surrounded by nature. There is no wi-fi in the cabins so staying here really gives you a chance to unplug and reconnect as a family. Elkins Resort is located near the town of Nordman.
Lake Okoboji, Iowa
Most people don't think of Iowa for a vacation. But head to Lake Okoboji and you'll no doubt quickly change your mind. I still fondly remember a childhood vacation I had in Okoboji and your family will no doubt also love getting off the beaten path and spending time at this fun lake.
Stay in West Lake Okoboji where you can choose from several lakefront resorts. Then spend your days playing in the sand, frolicking in the water, canoeing, standup paddle boarding, fishing, boating… and more! Pretty much any lake activity you can think of, you can do it at Lake Okoboji. It's a great place for some family bonding, too.
Where to Stay: Fillenworth Beach Resort
Fillenworth Resort has an incredible waterfront area with an expansive dock on West Lake Okoboji. Watersport equipment is available, some of which is complimentary to use. You'll also have beautiful views of West Lake Okoboji. It has several different areas for differing accommodation types: cottages, apartments, and studios. Fillenworth Resort also has an outdoor pool. It's like summer camp — but for the whole family.
Madrid, New Mexico
My husband lived in New Mexico for several years and he has a top recommendation for an off-the-beaten-path travel destination in the USA: Madrid, New Mexico.
Madrid is located on the other side of the mountain from Albuquerque, right off the beautiful Turquoise Trail (aka New Mexico State Road 14), a scenic route that connects Albuquerque with Santa Fe. Madrid is an eclectic little historic town that was once a bustling coal mining village. Today it's known for its artsy vibe, old adobe style buildings, and surrounding nature. 
You can stay right in town at one of the lodges, dine at the many restaurants, visit a local spa and partake in some new age healing, or just do some browsing at the shops selling local arts and crafts.
A good day trip from Madrid is to nearby Los Cerillos, a bigger city where you can still get away from nature with hikes through Cerillos Hills State Park, New Mexico's newest state park.
Where to Stay: Vacation Rentals
Madrid is more of a vacation rental type of destination, unless you stay in Santa Fe or Albuquerque and do day trips to Madrid. Click here for a vacation rental option for Madrid.
Vrbo.com and Airbnb.com are also great sites to check for vacation rentals.
Found this article helpful? Pin to read again later!