VRBO vs. Flipkey vs. Airbnb — Why My Way of Booking Vacation Rentals Has Changed (Hint: Property Management Companies!)
This post contains affiliate links, which means if you use these links to book your next vacation, I get a small commission at no extra cost to you. This helps me cover the costs of running this site. I only link to sites/products I use and like. Thanks for supporting One Day in a City!
The first time I used Airbnb I didn't even really get what it was. It was back in 2013 and was in Toronto, where I was staying for a few days for a travel blogger conference. A fellow blogger, my sister, and I were planning on sharing accommodations, and it was my blogger acquaintance who suggested Airbnb. That blogger ended up having to cancel her trip to the conference so it was just my sister and me who showed up a couple months later and met the woman who was doing the key handover for the apartment.
Psst
…just want some quick links? Here are my two go-to sites for vacation rentals that often have listings by property management companies:
VRBO
FlipKey
Keep reading to find out why I prefer these vacation rental booking sites and to find out more about the above two companies!
It took until after the friendly woman (who looked to be in her late twenties) had met us, led us into the apartment and showed us around, and departed saying she'd be at her boyfriend's that it dawned on me.
"Wait," I said to my sister. "So she actually lives here and is just renting it out to us for the weekend?"
Yup. And that's when I realized Airbnb was a bit different. And it can be great. Cheap rates for awesome locations that make you feel like you're living as a local when traveling. I've used Airbnb a couple times since then; once when renting a room from a couple in Bratislava (a stifling hot loft that was made up for by the morning conversations with the sociable wife who spoke near perfect English and gave us a detailed background of Bratislava culture and history plus excellent dining recommendations), and a spacious apartment in Brac, Croatia, that seemed to just serve as vacation rental income for a local family. I also went on a girl trip to Napa Valley and we all stayed in an Airbnb rental that a family typically lived in, though I wasn't part of the planning process for that booking. No idea where the family went while we were all there, but it was a very cute house. So four very different Airbnb experiences that all turned into positive memories for me.
But I don't prefer to use Airbnb anymore.
Here's why: I became a mom.
But wait! You may be thinking. If you're traveling with a child, don't you want a kitchen and multiple bedrooms and extra space?
Well, yes. But…
I get concerned about what I feel is a lack of checks and balances with Airbnb. Numerous reviews do help, but I still get nervous. There are definitely horror stories out there about people who have used Airbnb and while the vast majority of experiences are great (including my own), I want to know that the place I'm bringing my daughter has been properly cleaned, closely monitored for who has access to keys, and has likely been checked for safety issues.
So how do I do that but still avoid staying in cramped, expensive hotels? (I do love a good hotel, but they are not ideal for travel with children).
Whenever possible, I try to book vacation rentals that go through a property management service. This is a company that manages the reservations, cleanings, and any issues that arise during a stay for the owners of a property. Property managers likely have a number of properties under them that they manage and it is their job to make sure things run smoothly for the vacationers, and that the property is well-taken care of for the owners, meaning less chance of encountering hazards left by careless owners or previous renters. Typically, these locations serve predominately as vacation rentals, though the owners can let the property management company know what weeks they want to stay their themselves. This makes it feel more like you're checking into a well-stocked hotel suite, than just simply getting the keys to someone's primary residence.
Property management companies typically (probably closer to always) hire a professional cleaning service to clean, wash soiled sheets, and make sure everything is glistening for the next guests. The cleaning service is likely included in your rental fee, but I'd rather have that than wonder exactly how clean the sheets are or how well the bathrooms were cleaned before I used them. (Ok, I wonder that even in hotels, but I really wonder it when staying in an Airbnb.)
Side note: Some Airbnb owners do use professional cleaners, so you can always ask the owners how they make sure the place is clean before each new renter if it's something that concerns you. In Toronto, the woman we were renting the apartment from said she'd spent the whole previous day cleaning since her cleaning lady had cancelled last minute. The place looked close to spotless so I wasn't concerned about it.
A property management service also probably better has the means to quickly address any issues that come up during your stay. Toilet broke? They probably have a plumber on speed dial. Can you rest assured the owner of the Airbnb you're staying at has any idea what to do if a toilet (or something else breaks) – and the financial means to fix it right away?
Ok, you may be thinking now. Vacation rentals through a property management service sounds great, but where do I find them? And are they more expensive?
If you like the ease of booking through Airbnb's user-friendly website, then you'll be glad to hear similar websites exist for vacation rentals. They'll have listings posted by both owners and property management companies, so be sure to check which it is. Below, I've listed a few of my favorite vacation rental websites, plus how you can easily see who has listed the property (property manager or owner).
The site I've used the most for finding vacation rentals is VRBO.com. VRBO stands for Vacation Rentals by Owner. I've used this website for years and highly recommend it. VRBO is easy to use and has a vast array of listings for destinations all over the world – over one million! Despite the "by Owner" in the name, I find that the majority of listings for popular vacation destinations are listed by property management services. You can easily see this by looking under the Owner Info tab when you click through to a property listing. It also lists Owner Operated at the bottom of each property in the search results if an owner has directly listed it, though I've found that occasionally it says Owner Operated even though it is a property management company handling the listing.
VRBO Testimonial: Kauai, Hawaii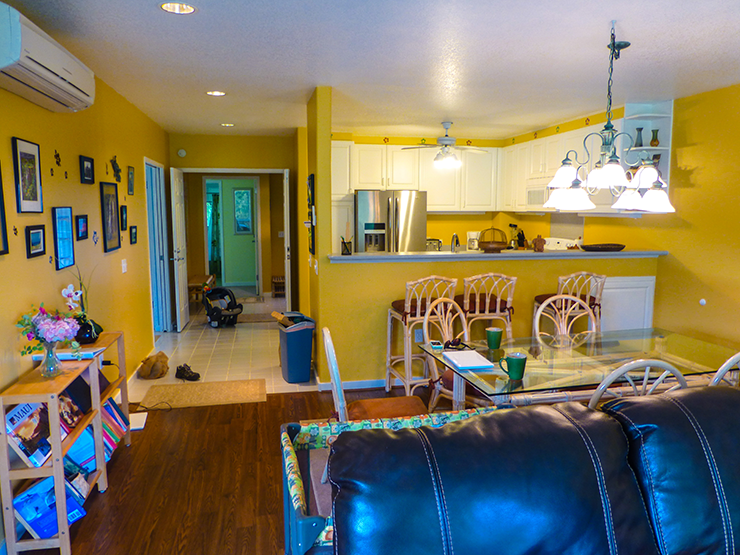 For our first vacation with our daughter when she was five months old, my husband and I decided to go to the island of Kauai in Hawaii. We knew we wanted a kitchen and a separate bedroom from the living space so we could do some cooking and enjoy the evenings after our daughter went to sleep without worrying about waking her up.
We found a condo to rent that was less than $200 a night and overlooked a scenic golf course right in the heart of gorgeous Princeville. The condo had a decent sized kitchen that opened onto a spacious living area. It also had two bedrooms and a patio with a dining table that we loved having breakfast on. The property management company had a Pack n' Play waiting for us when we arrived and a book of instructions/tips with everything that we might need during our trip. The condo was spotlessly clean and even had a washer and dryer.
During the day we would walk an easy 10 minutes to the premier resort on the island, St. Regis Princeville, where we would access the relaxing public beach located behind the hotel and then go get a drink or lunch in the hotel's poolside bar. So we got some 5-star hotel experiences, without the hefty pricetag – and had much larger accommodations.
During our stay, the property management company reached out to us and asked if we would mind people coming into the condo throughout our stay while we were out to tour the property since the owners were in the process of selling it. Normally, we would have been fine with that, but we had just sold our own home and gone through the hassle of open houses and this trip was supposed to be our reward getaway for that stress! We explained this to the woman and said we didn't want to have to worry about having things picked up and put away, and she was as nice and gracious about it as could be and said it was no problem and we didn't hear another word about it. We would have felt a lot more bad and it would have been harder to tell the actual owner we didn't want to have random people coming in and out so was nice that for our entire trip we only dealt with the property management company of our relaxing Hawaii rental.
Read More: We also had a great vacation rental experience in Rockaway Beach, Oregon.
This is a newer vacation rental website that is quickly growing in prominence, largely thanks to being owned by TripAdvisor. Similar to TripAdvisor, FlipKey has a lot of user-generated content, lots of images, and streamlined navigation. I haven't actually booked anything through FlipKey yet, but I've used it lately for lots of trip dreaming and have found it to have a great selection, though it seems there are more owner-listed properties than on VRBO. Still, if you know what to look for, it's easy to sift through to find the right property for you. FlipKey puts the listing agent right on the Overview page uner "Owner". It's usually pretty easy to tell if it's the actual owner or a property management company since the owner will be someone's name and their picture and a property management company typically has a business name and a logo.
A Few More Tips for Booking a Vacation Rental
Do a Google search of the property management company for the property you want to book. Make sure they have a professional looking website, that they have other properties in their client roster, and that they don't have any bad reviews online.
Feel free to call the property management company with any questions you have. I've done this before and gotten answers to my questions and then still booked through VRBO so I can use its secure, online booking platform.
Look for properties that have several reviews. I prefer to find some with at least 10 reviews when possible.
The good news for your pocketbook is that in my experience an entire apartment (as opposed to just renting a room in someone's home, which is generally going to be much cheaper) on Airbnb is comparable price-wise to an entire apartment on VRBO for the same destination. The price can fluctuate greatly of course depending on the furnishings and amenities of the apartment, exactly where it's located, and how new the listing is, so keep that in mind when perusing properties and looking for best value.
Bottom line: Airbnb can be a great travel tool and one I'll no doubt use again. But if traveling with my daughter I want to deal with a professional and prefer going with a vacation rental through a legit property management company. VRBO and Flipkey help me find those properties.
Found this article helpful? Pin to read again later!