One Day in Europe, I Slept Here…
A List of the Best Hotels I've Stayed at in Europe
Hotels in Europe can often be small, hot, and old. But they can also be grand, luxurious, and historic.
Those are the gems you want to find to stay in while traveling around Europe — and you don't always have to pay a fortune to sleep in them either.
I've stayed in a variety of hotels all over Europe and in this article, I've narrowed it down to my top 10 favorite hotels in Europe, plus two bonus hotels.
The hotels listed are for a variety of budgets with differing ambiances and amenities, but they all have something special that makes them stand out among other European accommodations.
Read through and let me know in the comments which one you'd most like to stay at!
Dublin, Ireland: Fitzwilliam Hotel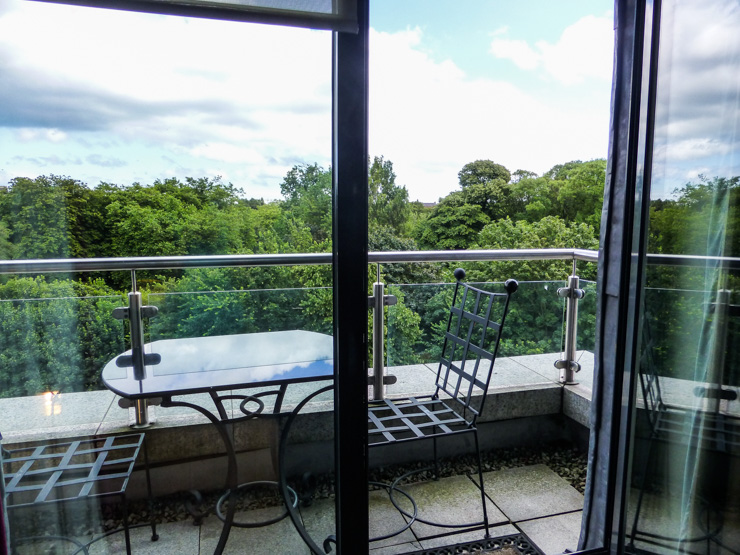 Location, location, location…and class.
The 5-star Fitzwilliam Hotel is located right across from St. Stephen's Green in Dublin and is adjacent to popular Grafton Street. When I had tickets to see Riverdance while in Dublin, it took me about sixty seconds to walk to the theater.
Just about every other major site in Dublin is also in walking distance from the hotel, making excellent if you're short on time and only have 24 hours to spend in Dublin.
Inside the hotel, concierges are there to greet you and help you with any sightseeing questions you have. The rooms are luxuriously appointed and my room category even had a balcony overlooking St. Stephen's Green. It was great for sitting on for morning coffee or an evening nightcap.
—> For more pictures and prices for Fitzwilliam Hotel, click here.
Vienna, Austria: Aviano Boutique Hotel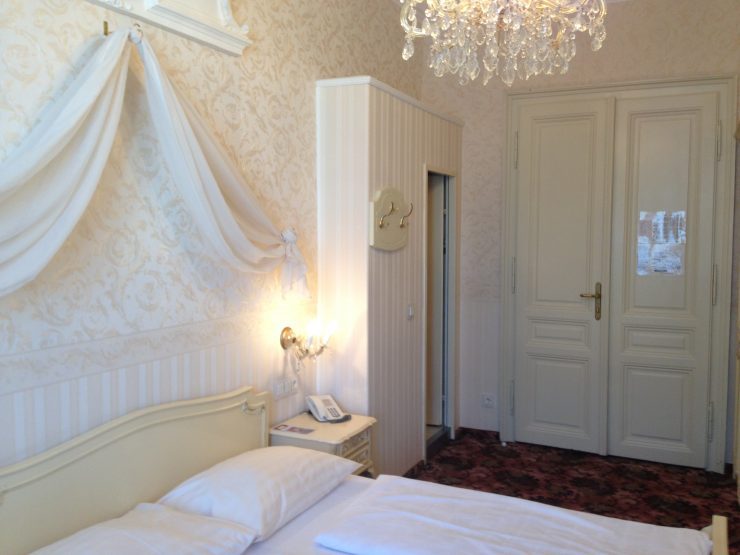 Whether you have one day in Vienna or one week, it can be a bit expensive to stay right in the city center, so what I love about Aviano Boutique Hotel (which is technically considered a pension — a less fancy way of saying Bed & Breakfast in Europe) is that it's an excellent budget option without compromising on any of the charm Vienna has to offer.
The hotel is warmly run by its friendly owner who is often onsite, making sure the included breakfast is running smoothly each morning and that everything is well with the rooms.
The rooms have ornate furnishings like chandeliers and lace curtains, and are large by European budget (or even luxury) hotel room standards. Read my full review on Aviano Boutique Hotel here.
—> For more pictures and prices for Aviano Boutique Hotel, click here.
Ljubljana, Slovenia: Antiq Palace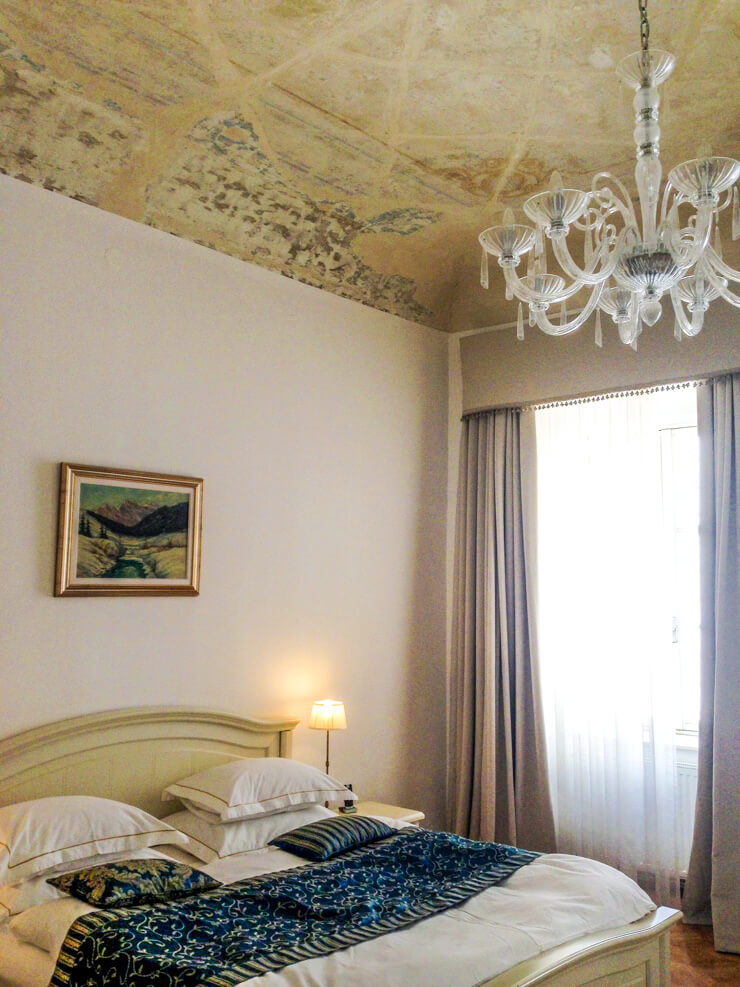 Antiq Palace is a luxury hotel housed in a 16th century building that has a palatial feel as it was originally built to be the city residence for nobility.
The location was a premier address back then and it still is today. From Antiq Palace, it takes just a couple minutes to walk down to the river and all the restaurants and shops that border it. It makes it an excellent play to stay if you just have a day to spend in Ljubljana.
I loved that the 18 rooms are all decorated differently and feel like you've gone back in time as royalty, while still providing modern amenities like well-appointed bathrooms, flat screen TVs, and plush beds.
My guestroom was more like an apartment with three separate rooms: bedroom, kitchen, and living room. Plus it had a decent sized ensuite bathroom. Another favorite part of Antiq Palace for me was the foliage-filled stone courtroom in the center of the room, which was a peaceful place for a reading break or to eat breakfast. Read my full review on Antiq Palace here.
—> For more pictures and prices for Antiq Palace, click here.
Hvar, Croatia: Podstine Hotel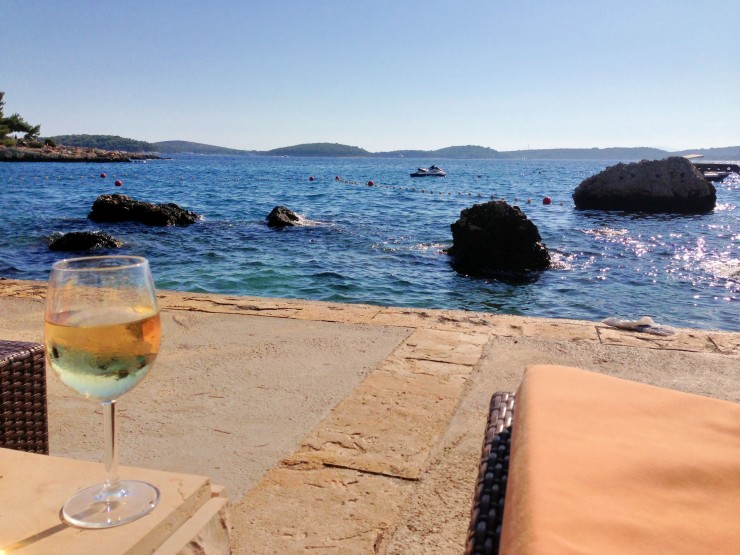 Podstine Hotel in Hvar is just about perfect. It's affordable. It's modern and updated.
It has a great location. The staff is friendly. The views are marvelous.
But mostly, I was obsessed with its beach area, which was comfortable with lounge chairs and bean bags, convenient with bar service, and gorgeous with easy access for swimming in the calm Adriatic Sea. The hotel is also in walking distance to the main area of Hvar Town along a scenic coastal path, which is a highlight of a day spent on Hvar. You can read my full review for Podstine Hotel here.
—> For more pictures and prices for Podstine Hotel, click here.
Kenmare, Ireland: Brook Lane Hotel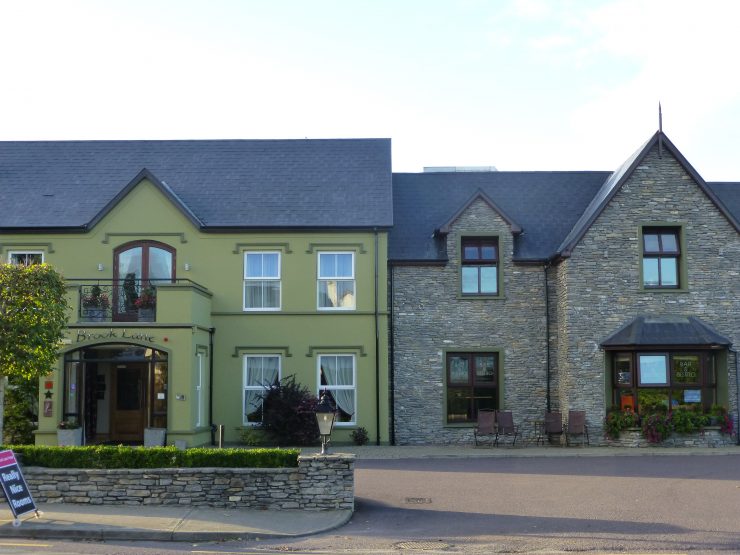 The Ring of Kerry drive is one of the most popular things to do in Ireland and Kenmare is one of the most popular sights to see along the famous drive, and one I highly recommend making time for during a day trip around the Ring of Kerry.
Kenmare is also a great starting off point for that drive and if starting there, I highly recommend staying at Brook Lane Hotel.
It is a family-run, high-end accommodation in Kenmare and has a boutique feel with large hotel amenities such as an onsite restaurant and full breakfast. Plus, it's located in a quiet part of town, but is still just a few minutes walk to downtown Kenmare along a scenic trail. Read my full review on Brook Lane Hotel here.
Prague, Czech Republic: Le Palais Hotel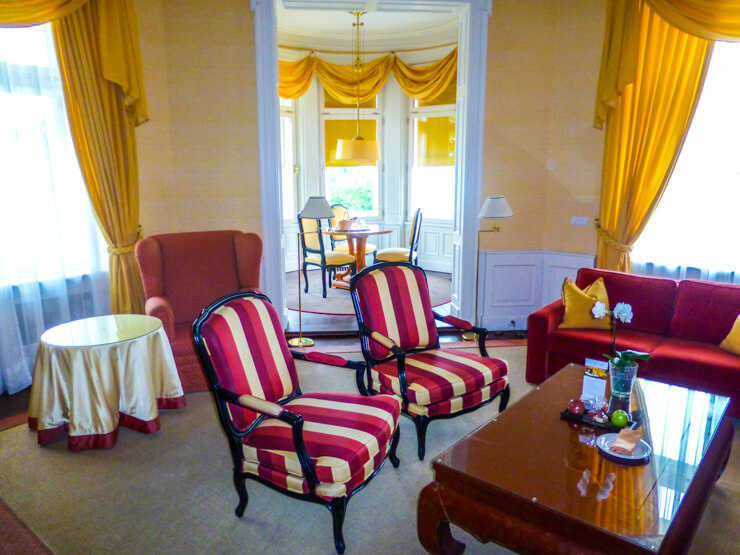 It's all about the architecture at Le Palais Hotel in Prague, which is stunning. Le Palais Hotel is housed in a historic building that was originally built in 1841 and remodeled in the Belle Époch style between 1888 and 1897 when it served as a private palace.
In 2002 it was converted into the luxurious Le Palais Hotel. What I loved about it besides the design was the luxurious touches and attentive service, and the fact that it was located a bit outside the city center. This meant I got the chance to see another side of Prague during my day in Prague — a residential neighborhood side — while being just a short taxi ride (or walk and metro stop) away from all of Prague's main sites. See my full review on Le Palais Hotel here.
—> For more pictures and prices of Le Palais Hotel, click here.
Budapest, Hungary: Buddha-Bar Budapest Hotel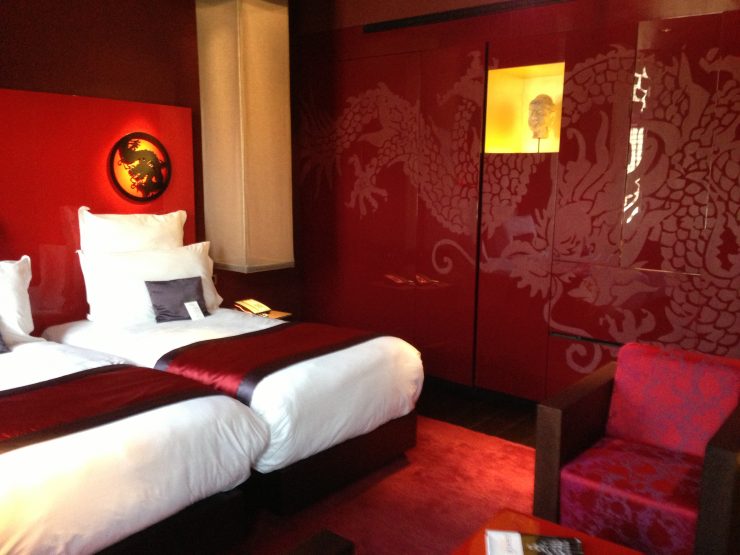 This hotel definitely has a different vibe from others on this list. The rooms have a sultry feeling, decorated in sumptuous reds with black and white accents.
Complementing the name of the hotel is Buddha-inspired décor and a Zen Garden located in the middle of the hotel. The hotel is just cool to stay at and even has a sushi restaurant and popular bar onsite.
The service is also on-point and there is a concierge to help you with any questions you may have about exploring Budapest; the Old Town of Budapest is just a 15-minute walk away. To read my full review on Buddha-Bar Budapest Hotel, click here.
—> For more pictures and prices of Buddha-Bar Budapest Hotel, click here.
Munich, Germany: Charles Hotel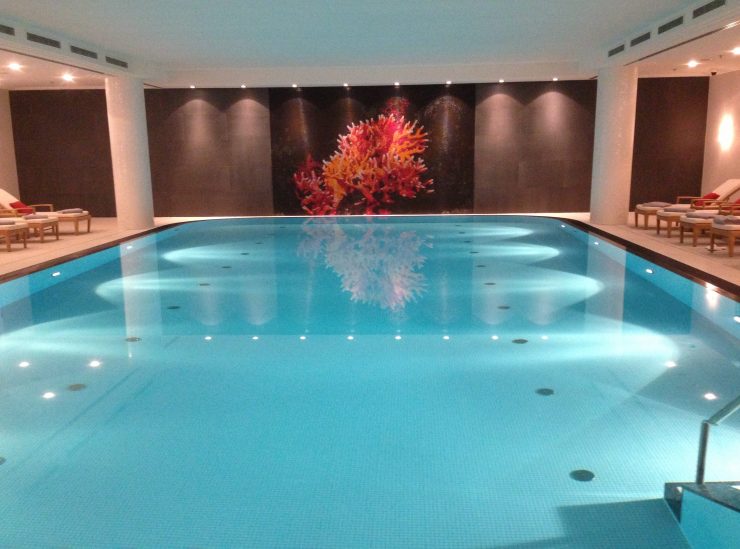 The instant I walked into the Charles Hotel soon after my travels began in Munich, everything felt easy again after a long, hectic day of traveling to get there.
That was because of the superb service that elevated this hotel from just another luxurious hotel to a stand-out luxury hotel. Other highlights included the excellent breakfast and outside dining patio, the hotel's garden setting tucked away down a side street right within walking distance of busy and popular Marienplatz, and the tranquil spa pool accessible to guests. Read my full review here.
—> For more pictures and prices for Charles Hotel, click here.
Montepulciano (Tuscany), Italy: Hotel I Due Cigni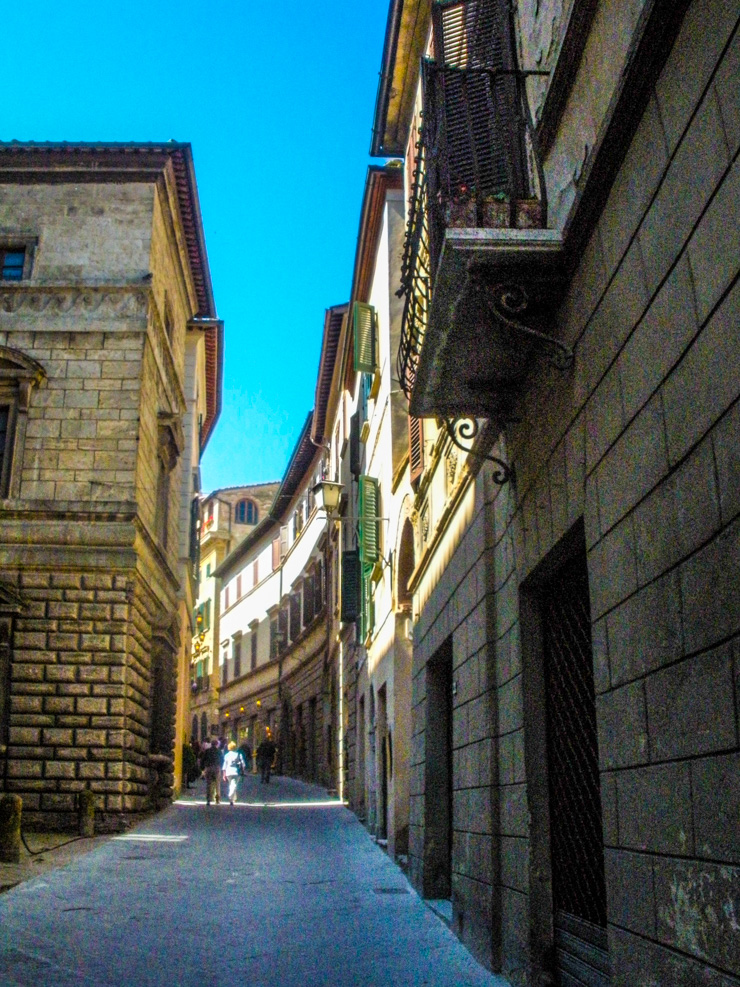 Like Aviano Hotel in Vienna, this is another budget hotel that doesn't scrimp on charm, and is a wonderful place to stay while exploring the wine towns of Tuscany.
Hotel I Due Cigni is a charming family-run hotel located just a few miles from Montepulciano. The hotel has renovated rooms which are affordable and comfortable. The best part of Hotel I Due Cigni are the two brothers who run the hotel (along with their parents) with lovely Italian hospitality and a fun dose of humor, escalating what is a pleasant enough stay into a memorable experience.
Read more about my time in Tuscany when I stayed at Hotel I Due Cigni and explored the wine towns of Montalcino and Montepulciano here.
—> For pictures and prices for Hotel I Due Cigni, click here.
Killarney, Ireland: Muckross Park Hotel & Spa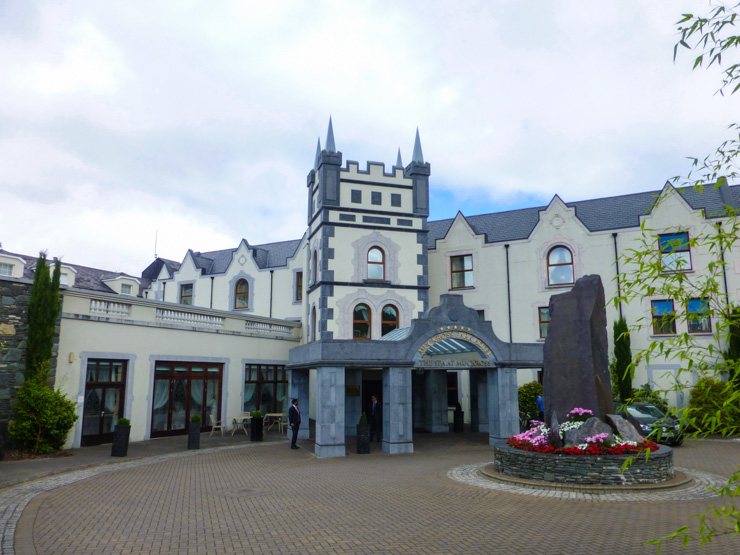 (I know, I know, another Ireland hotel…what can I say? I love Ireland!) The opulent, relaxing spa that guests typically get access to (double check your booking terms and conditions) is enough to put Muckross Park Hotel & Spa onto this list, but I also loved many other things about this Killarney-based hotel.
For starters, it was conveniently located next to the top things to do in Killarney and even had walking trails adjacent to it through Killarney National Park.
Secondly, the room was amazing – I felt like I was staying at Downton Abbey. See my full review on Muckross Park Hotel & Spa here.
—> For more pictures and prices of Muckross Park Hotel & Spa, click here.
Bonus Favorite Hotel: Aria Hotel in Prague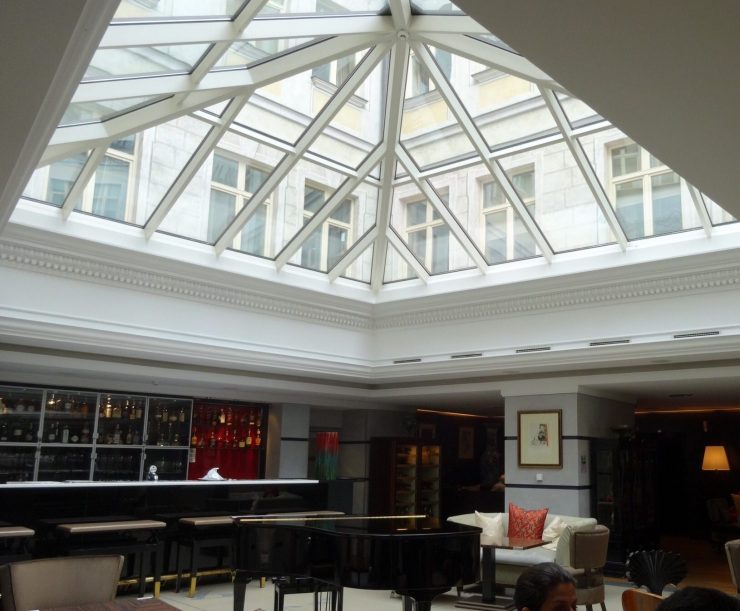 I didn't get to stay overnight at this hotel, but I did get to tour it and loved what I saw, which is why I'm putting it as a bonus hotel.
It is especially a great fit for music lovers. The rooms are music themed with a different music genre featured on each floor. There are also many musical amenities in the lobby. The hotel is gorgeous itself and is located in the heart of Prague right next to the UNESCO World Heritage Site of Vrtbovska Garden, which guests of Aria Hotel get free admittance to. Read my full review here.
—> For more pictures and prices for Aria Hotel, click here.
You may also enjoy reading: Memorable Day Trips from Prague
Bonus Favorite Hotel: Aris Caves Hotel in Santorini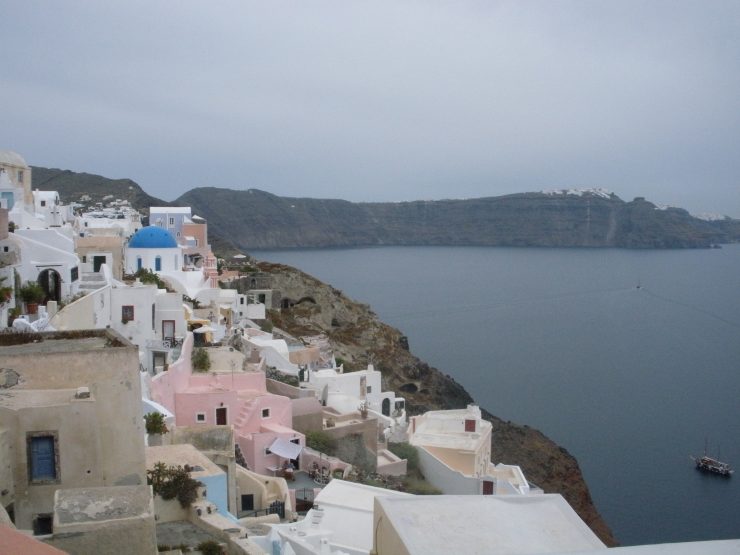 Ok, I haven't been to Aris Caves Hotel, but I've been right by where it's located and dream of staying there next time I'm in Santorini. (The hotel I did stay in when I was in Santorini had some issues so did not make this list.)
Aris Caves Hotel puts you up front and center to all of Oia's charm, including an incredible view of the sea and volcano. You'll likely not want to leave, but try to drag yourself away to do my one day Santorini itinerary!
Relax on the patio before retreating to your luxurious cave room dug into the side of the caldera. Seriously click through to look at the pictures, you will be amazed at the design and views and soon be dreaming of staying here, too!
—> To see pictures and prices for Aris Caves Hotel, click here.
And oh yeah — about those affiliate links…If you decide to stay at one of these hotels, I'd love for you to use one of my bulleted affiliate links above to book through my partner Booking.com (my favorite hotel booking engine). I'll get a percentage of the commission at no extra cost to you, which helps me cover the costs of running this site and continue to bring you great new travel content. Thanks for supporting One Day in a City!
Don't forget these hotels — Pin to read again later!