My Love/Hate Dichotomy When I Visit Athens, Greece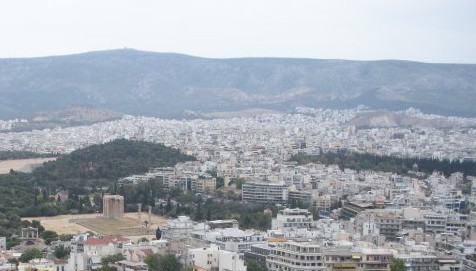 I have this thing where I just can't dislike a foreign city. It seems wrong. It's really not that hard if you're keeping an open mind to find something interesting or thrilling about a place that is not where you're from and has different cultures, architecture, and food. Maybe it's not exactly my cup of tea, but there's no point in disliking somewhere just because it's different.
However, during the couple of times I've considered myself fortunate enough to visit Athens, I've come very close to disliking the city.
My first time in Athens made me want to shout at whoever developed the city that they completely ruined it. A lot of the new buildings are ugly, it's smelly and dirty (garbage cans are not a bad thing to have), and its non-Acropolis monuments are plopped amidst busy roads and smog with seemingly no attention paid to them, as if when the city started to become more developed for the 20th century, they debated just bulldozing over everything, but then were like "well, I guess we can just veer a little bit to the left and go around it."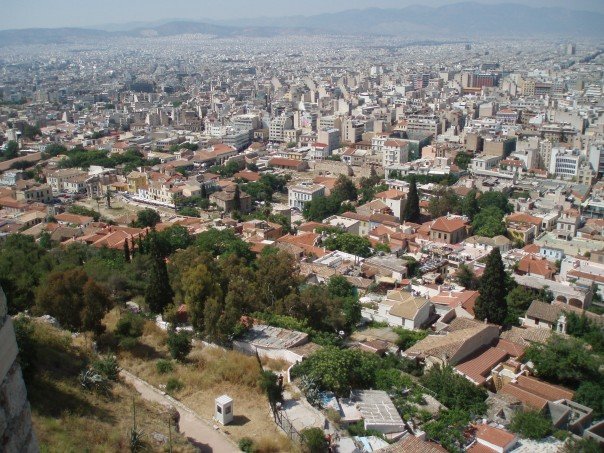 When you stand atop lookout points in other cities, such as San Francisco, or Rome, or London, or Bangkok, there is a basic grid to it. Whether it's with curved lines or straight lines, there is some semblance of balance and organization to the way a city grows out from its core. Athens does not have this. It looks like aliens just zapped down buildings and parks from outer space with no semblance of what was already there or where they would land and today the city is a sprawling disaster of old and new architecture smooshed together in an un-cohesive mess.
This isn't to say it's not gorgeous to stare out at the city from a hilltop. It is. It just also gives off a chaotic vibe, which is hard to escape once you come down from the vantage point and are back in the midst of Athens' streets.
Even the Acropolis, as majestic as it, gives off a sad air. Like it's holding onto its pride while slowly being strip searched. Most of the authentic parts of the Acropolis that are still in one piece have been excavated and moved out of the Acropolis area to the Acropolis Museum, where visitors now have to pay an extra fee to see them. And the information signs dotting the landscape of the Acropolis as you walk through, particularly by the Parthenon, detail out the renovations that have happened and are going to happen there, not the historic past the Acropolis should be proudly proclaiming – for that you'll need to rent a human or audio guide. So you stand there, staring at the Parthenon, and you know it's not really the original – you can see the different shades in the stone where the original Parthenon and the new Parthenon collide. It makes me think of the scene from the animated movie, "Despicable Me" where they figure out that the Great Pyramids of Egypt are fake – but no one can tell until a kid bounces off of them.
I get that renovations need to be done on old historic sites to keep them in one piece for future generations to see – or even to be presentable to visitors in the first place – and I know that most old landmarks I visit have had work done to them, but the reconstruction of the buildings of the Acropolis, again – particularly the Parthenon – seems like they may have gone a bit overboard. Even the Caryatid statues holding up the Erechteion Temple in the Acropolis are replicas – to see the real ones, you'll have to visit the Acropolis Museum. The first time I visited the Acropolis, they were housed in an onsite museum. There was nothing grand about that museum, unlike the new one, but at least it was right there. Who knows – maybe someday the artifacts of the Acropolis, including the Caryatid statues, will be moved again, out of Athens, getting farther and farther from their origins.
But, ultimately, when visiting Athens, it's hard for me to overlook that this is the land that Socrates stood on, the land that Plato philosophized on, and the land that was home to all the great minds that developed civilization and democracy. To visit and stand on that land and say I 100% dislike the city? Nope, can't do it. When I was there, I loved that I was walking through an area that so many famous ancient politicians had led throughout, even I suppose, while liquid was dripping on my head from foyers over the sidewalks.
So for that reason alone, I only almost dislike Athens.
Have you had the opportunity to visit Athens? What were your thoughts on the city?