How to Have an Epic Girls Weekend in Washington, D.C.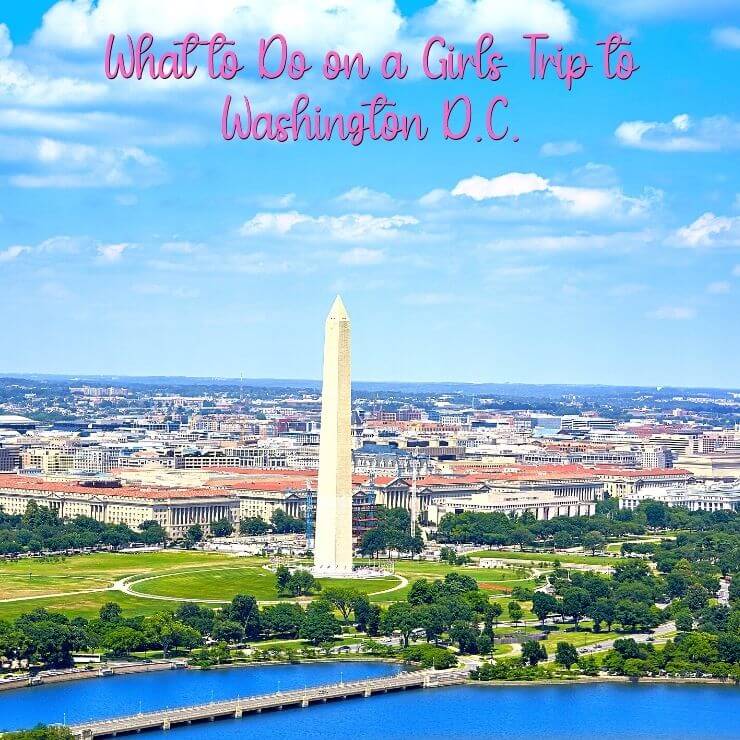 Washington D.C. is one of the best girls trips on the east coast for groups of friend looking for history, good eats, and fun nightlife plus cool places to say.
If that sounds like you and your best friends, then read on because we have packed this guide with the best things to do in Washington D.C. on a girls getaway. We have broken it down into sections for different neighborhoods around D.C. with top things to see and do in each place plus multiple recommendations for where to stay in each neighborhood.
Let's start with one of the most popular parts of Washington D.C. to visit: Downtown D.C.
Downtown: A Classic Weekend Getaway in D.C.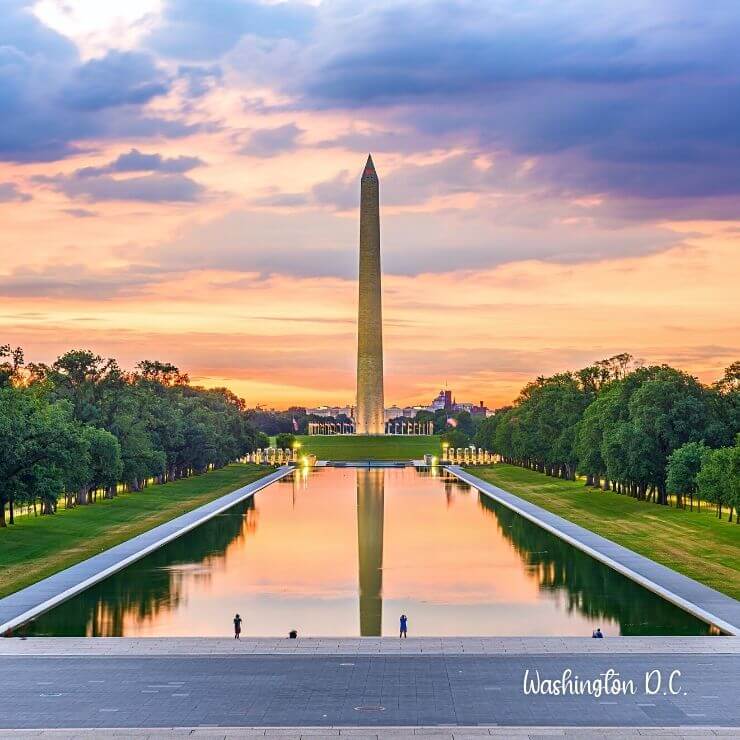 If you have never been to Washington D.C. before, you'll want to stay right in the heart of Downtown to experience all the tourist attractions. If you are short on time, try a trolley tour either by day or night.
From the White House to the Lincoln Memorial, Martin Luther King, Jr. Memorial, Washington Monument, the Holocaust Memorial, and the National Mall, you can easily fill up your itinerary by touring all this city has to offer.
Plus, for female empowerment during your girl's weekend in Washington DC, head over and explore the National Museum of Women in the Arts.
Where to Stay Downtown
Hamilton Hotel: Stay in the heart of it all at the Hamilton Hotel. Enjoy a complimentary breakfast at their restaurant each morning and countless other amenities. There are also suites available, which are a good fit for a girls getaway if you're planning to share a room. The entire hotel has luxe, ornate touches and the foyer is a gorgeous welcome each time you enter.
St. Regis Washington D.C.: If you don't plan to rent a car, stay at the St. Regis Washington D.C. luxury hotel. This is within walking distance from all the main monuments, the White House, and pretty much everything you'll likely be wanting to experience during your DC girl's trip.
Capitol Hill Girls Trip: Gardens, the Arts & Adventures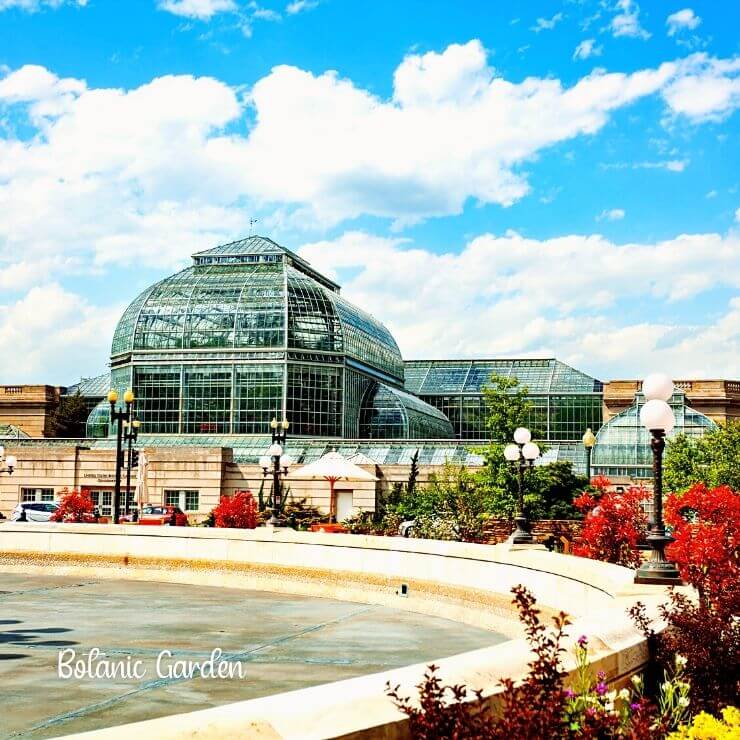 Capitol Hill is close enough to Downtown you could see the usual tourist attractions, but this city has so many other unique adventures to enjoy. First, stop by and see the United States Capitol.
If you want to see some theater shows, enjoy visiting either the Shakespeare Theatre Company or the Woolly Mammoth Theatre.
Next, check out the National Gallery of Art and Sculpture Garden as well as the U.S. Botanic Garden. You can enjoy being outside while being surrounded by art.
If you want to get some shopping done during your stay, head over to both the Eastern Market and South Hall Market for some unique gifts and souvenirs.
For a fun adventure during your girl's weekend that will no doubt get you all smiling, try the trapeze lessons through Trapeze School in Washington DC.
Where to Stay in Capitol Hill
Hyatt Residency: Staying at this beautiful hotel puts you at walking distance to all the main things to do in Capitol Hill. The Hyatt Residency has plenty of great amenities, along with suites and rooms to fit all your needs, plus a pool.
Kimpton George Hotel: The Kimpton George Hotel is often rated one of the best hotels in Washington D.C. It is located right in between Capitol Hill and Downtown, so you can more easily see all the sites in both areas by staying here. It also has a historic, presidential vibe.
The Wharf: Relaxing Fun by the Water
The Wharf is one of the best places to stay during your girl's trip to Washington D.C. You are close to the water and can enjoy plenty of amazing activities. Explore the water with fun cruises, stand up paddle boarding, or kayaking.
Stop by the Titanic memorial and see the granite statue honoring the men who gave up their lives for women and children on the Titanic.
Then enjoy a relaxing day on the boardwalk with plenty of oversized games to compete with each other. It's a great place for a silly photo op.
At the Wharf, you can enjoy a fun nightlife with many live music concerts and events all evening long. In the wintertime, you can skate on the Wharf's ice rink!
If you want a cool adventure, head to the International Spy Museum. It is an interactive museum that will make for an epic activity during your girl's trip.
Where to Stay on the Wharf
Mandarin Oriental Hotel: This 5-star hotel is the perfect place for your girl's trip to Washington D.C. There is a great spa to visit to further relax you during your vacation. Everything you find here is elegant and luxurious.
InterContinental Washington D.C.: Stay right along the water at this hotel and have stunning waterfront views right outside your room. This is one of the best hotels in Washington D.C. for relaxation and having a good time. 
—> Read More: Why Kansas City is an Excellent Spot for a Girls Weekend
Georgetown: Luxury & Nightlife for Your Girls Getaway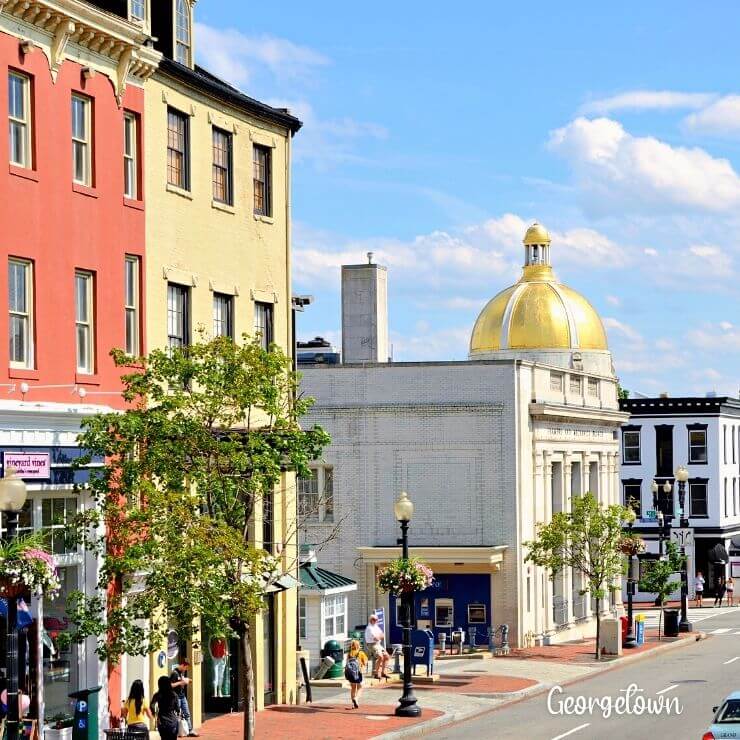 Georgetown is a luxurious town with plenty of fun activities to do all day long. Head to the spa, take a river cruise, or ice skate at the Washington Harbor ice rink during the winter season.
Go shopping at all the cute boutiques on M Street. Then, take a boat tour on the C&O Canal. You'll get to learn the history of Georgetown while relaxing on the boat as it moves through the city.
Visit the Dumbarton Oaks for a lovely stroll in a gorgeous garden designed by Beatrix Farrand. Tudor Place is another great place to visit during your trip.
For a fun night, head to the Piano Bar, the Graham rooftop bar, or visit Blues Alley for some live jazz music.
Where to Stay in Georgetown
The Graham Georgetown: If you want sophistication with some trendy vibes, stay in the Graham Georgetown hotel. The hotel is located in a cool brownstone building and is close to all of Georgetown's main sites. When you return from your activities, head to their rooftop bar or craft cocktail cellar and enjoy a nice evening drink.
Fairmont Washington D.C. Georgetown: Enjoy an elegant stay at this hotel right in Georgetown. Choose from a variety of luxurious rooms and suites for the perfect stay for you and your gal pals.
Dupont Circle: Ritzy Girls Trip in D.C.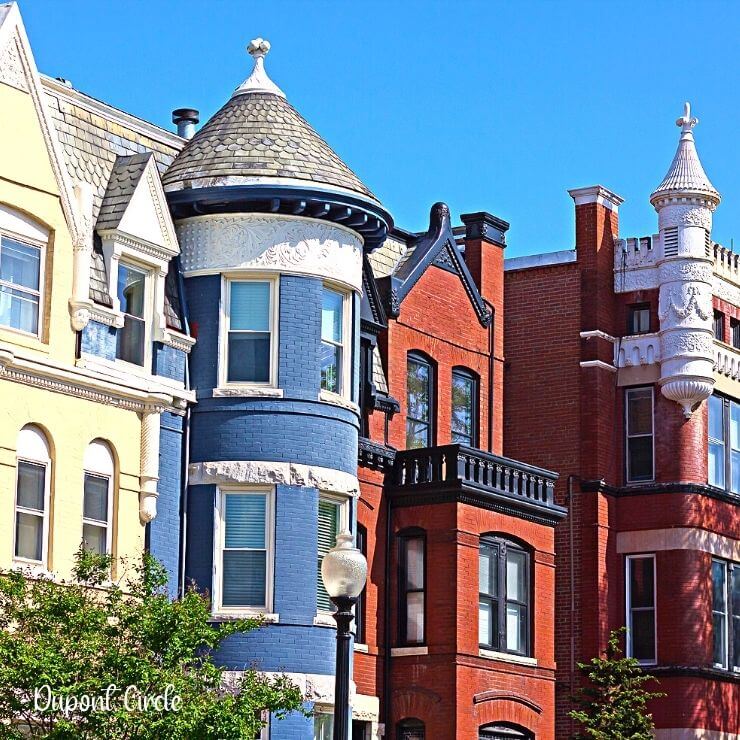 Dupont Circle is another cute place to base yourselves for a girls trip in Washington D.C.
Stop by the Dupont Circle fountain and go walk around the Embassy Row. You'll see around 170 embassies here with stately architecture.
Another place with neat architectural design is the Washington National Cathedral. This beautiful church is a gothic style and will make for a great background in a picture to capture the weekend together.
Even just the homes in Dupont Circle have stunning architecture!
Enjoy spending some time at the Dupont Circle Farmers Market to get some fresh, delicious produce and some unique gifts and souvenirs made by local artists.
Enjoy happy hour at Cork Wine Bar and head over to DC Improv for a funny show to finish off your day.
Where to Eat: Mission Dupont has some of the best tacos and tequilas in Washington D.C. Don't miss out on this place!
Where to Stay in Dupont Circle
The Dupont Circle Hotel: For a comfortable girl's weekend, stay in the sustainability-focused Dupont Circle hotel. This hotel is right by Dupont Circle while also being just 400 ft to the metro station, which can whisk you away to the National Mall and other Washington D.C. attractions in just minutes.
The Ven at Embassy Row: At this hotel, you will find stylish rooms, incredible views of the city from the rooftop lounge and pool, a game room, chic rooms and so much more. You can't get much better than this for a girl's trip!
Have Fun on Your Girls Trip in Washington D.C.
We hope this Washington D.C. Girls Weekend guide helped you and your friends narrow down what to do and where to stay on your trip to this iconic U.S. city!
—> Read More: Best Places in the U.S. for a Girls Trip