How to Have an Epic, Unforgettable Girls Trip in Kansas City
One city that I personally find to be an excellent choice for a girl's weekend and which is often overlooked is Kansas City, Missouri. If you're here, I'm guessing you're considering a girls trip to Kansas City so bravo! You and your friends are in for a fabulous time.
To help make your trip planning easier, this article breaks things down into the best neighborhoods in Kansas City for a girls weekend. This will help you figure out which area of the city you want to focus on, the top things to do while there, and where you want to stay.
Then get ready for a fabulous time in KC with your besties!
Where to Stay: Top Hotels in Kansas City Perfect for a Girls Trip
Many of the popular Kansas City neighborhoods for visitors are pretty close to each other. This makes it easier for choosing a hotel. Pick a centrally located lodging spot for your girls getaway and you'll be close to a large number of attractions no matter where you choose to stay.
Here are a few well-rated options for where to stay that are close to some of the best areas to spend time in during a girls trip to Kansas City.
Or check out this handy map for more options: I added points of interest for each of the neighborhoods discussed below to make it easier for you to find a hotel in the area best for you and your friends.
Now let's get to all the things to do and places you may want to hang out while in Kansas City for a Girls Trip! Read on for our top tips on what to see and do on your ladies weekend away in KC!
18th & Vine: Kansas City's District of Live Music
18th & Vine is known as the historic Jazz district in Kansas City. In this area you will find incredible history, fantastic music and live entertainment, as well as delicious eats.
If your friend group is one that is a fan of live music, this is certainly a spot that you will want to spend a lot of time during your girls weekend away.
Things to Do Near 18th & Vine:
If you are looking for somewhere to hear live music, particularly Jazz, some great locations include Jammin' at the Gem and the Blue Room. Also don't miss a walk through the interactive American Jazz Museum.
For some interesting history, also visit the Negro Leagues Baseball Museum.
What to Eat Near 18th & Vine:
Some of the best and most popular options for dining near 18th & Vine include slow-smoked barbecue at Arthur Bryant's or flavorful Cajun cuisine at Bayou on the Vine.
Read More: How to Have a Fabulous Girls Trip in Napa
Country Club Plaza: Upscale and High End Girls Weekend in Kansas City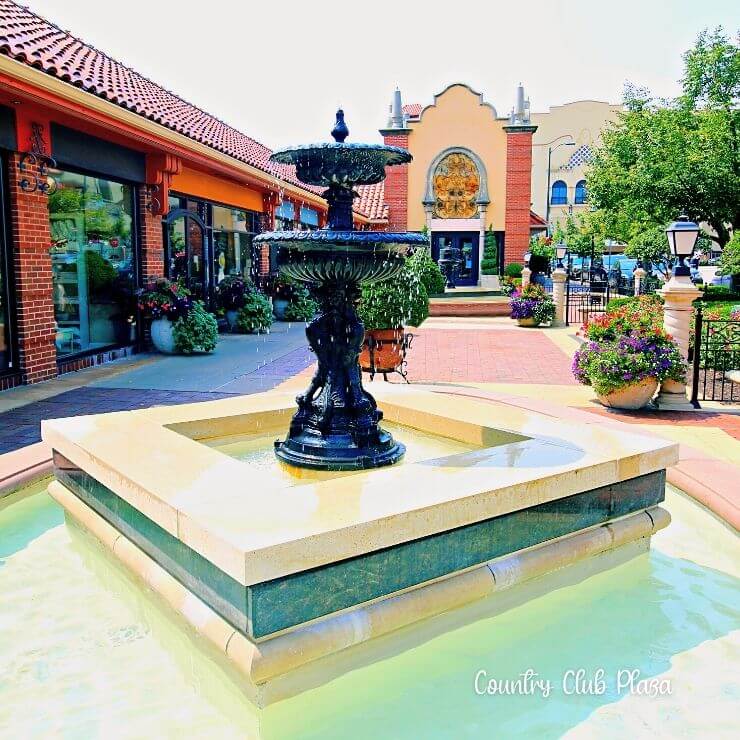 Country Club Plaza is a great place to spend a trip for a group that enjoys sophistication and the arts.
Country Club Plaza is renowned for being the premier retail center in Kansas City. The area is filled with trendy and designer boutiques and shops spread throughout a 15 block radius.
Shops include favorites like Kate Spade, Kendra Scott, and Charlie Hustle.
The area, particularly at night, becomes lit up and beautiful with the décor of Spanish-inspired architecture and fountains. It's a beautiful area for taking pictures and commemorating your girls trip.
—> Read More: Best Girls Trip Ideas for Austin, TX
Things to in Country Club Plaza:
Aside from the epic shopping in Country Club Plaza, there are plenty of attractions in the area as well. Some notable and popular experiences include the Kemper Museum of Contemporary Art and the Kansas City Repertory Theatre.
Where to Eat Near Country Club Plaza:
Country Club Plaza is a beautiful area for enjoying a patio meal in one of their incredible cafes. Some great options include Gram & Dun featuring comfort food favorites paired nicely with a variety of drinks, Rye which features delicious southern cooking, and Shake Shack which is great for a quick and greasy cheeseburger.
Downtown Kansas City: Vibrant and Busy Girls Trip
Downtown Kansas City has been named one of the top 10 downtown cities by Forbes and rightfully so. There is so much to do and so much vibrant energy within downtown Kansas City. If your group of friends enjoy night life and the hustle and bustle of a city, downtown may be where you want to spend a lot of your trip.
Things to Do in Downtown Kansas City:
There is so much to do in downtown Kansas City that will surely keep you all busy.
One of the coolest things to do that is perfect for a girls weekend is seeing a movie at Alamo Drafthouse, which is not your average movie theater. Not only do you get to enjoy the show, you also get the added effects of quote-alongs and in-theatre pyrotechnics. It is a very cool experience!
A couple other neat things to do include the College Basketball Experience and the Garment District.
Where to Eat in Downtown Kansas City:
Because of its popularity, downtown Kansas City has a lot of really delicious and unique dining options. Some of those include a delicious steak dinner at The Majestic, authentic Italian cuisine at Tavernonna Italian Kitchen, and incredible farm-to-table dining at The Westside Local.
—> Read More: How to Have a Perfect Girls Trip in Washington D.C.
Power & Light District: Partying and Events Central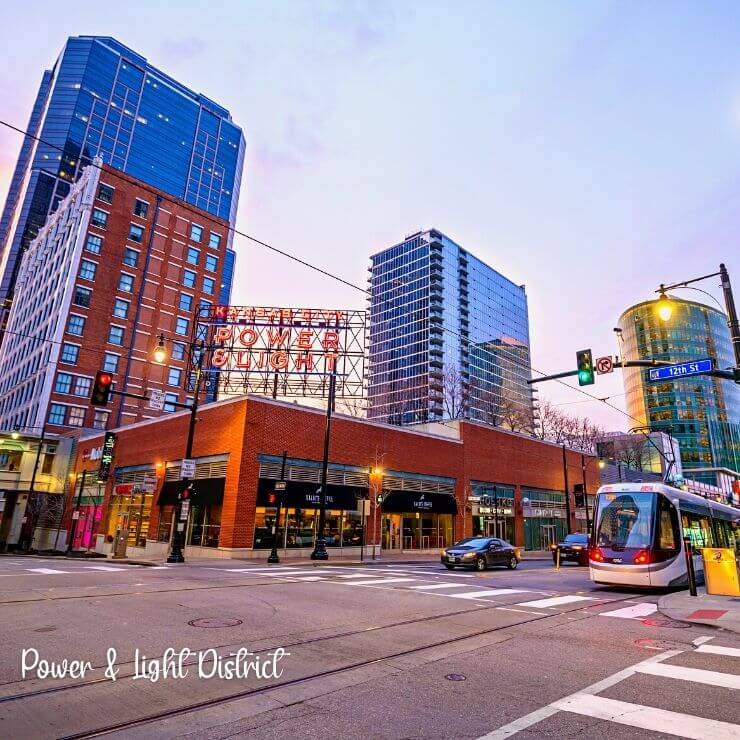 If you and your friends like to have a wild time and dance the night away, the Power & Light District in Kansas City is the perfect destination for your group.
The Power & Light District has been described as a large playground for all ages. It's a huge entertainment hub in Kansas City, situated across an eight block radius. You'll find lots of cocktail bars, restaurants, and upscale night clubs.
Things to Do in the Power & Light District:
The Power & Light District includes a wide array of things to do, whether you're looking for sporting events, concerts, dancing, or just some good eats and drinks.
There are often events happening in Power and Light District so check the events calendar here before arriving in case you want to attend any during your Kansas City girls weekend.
One of the best attractions to check out during a girls weekend is KC Live!, which is a covered outdoor courtyard that hosts over 150 free events for locals and tourists alike to attend each year. Some of these events include watch parties for the hometown teams including the Kansas City Chiefs and the Kansas City Royals.
In the summer months there are events including Urbana KC which includes live music, art displays, and food & drink – it has essentially been described as a giant block party and might be fun to plan your Kansas City girls trip around.
Where to Eat in the Power & Light District:
If you are looking for good eats in the Power & Light District, you won't need to look far. There are plenty of amazing and decadent dining experiences within the area. A few places that come highly recommended include County Road Ice House, BRGR Kitchen + Bar, and No Other Pub.
Want More Girls Trip Ideas? Check Out These Articles:
Have Fun with Your Best Girls in Kansas City!
Kansas City is really a great city to visit for any occasion, including an unforgettable girls trip. If you are planning a getaway to Kansas City with your friend group, I hope that this has provided some insight to the kind of experiences you can have while visiting.