Where to Go for an Unforgettable Winter Vacation in New England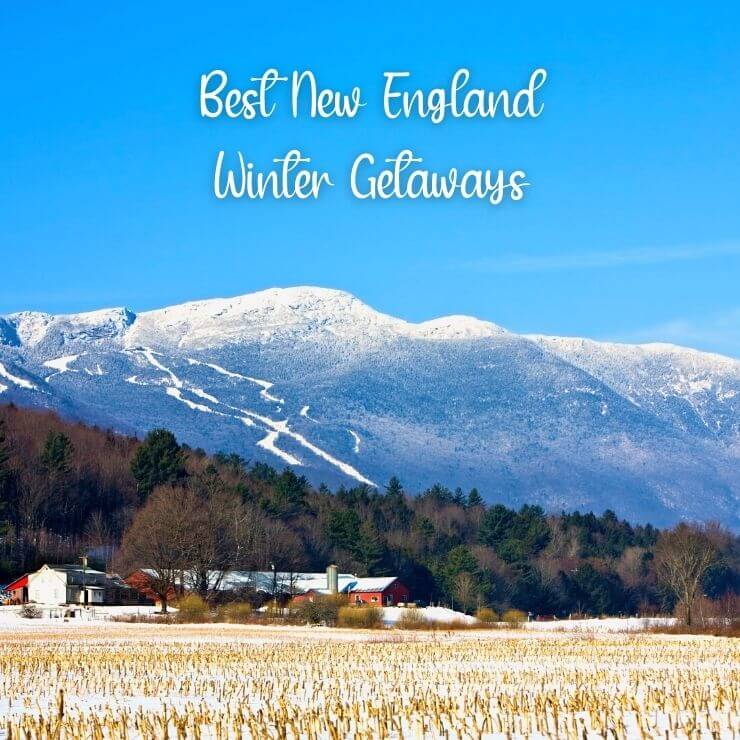 New England is the northeasternmost part of the United States, consisting of Vermont, Massachusetts, Maine, New Hampshire, Rhode Island, and Connecticut. This region is known for its seafood, ski resorts, and top-tier universities, all of which people visit from around the U.S. to experience.
If you're looking for a fun place to take a winter vacation, look no further than a snowy New England town!
Our resident Northeast USA expert, Brianna, is here to share the best trip destinations in New England for a winter getaway. Whether you visit when there's snow on the ground or when the weather's just starting to cool down, you're bound to have a great time up north.
Be sure to pack snow boots, a winter jacket, hats, and gloves – temperatures can dip below zero degrees Fahrenheit in this part of the country. Also, if you plan on driving, be mindful of slushy and icy roads and watch the weather forecast before your trip.
Stowe, Vermont
Stowe is heavily associated with alpine skiing, and for good reason – Stowe is considered the birthplace of skiing in Vermont. While much of New England has ski spots, this may be the best one in the region. This is also where the von Trapp family from Sound of Music fame eventually settled; you can even visit where they lived.
Get ready for a great time outdoors in Stowe with these activities:
Stowe Mountain: For those looking for some epic alpine skiing while in New England, Stowe Mountain Resort is a great place to head. You'll find world-class ski runs and a charming mountain village to spend your apres ski time.
Backcountry Skiing: Take a guided backcountry tour of the "Ranch Valley," where you'll ski through varying elevations over the course of four to six hours. This excursion isn't for newbies, and you should bring your own equipment to the site.
Eden Dog Sledding: This ethical sled dog sanctuary offers dogsledding tours with unchained dogs. Tours can last several hours, and kids are invited to ride, too.
Von Trapp Brewing & Bierhall: After a day of hitting the slopes, head to the von Trapp Brewing & Bierhall on the premises of the Trapp Family Lodge (which is also a great place to stay while in Stowe! Click here for prices and pictures of the lodge) to try some local beers. If you can't make it to the brewery, you may be able to find some in local stores.
Boston, Massachusetts
You can't have a list of New England winter vacation spots that doesn't include Boston! As a major city, you won't have to look hard for fun things to do there during any season.
A trip to Boston is perfect for those who don't want to spend their entire winter trip outside in the New England cold. These fun things to do in Boston are mostly indoors:
Boston Tea Party Ships & Museum: Relive a turning point in American history at this floating museum. While you can watch reenactment of the Boston Tea Party on December 16th, there are interactive learning experiences here year-round. Sit in a pretend colonial meeting and throw fake tea overboard at this family-friendly attraction.
Taza Chocolate Factory: The Taza Chocolate Factory is on the outskirts of Boston, and it's worth making the short drive out to. Learn about how their chocolate is made on a tasting tour, and if you have kids, sign them up for a kids tour on the weekend.
Citizens Bank Opera House: If you're visiting Boston around the holidays, head to Boston's opera house to see their seasonal performance of The Nutcracker. Since it's a winter staple for those in the city, be sure to buy your tickets as soon as you can if you'll be in town when the show is running.
Boston Gardens: Want some time outside after all? See the famous Boston Gardens when it's covered with a blanket of white snow.
Read More: One Day in Boston Itinerary
Camden, Maine
Camden is best known as a summer destination, boasting beaches and summer festivals. If you're a skier, though, this small town should still be on your travel bucket list. After a day of winter sports, warm up in one of Camden's history museums or art galleries.
The best time to visit Camden in the winter is February, when the American Toboggan Championships take place. Otherwise, base your Camden trip around these attractions:
Camden Snow Bowl: Take in the views of the Atlantic Ocean while skiing at this popular mountain. Ticket holders can ski or snowboard on their own or opt to take private lessons here. Soon, the resort also plans to open a section for tubing.
Midcoast Recreation Center: This indoor sports facility offers open skating for families and adults. If you're traveling without kids, have a free coffee on the house at their 18+ skating sessions.
Conway Homestead Museum: At this historical museum, you'll find a maple sugar house and barn. There's also another museum inside of it – The Cramer Museum, which showcases artifacts from Maine centuries ago.
Newport, Rhode Island
Rhode Island is a tiny state, but there are so many reasons to visit. One of them is Newport, home to wealthy New Englanders, historic mansions, and seaside hiking trails. From admiring architecture to boutique shopping, a trip here in the winter will have you feeling part of the elite.
Many people visit Newport in the summer, but you can still capture the essence of Newport in winter by adding these attractions to your itinerary instead:
Cliff Walk: This 3.5-mile walking trail curves right along the coastline and boasts gorgeous views no matter the season. Another part of its allure is that Cliff Walk is a National Recreational Trail in a National Historic District. The trail will take you from downtown Newport and past some of the city's most iconic mansions.
Newport Mansions: If you're visiting Newport during the holiday season, visiting the mansions from the gilded age that reside in Newport. During the holidays, many of the properties are all decked out in lights and there is a massive Christmas tree decorated at the entrance to the Breakers mansion.
Touro Synagogue: This synagogue is the oldest one in the United States and a National Historic Site. Built in the 1700s, the building is magnificent, and you can tour it for just $8 per person. You can also take a separate tour that will show you how Jewish people lived in Newport before our nation's founding.
Newport Vineyards: Sample small plates, wine, and beer at this Newport winery. Their selections are seasonal, and they have indoor seating for the cold winter months.
Read More: The Perfect 1-Day Itinerary for Newport, RI
Providence, Rhode Island
The capital of Rhode Island is a college town, home to Brown University and Johnson & Wales. Colleges host events and exhibits that are open to the public, so you could spend your entire trip just doing on-campus activities. There are also dozens of historical buildings to check out in Providence.
Don't leave Providence without visiting some of these attractions:
RISD Museum of Art: From ancient to modern works, you'll find them all at the Rhode Island School of Design's art museum. Their exhibits feature paintings, photography, sculptures, and more, so you won't get bored of viewing the same kinds of art.
Rhode Island State Capitol: The capitol building offers free tours of the premises. During your tour, you may be able to see a gun used in the Battle of Gettysburg. The exterior of the building is also impressive to behold.
Providence Athenaeum: This 200-year-old library houses rare books, card catalogs from its first female librarian, and an art collection. More than just a historical building, the public uses the Providence Athenaeum's services to this day.
Read More: How to Spend One Day in Providence, RI
Mystic, Connecticut
Mystic, Connecticut is a village that embraces being on the coast. Here, you'll find nautical attractions and seafood galore. Even though you probably won't want to be spending time on the water in the winter, you'll still be able to enjoy most of what Mystic has to offer.
Before grabbing dinner (I recommend S & P Oyster Restaurant and Bar or Sea View Snack Bar) check out these fun things to do in Mystic, CT:
Mystic Aquarium: At the Mystic Aquarium, you can see fur seals at one of the three facilities in the U.S. that feautre them, along with beluga whales and African penguins. You can even participate in a special program that lets you get close to the animals by hanging out with their trainers.
Eastern Connecticut Symphony Orchestra: Since this orchestra's season runs from September until April, a winter trip to Mystic is the perfect opportunity to catch a show. While they're based in New London, Connecticut, they play in the surrounding area that includes Mystic.
New Haven, Connecticut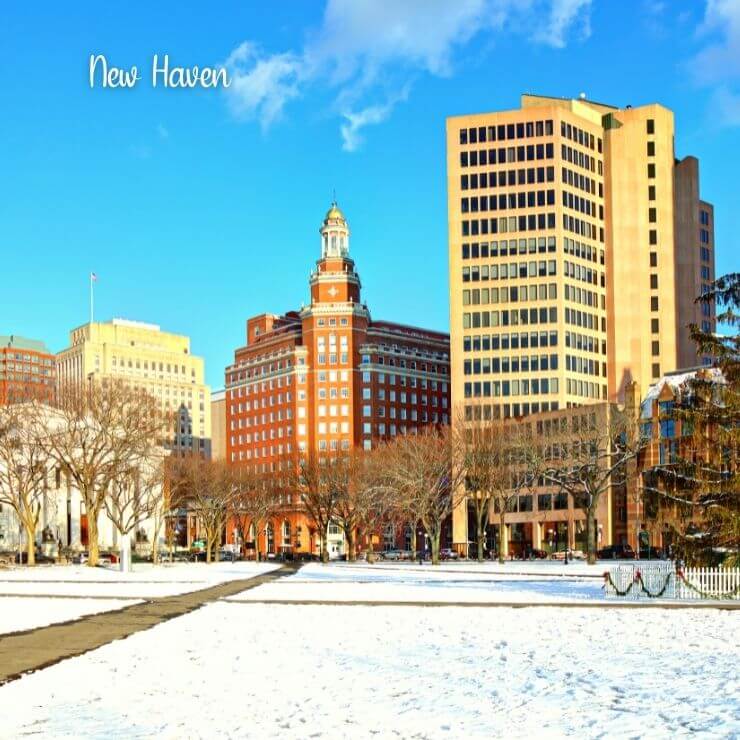 Home to Yale University, New Haven is another New England college town worth visiting in the winter. While Yale is the town's biggest attraction, there are also some special events in the winter that make New Haven worth visiting.
Plan your trip to New Haven around these events and activities:
Colonial Concert: Shortly after Thanksgiving each year, you can hear music from the 1700s performed by people in period clothing. Orchestra New England performs this concert on the New Haven Green, a gathering spot for events year-round.
Yale University Art Gallery: Spend a few hours indoors and out of the cold at Yale's art museum, which features works from all over the world. With a 300,000-piece collection, there's always something new to see, so consider visiting again if you've been here once before. The permanent collection alone displays 4,000 works of art!
Grove Street Cemetery: Pay your respects to distinguished Yale presidents, colonial and United States veterans, and the author of Webster's Dictionary at this National Historic Landmark. It's the first in the U.S. to have plots for families, and people can still buy plots today. The latest you can enter is 3:30pm so bundle up and arrive early enough to give yourself time to walk around.
Concord, New Hampshire
As the capital of New Hampshire, Concord is filled with museums and historic buildings. Most people visit during autumn to go apple picking, but it's also a great city for winter sports and won't have as many tourists during the snowy season. Whether you want to spend your time indoors or outdoors, this New England destination has something fun to do.
Consider squeezing these fun things onto your Concord winter trip to-do list:
Turkey River/White Farm: If you're a novice Nordic skier, check out the trails at this field. The ground is pretty flat, making it perfect for those less experienced. There are many other places to ski in the area, but this one is right in Concord. Here's a handy map to plan out your day there.
Granite State Candy Shoppe: Tuck into this family-owned candy shop that's been in business since the late 1920s. Don't leave without a piece of white, milk, or dark chocolate in the shape of New Hampshire. If you don't have time to make it in, you can order online and have candy shipped to your house as a belated souvenir from your winter getaway.
McAuliffe-Shepard Discovery Center: This intriguing New England museum will teach you about aviation, space exploration, and astronomy through its exhibits. It's dedicated to a teacher who was killed in the Challenger shuttle tragedy. If the skies are clear, check out their observatory, and on any day, you can watch a planetarium show.
Read More:
Best Places to Spend Christmas in the US
Best Winter Travel Destinations in the USA
Last Minute Winter Cruises to Warm Weather Destinations
---
When others are traveling to get away from the snow and cold weather, you can get closer to it by visiting New England's best winter getaways. No matter which New England state you visit, you can fill your vacation with history, sightseeing, and outdoor fun.