14 Unforgettable Winter Getaways in the United States for Snow or Sun
Looking for the perfect places in the USA to take a winter trip this year? You're in luck. We've rounded up 14 of the best winter vacation in the USA, with seven trip ideas for those wanting cozy cold and snow destinations, and seven options for those who want to escape to sunshine and warmth.
Read on to see which of these top winter getaway spots in the US sound best to you, starting with the snowy wonderland options and moving onto warm winter vacation in the US.
Cozy and Snow-Filled USA Winter Trips
There are two types of travelers when it comes to looking for winter vacation spots: Those who flee the cold temperatures and those who embrace them.
If you're the latter, chances are you're currently plotting your next escape to make the most out of the winter months. Ski adventures, snow-capped mountains, and evenings spent cozying up by the fireplace? Sounds just like heaven to us, too!
If you're wondering where to travel to this winter that will (most likely – weather is unpredictable of course!) be covered in snow, here are seven of the best winter destinations in the USA.
Vail, Colorado
Vail is one of the most beloved wintery towns in the U.S. While there's tons to do at this alpine gem in Colorado year-round, winter is undoubtedly the most special time of the year to visit Vail.
Tucked underneath the alluring Gore Range, Vail offers pretty much everything you could ask for from a mountain resort, including world-class skiing and snowboarding, an incredible foodie scene and some of the most luxurious accommodations in the country — many of which are ski-in and ski-out establishments.
Park City, Utah
Known for its incredible ski resorts and other winter sports like snowmobiling, ice skating, and even dog sledding, Park City in Utah offers a range of things — right on a mountain range! A walk through the quaint little town downtown area will make you feel as though you're wandering inside a real-life snow globe as you dine at delicious restaurants and lively bars.
Winter Trip Pro Tip: If you love the glamour of Hollywood, consider visiting Park City in January. That's when Park City plays host to the annual Sundance Film Festival, which is THE place to be if you're a film buff…or just want the chance to see some of your favorite celebrities.
Telluride, Colorado
Known for its snowy peaks and scenic beauty that will have your jaw dropping to the ground, Telluride is one of Colorado's most picturesque mountain towns and a must-visit if what you're after is winter outdoor adventures galore.
Picture-perfect places to visit in Telluride include the Instagram worthy ice-skating rinks at Hotel Madeline, and taking some photos on winter hiking trails or before sledding down the San Juan Mountains.
If you're up for some serious mountain adventure, you can try your hand at ice climbing (get a guide if you don't know what you're doing!) or venture deep into the mountains on a cross-country ski adventure.
If you'd rather just relax and enjoy Telluride's gorgeous surroundings, then hit up the nearby hot springs to relax your muscles after a day of travel or some snowy adventures.
Read More: Best Winter Getaways for Families
Camden, Maine
There's something incredibly charming (though cold!) about New England in winter, and Camden features some of the best winter wonderland scenery in the area. Located on the charming Penibscto Bay, Camden Harbor feels as though it came straight out of a Thomas Kinkade painting.
Top things to do in the winter while visiting Camden include skiing at Camden Snow Bowl, where you'll be able to shred down the mountainside while taking in views of the ocean. Another fun, photo-tastic activity is to go in search of all the lighthouses in the area, which look as though they came straight out of a winter fairytale.
Ouray, Colorado
Ok, we have lots of Colorado on here, but it's just such a gorgeous state in the winter! Ouray is nestled in the San Juan Mountains. Though it's not too far geographically from Telluride, it feels a world away with a much different vibe.
Ouray is your go-to if you want to feel as though you're walking around in Europe, but need to stay closer to home in the US. Ouray is often referred to as the "Switzerland of America"due to its beautiful architecture framed by stunning mountain peak.
Aside from its endless array of mountain outdoor adventures, including hot springs to relax your muscles in, Ouray knows how to make the most out of the colder months. You can plan your winter vacation around events like the Ouray Ice Festival and San Juan Skijoring, both of which celebrate winter sports and the importance they have on this gorgeous little town in the heart of the Colorado mountains.
Yellowstone National Park, Wyoming and Montana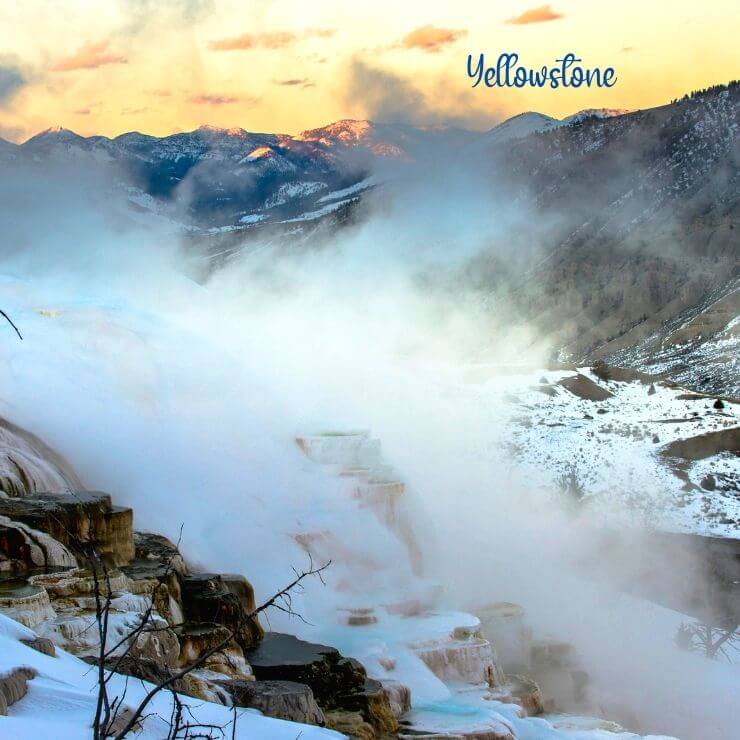 Yellowstone National Park is pretty much a gem of a place year-round, but during the colder months, the entire national park becomes a winter paradise of snow-capped forests, frozen lakes, and alluring geysers that look out of this world.
Starting in early November, getting to Yellowstone can become a bit of a trek as most roads are closed to traffic and only accessible via special vehicles. The only entrance for Yellowstone that is open in winter is the North Entrance near Gardiner, Montana. From there it's a short drive to Mammoth Hot Springs, which is usually open to vehicles throughout the winter.
If you're staying at one of the winter lodges in the park, you'll be met in Gardiner or West Yellowstone and taken there via snowcat or snow carriage.
Tip: Another perk of visiting Yellowstone during the winter? You can take a break from the incredible vistas you'll find with a ski or snowboarding session at nearby Big Sky Mountain.
Gatlinburg & The Great Smoky Mountains, Tennessee
More popularly known for being the base to explore the Great Smoky Mountains, Gatlinburg in Tennessee has a ton more to offer for those who linger a while in this quintessential mountain town, including a stellar cuisine scene.
Gatlinburg has a classic alpine vibe, made even better during several winter festivals the city hosts, such as the Anakeesta's Enchanted Winter festival, where you'll find twinkling lights every step you take and delicious food to help you beat the winter blues.
Once you're done exploring Gatlinburg, head into Great Smoky Mountains National Park, where you'll find an array of winter sports to do. You can also book yourself into a cozy cabin to experience the winter scenery right in the middle of nature.
Embrace your inner Elsa at one of these top cold-weather winter vacation in the USA and soon you'll be letting go of responsibility and having a fun winter wonderland vacation!

But wait, I think I'm more of an Anna…

If that's what you're thinking, then don't worry, we've got top winter destinations in the USA that are soaked in sunshine, not snow, and have warm weather in the winter. Read on!
Destinations in the USA to Catch That Winter Sun
If you'd much rather chase the summer sunshine to escape some pending winter blues, then you're in luck because there are tons of warm weather winter destinations located right in the USA. Read on for our top picks.
U.S. Virgin Islands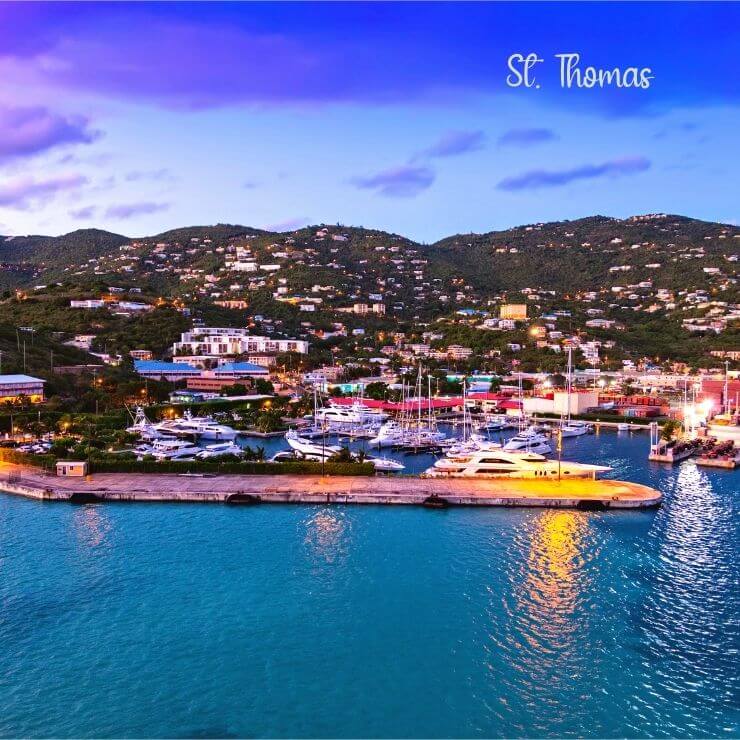 A Caribbean vacation without leaving the country? Yes, please! You can have just that with a short flight from the southeast corner of the US to the US Virgin Islands. We recommend either St. John or St. Thomas for your winter getaway to the Caribbean.
St. John is the most untouched of the U.S. Virgin Islands, so it makes for an ideal blend of blissful relaxation and outdoor nature pursuits. St. John even has a national park within its borders. You can also snorkel right from many of the pristine beaches and see a variety of fish and other sea creatures.
If you are after even more adventure, you can put your hiking shoes on and explore the endless amount of jungle trails available, which will give you the chance to check out the lush landscapes that line the island as well as the chance to see some island wildlife.
For those looking for a bit more of a lively atmosphere, head to St. Thomas where you'll find the bustling capital of the U.S. Virgin Islands: Charlotte Amalie. St. Thomas is also home to some of the most beautiful beaches in the world, such as Magens Bay. You'll also find exotic forests, epic shopping, delicious dining, and adventurous activities while there.
While in St. Thomas you can also learn more about the underwater world of the U.S. Virgin Islands without getting wet at Coral World Ocean Park. You can take a tour of the Caribbean Reef Encounter aquarium on land and then head underwater after you board a semi-submersible water vehicle, which will provide you with views of the sea through windows beneath the surface.
Read More: Best Things to Do in St. Thomas When Short on Time
Palm Springs, California
Dubbed the heart of the California Desert, Palm Springs is an incredible gateway to the desert magic that is located in this area of California. Palm Springs is just a couple hours from either Los Angeles or San Diego. You'll still have access to trendy cafes, artsy boutiques, and cool hotels while you're in Palm Springs, but the retro-chic vibe of the city surrounded by desert mountain peaks will have you feeling a world away from the hustle and bustle of LA.
Palm Springs is also just an hour's drive from the mesmerizing Joshua Tree National Park, where you can add a bit of adventure into your day with some desert hiking. Or just drive around the park in your air conditioned car to soak in the unique views of the park.
When the sun goes down in Palm Springs in the winter, you can go stargazing from the comfort of a bubble tent, rough it up by camping under the stars (just pack warmly because desert nights in the winter can be surprisingly cold!).
Or experience what luxury in the desert is like by staying at the various boutique hotels or vacation rentals that line the desert. Our top pick? Sacred Sands — Click here for pictures and prices of this gorgeous, unique guest house right by Joshua Tree.
Maui, Hawaii
The diverse Hawaiian island of Maui sees pleasant temperatures year-round. Despite winter being the rainy season on the island, the weather remains perfect for activities like trekking through the jungle in search of waterfalls or driving the ever-alluring Road to Hana. And if you head to more temperate Wailea, you should have some great, sunshine-filled warm beach days, too.
—> Click here to read about our favorite place to stay in Wailea!
Plus, Maui is host to migrating humpback whales, which means you'll get the chance to see whale fins and action right from shore!
—> We also love Maui for a girls getaway! Click here to find our complete guide to girls trips in Hawaii.
Word of advice: Winter is a favorite for visitors, particularly around Christmas and schools' mid-winter breaks, so make sure you book airfare and accommodation to Maui as early as possible. Also check before booking what the rental care will cost you if you need one. Hawaii is currently experiencing a car rental shortage.
Read More: Best Places to Go in the USA for Christmas
Miami, Florida
If you want a mix of city fun and beach blissfulness, Miami is the place to be. You'll find epic nightlife, an incredible art scene complete with murals and galleries, and delicious dining — all near incredible beaches you won't want to leave.
While vacationing in Miami, make sure not to miss out on the restaurants and/or nightlife South Beach has to offer, wander around the Art Deco District, and eat some delicious meals in Little Havana!
If you want to add a bit more nature into the mix during your winter getaway to Miami, head to a nearby national park:
There's the Everglades National Park where you do some wildlife adventures, like a boat ride to see alligators; Biscayne National Park where you'll be able to have some epic underwater snorkeling and scuba diving experiences since the park is 95% underwater; and Dry Tortugas National Park, which is an ideal place for bird watching hikes, coral reef snorkeling, and to simply get away from it all.
Read More: The Best 1-Day Miami Itinerary
Scottsdale, Arizona
Looking for that Southwestern flair for our winter vacation? Scottsdale has warm weather and sunny skies pretty much year-round. Daily temps during the winter months hover around the 70s, which makes winter the perfect time of the year to explore this lovely little city in the heart of the Sonoran Desert.
While in Scottsdale, put on your foodie hat and explore the town through its vibrant food scene. Then, browse through all the charming boutique shops that line the streets. Later, join in on the nightlife or relax at your hotel's spa.
Winter Getaway Tip: If you visit during December, make sure you don't miss out on the annual Scottsdazzle, a month-long festival where you'll be able to enjoy seasonal decor, live music and entertainment, incredible food, and fun events. It's a fun event to plan a trip to Scottsdale around.
Read More:
Best Girls Getaways in Arizona
Best Day Trips from Phoenix, Arizona
Death Valley National Park, California
While visiting Death Valley National park during the summer months is not the best idea (it gets scorching hot… we're talking temperatures in the 120 degrees!), winter is an ideal time to visit this epic national park.
Don't let its name fool you. Death Valley National Park brims with life and there's no better time in the year to experience its desert magic than winter. Think eerie-looking rock formations, salt flats as far as the eye can see, and hills splashed with colors you never thought belonged in nature!
Read More: Best Girl Getaways in California
San Juan, Puerto Rico
Nature, beaches, history, and a downtown with colorful buildings? Sounds like a winter getaway destination sure to thrill! That place would be San Juan, Puerto Rico.
San Juan is a kaleidoscope of colors and life, where you can spend your days walking around its vibrant downtown, taking in the music and history, eating tasty cuisine, and sipping cocktails. San Juan is also close to many relaxing beaches where the gentle warm waves of the Caribbean Sea lap against the shore.
If you'd also like to add some jungle adventures into your trip, San Juan is the perfect base to hop around and take a walk on the wild side of nature. A few go-to places in Puerto Rico for incredible hiking trails and scenery are El Yunque National Forest, Toro Negro State Forest, Guajataca Forest, and Guánica Dry Forest.
---
So what's your pick? Relaxation in the warm sun or fun in the snow? Whichever you pick, you're bound to have a memorable time on any of these winter trips in the USA.
—> Read More: Best Girls Trips in the USA