Things to Do When Short on Time in Hvar, Croatia: A 1-Day Itinerary You'll Want to Steal!
Hvar is one of the largest of the Croatian islands that dot the Adriatic Sea bordering mainland Croatia. Located less than 25 miles from Croatia's second largest city of Split, Hvar is easily accessible for a day trip from Croatia's popular Dalmatian coast.
Most of the sites are in Hvar Town and if short on time, this little coastal town is where you'll want to focus the majority your time.
Getting to Hvar
The only way to get to Hvar is via ferry as there isn't an airport on the island. The nearest airports to fly into are in Split, Croatia or on the Croatian island of Brac.
If possible from where you're departing to Hvar from, take a ferry that drops you off in Hvar Town, as this is where most of the action of Hvar takes place. These leave less often than Stari Grad and fill up quickly as a result, so buy your ticket as early as possible. Unfortunately, most ferry companies don't let you buy domestic tickets online in advance so you have to visit the ticket booth (usually centrally located in the harbor of the town or city from where you're departing) to get your ticket, usually not earlier than 24 hours beforehand.
However, if you're traveling with your car, then you can usually – and are often recommended to – purchase a ticket online in advance. A good ferry company to use is Jadrolinija, which has service to Hvar from Split, Brac, Korcula, and Dubrovnik.
One Day Tip: To make sure you get the ferry time you want and don't run into any delays, check with the ticket booth as soon as you arrive in the town or city you'll be departing to Hvar from to find out the earliest you can buy tickets and then do your best to get to the booth at that time to purchase them.
1-Day Hvar Itinerary: The Best Things to Do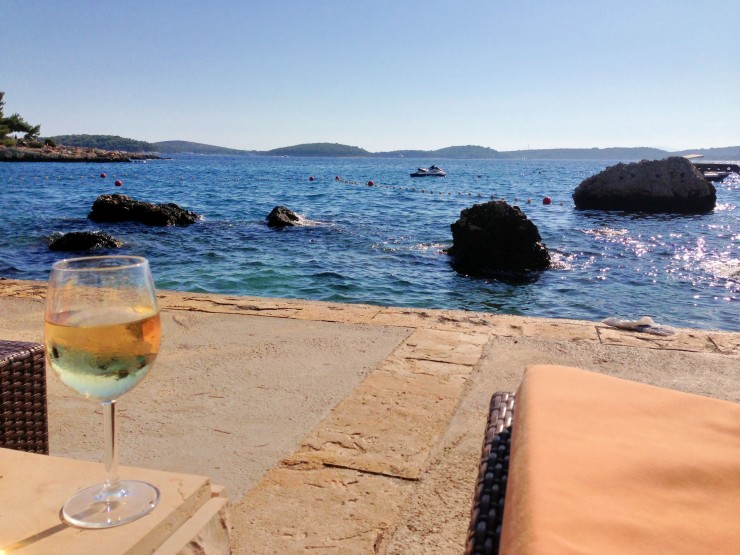 If you don't want to spend your whole day lounging at the beach or visiting the oceanfront clubs of Hvar, here is my list of how to spend your day in Hvar, including historic, cultural, and scenic sites.
St. Stephen's Square in Hvar Town
St. Stephen's Square is the main square in Hvar Town and is hard to miss as most streets lead to it. St. Stephen's Square is massively long and a lovely site to see with its gray-white cobblestones and old whitewashed buildings lining its perimeter.
A large fountain is located in the middle of it and the square has views of the sea since it is bordered by a harbor on the west end. Hotels, restaurants, and shops can be found in the square, but its most prominent site is the Cathedral of St. Stephen.
Hvar Public Theatre
The Hvar Public Theatre has historic significance to the island of Hvar and the entire country of Croatia. It was built in 1612 and had the unique distinction of being open to citizens of all social status. This was unheard of at the time in Europe and as a result, the Hvar Public Theatre became the first public theater in Europe.
Why It's a Must See: The Hvar Public Theatre is surprisingly devoid of tourists. I was there at peak travel time and didn't see anyone else the entire time I was there. This combined with a careful restoration keeps the theater feeling like you've truly stepped back in time, as if any moment people in robes will pour in through the doors and an impromptu performance will play out on stage.
Franciscan Monastery and Museum
The Franciscan Monastery and Museum is located on a little cove along the sea a short amble from St. Stephen's Square. It was built in the 15th century with Renaissance architecture aspects. The monastery itself is impressive with stone walls, a pleasant courtyard, and an adjacent church called Our Lady of Charity. The monastery also serves as a museum and houses collections ranging from ancient coins to liturgical items and an array of artwork.
Why It's a Must See: It's an easy, pretty walk by the coast with interesting architecture and has a different, more serious feel compared to the rest of Hvar, which can sometimes feel like a bit of a party island.
Benedictine Monastery Lace Store and Museum
If you think looking at a lot of lace sounds on the boring side, think again. You'll be amazed at the intricate details of the lace doilies made from local agave plants by the nuns of the Benedictine Monastery. The nuns staff the lace museum and are happy to answer your questions about how the lace thread is created from agave plants and the techniques that are used to make one of the artistic pieces of lace. Lace for sale can be viewed without a charge, but to see the impressive lace pieces in the museum (Musej Hanibal Lucic) alongside other artifacts of the monastery like a 17th century stone holy water basin and 18th century kitchenware and oil lamps, you'll need to pay a small charge.
Why It's a Must See: The amount of detail that goes into the lace is astounding. You can't appreciate it until you see it up close. You may want to keep your pocketbook close, too — if you're like me, you'll likely be tempted to buy one as a souvenir and they are quite expensive, like hundreds of dollars expensive.
Hvar's Fortica
The Fortica was once the main fortress of Hvar and it stands on a hill overlooking Hvar Town and the Adriatic Sea. Construction on the Fortica structure you'll get to explore was started in 1282 and over the next three centuries was built upon and expanded until it reached its peak in the 16th century. During that time, the Fortica served an important part in protecting the people of Hvar and Hvar Town's much sought after harbor. The Fortica is acclaimed for its elaborate layout, which is remarkably well-preserved.
History has been interesting to the Fortica. In 1571, the Fortica's strong walls and fortifications saved nearly all the townspeople from an attack by the Turks, who plundered the city and set it on fire. Despite the Fortica providing protection from enemies, it wasn't able to protect itself from Mother Nature, and in 1579 a thunderbolt hit the Fortica's gunpowder room, causing a huge explosion that caused a considerable amount of damage to the Fortica as well as Hvar Town below. The Fortica was repaired over the next couple centuries, though it never returned to its glory days of the 16th century and the Fortica was largely abandoned in the 19th century after Hvar Town lost its strategic importance and attacks on the island seemed less likely.
Today, the Fortica is open to visitors, who can tour the many rooms of the Fortica, including the dungeon, four circular bastions, tower, battlements, gunpowder rooms, living quarters, and even a chapel. In addition, look for the gate inscription upon entering the Fortica – the year "1551" is etched above the gate entrance, signifying the time the fortress would have been mostly completed. Next to the 1551 is the Venetian coat of arms plus the coat of arms of multiple leaders of the municipal government.
Inside the Fortica, there is also a small display area exhibiting ancient kitchen and homeware artifacts recovered from a shipwreck that was discovered near the Croatian island of Palmižana that is believed to have gone down around the beginning of the 2nd century.
Why It's a Must See: It's an interactive and historic place to walk around, plus it has incredible views of Hvar Town and the surrounding sea.
One Day Tip: Consider taking a taxi or seeing if your hotel will drop you off at the Fortica to save time on walking a lot of steps to get to it, then enjoy the walk back down to town through the narrow, stepped lanes of Hvar Town with gorgeous views of the sea.
Beaches of Hvar
When short on time in Hvar, the most convenient beaches to stay at are the ones in Hvar Town, which are listed out below. However, convenience doesn't always equal the best when it comes to beaches, so other recommendations outside of Hvar Town are also recommended. All beaches are made up of pebbly rocks unless otherwise noted. You may want to pack a thin pad along with your beach towel.
The beaches are also a big reason why we think Hvar is one of the best spots for a girls trip in Europe!
Hvar Town Beaches
Short Walk from Hvar Town: Beach near Franciscan Monastery
Right in front of Franciscan Monastery on a curved little inlet piece of coastline is a lovely beach for relaxing on. The inlet provides a cove like atmosphere to the water and the adjacent rocky beach can comfortably fit several dozen people.
One Day Tip: If super short on time, just head to the coast and find any one of the large number of flat rocks that jut into the sea and lounge on one of those for awhile to soak up the sun and take intermittent jaunts into the water (just make sure it's a safe place to do so).
Short Taxi Ride from Hvar Town: Dubovica
Dubovica beach is located eight miles east of Hvar Town and is easily accessible by a car taxi or boat taxi. The beach is situated on a cove and the water is bordered on one side by a stone 18th century country house.
Zarace Beaches
Despite being only six km from Hvar Town, the beaches of Zarace will get you feeling much farther away from the hustle and bustle of town life. Zarace has two main beaches, Velo Zarace (facing east) and Malo Zarace (facing west). Both beaches are close to each other and feature a large rock border on the south side jutting out into the sea and turning the beaches into little coves.
Ivan Dolic Beaches
Ivan Dolic is a small village located near Jelsa and situated 38 km from Hvar Town. It is known for the beautiful, tranquil beaches nearby. You'll need to rent a car or hire a taxi to get to the beaches, but it's a pretty drive so a good way to see parts of the island outside of Hvar Town. The top beaches near Ivan Dolic are:
Lučišće Beach
This beach is located in a lovely cove that is surrounded by rugged rocks and pine trees and has clear, teal water ideal for swimming. You'll feel far away from the busyness of Hvar Town at this quiet beach.
Jagodna Beach
Another gorgeously rugged bay in Ivan Dolic with narrow beaches stretching alongside massive rock walls. There is also a restaurant next to the beach, which is ideal for a midday meal or refreshment.
One Day Tip: Due to the distance from Hvar Town, only plan on attending an Ivan Dolic beach if you're going to spend the whole afternoon there and want your day in Hvar to mostly be a beach getaway, or if you want to incorporate in the Jelsa modification found in the Modified Itineraries section of this guidebook.
Zavala Beaches
Zavala is on the southern side of Hvar, a bit farther past Ivan Dolic, and is home to one of the very hard to find sandy beaches in Hvar, though the sandy area is small and fills up quickly so plan on getting to this beach early in the day if having sand to lay on is important to you. (If you miss out there is still a pebbly beach to lie on.) The beaches of Zavala start in the sleepy town and stretch down its coastline. The town also consists of a small handful of shops and restaurants plus guesthouses and hotels. You get there from Hvar Town by driving a 20 mile (will take about 45 minutes depending on traffic) route that takes you through a long tunnel and past pretty, hillside vineyards.
One Day Tip: Zavala is a good beach to head to if you're also planning on hitting up some of the island's wineries (some of best are located next to the village – see tips under Modified Itinerary section).
Pakleni Islands
Across the bay from Hvar Town is a series of tiny islands referred to as the Pakleni Islands that are quick and easy to get to from Hvar Town. The Pakleni Islands spread out across the Adriatic Sea like emerald jewels and they are best known for beaches and partying.
Many boat ferries and boat taxis offer service to the islands from Hvar Town or you can rent a boat and explore the islands on your own for a few hours. If short on time, a good island to focus on is Jerolim, which can be reached in less than ten minutes from Hvar and it has a rocky shoreline that settles into calm, teal water.
Why It's a Must Do: Visiting the Pakleni Islands not only lets you visit some gorgeous beaches and scenery, but it also gets you out on the water as you zip across it on the boat, letting you experience a different side of Hvar.
Where to Sleep in Hvar
Top Pick: Podstine Hotel
If you need somewhere to sleep, I highly recommend Podstine Hotel, where I stayed. It's an easy 15-minute walk from the center of Hvar Town, but is far enough away that its waterfront location feels peaceful and relaxing. The outside area is spacious and beautiful with easy access for swimming in the sea. After swimming you can enjoy a drink served to you by the Podstine Hotel bar's wait staff as you relax on a beach lounger or bean bag on one of the terraces and take in views of the sea. Inside Podstine Hotel, you'll find a large airy reception area. The rooms range from budget-friendly doubles that overlook the parking lot to incredible superior exclusive rooms that have balconies with panoramic views of the sea. It's one of my favorite hotels I've ever stayed at.
Centrally Located Option: Villa Nora
Villa Nora is a good choice for those that want to stay right in the heart of Hvar as it's located in an old aristocratic stone building just a few steps away from St. Stephen's Square. The building Villa Nora is in is a restored 14th century palace. The rooms of the hotel are spacious and incorporate modern elements with the historic charm of exposed stone walls. Villa Nora has free wi-fi, air conditioning, and 24 hour room service from the onsite restaurant, Lucullus, which features Hvar specialties.
Budget Option: Luka's Lodge
Luka's Lodge is a hostel with a homey touch thanks to the Croatian owner, Luka, who warmly welcomes guests and shares his Hvar expertise. Luka's Lodge is located within walking distance of Hvar Town's harbor and has gorgeous views of the sea from its common area terrace. The rooms range from singles to 4-person capacity and some have shared bathrooms while others have ensuites. You'll also appreciate that most rooms are air conditioned if visiting during one of Europe's summer heat waves. Other amenities include a kitchen, laundry room, and free Wi-Fi.
Other Things to Do in Hvar
Visiting the Recommended Itinerary sites will give you a great feel for the history and culture of Hvar. To add more into the day would really rush things, and you want to enjoy your time at each site. However, since not everyone places similar value on the same types of attractions when traveling, here are some additional sites you may want to visit while in Hvar. Each site includes a recommendation on what to substitute from the One Day in Hvar recommended itinerary, which are chosen based off of time constraints and still getting a similar cultural experience from your day; however, you may want to spend your entire day at wineries or more time at the beach so rearrange and pick and choose your ideal day as you see fit.
Wineries to Visit
Hvar's wine may very well be its best kept secret, though it may not be a secret for much longer due to the award-winning and vibrant vintages that keep coming out of the island from its skilled winemakers. Wineries on Hvar range from tiny mom and pop style wineries to wineries with tasting rooms on a grander scale similar to what you might expect to see in Napa – but always with a Croatian vibe.
Secret Hvar Wine Tour
The best way to experience the wines of Hvar is through a wine tour with the company, Secret Hvar. You'll have to dedicate your entire evening on the island to it, but if you love wine, it's worth it. Secret Hvar is run by Siniša Matkovic-Mikulcic, a Hvar local who grew up on the island and knows every corner of Hvar and can regale you with stories of its history. Siniša is also an expert on Hvar wine and has great relationships with many of the wineries. Siniša will pick you up from your hotel and escort you to a few different wineries where you'll get an insider scope of grape varietals grown on the island and how local wine is produced. During the drive, you'll also see the beauty of Hvar beyond Hvar Town, including the lush green hillsides and agricultural areas of the island. Secret Hvar Contact Number: 385 21 717 615
Self-Tour of Wineries
If you have a car rental and want to visit a winery on your own during your one day in Hvar, your best bet is to head to Jelsa or Zavala, which will take about 40 to 60 minutes to get to (Zavala is on the longer side of the spectrum).
Jelsa is home to the tasting room of one of Croatia's most prestigious wineries: Tomic, located along Braće Batoš. Contact the winery beforehand at 385 91 339 8995 to make a reservation to tour the production section of the winery and have a tasting of the wines.
Zavala's wine claim to fame is the area's white wine, Bogdanjuša, which is generally a lighter bodied wine with a slightly acidic taste. A good winery to visit in Zavala and try this at is Carić Winery, located at Svirče bb and reachable via phone at 385 21 768 027.
What to Substitute from One Day Itinerary: Beaches. Get in touch with the agricultural side of Hvar's nature instead of the sea side.
Boat Ride to Pakleni Islands
Across the bay from Hvar Town is a series of tiny islands referred to as the Pakleni Islands that are quick and easy to get to from Hvar Town. The Pakleni Islands spread out across the Adriatic Sea like emerald jewels and they are best known for beaches and partying. Many boat ferries and boat taxis offer service to the islands from Hvar Town or you can rent a boat and explore the islands on your own for a few hours. Here are some hot spots to visit:
Carpe Diem Bar
Located on the island of Stipanska, Carpe Diem Bar is one of the hottest clubs on the island during the summer. You won't find many locals there, but you will find a lot of people looking for fun in the sun with dancing, drinks, and waves. The beach club has a pool, numerous bars, and a beach with lounge chairs. At night, the music gets turned up with dance club beats spun by DJs and the party lasts until the early morning hours.
The island of Jerolim can be reached in less than ten minutes from Hvar and it has a rocky shoreline that settles into calm, teal water. It is a lovely place to go for a swim, but modest people, beware – Jerolim is also well-known for its nudist beaches.
Vlaka
Vlaka is a small village on the island of Sveti Klement and it is home to the gorgeous vineyards of the Tomic label – one of the best winemakers on Hvar. You can also visit the nearby mud baths for some natural spa pampering.
Palmizana
A large portion of Palmizana Island, located ten minutes from Hvar Town, was developed into a large botanical garden. While most of the island is exclusive to those staying at the Palmizana resort, the beauty of Palmizana's flora and fauna can be enjoyed by day trippers from Hvar who can relax on the island's secluded bay. For a more intimate experience of Palmizana, eat at one of the resort's restaurants.
What to Substitute from One Day Itinerary: Beaches. You'll be getting other beach experiences in Pakleni Islands.
Stari Grad Sites
Stari Grad is a must-see stop for history lovers as it is the oldest inhabited city in Croatia and is believed to have been inhabited since 384 BC when a group of Greeks from the island of Paros moved there. This background makes its name sensible as Stari Grad literally means "Old Town." Despite more ferries arriving from other areas of Croatia into Stari Grad daily than into Hvar Town, Stari Grad doesn't get many tourists milling about as most people immediately take transportation to Hvar Town to spend their time on the island. This doesn't mean Stari Grad doesn't have some great things to do, though. Those who love historic and UNESCO heritage sites will especially enjoy spending time in Stari Grad.
Exploring Stari Grad should mostly be done by designating some time to wander the streets. You'll come across old stone houses and churches, plus lovely squares. Other top sites in Stari Grad include:
Tvrdalj Castle
Tvrdalj Castle was the summer residence of the Croatian poet Petar Hektorović who lived there during the 16th century. During this time, Ottoman Turks attacked Hvar and Hektorović fortified his house, thus turning it into a "castle" and helped provide protection for the people of the island. Though Tvrdalj Castle was damaged in subsequent attacks shortly before his death, Hektorović's will provided for improvements to be made on the residence. Today, visitors can tour the outside of Tvrdalj Castle and its gardens, which includes a small fish pond. Keep an eye out for the many inscriptions on the castle's walls as well as the statue of Hektorović in front of the entrance.
Dominican Monastery
Petar Hektorović is buried in a tomb here, so it is a good stop for those who are interested in the famous poet. In addition, the monastery has an archaeological and art collection, of which Venetian painter Jacopo Tintoretto's painting The Mourning of Christ is most notable, as is the Renaissance crucifix on the main altar dating back to the 17th century.
Stari Grad Plains
Rent a car or scooter and spend a couple hours driving around the Stari Grad Plains, which are UNESCO-protected ancient agricultural fields that date back two millennium and which are still in use today. The farmers of modern times even still use the same ancient methods of farming the earth. Visit Stari Grad Plains and you'll see a lot of olive fields while experiencing the agricultural countryside of Hvar.
Purkin Kuk
Purkin Kuk consists of the remains of a prehistoric hill fort believed to have been used as a watch tower and for defense during the medieval era. There are also interesting megalith walls at Purkin Kuk. In addition to history, for the best views in Stari Grad – and possibly all of Hvar – Purkin Kuk is the place to head. You'll get an excellent view of the Stari Grad Plains and beyond.
What to Substitute from One Day Itinerary: Fortica and Franciscan Monastery
Jelsa Sites
In addition to proximity to wineries and beautiful beaches (which were listed under the Beaches section of this guidebook under Ivan Dolic), Jelsa has a few top sites to see as well.
Church of St. Mary: This church dates back to the 16th century and is an example of early Gothic architecture.
Our Lady of Good Health Church: Built in 1635, this church is believed to have provided protection to the townspeople from illness over the centuries.
Lapidary: Ancient stone artifacts are aplenty here, with an old Roman tombstone and an impressively carved Venetian lion.
Jelsa Park: Look for the statues of Captain Niko Duboković and Antun Dobronić, a Croatian composer, in this leafy park.
What to Substitute from One Day Itinerary: Franciscan Monastery. Plus, when selecting a beach to visit, choose an Ivan Dolic one.
Shopping in Hvar
Keep an eye out for lavender souvenirs while in Hvar. The island was once known for its abundance of lavender. Unfortunately, fires devastated most of the lavender crops and they never fully recovered. It is still grown on the island, though, and you can find some sold at stores and lavender stands around Hvar Town.
Hvar Town also has plenty of souvenir shops that you can browse through to find fun and vibrant jewelry, apparel, and other knick-knacks. There are also many souvenir stands located along the waterfront leading west from Hvar Town. In addition to lavender products, olive oil and herb liquors make excellent souvenirs from the island.
For some Croatian fashion, head to the store, Croots, located a short distance up from the Benedictine Monastery Lace Store and Museum, and be sure to stock up on some Croatian tennis shoes with heels and open toes if in stock.
Where to Eat
My other favorite things to do in Hvar circle around gastronomy. Drink wine from one of the local wineries (if you have extra time, go on a wine tour around Hvar), eat at a Konoba that serves traditionally cured and prepared meats and other local delicacies, and enjoy fresh seafood. Then go find your favorite piece of Hvar coastline and just soak in those views and relax. After all, you're on an island…enjoy some island time.
Konoba Menego
Konoba Menego is a restaurant that follows in the tradition of former Croatian cellars or basements. Historically, nearly every home on Hvar was built with two stories: one above for living and the other below for food storage and preparation. Konoba Menego is designed to reflect this. You'll be dining under cuts of meat hanging to be cured and there are wine barrels and other storage containers situated around the cozy dining area. Konoba Menego is family-run and if you walk by the restaurant during the day you may even see the owner in the doorway curing and slicing meat to get it prepared for that night's diners. Konoba Menego is a top choice for dining in Hvar if you want to experience both history and locally grown and prepared Croatian food. Address: Kroz Grodu 26 Phone: 385 21 717 411
Giaxa
Located in a 15th century building that is a former palace, Giaxa is one of the top restaurants in Hvar in terms of both its upscale ambiance and cuisine. The inside of Giaxa is a mix of class and old-world charm with wooden tables set up amongst stone pillars carved with designs. The perimeter of the room is made up of stone stacked walls, providing a unique dining experience. If possible, try to get a table in the garden courtyard which lets you enjoy both the stone wall ambiance of Giaxa and the wonderful weather Hvar is known for. The menu of Giaxa features seafood cooked with a Croatian flair — the lobster dishes are especially popular — and other Croatian delicacies, some with fusion twists. Address: Trg Tv. Petra Hektorovića 3 Phone: 385 21 741 073
Divino
Divino is the place to head for a romantic dinner in Hvar. The restaurant overlooks the Adriatic Sea from a serene patio and the views are fantastic, especially at sunset. The cuisine combines traditional Croatian dishes with other flavors and delicacies of the Mediterranean and the chef gives each dish a special and gourmet flair. Not only is the food incredible, but Divino also has one of the best wine lists on the island. Address: Put Kriza 1 Phone: 385 91 437 7777
Nonica
You'll want to have cake for breakfast (or any time of the day) at Nonica, a quaint little cafe in Hvar Town serving up what many consider to be the best pastries on the island. Pick your sweet and then enjoy it with a cup of good coffee at one of the indoor or outdoor tables if you can nab one; if they're all taken sit on the nearby stairs or take your pastries down to the coast and find a rock to sit on. Address: Kroz Burak 23 Phone: +385 91 739 2390
Bars and Nightlife
Arsenal Building Bar
For a laidback bar atmosphere, head to this small bar next to the Hvar Public Theatre. Despite being right in the center of Hvar Town in St. Stephen's Square, it manages to be off the beaten path due to its location on the second floor of the Arsenal building, the same one where the Hvar Public Theatre is housed. Keep walking past the entrance to the theater to the end of the terrace and you'll come to this laidback bar. Couches and lounge seats are situated on the terrace and you'll have an excellent view of the Fortica in front of you. The inside space is small, but is cozy and good for a conversation with the friendly bartender. Enjoy a range of cocktails, beers, and Croatian wine.
Address: Arsenal Building, St. Stephen's Square
Hula Hula
You'll find loud music and constant partying at this beach club located a short 15- to 20-minute walk from St. Stephen's Square in Hvar Town. Hula Hula is located right by the water with lounges covered by white canopies and fruity cocktails and good eats served to the background of DJs spinning tunes.
Address: Petricevo Setaliste 10
Phone: 385 95 911 1871
Carpe Diem Bar
And, of course, there's the famous Carpe Diem Bar discussed under Pakleni Islands in the Modified Itinerary section of this guidebook.
Looking for more travel tips for Hvar (and Korcula if you're also headed there)? Check out these links:
Croatian Wine Tasting in Hvar
Visiting the Hvar Public Theatre
The "Beach" at Podstine Hotel in Hvar
One Day in Korcula