One Day in a City Itinerary: Hvar, Croatia…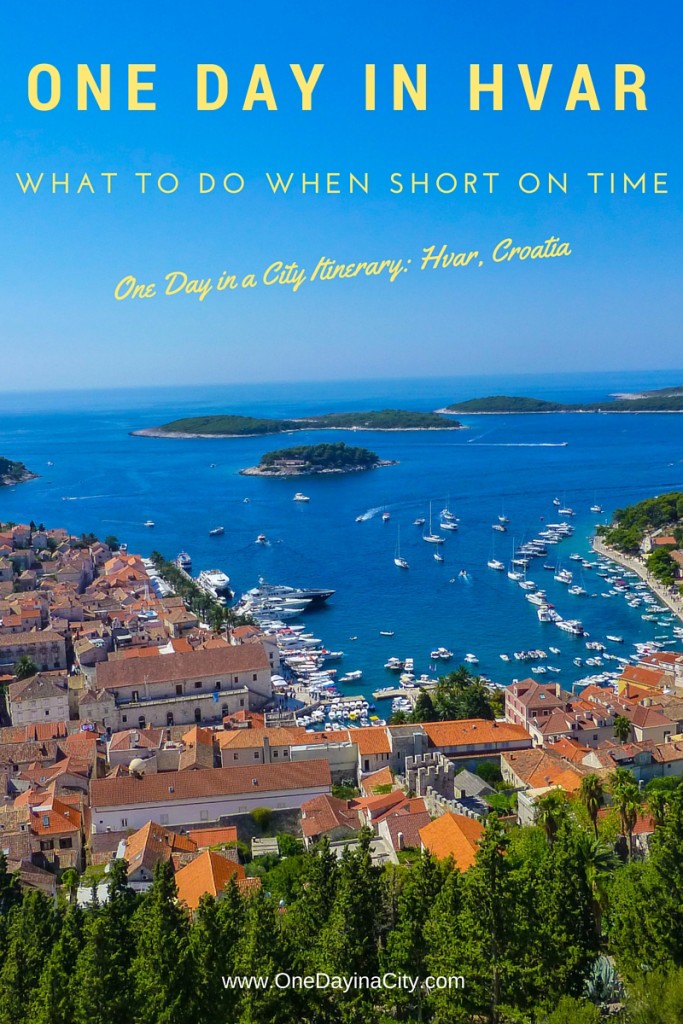 Hvar is one of the largest of the Croatian islands that dot the Adriatic Sea bordering mainland Croatia. Located less than 25 miles from Croatia's second largest city of Split, Hvar is easily accessible for a day trip from Croatia's popular Dalmatian coast. Most of the sites are in Hvar Town and if short on time, this little coastal town is where you'll want to focus the majority your time.
Getting to Hvar
The only way to get to Hvar is via ferry as there isn't an airport on the island. The nearest airports to fly into are in Split, Croatia or on the Croatian island of Brac.
If possible from where you're departing to Hvar from, take a ferry that drops you off in Hvar Town, as this is where most of the action of Hvar takes place. These leave less often than Stari Grad and fill up quickly as a result, so buy your ticket as early as possible. Unfortunately, most ferry companies don't let you buy domestic tickets online in advance so you have to visit the ticket booth (usually centrally located in the harbor of the town or city from where you're departing) to get your ticket, usually not earlier than 24 hours beforehand.
However, if you're traveling with your car, then you can usually – and are often recommended to – purchase a ticket online in advance. A good ferry company to use is Jadrolinija, which has service to Hvar from Split, Brac, Korcula, and Dubrovnik.
One Day Tip: To make sure you get the ferry time you want and don't run into any delays, check with the ticket booth as soon as you arrive in the town or city you'll be departing to Hvar from to find out the earliest you can buy tickets and then do your best to get to the booth at that time to purchase them.
What to Do When Short on Time in Hvar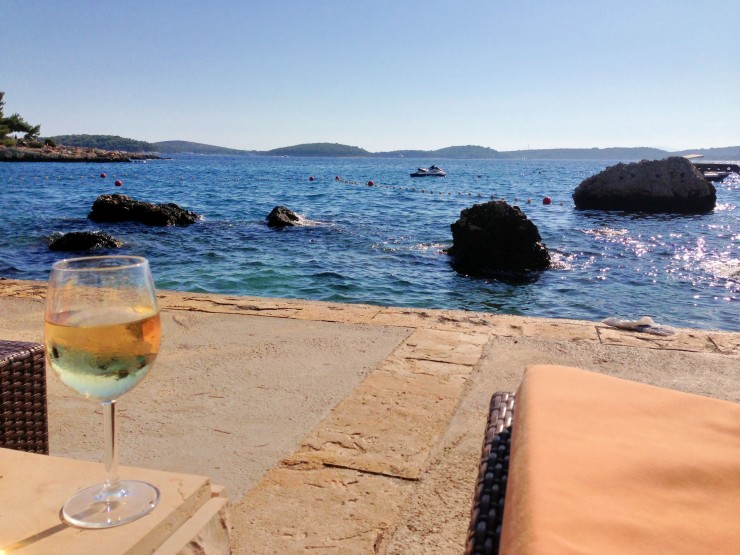 This article contains affiliate links.
If you don't want to spend your whole day lounging at the beach or visiting the oceanfront clubs of Hvar, here is my list of how to spend your day in Hvar, including historic, cultural, and scenic sites.
St. Stephen's Square in Hvar Town
St. Stephen's Square is the main square in Hvar Town and is hard to miss as most streets lead to it. St. Stephen's Square is massively long and a lovely site to see with its gray-white cobblestones and old whitewashed buildings lining its perimeter. A large fountain is located in the middle of it and the square has views of the sea as it's bordered by a harbor on its west end. Hotels, restaurants, and shops can be found in the square, but its most prominent site is the Cathedral of St. Stephen.
Hvar Public Theatre
The Hvar Public Theatre has historic significance to the island of Hvar and the entire country of Croatia. It was built in 1612 and had the unique distinction of being open to citizens of all social status. This was unheard of at the time in Europe and as a result, the Hvar Public Theatre became the first public theater in Europe.
Why It's a Must See: The Hvar Public Theatre is surprisingly devoid of tourists. I was there at peak travel time and didn't see anyone else the entire time I was there. This combined with a careful restoration keeps the theater feeling like you've truly stepped back in time, as if any moment people in robes will pour in through the doors and an impromptu performance will play out on stage.
Franciscan Monastery and Museum
The Franciscan Monastery and Museum is located on a little cove along the sea a short amble from St. Stephen's Square. It was built in the 15th century with Renaissance architecture aspects. The monastery itself is impressive with stone walls, a pleasant courtyard, and an adjacent church called Our Lady of Charity. The monastery also serves as a museum and houses collections ranging from ancient coins to liturgical items and an array of artwork.
Why It's a Must See: It's an easy, pretty walk by the coast with interesting architecture and has a different, more serious feel compared to the rest of Hvar, which can sometimes feel like a bit of a party island.
Benedictine Monastery Lace Store and Museum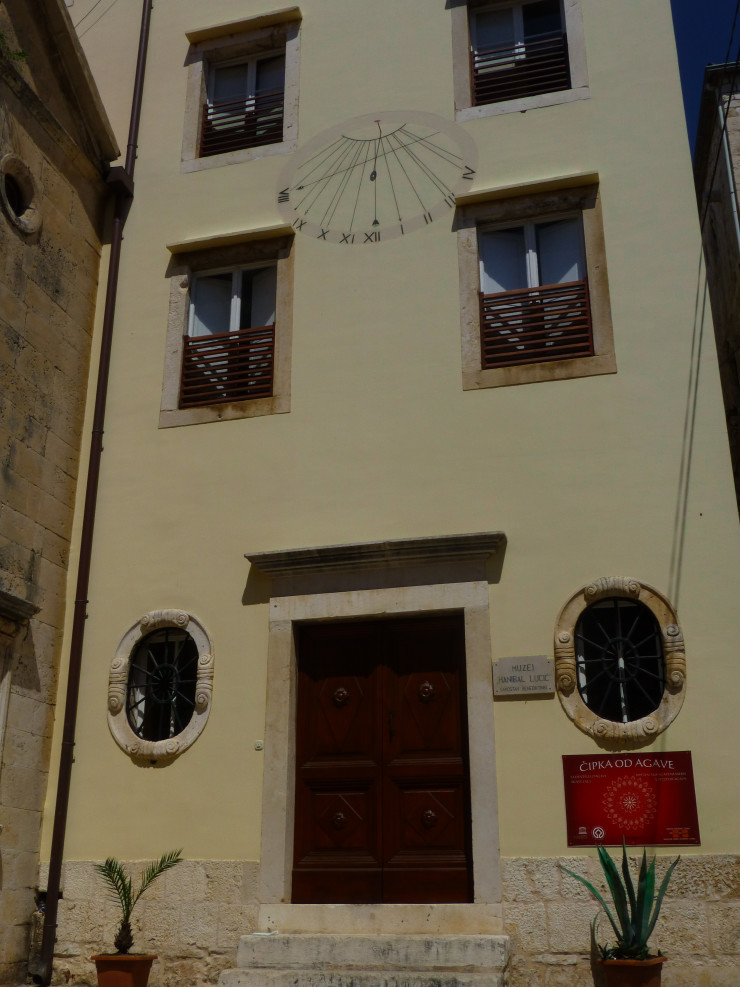 If you think looking at a lot of lace sounds on the boring side, think again. You'll be amazed at the intricate details of the lace doilies made from local agave plants by the nuns of the Benedictine Monastery. The nuns staff the lace museum and are happy to answer your questions about how the lace thread is created from agave plants and the techniques that are used to make one of the artistic pieces of lace. Lace for sale can be viewed without a charge, but to see the impressive lace pieces in the museum (Musej Hanibal Lucic) alongside other artifacts of the monastery like a 17th century stone holy water basin and 18th century kitchenware and oil lamps, you'll need to pay a small charge.
Why It's a Must See: The amount of detail that goes into the lace is astounding. You can't appreciate it until you see it up close. You may want to keep your pocketbook close, too — if you're like me, you'll likely be tempted to buy one as a souvenir and they are quite expensive, like hundreds of dollars expensive.
Hvar's Fortica
The Fortica was once the main fortress of Hvar and it stands on a hill overlooking Hvar Town and the Adriatic Sea. Construction on the Fortica structure you'll get to explore was started in 1282 and over the next three centuries it was built upon and expanded until it reached its peak in the 16th century. During that time, the Fortica served an important part in protecting the people of Hvar and Hvar Town's much sought after harbor. The Fortica is acclaimed for its elaborate layout, which is remarkably well-preserved. During your one day on Hvar island, you can tour this layout, including the dungeon, four circular bastions, tower, walls with remains of battlements, gunpowder rooms, living quarters, and even a chapel.
Why It's a Must See: It's an interactive and historic place to walk around, plus it has incredible views of Hvar Town and the surrounding sea.
Beaches
When short on time in Hvar, the most convenient beaches to lounge on are the ones in Hvar Town, of which one of the nicer pieces of coastline is the beach right before you reach the entrance to the Franciscan Monastery. However, you may want to take a break from convenience if you're a beach lover and take a short boat ride to the Pakleni Islands.
Why It's a Must Do: Well, you're on an island. Don't you want to relax for at least a little bit? And that clear, salty Adriatic Sea is blissful to swim and float around in.
Pakleni Islands
Across the bay from Hvar Town is a series of tiny islands referred to as the Pakleni Islands that are quick and easy to get to from Hvar Town. The Pakleni Islands spread out across the Adriatic Sea like emerald jewels and they are best known for beaches and partying. Many boat ferries and boat taxis offer service to the islands from Hvar Town or you can rent a boat and explore the islands on your own for a few hours. If short on time, a good island to focus on is Jerolim, which can be reached in less than ten minutes from Hvar and it has a rocky shoreline that settles into calm, teal water.
Why It's a Must Do: Visiting the Pakleni Islands not only lets you visit some gorgeous beaches and scenery, but it also gets you out on the water as you zip across it on the boat, letting you experience a different side of Hvar.
Where to Sleep in Hvar
Top Pick: Podstine Hotel
If you need somewhere to sleep, I highly recommend Podstine Hotel, where I stayed. It's an easy 15-minute walk from the center of Hvar Town, but is far enough away that its waterfront location feels peaceful and relaxing. The outside area is spacious and beautiful with easy access for swimming in the sea. After swimming you can enjoy a drink served to you by the Podstine Hotel bar's wait staff as you relax on a beach lounger or bean bag on one of the terraces and take in views of the sea. Inside Podstine Hotel, you'll find a large airy reception area. The rooms range from budget-friendly doubles that overlook the parking lot to incredible superior exclusive rooms that have balconies with panoramic views of the sea. It's one of my favorite hotels I've ever stayed at.
Centrally Located Option: Villa Nora
Villa Nora is a good choice for those that want to stay right in the heart of Hvar as it's located in an old aristocratic stone building just a few steps away from St. Stephen's Square. The building Villa Nora is in is a restored 14th century palace. The rooms of the hotel are spacious and incorporate modern elements with the historic charm of exposed stone walls. Villa Nora has free wi-fi, air conditioning, and 24 hour room service from the onsite restaurant, Lucullus, which features Hvar specialties.
Or search for more Hvar hotels, including budget ones, uber-luxury options, and some located outside of Hvar Town using one of my favorite accommodation booking sites for Europe, Booking.com. It's easy to use, shows the lowest pricing, has free cancellation for the majority of the hotels, and you can usually book now and not pay until you arrive. (Plus, when you book through Booking.com using the links in this article, I get a small commission at no cost to you! I only recommend sites and products I use and like myself, and it helps me keep this site up and running. Thanks for supporting One Day in a City!)

Tips on What to Pack for Your Day in Hvar
Sunglasses — I like polarized ones for traveling.
Swimsuit in case you decide to swim in that beautiful Adriatic Sea (which you should!)
Comfortable shoes — You'll be doing a lot of walking.
I highly recommend throwing some water shoes into your daypack since the beaches are rocky.
This is a must if in Hvar in summer.
Lastly, but importantly, THIS is One Thing I Always Pack — Because a memory and camera don't always cut it! (Plus, they're kind of adorable!)
Other Things to Do in Hvar
My other favorite things to do in Hvar circle around gastronomy. Drink wine from one of the local wineries (if you have extra time, go on a wine tour around Hvar), eat at a Konoba that serves traditionally cured and prepared meats and other local delicacies, and enjoy fresh seafood. Then go find your favorite piece of Hvar coastline and just soak in those views and relax. After all, you're on an island…enjoy some island time.
Looking for more travel tips for Hvar (and Korcula if you're also headed there)? Check out these links:
Croatian Wine Tasting in Hvar
Visiting the Hvar Public Theatre
The "Beach" at Podstine Hotel in Hvar
One Day in Korcula
Note: This post contains affiliate links, which means I get paid a percentage of any purchases made through those links at no extra cost to you, which helps me cover the costs of running this site. I only link to brands and products I use and like. Thanks for supporting One Day in a City!