One Day in a City Itinerary: Santorini, Greece…
Tips for spending a day on the island of Santorini for cruisers and other visitors short on time.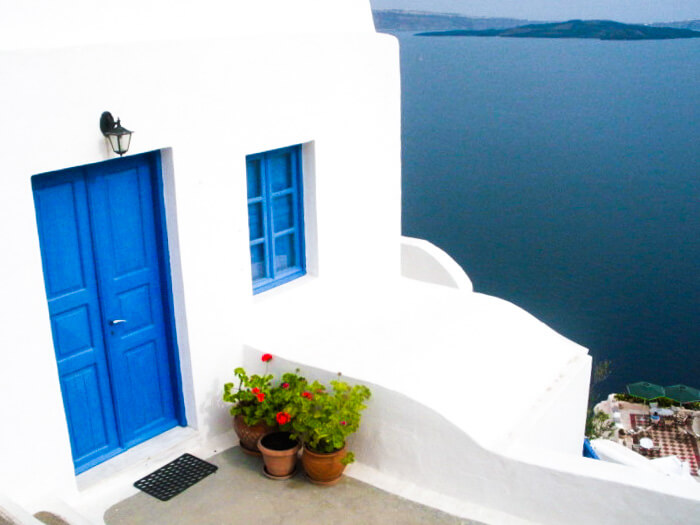 For such a small island, there is a lot to see and do on Santorini, the stunningly gorgeous Greek isle that is such a wondrous place it's rumored in legend to be the lost city of Atlantis. Here is how to best spend one day in Santorini to experience as much of the island as possible.
Most people arrive to Santorini via water and that should be the start of your experience in Santorini. Get outside and to the edge of the boat once Santorini comes into view and stay there for the entire ride in as you'll most likely be sailing between the caldera and volcano, offering incredible views of both. The now mostly submerged volcano erupted thousands of years ago and the eruption was so powerful it resulted in most of the island falling into the ocean and producing the caldera, on which many of Santorini's most picturesque towns perch.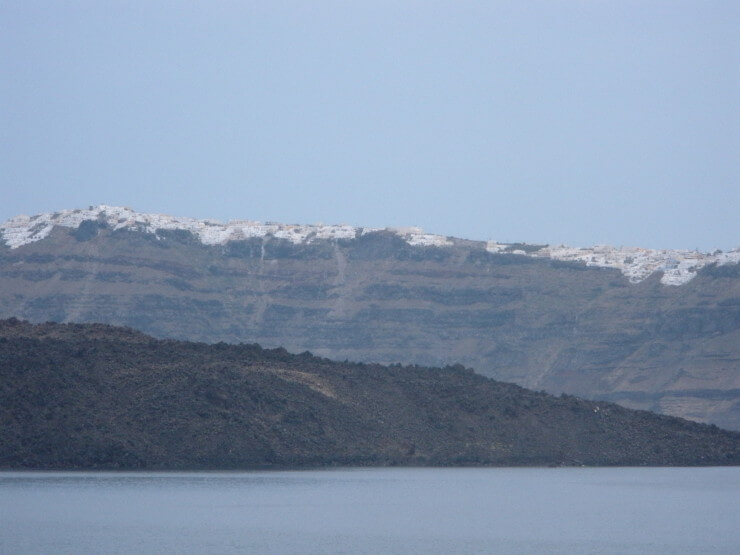 Start Your Day in Fira, Santorini
Fira is the main town in Santorini and will probably be the first you hit during your one day in Santorini. Fira lacks a lot of the charm the other towns and villages of Santorini have and is a bit of a tourist trap so plan on getting out of there quickly.
Here are the main sites to see once you leave Fira: The Red Beach, one of the black beaches, Oia, and the sunset. Read on to find out what to do at each one. 
But first, wondering the best way to get around Santorini? Download my helpful Santorini Transportation Tips…

Santorini Transportation Cheat Sheet
Get my free Santorini Transportation Cheat Sheet sent to you now by entering your email below. This helpful 2-page document tells you the best ways to get to and around Santorini.
The Red Beach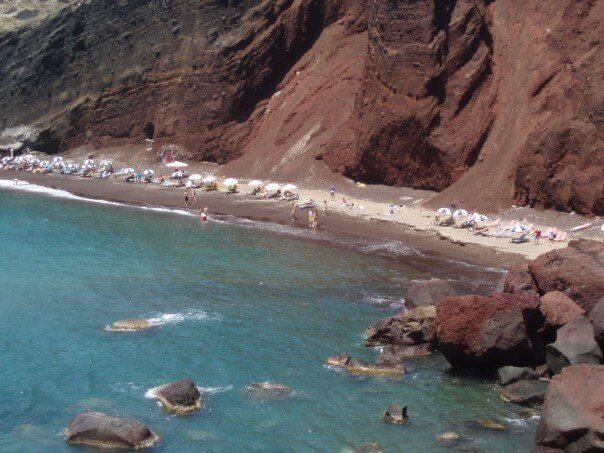 While you may not have time to lie on the beach if you only have one day in Santorini, you should still visit them because the beaches there are pretty remarkable due to the volcanic ash. The Red Beach is my favorite. After a climb over some rocks (note it is a bit of a hike to get there from the town of Akrotiri so may not be ideal for some people) you descend upon a narrow piece of beach with red pebbles and a red and black rock backdrop cradling a little alcove of turquoise water. It's a stunning sight.
Black Beaches
Santorini has a few black beaches – called so due the volcanic ash permeating the sand and giving it a black tint. Perissa Beach is easily accessible and a good choice if you want to visit one of the black beaches. Keep in mind the black sand means walking on it is extra hot so be careful stepping on it without shoes. If you're hungry after your beach jaunt try one of the restaurants in the area and enjoy the beach view while you eat. Don't dawdle too much at lunch as you'll probably want a few hours to spend in Oia once you're there. Oia is a tiny town, but it lures you into its charm and makes it hard to want to leave.
What to Pack for Your Day in Santorini
Sunglasses — I like polarized ones for traveling.
Swimsuit for those beautiful beaches.
Comfortable shoes — You'll be doing a lot of walking.
You also may want to throw some water shoes into your daypack since the black beaches get hot to walk on.
And this is a must if in Santorini on a hot summer day
During the drive up to Oia, you can pass some of the vineyards and wineries. If wine tasting is your thing, stop for a tasting, otherwise, keep going so you'll have more time at the other sites. Many restaurants also serve wine produced in Santorini so you can try the local wine with lunch or dinner to help save on time.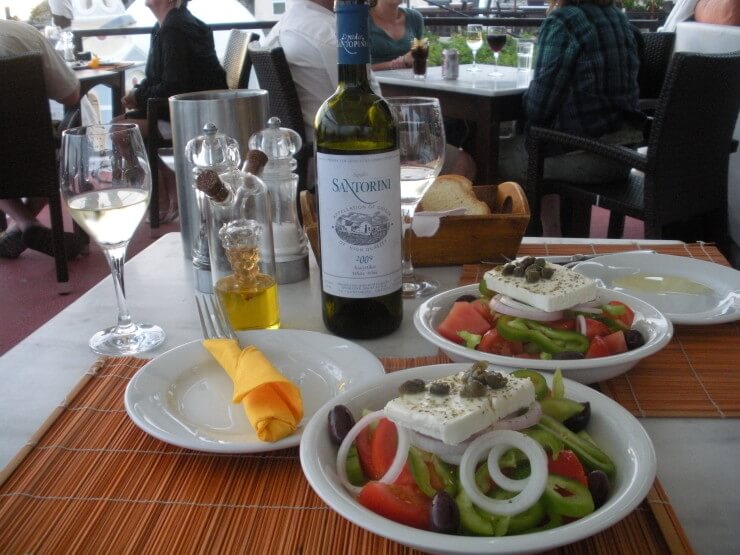 Oia, Santorini
Oia is built into the side of the cliff with some definite gravity defying buildings hugging the edge of the caldera. The precarious looking nature of the architecture results in some jaw-dropping views.

Walk around the many paths winding through Oia and enjoy the views of the volcano, ocean, white-washed buildings, and blue domed churches. And keep an eye out for donkeys running through – or leaving behind some surprises on the ground! Oia is my favorite place in Santorini and it's hard not to fall in love forever with the island while wandering around it.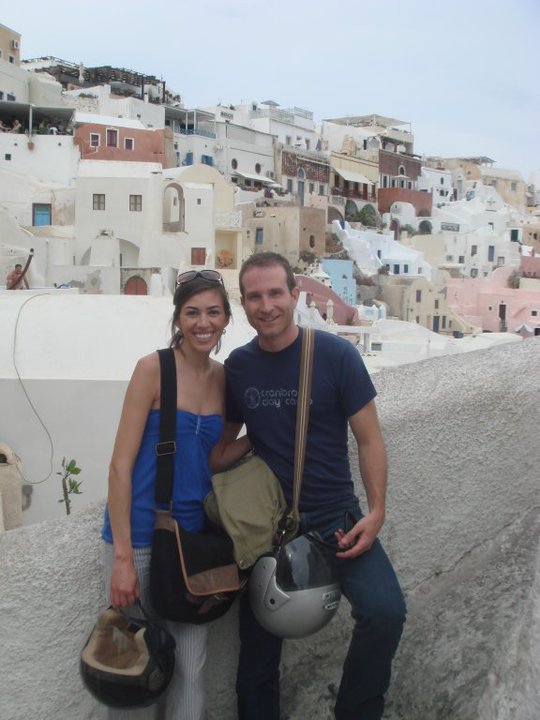 The Santorini Sunset
Watching the sunset from Oia is ideal. However, for some people who have ferries or cruise ships to catch shortly after it sets, getting back from Oia in time isn't your best bet and can be risky if you have to rely on public transportation due to needing to find a taxi or take a bus if your scooter or car has already needed to be returned. In that case, head to the north part of Fira and eat at one of the several restaurants situated along the caldera there that are perfect for dinner while you watch the sunset. Make a reservation or get there early in order to get a prime sunset viewing table. Had an excellent dinner and view at Zafora restaurant.
And why is it so important to have a perfect view for the Santorini sunset and make sure you don't miss it? I'll let this picture below do the explaining: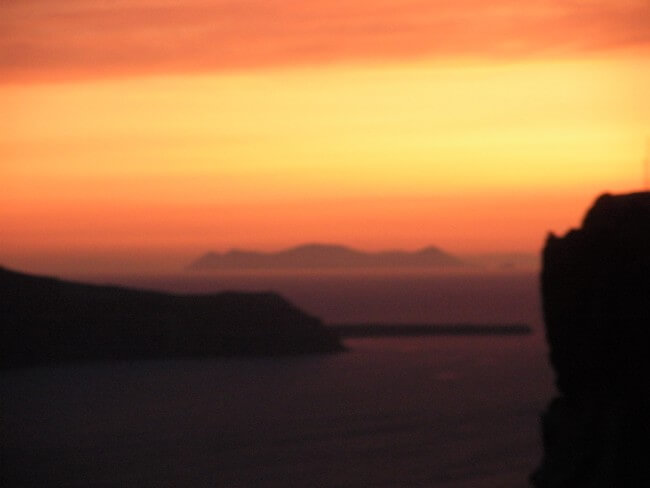 The above sightseeing is if you have a completely full day in Santorini. If you're really short on time in Santorini, I recommend just visiting Oia – it is quintessential Santorini and what most people have in mind when they dream of Santorini.
Where to Sleep in Santorini
If you need somewhere to lie your head while in Santorini, I have two options. The first is in Oia, because I love it there. The second is in Fira, and is a good option if you need somewhere to sleep before catching a ferry off the island the following day.
Oia Hotel Option: Aris Caves Hotel, which puts you up front and center to all of Oia's charm, including an incredible view of the sea and volcano, and luxurious cave rooms dug into the side of the caldera.
Fira Hotel Option: Dream Island Hotel makes it convenient to get to and from the harbor by arranging transportation for you and giving you a place to stow your bag if the ferry leaves later in the day. It also has well-appointed rooms and sea views.
You can also search for other Santorini hotels using Booking.com and choose the one with your favorite view. There are some pretty amazing ones! Booking.com is my favorite accommodation reservation site for Europe since it is easy to use, includes the lowest prices, and has free cancellation for most hotels.
Santorini Transportation Cheat Sheet
Get my free Santorini Transportation Cheat Sheet sent to you now by entering your email below. This helpful 2-page document tells you the best ways to get to and around Santorini.
Heading to other cities and islands in Greece? You may find these articles helpful:
One Day in Athens
One Day in Mykonos
Found these Santorini tips helpful? Pin for later!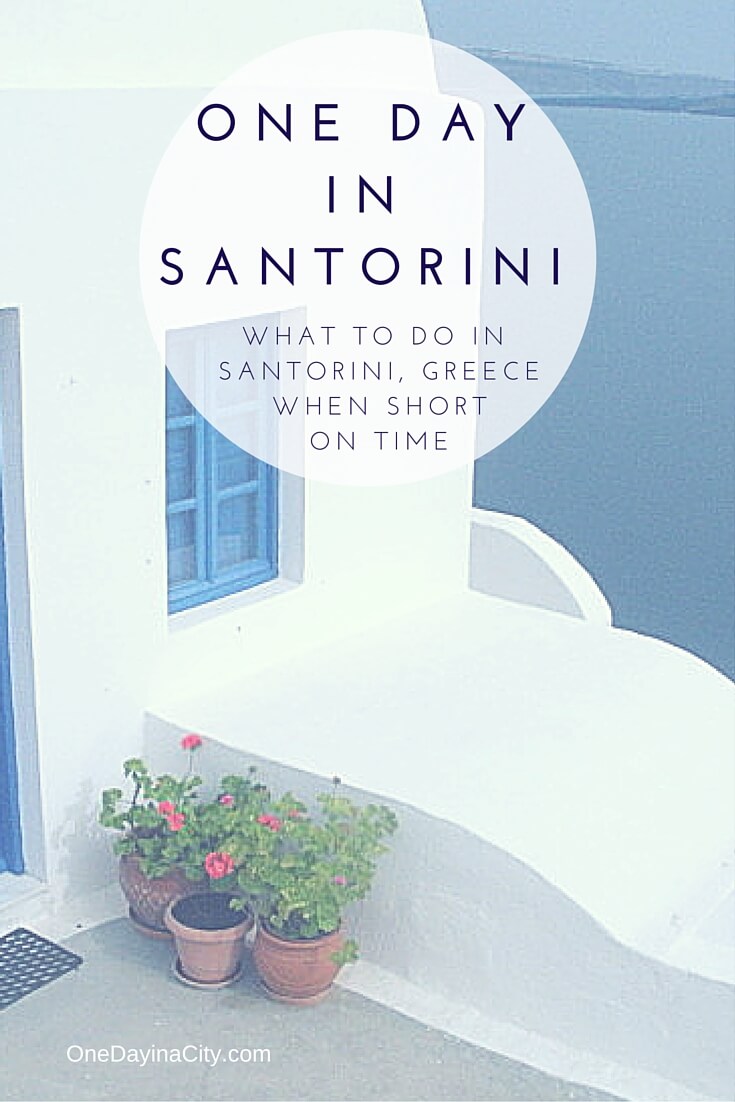 This article was originally published on January 26, 2011; updated on October 9, 2015. 
Note: This post contains affiliate links, which means I get paid a percentage of any purchases made through those links at no extra cost to you, which helps me cover the costs of running this site. I only link to brands and products I use and like. Thanks for supporting One Day in a City!