How to Have a Perfect Day Trip to Sintra
One look at Sintra and you may very well imagine it got its start written in the pages of a fairytale. This magical ambiance makes it a perfect place to spend a day during a trip to Portugal.
Sintra is a picturesque small town nestled in the mountains not far from Lisbon, Portugal.
The town center is charming and quaint and there is a majestic castle near the top of the mountains overlooking the town. You'll also find historic ruins and other palaces, traditional and cloaked in mysticism. It will be the highlight of your trip and here are the top things to see and do in Sintra in one day.
Why You Should Plan a Day in Sintra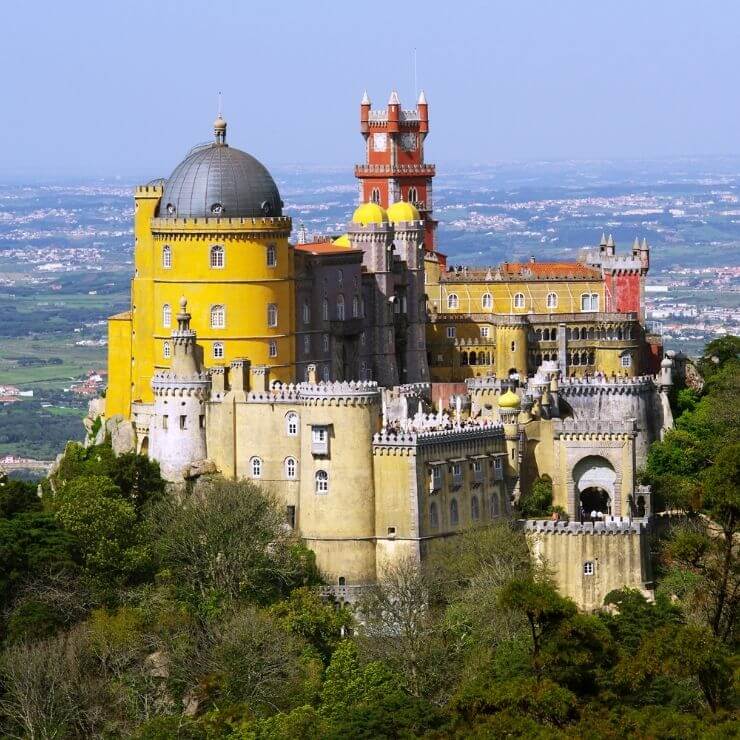 Most people visit Sintra as a day trip from Lisbon. There are a lot of fun things to do in Lisbon, and it's an amazing city that you can easily spend a few days in, but you'll want to tear yourself away from the big city sights for a day in the lovely town of Sintra.
—> Short on time in Lisbon? Don't miss reading our One Day in Lisbon itinerary.
Sintra is an easy day trip from Lisbon, making it a must-do to visit this UNESCO World Heritage Site, recognized as a place of cultural and historical significance.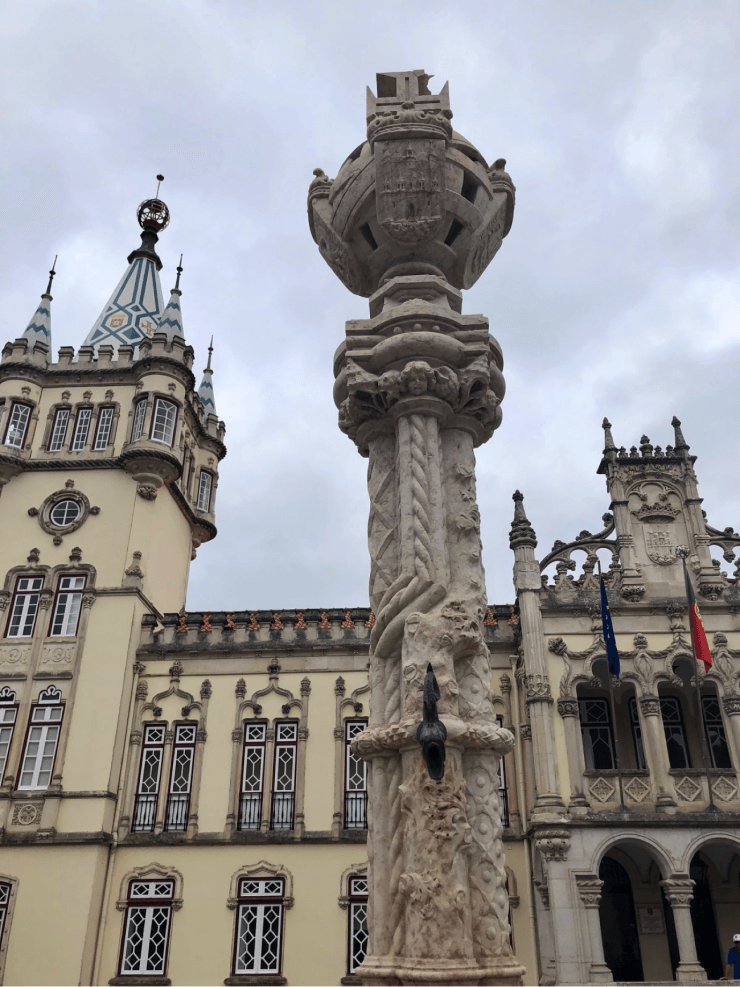 Plus, Lisbon can get quite steamy, especially in the summertime, and Sintra is five degrees cooler on average and less humid than Portugal's capital city.
However, the real draw is simply how enchanting Sintra is.
How to Get to Sintra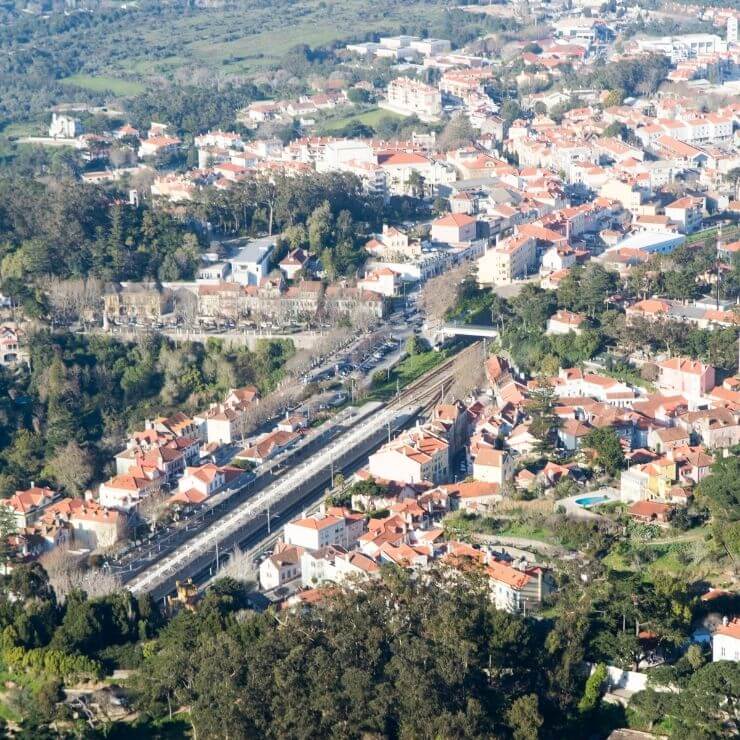 The easiest way to visit Sintra is by train. You can take a train from Rossio Station in the center of Lisbon and arrive in Sintra in just under 45 minutes. A round-trip ticket costs only a few Euros. Taking the train is much easier than trying to drive as parking is a challenge in Sintra.
Make sure to leave early in the day as trains do get fairly crowded after around 10 a.m., especially on the weekends. And, you'll want a full day to explore Sintra as there is a lot to see. From the Sintra train station, it's only around a ten-minute walk to get to the historic town center of Sintra.
Most people will start exploring Sintra in the town center, and if you get there early enough, it's a good idea to start there. However, a good alternative is to make your way up the peaks to Pena Palace and work your way down, and that's where I'll be starting my one day in Sintra itinerary.
One Day in Sintra Stop 1: Pena Palace (Palacio Nacional da Pena)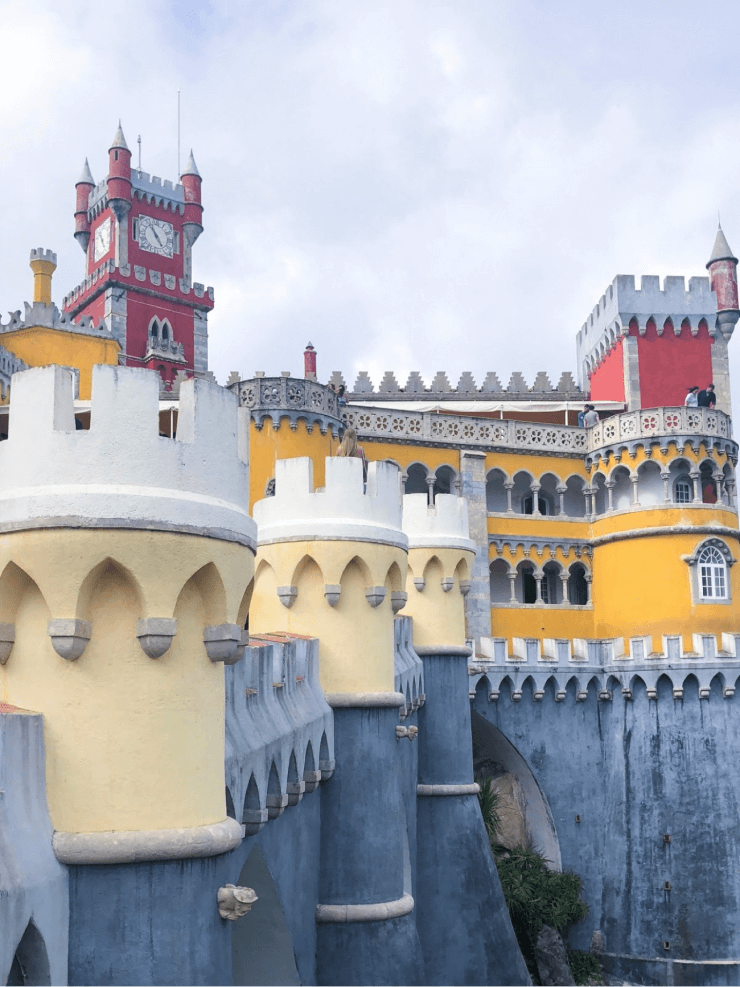 One of the highlights of visiting Sintra is the magical Pena Palace. You will see it when you first arrive in the historic center as it looks over the area, perched near the top of one of the highest peaks.
Pena Palace was built on the site of a convent built during the middle ages. It was destroyed in a massive earthquake in 1755, which leveled most of Lisbon and the surrounding area. In the mid-1800s, Pena Palace was built as a summer residence for the Portuguese royal family.
You can only view the inside of the palace with a guided tour, which walks you through the ornate rooms. You are able to tour the outside of the palace, including the many patios with incredible views of the surrounding area on your own. Every angle of the impressive building and grounds is incredible.
Pena Palace is designed in 19th-century Romanticism; from the moment you set eyes on it you'll be swept up in this impressively beautiful place. Every feature adds more appeal as you explore.
Pena Palace has multiple ticket options. I recommend purchasing the ticket for both the palace and the Pena Park grounds as the latter is also spectacular and worth seeing.
Getting to Pena Palace
You can hike to the palace if you're inclined. If you do, stick to the trails as the roads are quite windy with a lot of tight curves that the cars and tuk-tuks drive through very quickly, making it unsafe to walk them.
If you prefer not to walk, you can either take the 434 bus or hop on a tuk-tuk to zip right up the hill. It takes close to 45 minutes and though the tuk-tuk costs more than the bus, the drivers are impressive and it saves you time for the important sights.
Even if you take a tuk-tuk, you'll still have the option for plenty of walking on steep ground to get to the palace because of where you're dropped off, so you'll still get some exercise. Alternatively, there is a shuttle bus that you can take which leads you close to the palace doors.
One Day in Sintra Stop 2: Quinta da Regaleira
Next, head most of the way down the hill to Quinta da Regaleira. You can take the 434 bus or a tuk-tuk. Though you can tour the grounds of Quinta da Regaleira without a guide, you really should get one as the story behind this property is fascinating. The grounds are filled with symbolism from the Knights Templar, Masons, and Rosicrucians that you won't want to miss.
Carvalho Monteiro built this 4-acre property to honor his fascination with mysticism. He included symbolic religious icons, the most famous of which is the Initiation Well. You enter at the top and climb down a nearly 60-foot spiral staircase passing nine platforms aligned with Dante's nine gates of hell in his book, Divine Comedy.
At the bottom of the well you will see a system of tunnels. When you continue taking the left branch at each form, you'll be able to walk on water (with the aid of some carefully-placed stones) to achieve enlightenment.
As impressive as Pena Palace is, Quinta da Regaleira is simply fascinating, making it well worth adding to your one day in Sintra itinerary.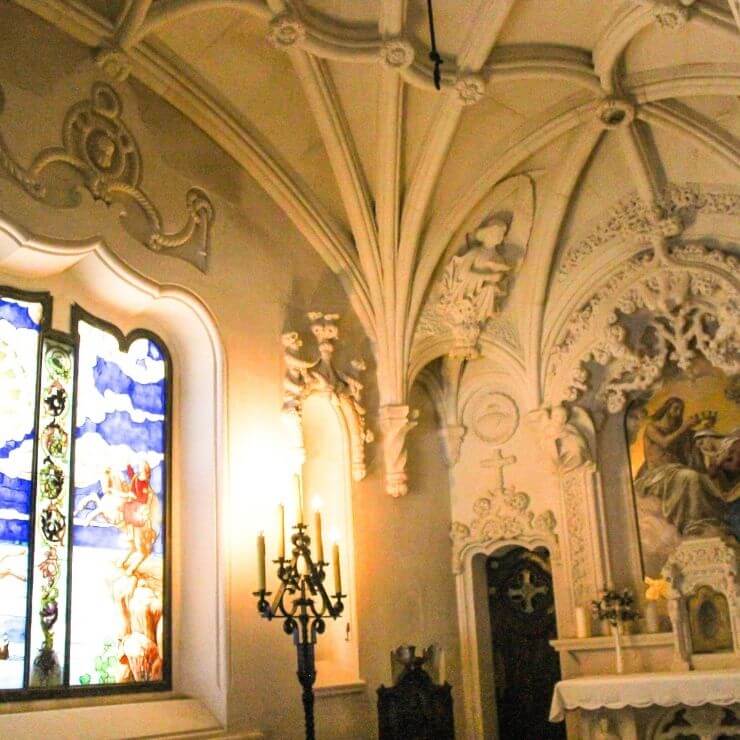 The local guides are wonderful at sharing the secrets of this vast property as well as the history. You can try to find a guide when you arrive, or schedule an official guide in advance at [email protected]. You can also tour Regaleira Castle and visit the Regaleira Chapel.
Sintra Day Trip Stop 3: Town Center of Sintra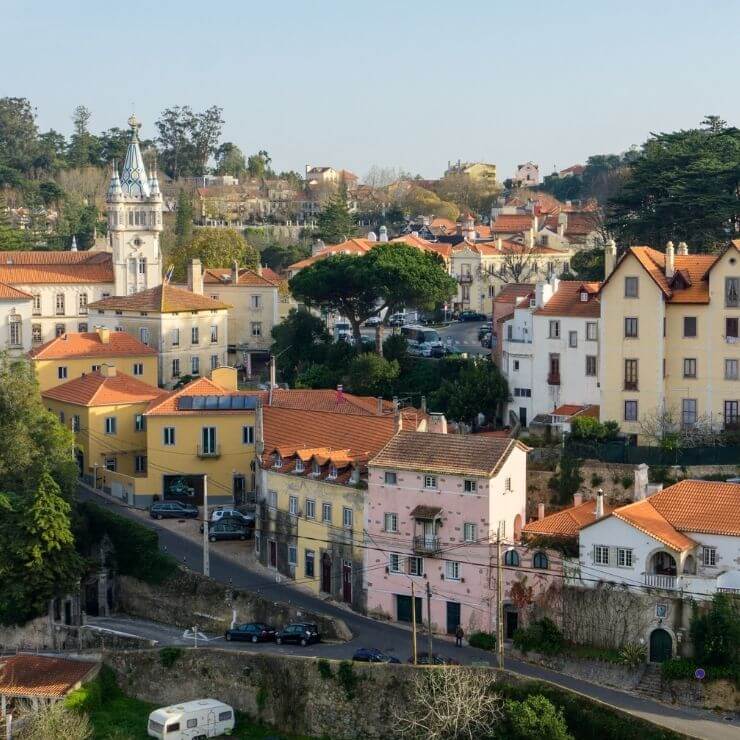 It's around a 15-minute walk to get back down to the center of Sintra, another great reason to start at the top and work your way down so you can walk downhill for this part. You'll pass some interesting looking water fountains with Moorish design that make great places for a quick break if you need it.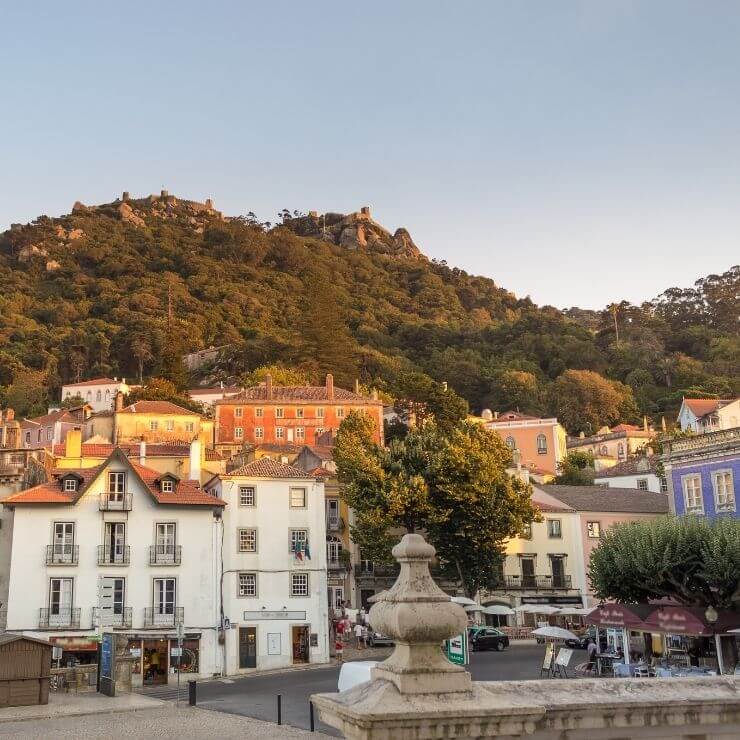 The town center of Sintra is sleepy and quaint. From here, you can look up toward the mountains and marvel at Pena Palace from afar.
This area of Sintra is also good place for a break and a bite to eat before you continue your sightseeing in Sintra.
Where and What to Eat in Sintra
Casa Piriquita is a pastry shop and a local institution. In a country known for its incredible pastry, this one is a stand-out.
Two of the pastries this area is known for include Travesseiro de Sintra, or Sintra's pillows—a dough-based pastry filled with a sweet almond cream. They will not share the secret ingredients, though you are welcome to see if you can get it out of them. The other locally renowned pastry is Queijada de Sintra, a lightly-sweet cheese pie dusted with cinnamon.
This area has a number of great shops for souvenirs and some nice little restaurants as well, though you might not want to take the time for a sit-down meal when you're still exploring. If you want to grab a sandwich for a quick meal in Sintra, Puro Sabor is a great little shop to get a tasty bite and its sandwiches are made with fresh-baked bread.
End of Day Stop: National Palace of Sintra (Palacio National)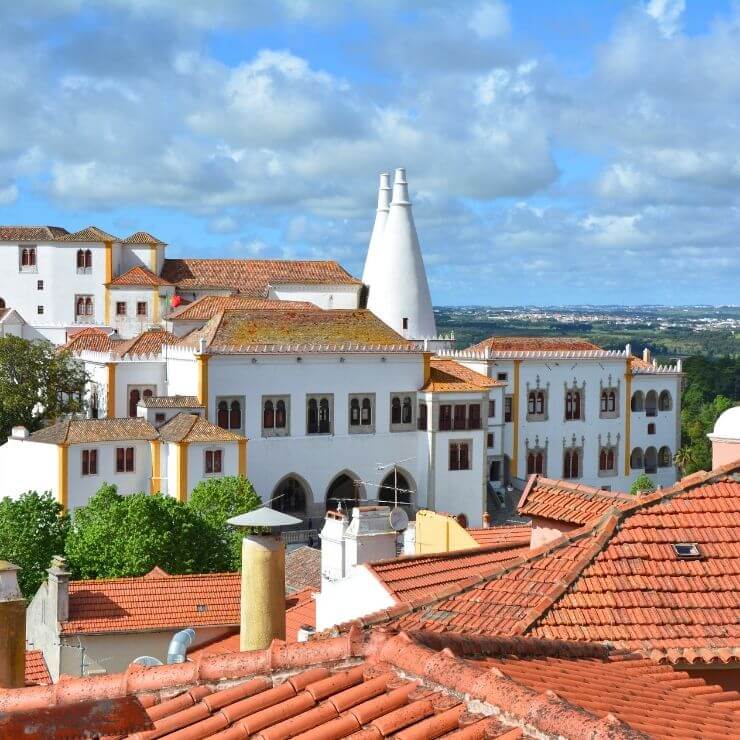 Discovering the historic center of Sintra by wandering through the cobblestone streets and many shops is a great way to end the day. However, depending on how much time you spent at the other places, you may want to use the last bit of your day trip to head to my last recommended stop, the National Palace of Sintra, a gleaming white palace that is a striking contrast with Pena Palace.
The National Palace of Sintra is a large white building that weaves together a mix of Moorish, Gothic, and Manueline styles. A distinct feature of this palace are the two prominent conical chimneys.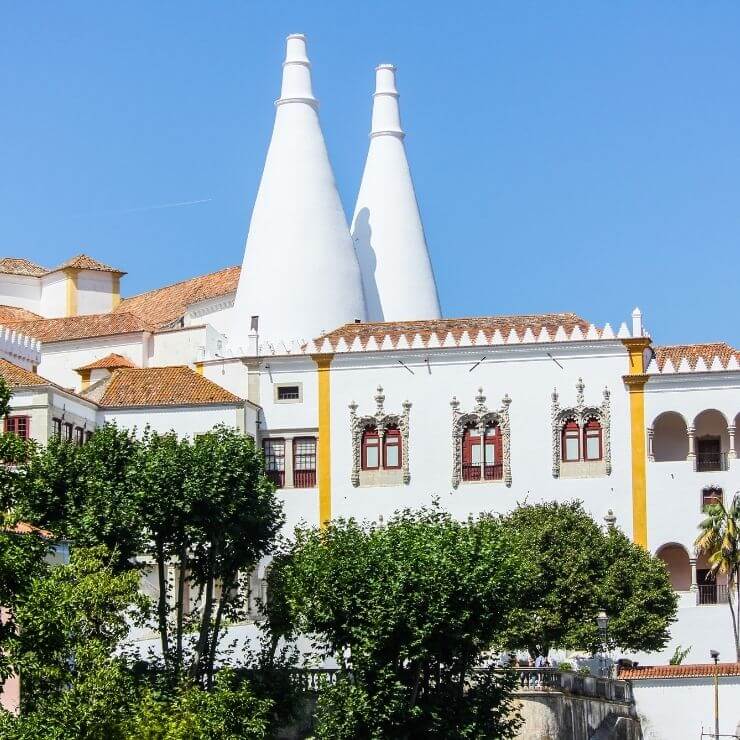 The National Palace of Sintra was built by the Moors in the 10th century, then a large portion was added on in the 16th century. Since this was the only palace in the area not damaged significantly by the earthquake of 1755, it's known to be the best preserved medieval palace in Portugal.
This was the palace where Portugal's rulers lived from the 15th to the 19th centuries, so it's as grand as you might expect.
Daily tours are offered at 2:30—another great reason to visit in the afternoon. There's a lot of interesting history here, so it's worth taking the tour if you can make it in time.
You might also enjoy reading these other Portugal articles:

One Day in Porto
One Day in Lagos
Enjoy Your Day in Sintra
Sintra is a must-see when you visit Portugal. There is a lot to see in this small town, though if you pack it in, you can see many of the highlights in only one day in Sintra.
Found this article helpful? Pin to read again later!
About the Author: Sam is a travel-obsessed animal lover with big plans to travel the world with her dog. When she's not blogging about her travel adventures at My Flying Leap, you can find her volunteering with her pet-therapy cat and dog, on the top of a mountain, or enjoying a glass of bold red wine planning for her next trip. You can follow her on Pinterest and Facebook.