Top Salt Lake City Activities to Do in Every Season
Salt Lake City, a city in Utah between the Wasatch Mountains and the Great Salt Lake, has many attractions for those who want to visit. Many people love Salt Lake City for skiing, but there are so many other things to do as well.
Salt Lake City has fun and diverse activities going on in all seasons. Whether you like skiing and winter sports, are interested in the Old West and pioneer history, or just like a cool city atmosphere, Salt Lake City has something for you.
Skiing in the Wasatch Mountains: An Iconic Salt Lake City Activity
There are many ski resorts near Salt Lake City, and the Wasatch Mountains are great for skiing; they get powder snow, and the winter sky there is simply beautiful. 
The Canyons, Deer Valley, Park City Mountain Resort, Sundance, Alta, Brighton, Snowbird, and Solitude are some of the resorts where you can enjoy skiing or snowboarding (except at Alta and Deer Valley), and snow tubing.
Other winter sports include snowshoeing, cross-country skiing, ice skating, or riding snowmobiles in many other places in the mountains. You can also check out the Alpine Slide at Park City for a thrilling ride. 
Summer Activities Near Salt Lake City
The mountains around Salt Lake City offer fun in the summer, too.
Mountain biking is offered at many resorts in the Salt Lake City area. You can ride the lifts to the top of the mountain and bike down the trails. 
Rock climbing, fishing, hiking, camping, picnicking, and horseback riding are also activities many visitors pursue in summer in the mountains and canyons around Salt Lake City.
The Homestead: Year-Round Relaxation and Outdoor Adventures
The Homestead, an all-season resort in Midway, Utah near Salt Lake City, offers many different activities. In winter, you can use their cross-country trails, take a sleigh ride, explore on snowshoes, or drive a snowmobile on more than 100 miles of trails through the backcountry. Summer activities at The Homestead include horseback riding, wagon rides, fly fishing, and biking.
There's also an amazing crater created by a limestone deposit that is filled with clear mineral geothermally heated water that stays 90 degrees year-round. The crater has an otherworldly vibe thanks to the large beehive-shaped rock jutting up around it, culminating in an opening at the top that lets in light.
Many people go to Homestead Crater to scuba dive, but swimming, snorkeling, and just soaking are fun too; there are decks and soaking areas that have been built along the crater.
Tour Temple Square
Salt Lake City was settled by the Mormons, and many of the downtown attractions reflect this. Temple Square is a beautifully landscaped 10-acre area. Temple Square is home to the Salt Lake Temple, Assembly Hall, and the Tabernacle where the Mormon Tabernacle Choir performs.
There are also visitor centers where you can get more information about daily tours, free concerts, and a giant-screen movie you can watch that depicts the early Mormon pioneers. 
During the Christmas season, Temple Square is decorated with more than 300,000 lights, nativity scenes, and music, and is a magical place to take children on a nighttime outing.
The Beehive House and Lion House
Other attractions nearby are The Beehive House and Lion House, former residences of Brigham Young, an early Mormon leader. The Beehive House has free tours, and there's a restaurant on the ground floor of the Lion House. The Eagle Gate, an ornate entranceway, is also there.
In the Joseph Smith Memorial Building, you can see a free film about Jesus Christ, eat at two restaurants on the 10th floor, or research your family history on one of the 200 computers at the Family Search Center. The Family History Library, also free and open to the public, has more genealogical records than any other library in the world.
The Pioneer Memorial Museum
The Pioneer Memorial Museum is nearby and has interesting exhibits for those wanting to learn more about the Old West. The Pioneer Museum has six floors of fascinating exhibits on early pioneer life. Admission is free.
Utah State Capitol
The Utah State Capitol is a grand building that is one of the top things to see in Salt Lake City. The capital is built in the Renaissance Revival style from Utah granite and is a hard-to-miss structure. It is free to tour. 
Read More: Best Winter Vacations in the USA
Shopping Malls
There are several shopping malls in Salt Lake City. Two favorites are Trolley Square and the ZCMI Center, both downtown.
Historic Trolley Square is housed in an old trolley barn, and has 80 unique shops and restaurants on many different levels. It's open all week.
ZCMI Center, on State Street, has 60 shops and restaurants and is closed on Sundays. 
There are also two factory outlet malls in Salt Lake City, and a local shoppers' favorite is Deseret Industries, or DI, as locals call it. DI has stores all around SLC and is owned by the LDS Church; it offers a huge selection of used goods of all kinds, and the prices are reasonable. If you've seen the movie "Napoleon Dynamite," that's where Napoleon is shopping when he buys the sword and disco video.
Kennecott Copper Mine
Kennecott Copper Mine, located 28 miles southwest of SLC, is an open pit that is 2.5 miles across and almost one mile deep. It is the second-largest copper-producing mine in the United States.
Kennecott Copper Mine is home to a visitor's center with photos, a film, and exhibits, and you can watch the huge trucks bring the ore up out of the pit. The trucks look miniature when they're down in the mine, but one of their tires is outside the center, and it's taller than a regular person! It's a fun, educational trip for adults and children alike.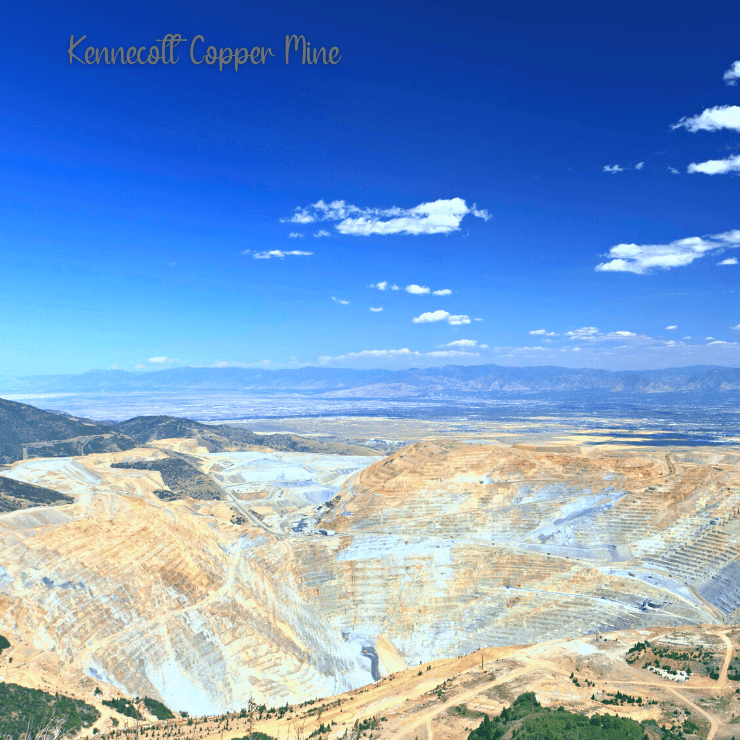 Thanksgiving Point Near SLC
Thanksgiving Point is located 20 minutes south of Salt Lake City, off Interstate 15. There are 55 acres of magnificent themed gardens there; there's also a huge waterfall. The gardens are all so lovely that it's hard to choose a favorite.
Also at Thanksgiving Point are a dinosaur museum that kids love, restaurants and a soda fountain, a very large gift shop, a golf course, an agricultural center with demonstration vegetable gardens, and a farm animal park for the kids. If you're interested in gardening or just relaxing in a beautiful, serene setting, you can easily spend a day at Thanksgiving Point.
Festivals in Salt Lake City Throughout the Year
Salt Lake City is home to many festivals and events throughout the year.
In winter, SLC has a First Night celebration on New Year's Eve downtown, and the Sundance Film Festival is in Park City in January. In February, there's also a Winterfest and Snow Sculpture Contest at Park City.
Come spring, the Mountain Man Rendezvous is in April and Beach Fest Saltair is in May; both are held at the Great Salt Lake. 
Summer also has many events. There's a Scottish Fest and Highland Games in June at the University of Utah, Independence Day Festivities on the 4th of July in SLC and surrounding cities, and Pioneer Day and Days of '47 parades and rodeos on July 24. July 24, 1847, is the date the Mormon pioneers first entered the Salt Lake valley, and it's a state holiday.
In Fall, a Bison Roundup is held at the Great Salt Lake in October, and the Lighting of Temple Square takes place in November on the Friday after Thanksgiving.
Getting Around Salt Lake City
Salt Lake City is a planned city, and once you learn the grid on which the streets are laid out, you should have no trouble finding an address. There are buses and the TRAX light-rail system that serve the whole area, and many of the hotels have shuttles that will take you around. There's an international airport only 10 minutes from Salt Lake City.
There is so much to see and do in Salt Lake City that it's a great place to visit no matter the season.
Read More:
Best Christmas Destinations in the USA
Must-Visit Hidden Gems in the USA