Suitcase Organizer Tips: Packing Products & Hacks to Stay Organized
When I pack for a trip I like to be able to find everything easily once I arrive – especially if I'm staying somewhere that won't have storage like drawers and closet space I can easily unpack into (or if staying somewhere for a couple nights I usually don't bother utilizing those anyway).
I fly many times each year for different types of trips – visiting relatives, staying in vacation rentals like VRBO, and staying in hotels or on cruise ships. Here are my top tips for packing and keeping it all organized during your trip, no matter how you're traveling, plus a section for parents.
Packing Gadgets that Help: Cubes, Bottles and More
First, a quick list of some packing products that will help make your packing more organized and efficient, and how to use these products for more stream-lined packing.
Packing Cubes: These are so helpful for making it easy to find shirts vs pants vs underwear, etc. in your suitcase without digging through everything.
No-Spill Toiletry Bottles: Goes without saying — you don't want a surprise mess in your
Cord Organizer: Cords can make suitcases and carry-on bags such a tangled mess. A cord organizer fixes that problem.
Handheld Bag for Airplane with Numerous Sections: Don't be stuck digging through a Mary Poppins-like duffel bag trying to find something. Keep your items for the plane organized, too.

I'm a fan of this brand of purse for travel.

Clothing with Pockets: It makes it easier to quickly tuck an ID or baby pacifier or whatever else you need quick access to during airport travel without having to always mess with a wallet or purse (but don't store that ID in a pocket — too easy to lose!).
Suitcase Packing Order for Organization
The quickest way to cause a disorganized mess in your suitcase after arriving at a destination is packing your pajamas on the bottom.
Bet you didn't think that was going to be my top tip, huh?
But seriously, don't put your pajamas on the bottom! Most of the time you won't be digging through your suitcase until the evening after arriving in a destination. If you're tired, you're not going to take the time to go through it in an orderly fashion to find what you need, so put your pajamas right on top for easy access along with anything else you need for bedtime, like your toiletry bag or book – I always love reading before I go to bed on vacation; it helps me feel more settled in a new place.
I also pack in categories – so shirts all go in one packing cube; or if you don't have packing cubes, put them all next to each other in one area of the suitcase.
Hair stuff all goes in one pocket. A lot of people use suitcase pockets for underwear and socks, but I find that using packing cubes or Ziploc bags for underwear and sticking them in the main compartment is easier.
If more than one person's clothing items are in the same suitcase, divvy up the suitcase into sides for each person's things to make them easier to find. This tip brings me to…
Organized Packing Hacks for Parents
First, be hands-free as much as possible at the airport. That means your handheld item for the plane should be a backpack style. Here are a couple options I love:
If your child has their own seat, make sure they have their own handheld item, too. This makes it easier to keep their stuff organized separate from your own and enables you to find that special toy or book faster before an in-flight meltdown occurs. Plus, kids love feeling important and like they are in charge of something. Case in point: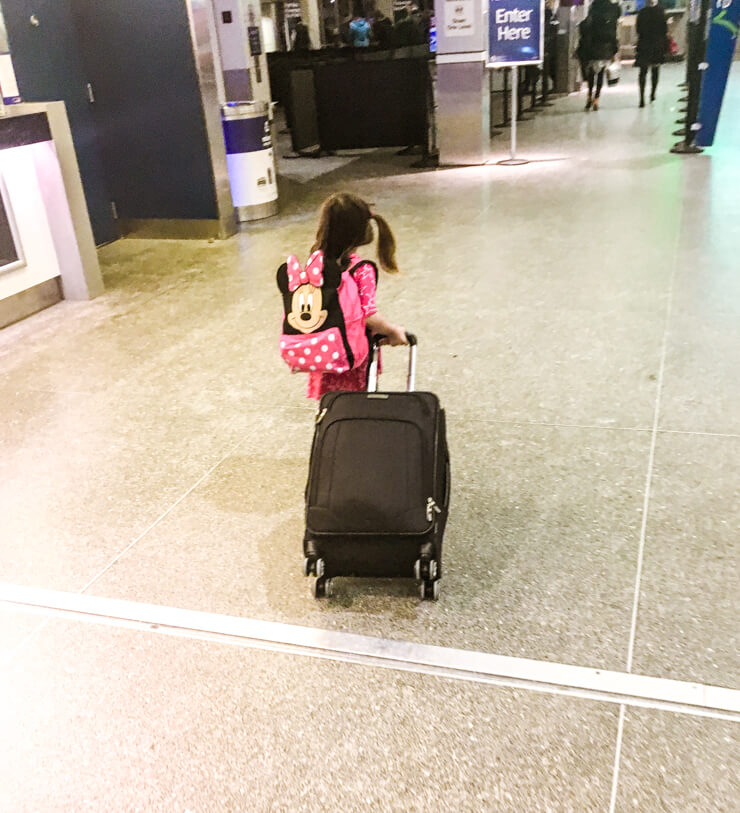 Here are a couple adorable travel backpack options your kid is sure to love:
In this day and age of airlines charging for suitcases, it makes much more sense to pack everything in one or two suitcases, instead of each family member bringing their own suitcase. To make things easier once you arrive, get different color packing cubes and assign a color to each family member. Label each one with tops, bottoms, underwear, toiletries, etc. so kids can find their own things easily in the suitcase and packing cubes without pulling everything out and making your accommodations into a cluttered disaster. Here are a few highly-rated suitcase organizer sets that come in several different colors:
When traveling with kids it's also helpful to leave their lovey out if they're attached to a special blanket or stuffed animal when going through the airport, but leave space in a handheld bag to stuff it into for going through airport security (who knows how many germs are on that conveyer belt!) or for when your child inevitably decides he or she doesn't want to hold it anymore. Remember – have your hands be free as much as possible!
Are there any packing must-haves you can't live without when traveling to keep your stuff organized? Share in the comments below or shoot me a message on Instagram or Facebook!
Going on a cruise? Check out my packing guides:
Plus, click here for my travel makeup and beauty products guide. 
If you found this article helpful, I'd love it if you'd pin it to Pinterest!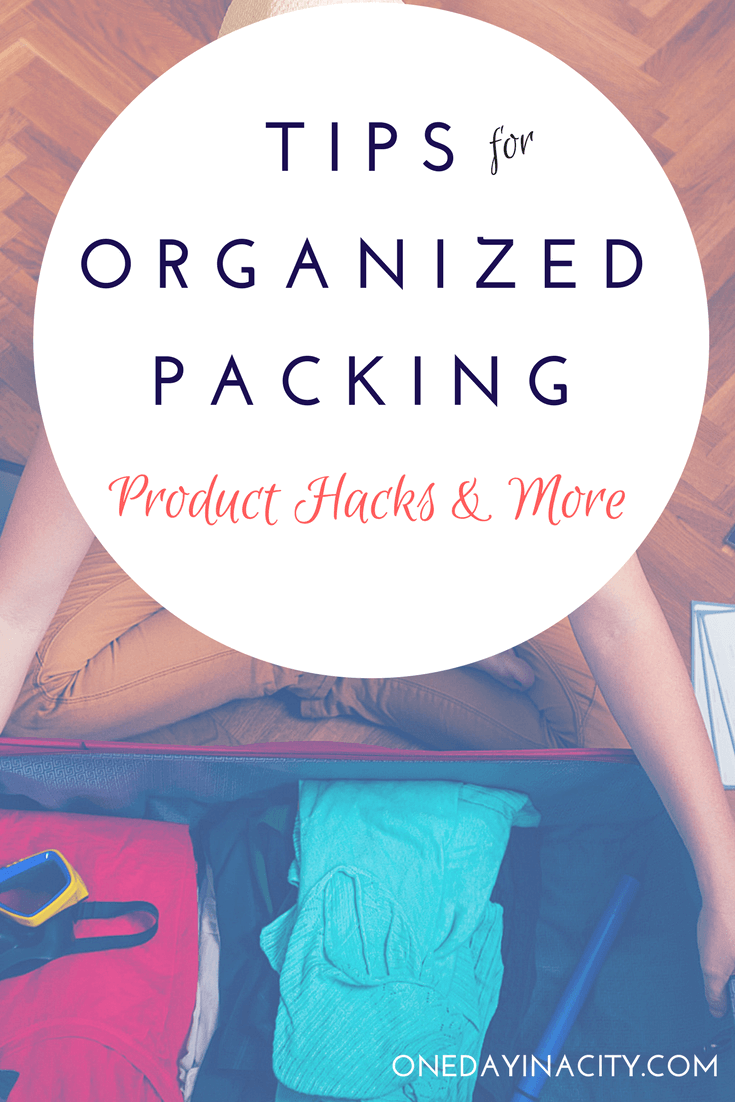 This post contains affiliate links, which means I get a portion of any purchases made from that link at no extra cost to  you. It helps me cover the costs of running this site so I can bring you more travel articles!