Looking Back on 2015…
Usually my yearly travel recaps discuss what countries I've visited and what my favorite parts of my travels were. This year, however, the logistics of traveling outweighed the destinations…that is, the logistics of traveling with a baby. I took my first flight with Lulu when she was four months old and ended the year with a tally of 12 flights and three roadtrips of varying lengths. Here are the top things I learned about traveling with a baby.
Book a Hotel Room with a Separate Bedroom
If this isn't possible or it's not in your budget, do your research and find a room that has a big enough bathroom you can fit the Pack 'n Play in it. This way, you can keep the baby on its normal bedtime, but still enjoy hanging out with your spouse without having to whisper or turn the TV off. Enjoy a glass of wine, adult conversation, and being on a trip! Just not too much wine if the baby is in the bathroom; using the toilet without waking the baby requires multiple ninja moves.
Get Used to Checking a Suitcase
I hate checking luggage as most frequent travelers do, but there's no way I can not do that now. For one, all the baby stuff I typically have to bring won't fit in a carry-on, especially if I have to bring the Pack 'n Play for Lulu to sleep in. Even if it did all fit in a smaller suitcase, I don't think I would want to deal with lugging it through the airport along with the diaper bag, carseat, possibly a stroller, and – oh yeah – a squirming baby.
Pay More for the Right Travel Gear
A lightweight carseat, a Pack 'n Play that will fit in a suitcase, an easily foldable stroller…all are things that make traveling easier. I'm all for finding the best deal when it comes to baby stuff since kiddos go through it so fast, but it's worth it to splurge on items that will make your traveling easier so you can actually enjoy yourself – and not feel like a pack mule when going through the airport. Also, the Maya Wrap, which I'm wearing in the first picture of this blog post, is well worth the $80 price tag. It's so quick to get the baby in and out and is comfortable and ideal for using for short jaunts to and from the car when sightseeing or to hold the baby in while dining.
Look into What You Can Use There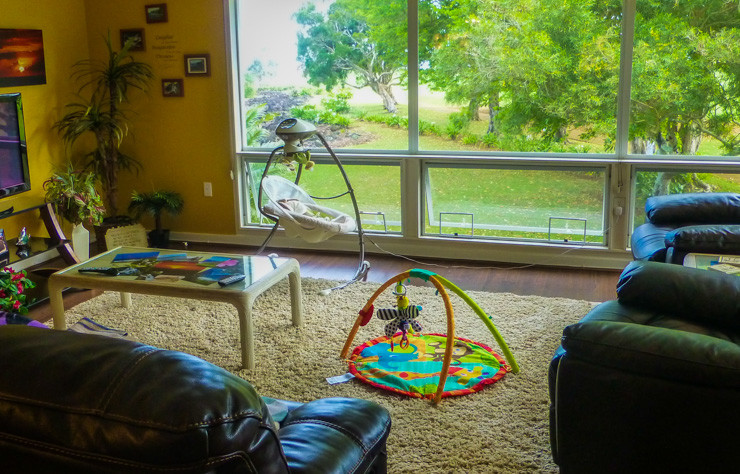 I always bring my carseat because I'm wary of using a used one if I don't know who used it before, but other things may be easier to rent or borrow in your destination as opposed to packing it. While in Kauai we rented a BOB stroller and a swing for our week-long condo rental for less than a checked bag. I also only pack a few small toys that will fit in the diaper bag. If you're visiting friends or family they likely have toys lying around you can use. If not, you can get creative. Lulu has been easily entertained by socks, key chains, water bottles, and – a big one that doesn't take up any space – human faces.
Visiting Family = Relaxation…Right?
The first time I flew to Montana with Lulu, I was so excited; not just to see my family, but because I could have my mom or sister or cousin or grandma watch Lulu! I was going to get so much work done and maybe even relax and read a book.
Or not. I have a big family and around so many strangers, my laidback Lulu became a clingy, hysterical baby if she was separated from my arms for even a minute. Different stages of babyhood are more known for "stranger danger" so plan your trip accordingly if you're hoping to get any time away from your child…as in, going to the bathroom on your own or getting up to get a glass of water without a full-on meltdown.
People are Kind and Helpful
So far Lulu and I have been greeted with more kind glances than annoyed ones when boarding a plane. Air travel has been around long enough now that pretty much every parent on that flight has flown with a child before and guess what – a lot of the adult population are parents! And a baby brings them back to that special, oh too short, stage. A screaming kid might get you some glares, but a screaming baby mostly just gets sympathetic glances in my experience. Obviously this is not the case for everyone you'll come in contact with, but when your baby is freaking out, you're probably too distracted to take any notice of those jerks anyway. So don't worry about it.
Bring Snacks…Lots of Snacks
I read Bringing up Bebe while pregnant and subsequently swore I wouldn't use snacks to bribe my child. Well, that goes out the window pretty fast if you want to actually keep your sanity on a flight or in a restaurant while traveling. Puffs and yogurt melts are like baby candy. Lulu is obsessed. I currently refuse to travel anywhere without them.
Road Tripping with a Baby Can be More Stressful Then Flying
Road tripping seemed like a better option than flying when we decided to go visit family 12 hours away over Thanksgiving. That was until Lulu decided to scream for an hour. She wasn't hungry, she wasn't cold, she didn't want the iPad or any other form of entertainment, she just wanted OUT. Out of the carseat. Well, you can only stop so many times until you have to drive through the screams. Which is awful.
You May Want to Leave the Stroller at Home
Bringing a stroller seems like common sense when traveling, but this one once again depends on your baby. The one time I flew with a stroller (and I'm talking a non carseat compatible stroller, which has its own benefits in airports, that I talk about here) I used it just to cart around the diaper bag in the airport and plop Lulu into it while I was using the bathroom. The rest of the time she wanted to be in my Ergo carrier. Gate checking it also wasn't as simple as I thought since there were stairs with no elevator at the Billings airport to get to the plane. Plus, once we were at our destination, I still didn't use it enough to warrant bringing it. So think hard if it's worth pushing through the airport.
The Outdoors Are Your Friends when Traveling
The more outdoor activities I plan while traveling, the better. Lulu loves being outside, which seems to be a common theme among babies. She gets excited, is entertained by the sights and sounds, especially if hiking, and is happy as can be being close to her mama or dada in the baby carrier while breathing in fresh air. Being outside also usually helps her to nap better, so Tom and I plan accordingly for that, whether it's touring something indoors while she naps or doing a drive while she snoozes in the carseat that would usually result in tears.
Don't be Scared to Start Young
What you should be scared of is flying with an older baby, not a younger baby. Ha, just kidding…sort of. You don't need to be scared, but you will likely find it easier to travel with a 3-month old than a 10-month old. So it's best to fly with them during the early easy stage when your baby sleeps all the time so you can get used to going through security with baby stuff, navigating boarding the plane with the baby, and just overall getting comfortable with the idea of flying with your baby. That way you're at least used to flying with a baby before it turns you into a stressed out basket case pleading with your too-young-to-be-reasoned-with almost-toddler to please stop poking the man sitting next to you and can she just sit still for two minutes and why isn't the iPad zoning her out? And speaking of the iPad…
The iPad is Not Always a Travel Wonder for Babies
For older toddlers, I'm sure traveling with the iPad results in amazing peace and quiet, and maybe it does for some babies, too, but for Lulu it did not. I got maybe 15 minutes of Lulu being entertainment from it on our three hour flight from Minneapolis when she only slept for 40 minutes and wanted to run around the remaining time. I tried explaining to her that she barely ever got to have screen time so she should watch it and enjoy it, but turns out the magical allure of the iPad is lost on an 11-month old when everything else in the world is new to them and extremely exciting.
If Flying with Your Spouse, Don't Book Seats by Each Other
If it's you, your partner, and a lap baby, book an aisle seat and a window seat in the same row, then hope that no one takes the middle seat. Even if they do, one of you can easily switch with them so you can still sit by each other. But if no one takes the seat…then you have a whole row all to yourself! This actually happened to us once, and it was awesome.
The 2 Year Lap Baby Rule Should Not be a Hard and Fast Rule
After the near nervous breakdown I had after the Minneapolis flight, I told Tom that I didn't care what the airlines said or our bank account stated, there was no way flying with Lulu on my lap until she was two was going to work. Lulu was an early walker and once your kid is walking, they do not want to be contained. At least an extra seat of their own gives them a bit more wiggle room.
You Can Still Have Fun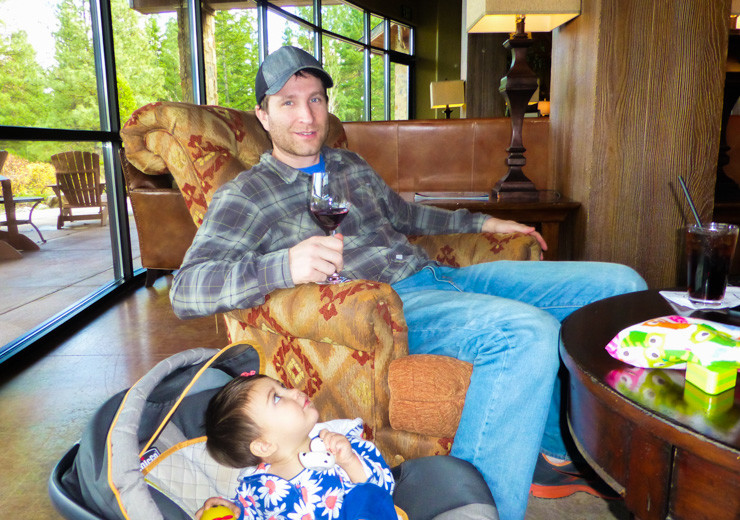 This might be the most important one. Traveling with a baby doesn't take away the fun of traveling. It changes it for sure, but it also makes it more fun and special in a lot of ways. Splashing around with Lulu in the warm ocean water in Kauai, feeling her snuggled up against my chest as I hiked through the Olympic mountain range, seeing her giggle at chickens on my grandparent's farm in Montana, watching her toddle excitedly through the Christmas market in Vancouver, and seeing her peer intriguingly through the plane window at the lit up wing on an evening flight from Minnesota are some of my favorite travel memories now.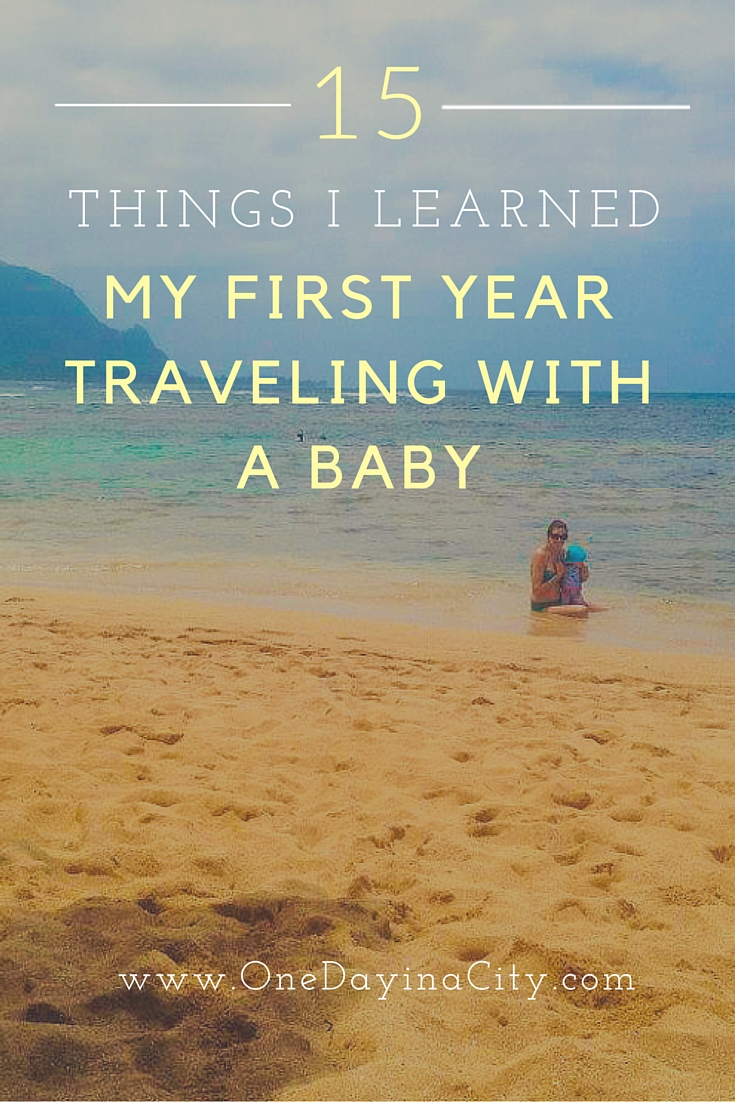 That's what I learned in 2015 and I'm sure traveling with a toddler is going to bring lots of new learning moments in 2016. Tom and I are excited to see what travel adventures 2016 brings for our little family. Will I really buy that extra seat for Lulu or will I hope we don't get seated by anyone? Only time will tell. No flights are booked yet, but we are currently scheming lots of weekends away and are even discussing a…gulp…couple trip while Lulu stays with Grandma. Traveling without the baby? Now that may end up being the biggest travel stressor of all!