One Day in St. Martin, This Happened…
Why Visiting Loterie Farm on Pic Paradis in St. Martin is a Great Birthday (or Any Day)
My ziplining adventure at Loterie Farms on Pic Paradis was a solo one since I was on a Caribbean cruise for a work conference and none of my co-workers wanted to join me in exploring the island of St Maarten while we were in port (they chose sleep and work — you should always choose the island!). Shortly after arriving I realized it would also be a birthday adventure.
"It's my birthday today!" I suddenly exclaimed in surprise as my pen hovered over the "Date of Birth" section on the release form I had to fill out in order to zipline. "I totally forgot!"
The two St. Martin residents I was with, the taxi driver who drove me here and the check-in lady for the nature adventure park I'm at, looked at me a bit confused.
"I remembered yesterday," I explained. "But when I woke up this morning, I just didn't think about it. Until now. I guess I lost track of time on the cruise ship." I laughed. "It's my birthday!"
The woman looked disinterested, but my taxi driver who I got to know on the way here grinned broadly. "Well, happy birthday!" he said warmly.
Loterie Farms is located within the forest of Pic Paradis on the Caribbean island of St. Martin. After getting bored in Philipsburg, St. Maarten – way too many shops (and spelled differently due to the fact that the island is both a territory of France and the Netherlands) – I decided to hop in a taxi and go somewhere new. After examining a brochure, I ended up deciding on Pic Paradis, the highest point of St Martin, and spending my time at Loterie Farms, which is a zipline park and pool sanctuary in the middle of St. Martin's forest. Now that I'd realized it was my birthday, I decided I'd made the right choice. A little adventure to celebrate turning (gulp) 31.
The Zipline Courses at Loterie Farms
Loterie Farms offers two types of ziplining courses, which they refer to as Fly Zones. The basic one, which is a rope course through the trees and never gets much higher than 40 feet. And the extreme Fly Zone course, which involves sailing over the treetops at a scarily high height. I've never done a zipline before and wanted to try the extreme one, but wasn't sure I'd have enough time to finish it and get back to the cruise ship in time, as it was a longer course than the basic and involved a drive up the mountain to get to the starting point. The basic course still sounded fun to me, so I signed away my life on the waiver form and left to go get outfitted with a wave to my taxi driver, who'd be waiting for me until I returned.
A Pic Paradis Pool in St Martin
On the way to the harness hut, I passed the pool. For a fee, visitors to the island can enjoy the pool for the day. It was a big pool and looked extremely relaxing with cabana chairs and loungers surrounding it like a resort pool, except it was in the middle of a tropical forest with no hotel in sight.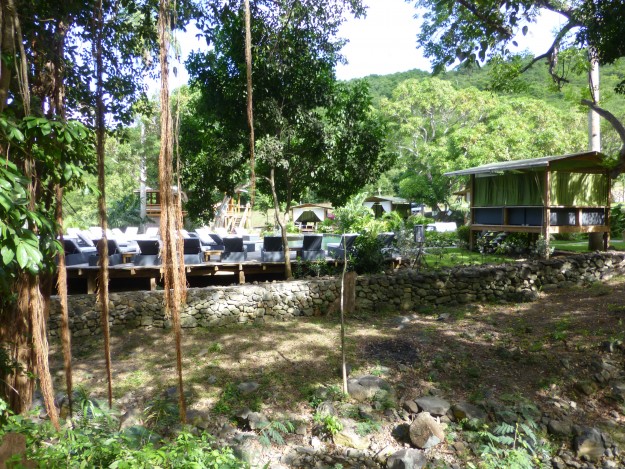 Ziplining Set-Up at Loterie Farms
I reached the Loterie Farm hut where I'd get my safety harness and was immediately greeted.
"I'm Oscar," a young man with a big smile and dark skin said to me in a Caribbean accent. "I'll be your guide today. We're going to have fun!"
"Yay!" I said, feeling exceedingly excited.
Oscar began handing me items: a harness, carabiners, and a glove. He spotted my puzzled expression on the lone glove.
"That's for going down the zipline," he explained and held his hand above his head in demonstration. "You'll hold loosely around the rope like this with just your thumb and forefinger to slow yourself down when you near the end."
I nodded in understanding and then stepped into the harness carefully. "Um, it's not a problem I'm wearing a dress is it? I wasn't planning on coming here today."
He shook his head. "Nah, just tuck it between the harness ropes and it will turn into shorts."
I awkwardly pulled the middle section of my dress together and pulled up my harness, and – yep – it seemed just like shorts. I'm also thankful I wore my hiking sandals with secure straps; slip-on shoes aren't allowed for the zipline course. Oscar commented on the fact that I'm all on my own and I explained that I do marketing for a travel agency and am currently on a cruise for work, but had a few hours free this morning to explore St. Martin before I have to be back on the ship and all my coworkers were sleeping in on their morning off.
Once I'm all outfitted, Oscar led me to the start of the zipline course, which is actually more of an obstacle course. He pointed out that I'll have many bridges and ropes to cross, too.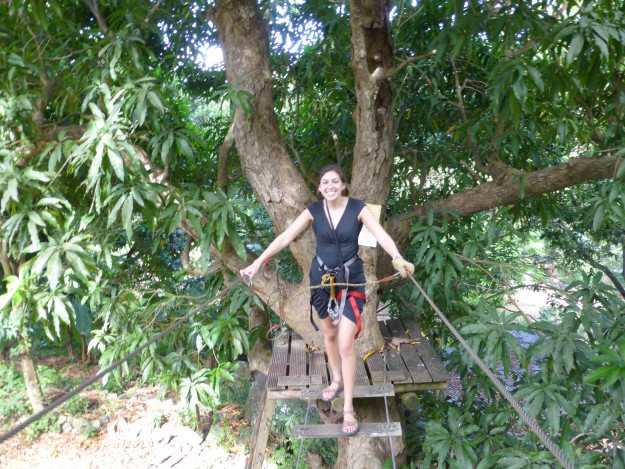 We began and I realized I'm the only guest on the course.
"You're lucky," Oscar said. "If you'd gotten here an hour later, all the tour buses from the cruise ships will be here and you would probably have been put into a group with one of them."
Solo Ziplining Through Pic Paradis
Instead, I was able to go just as fast or slow as I desired with no waiting. As I made my way across a narrow log, leaped from beam to beam held together by two wavering ropes, and zoomed down long zip lines onto an awaiting platform, I had great conversations with Oscar, which probably wouldn't have been possible if I'd been in a large group. I still couldn't believe how I lucked out having this place all to myself. I learned he'd just gotten back from France – the country of which he is a citizen as St. Martin is a territory of France. He told me he worked at Loterie Farm in addition to training horses and that he has his own horse on the island, which he said is well worth the $600 it costs to house his horse in a stable. I told him about life in San Diego and that it was just as laidback as the stereotypes say, but it isn't as warm as everyone thinks it is. I also told him it was my birthday and we figured out we were the same age.
When I became too comfortable and confident with the ropes course, breezing over each section, Oscar upped the ante by shaking the ropes as I'd go across.
"Hey!" I exclaimed with a surprised laugh the first time it happened and clutched the support ropes always nearby.
He laughed. "This is nothing. When I do this on the extreme course when they're 100 feet in the air, I get glared and yelled at. No laughing."
I was currently trying to cross an obstacle that had two ropes with diagonal wooden beams attaching them. It was extremely wobbly, but I was trying to do it with no hands until Oscar started shaking it in mirth.
"They have these types of things on the extreme course? Not just ziplines?" I asked in surprise.
"Yup, it's one of the few canopy obstacle courses. Most places just have ziplines. That's what makes it special."
I wasn't sure whether to be relieved or envious that I wasn't experiencing it myself.
As we made our way through the obstacle course, which took just under an hour since I was the only one, Oscar also told me about our surroundings. He explained that the forest we were in was called a rainforest by those on the island, but due to how much it was destroyed a century ago, it technically wasn't anymore because of how much it was damaged. However, conservation efforts are working to change that and the rainforest should be 100% back in a couple generations.
Pic Paradis was so peaceful and beautiful with its thick green leaves creating a cool shadow for us on the ropes course that I was very happy to hear it was being conserved. Especially since I was planning on coming back someday to do the Loterie Farm extreme ropes course – maybe on another birthday.
Have you ever done a ropes course or ziplining tour? What was your favorite part?
You also may enjoy reading:
Touring Castillo San Cristobal Fort in Puerto Rico
Ziplining Through Pic Paradis in St. Martin
✕
Upgrade Your Travels
Learn how to create a 5-star travel experience on any budget with my eBook, yours FREE when you sign up for my newsletter, which features exclusive travel tips and stories.