Must-See Beaches in California Along the Pacific Coast Highway
For many residents of California, a day at the beach is just part of life. Visitors also usually make a jaunt to the beach a priority. I lived in California for over ten years and have traveled the entire coastline. Here are the top 20 best beaches in California you should visit at least once (though you'll no doubt want to go back again and again).
20 Must-Visit Beaches in California
Read on to find my top picks for the best beaches in California, listed from south to north — also perfect for those of you looking for beach stops if driving the Pacific Coast Highway.
Coronado Beach
Coronado Beach is a pristine beach with sand that appears nearly white against the backdrop of Coronado Bay. Coronado Beach is located across the bay from downtown San Diego; you have to boat over or drive across the impressive Coronado Bridge to get there.
Coronado Beach is located in front of the famous Hotel Del Coronado, but it's a public beach. We like hanging out on the beach and then going for a drink or bite to eat at the hotel, which has grounds open to visitors even if you're not staying there.
Mission Beach, San Diego
This popular beach in San Diego has a bustling boardwalk and is even located right next to an amusement park. Mission Beach is also right by Mission Bay, on of my favorite spots for a girls weekend in San Diego.
While visiting Mission Beach, ride the iconic wooden rollercoaster and then spread your beach towel out on the soft sand while you eat some takeout from one of the nearby restaurants. Whether you then wait an hour to go into those tumbling Pacific waves is up to you!
Windansea Beach, La Jolla
Popular with locals, but sometimes unknown to tourists, Windansea Beach is a hidden gem in La Jolla, the northernmost community of San Diego. It's accented by large, long rocks that provide little alcoves for families and beachgoers wanting a bit more privacy. The rocky coastline also isn't as familiar of a sight in southern California and makes for beautiful views.
Windansea Beach is also just a short jaunt to cafes, shops, and restaurants in the Bird Rock neighborhood of La Jolla.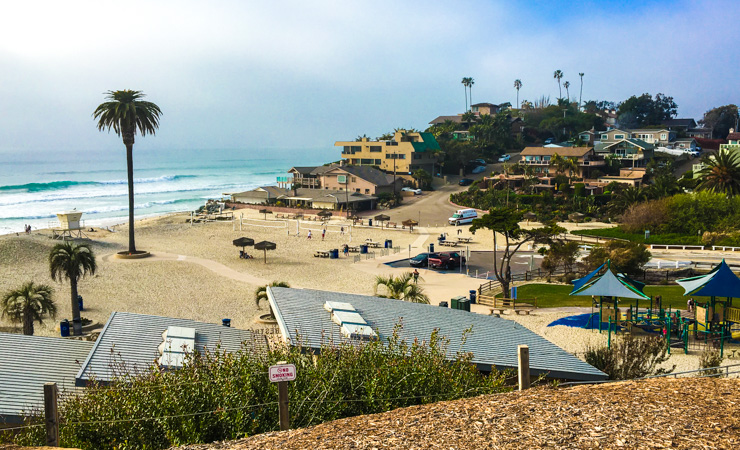 Moonlight Beach, Encinitas
This is one of my favorite beaches! Encinitas is a small California city located in North County San Diego. The small coastal city has a laidback, surfer vibe. Encinitas' main street stretches down right along the Coast Highway 101. Alongside it, you'll find fun bars, hip restaurants, and funky boutique shops.
To the west of the Coast Highway are miles of some of the best beaches in San Diego County, of which Moonlight Beach is my favorite due to its easy access, onsite amenities like showers and playgrounds, and so much soft, gorgeous sand to sprawl out on.
—> Read More: 15 Best Day Trips from San Diego
Laguna Beach
Immediately west of artsy and classy Laguna Beach Village is this beach, which has an open sandy area flanked by cliffs on both sides. Head down behind the cliffs for more private beach lounging spots or stay where the action is in the open area and try your hand at some beach volleyball. Public restrooms and showers are right onsite plus you're a quick walk to food and drinks.
The main beach of Laguna Beach has a wide expanse of soft sand framed by cliffs on either end. It's also right by the downtown area referred to as Laguna Village, so when you tire of the sunshine and surf, you'll quickly find some fresh seafood and cold drinks.
Laguna Beach is also known for its artsy vibe and Laguna Village is home to numerous art galleries. If you want to keep the beach theme going, visit the Wyland Gallery.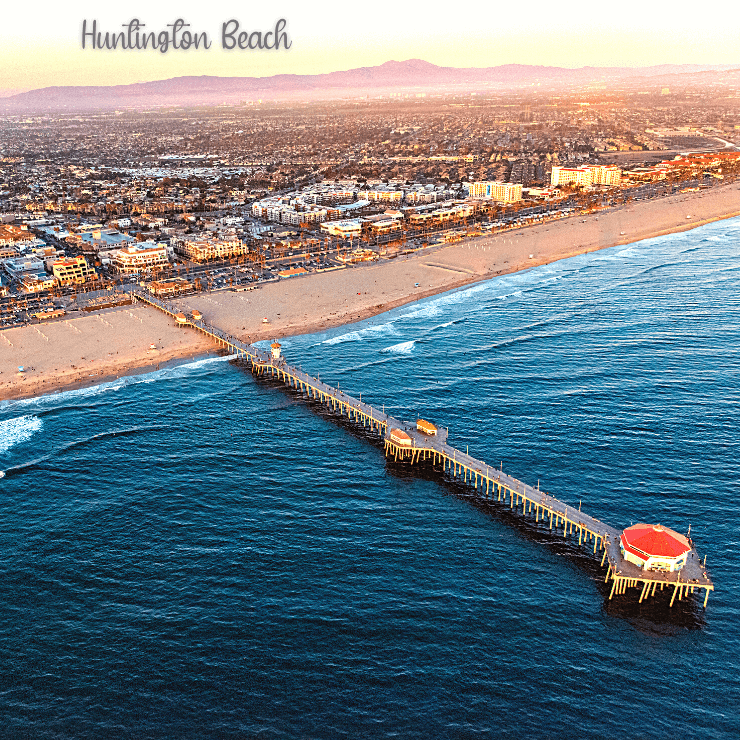 Huntington State Beach
If dreaming of southern California beaches conjures up images of the infamous tv show, Baywatch, then Huntington Beach is where you want to head since it looks like the setting of that show. Huntington Beach's long stretch of soft, pristine sand flanked by blue lifeguard towers hosts a bevy of sunbathers in the summer months.
The waves are also ideal for body surfers and boogie boarders with certain areas being popular surf spots.
Manhattan Beach
One of LA's best beaches is Manhattan Beach, known for its long palm tree-lined shoreline of soft sand and cool lifeguard towers. Adding to its quintessential SoCal beauty is the pier that stretches out into the sea and has a red-roofed structure at the end that houses an aquarium.
Santa Monica Beach
Famous for its pier which has an amusement park and restaurants on it, Santa Monica Beach provides both entertainment and relaxation on the sandy shores stretching north and south from the pier.
El Matador Beach, Malibu
Malibu is worth the drive up the LA coastline as it's right about where California's beach scenery changes from sandy and flat to wild and rugged. Malibu has several beaches that have impressive rock formations jutting out of the water, but El Matador stands out due to its towering cliff formations and sea stacks.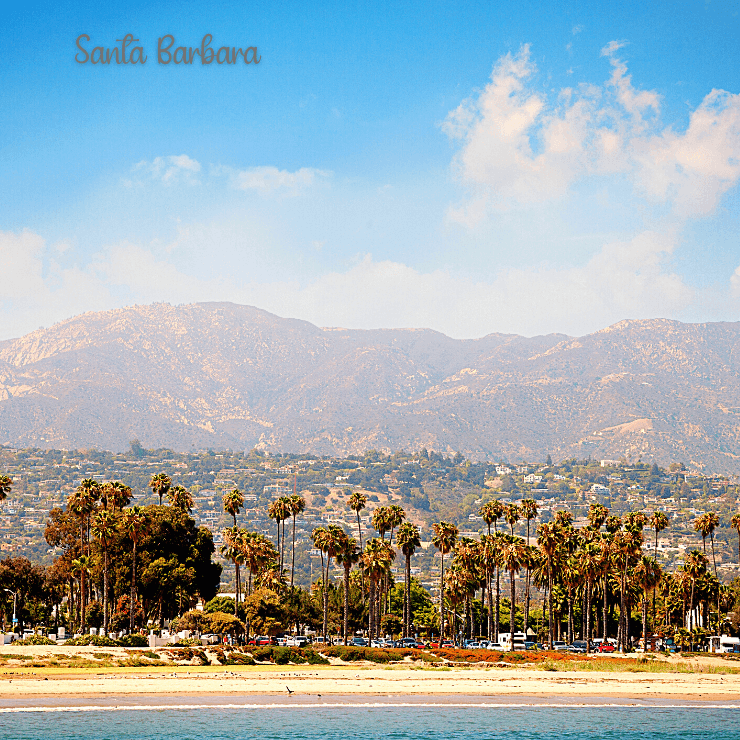 Santa Barbara Beach
Both long and wide, Santa Barbara Beach is sandy and perfect for a stroll any time of the day and is located in the city of Santa Barbara, the jewel of California's central coast.
While ambling along Santa Barbara Beach, look west for dazzling ocean views, and then turn your head toward the east to be impressed by the mountainous skyline framing this pretty beach city.
—> Read More: How to Spend the Perfect Day in Santa Barbara
Morro Bay / Avila Beach / Pismo Beach
3-for-1 along the Central Coast! These beaches are all within 30 miles of each other along California's gorgeous Central Coast. Each offers beauty and a different vibe.
Morro Bay, which still has roots in fishing and is characterized by the large Morro Rock in the bay, can be driven to via a causeway and has a sandy beach at its base.
Avila Beach has a lively boardwalk running between a vast stretch of sand and numerous restaurants and wine tasting rooms.
Pismo Beach has a long stretch of soft sand (and still makes me think of Cher saying "Pismo Beach Disaster Fund" in Clueless whenever I hear it mentioned.)
McWay Falls Beach, Julia Pfeiffer State Park
This is the only beach on this list you can't hang out on, but it's still worth the short hike to see it from above. McWay Falls crashes spectacularly against the sandy shores of the beach nestled inside a small cove. Beyond it you can the vast beauty of the Pacific Ocean shimmering.
McWay Falls is a must-stop view to see if traveling through Big Sur on a Pacific Coast Highway drive.
Carmel Beach
The whole stretch of coastline along the Monterey Peninsula is gorgeous, from Monterey Bay and Pacific Grove to the 18-mile Drive and Carmel.
But for me, Carmel Beach stands out due to its curving bay with glimpses of the famous Pebble Beach golf course at one end.
Santa Cruz
Santa Cruz is located just south of the San Francisco Bay Area. It's home to a long boardwalk, gorgeous sand, a roller coaster, and the Santa Cruz Wharf, which is the West Coast's longest pier.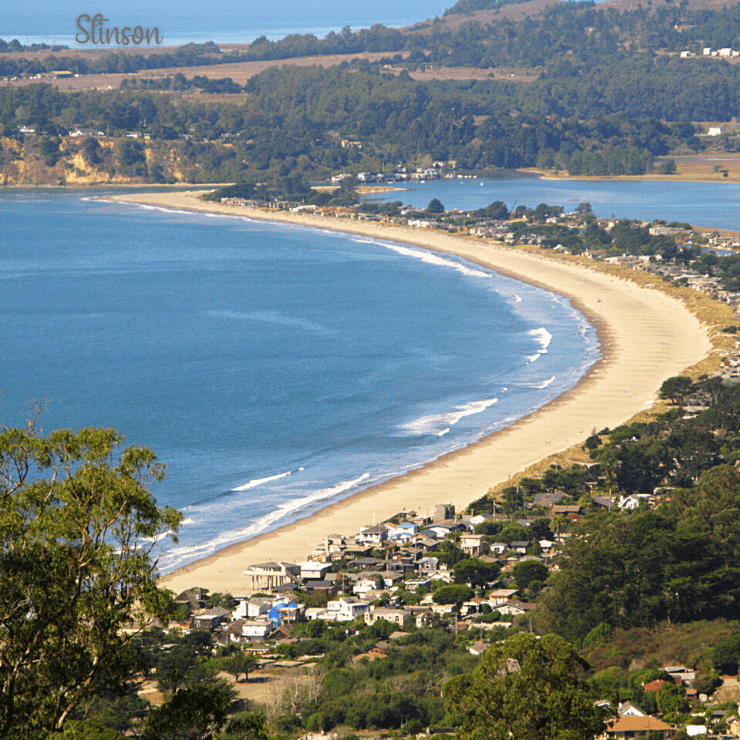 Stinson Beach, Marin County
Stinson Beach is a beautiful sandy beach in Marin County, California, about an hour north of San Francisco. Stinson Beach is known for its long, curving coastline that plays host to several activities, including surfing, fishing, and beach volleyball.
—> Read More: 5 Epic Day Trips From San Francisco
Glass Beach, Fort Bragg
Trash becomes beauty in Fort Bragg, California. At Glass Beach in MacKerricher State Park, you'll find colorful sea glass mixed with sand. This rounded glass is the result of ocean waves pounding against trash that was dumped near the beach decades ago.
Shelter Cove Beach and Black Sands Beach, California's Lost Coast
These two beaches — both located in the tiny, remote town of Shelter Cove along California's Lost Coast — are both stunning in very different ways. Shelter Cove Beach is a rugged, rocky beach with wild waves accented by tide pools when exploring the part by Point Delgada, which can be accessed via a steep staircase just beyond the town's quaint lighthouse.
Black Sands Beach is located on the north end of town and is a gorgeous expanse of black sand framed by sloping cliffs and the sparkling Pacific.
Which California Beach is Your Favorite?
I know it's hard to pick just one! You'll have to visit all of these top beaches in California to narrow down which one you think is the best beach along California's gorgeous coastline.