Local's Top Picks for Perfect San Diego Girls Getaway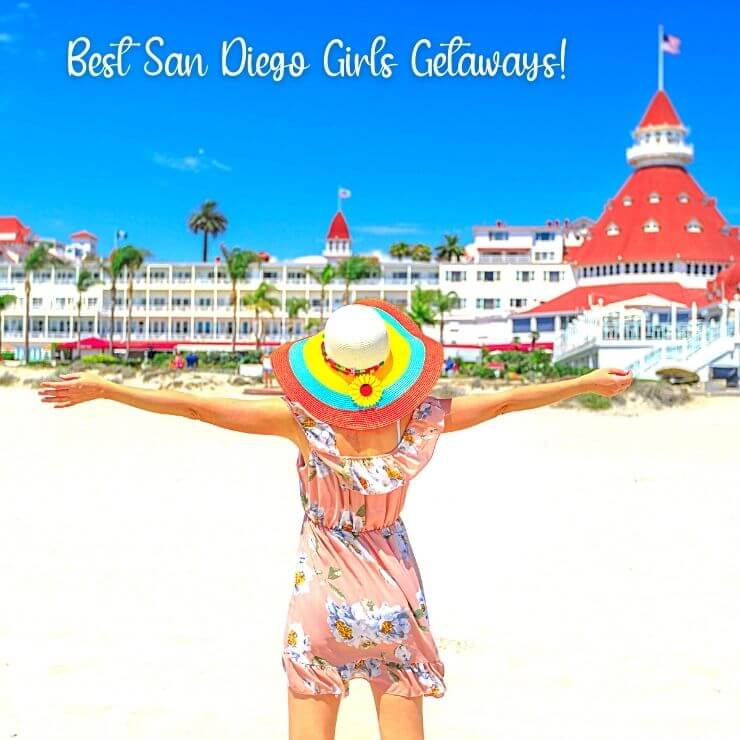 San Diego is known for surf, sand, and sunshine. It also has world-class restaurants, some of the best craft breweries in the US, and incredible resorts perfect for a girls weekend in San Diego.
I lived in San Diego for over a decade of my adult life and still fly down from the Pacific Northwest as often as I can to hang out with my best girlfriends who still live there. Here are my top picks for a weekend getaway with your best friends.
Need tips for things to do in San Diego, too? Check out my Ultimate Guide to San Diego here!
Pacific Beach: Party Time By the Beach
I have had so many memorable nights out in Pacific Beach with my best friends.
Pacific Beach (called PB by locals) is a blast for a San Diego girls trip. PB is a coastal northern neighborhood of San Diego. It has fun dive bars, epic breakfast spots, and miles of gorgeous beaches perfect for sunbathing and boogie boarding. There are also several budget-friendly boutiques in PB for some shopping. If you want to do some higher end shopping you're just a quick Uber from La Jolla.
PB has a bit of a 20-something party atmosphere, but that's part of the fun. The beaches are quintessential SoCal, perfect for during the day, while at night, PB's dive bars and beachy dance clubs are perfect for letting loose. If you want something a bit less crazy, head to the north part of PB and hang out at some of the calmer restaurants and bars that are still right by the ocean.
Where to Eat: Kono's Cafe for coffee and epic breakfast burritos; World Famous for awesome omelettes, yummy lunch fare, and great ocean views; Fig Tree Cafe has excellent breakfast and lunch items in a quaint garden setting; Crush or for delicious brunch items and mimosa flights; and Enoteca Adriano for a gourmet dinner in a unique setting located in a converted house and with a wonderful ambiance –and awesome food!
Where to Stay in PB
If you want an absolutely unforgettable girls trip, book early and reserve one of the cottages at the Crystal Pier Hotel on PB's Crystal Pier. You will literally be sleeping right over the water right at the end of bustling Garnet Street.
Another top pick is the Catamaran Resort, which has nice rooms and is located right on the water. It also has an onsite bar and restaurant. You can also board the hotel's very own sightseeing and party catamaran named the Bahia Belle, which sails between the Catamaran Hotel in PB and its sister property, the Bahia Hotel, in Mission Bay.
—> Click here for pictures and prices of Catamaran Resort, and to learn more about the Bahia Belle and when it will be running nightlife cruises again.
I also love Tower 23 for a San Diego girls weekend. It's chic and hip and located right by the beach overlooking the water with a swanky bar onsite (JRDN) and delicious brunch menu.
—> Click here for photos and prices of Tower 23.
La Jolla: Luxury by the Cove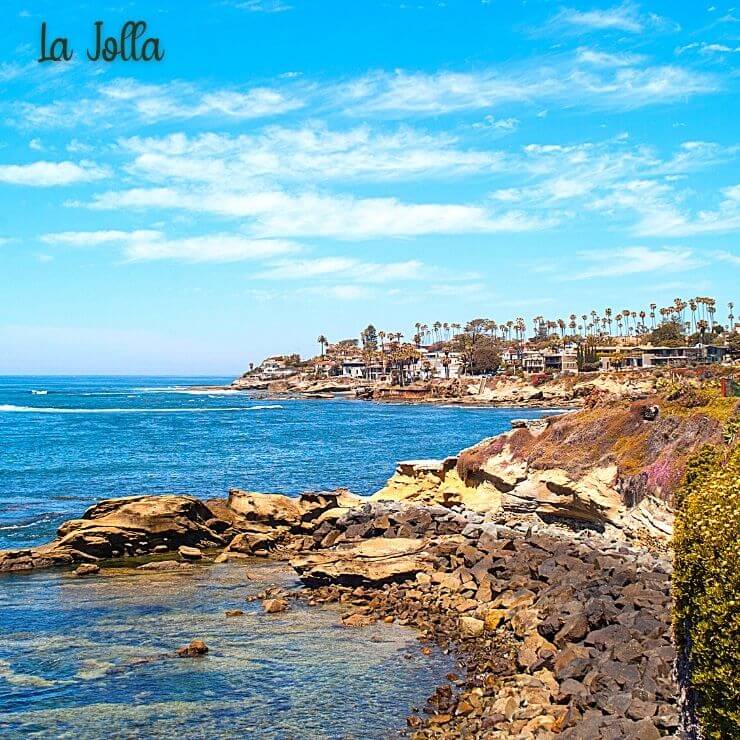 If you're looking for a ritzy girls getaway in San Diego with high-end shopping and restaurants, beautiful beaches, and upscale accommodations, then La Jolla is for you.
La Jolla is San Diego's northernmost community and it has some enviable real estate and an epic coastline, particularly the La Jolla Cove.
Spend some time at La Jolla Cove admiring the steep cliffs, glistening ocean, and sea lions that frolic at the southern end of the Cove at Baby Beach.
The La Jolla Cove is also steps away from some of the best dining and shopping in La Jolla. However, don't miss a jaunt to the southern end of La Jolla to visit the Birdrock neighborhood. Here you'll find more surfer-inspired restaurants and shops with more of a bohemian vibe, while the beaches are sandy and majestically rock-strewn; Windansea Beach is a favorite of mine.
Where to Stay in La Jolla
La Valencia Hotel: I mean, it's pink! How could it not be the perfect place for a girls trip in San Diego? It also has ocean views and is located right by the La Jolla Cove and its downtown sites.
—> Click Here to see the pink loveliness of the Valencia Hotel and for prices.
Where to Eat: Oh gosh, there are so many amazing places to eat in La Jolla, but for a girls trip I'll narrow it down to these three: Living Room Cafe for excellent coffees and pastries; the Cottage for lunch or brunch — so delicious; and the Marine Room for dinner, which has gourmet cuisine and is located right by the waves; you'll want to make reservations well in advance the Marine Room and try to time it for sunset.
Gaslamp Quarter: Dining & Dancing in the Heart of San Diego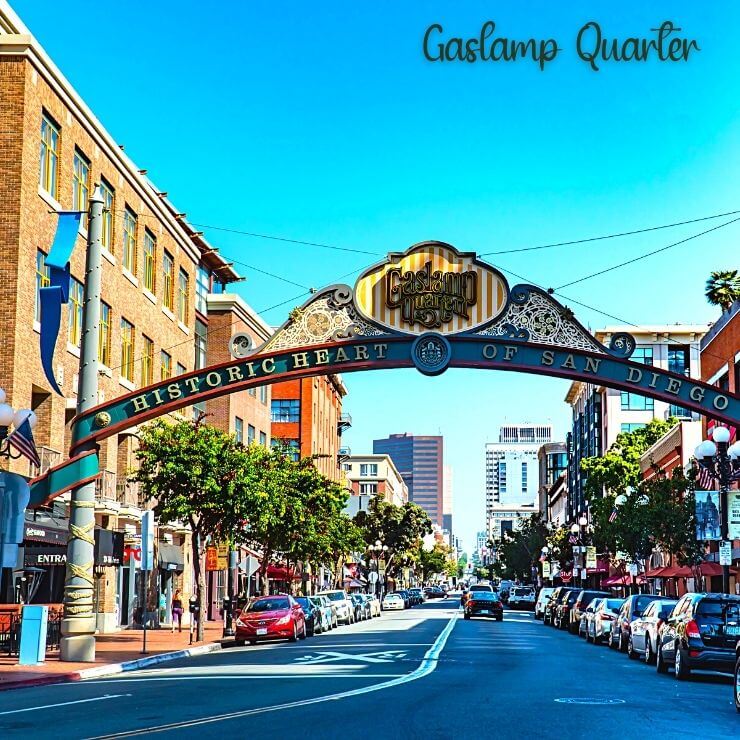 The Gaslamp Quarter is a great place to base yourself in San Diego if you're looking more for city life than beach time. The Gaslamp Quareter is a mecca for delicious, gourmet restaurants and cool bars. Lots of shops and boutiques are located along the Gaslamp Quarter as well. It's also close to the harbor and nautical museums, while the museums of Balboa Park are a short Uber ride away. You can also hop on the San Diego Trolley to easily spend an afternoon or evening in Old Town.
If dancing is what you want to do, then the Gaslamp Quarter is the place to head. It has all the epic clubs of San Diego, many of which have outdoor spaces with DJs so you can dance the night away in the open air.
Where to Eat: A couple of my favorites include the Gaslamp Fish House and Searsucker.
Where to Stay in the Gaslamp Quarter
The Andaz: The Andaz has chic rooms and a rooftop pool and is in easy walking distance to many of the clubs and restaurants in the Gaslamp Quarter.
—> Click here for pictures and prices for the Andaz San Diego.
Hard Rock Hotel San Diego: Hard Rock San Diego has three different clubs onsite including a rooftop pool right by the bar that plays host to some epic pool parties. Plus, it's right by the iconic Gaslamp Archway. Over the years, this has been a common place among my group of friends to rent a room for the night and celebrate birthdays with friends. Always a great time!
—> Click here for prices and to see pics of the rooms and clubs at the Hard Rock San Diego.
Little Italy San Diego: Art and Cuisine By the Bay
Another favorite neighborhood of mine in downtown San Diego is Little Italy. There are so many amazing Italian and seafood restaurants located in San Diego's Little Italy area plus a fun nightlife. Little Italy is also right by the harbor and has a prominent artsy side, too.
Check out the Piazza della Famiglia to see its gorgeous view and a pretty view of the bay, do some wine tasting at Caruth Cellars Wine Garden, check out some of the art galleries along Kettner Boulevard, then grab dinner at one of the incredible Italian restaurants in the neighborhood, followed by after-dinner drinks at the Waterfront.
Where to Eat: Ironside for oyster happy hour, Bencotto or CUCINA Urbana for dinner with creative Italian cuisine, and Lofty Coffee for breakfast.
Where to Stay in Little Italy
Porto Vista Hotel: Porto Vista Hotel has modern rooms with a mid-century vibe. The rooftop onsite pool with jet spas and lounge furniture also helps make this hotel perfect for a girls trip. Best of all, it ties into the artsy vibe of Little Italy with numerous murals located all throughout the hotel that are constantly changing.
—> Click here for pictures and photos of Porto Vista Hotel.
Mission Bay: Experience the Resort Life in San Diego
I mentioned in the PB section that the Catamaran Hotel's Bahia Belle boat connects with the Bahia Resort Hotel in Mission Bay, and that's also a great place to stay.
In general, Mission Bay is an excellent place to base yourselves for your girls weekend in San Diego since it has classic California resorts, awesome beaches, and easy access to some super fun San Diego activities like kayaking, jet skiing, and standup paddle boarding.
Where to Stay in Mission Bay
Bahia Resort Hotel: Great outdoor space and updated rooms.
—> Click here for pictures and prices of the Bahia Resort Hotel.
Dana on Mission Bay: Huge resort with a harbor for water sports, lots of open spaces, a bike trail, nice rooms, and onsite bars and restaurants. My good friend got married here and I've always loved the grounds!
—> Click here for pictures and room prices for the Dana on Mission Bay.
Coronado: Pristine Beaches and the Hotel Del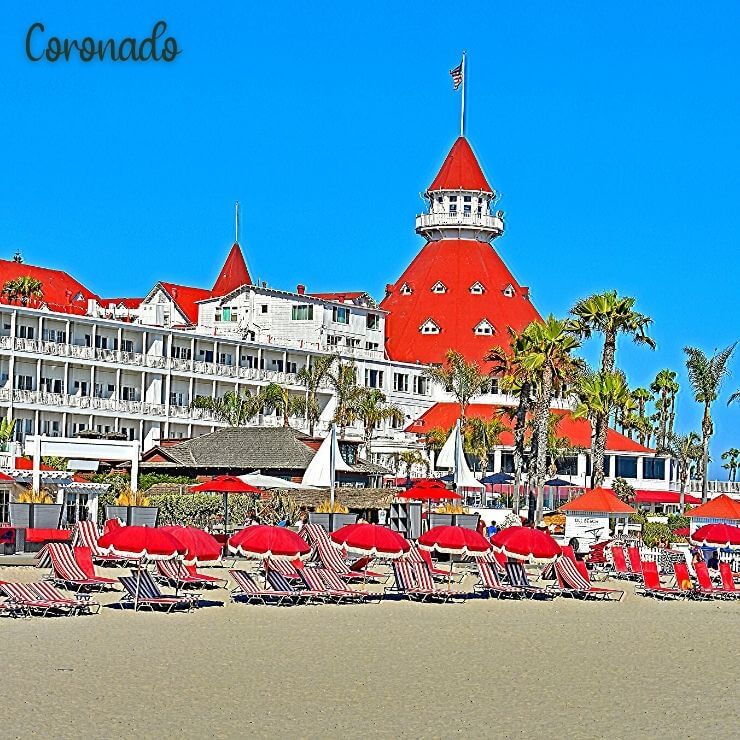 For a truly epic — and insanely Instagrammable — girls trip to San Diego, cross over the Coronado Bridge and base yourselves at the famous Hotel Del Coronado. Often just referred to as the Hotel Del by locals, this is a favorite day trip, beach day, or restaurant dinner getaway for locals. Stay here for your girls getaway and you get to take advantage of all the perks of the Hotel Del without worrying about driving or parking!
So what makes the Hotel Del so special?
Well, for starters, it's beautiful. The historic architecture itself is gorgeous with a white facade and red-domed roofs. It overlooks one of the best beaches in San Diego, with soft, white, sand that is framed by the sparkling blue of the Pacific. On the property itself you'll find several high-end restaurants, a beach bar, high tea, and boutique shopping.
In the winter, the Hotel Del gets even more fun with an outdoor ice skating rink that is installed on the grounds of the resort around the holidays for ice skating by the ocean.
Where to Stay in Coronado
Obviously the Hotel Del! But if it's out of your price range, the Glorietta Bay Inn is also nice and is within walking distance to the Hotel Del and the beach. The Glorietta Bay Inn is a boutique hotel partially housed in a gorgeous historic mansion. You don't have to stay on the property to go to the beach in front of the Del or to go in its grand lobby and eateries.
—> Click here for lots of photos of the gorgeous Hotel Del Coronado and to see pricing.
—> Click here for Glorietta Bay Inn prices and photos.
Fun Tip: If you and your friends like giving yourself a scare, book room 3327 at the Hotel Del, which is rumored to be haunted.
Escondido: Wine and Wildlife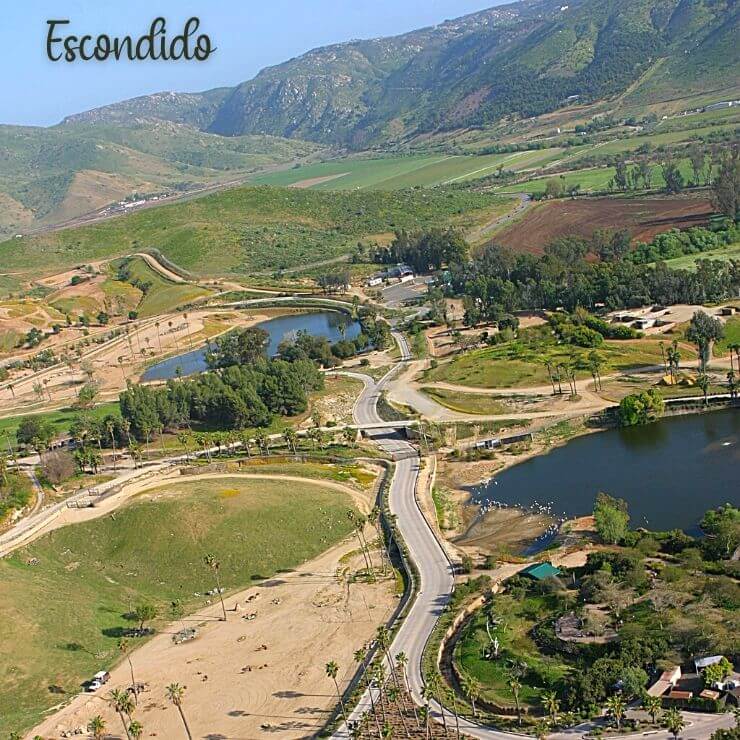 Escondido is often overlooked since it's a northern, inland suburb of San Diego, but it's a great budget-friendly option for a girls weekend and also has a lot of hidden gems.
Escondido is also home to its own big tourist spot: that would be the Safari Park, an extension of the San Diego Zoo that has animals you might see on safari living in vast enclosures that feels like no other zoo I've been to. I love the Safari Park and it makes for a fun outing for you and your best girls if you're animal lovers.
Plus, afterward, you can go to one of the nearby wineries for some wine tasting. Escondido is home to some beautiful tasting rooms. Cordiano and Orfila are two popular wineries in Escondido with excellent views. My best friend lives in Escondido and is a member of Orfila and I love going there when I visit her!
If breweries are more the scene of you and your friends, then you're a short Uber away from the original Stone Brewing Company tasting room, which has an onsite restaurant and an incredible beer garden. It's my favorite place for beer and gastro pub style food in San Diego County.
Where to Eat in Escondido: I already mentioned Stone Brewing Company (must-eats there: the macaroni and cheese and the pretzel). Other faves include Swami's Cafe and Bellamy's Restaurant in downtown Escondido. On the other side of the freeway is Vintana Wine + Dine, a unique restaurant with really good food located on top of a Lexxus dealership! Very random, but also a very fun, upscale setting.
Where to Stay in Escondido
Welk Resorts San Diego: This is a gorgeous property on the northern end of San Diego close to the Safari Park. It has multiple pools, an onsite golf course, and suites with multiple bedrooms. Just don't get sucked into a timeshare presentation at Welk Resorts; they nearly always take longer than they say they will!
—> Click here for pictures and prices of Welk Resorts.
Omni La Costa Resort: Pampering at its Finest
I've had overnight work conferences, girl day trips, and romantic dinners at La Costa Resort and I'm a huge fan of this sprawling, gorgeously manicured resort in Carlsbad, a North County suburb of San Diego. It's a great San Diego girls trip option for so many reasons.
The rooms at La Costa Resort are lovely and well-appointed. The spa is world-class and is a favorite of locals and travelers alike. You and your girls will love getting pampered with massages and manicures before lounging in the spa relaxation room or the pool. The pool itself is huge and perfect for sunshine-filled afternoons and fruity drinks.
Where to Eat: At night, you can grab dinner at one of the onsite restaurants (there are a few to choose from!), all of which are highly acclaimed.
The one downside of the La Costa Resort is that it's not right by the beach, but rent a car and you're a quick 10 to 15 minute drive from Carlsbad's beautiful beaches and lovely Carlsbad Village area.
—> Click here for lots of photos and prices for Omni La Costa Resort & Spa.
Looking for more inspiration for a girls weekend away? Also read:
Best Girls Getaways in California
Best USA Destinations for a Girls Trip
Best Girls Getaways in the Pacific Northwest
Found this post helpful! Pin to read again later!