Christmas Markets in the United States Sure to Get You in a Festive Mood
Most of us think of countries like Germany or Austria when we picture Christmas markets, but you'd be surprised how many incredible ones we've got right here in the USA!
If you're dreaming about jetting off this season to spread the holiday cheer, what better way to plan a trip than going in search of the best Christmas markets in the country?
From markets set in alpine towns that will make you feel as though you've been transported into the German Alps to ones that will transport you into a classic movie, these are the best Christmas markets in the United States you've got to visit at least once in your life!
Leavenworth Christmas Market, Leavenworth, Washington
Think half-timbered houses lining the streets, German beer galore, and enough gluhwein (mulled wine) to keep you warm while you explore the stalls at this Bavarian-style market set inside a cozy town that it is one of the best places to go in the Pacific Northwest.
If shopping is your main aim when visiting a Christmas market, you'll find yourself feeling overwhelmed with options. From handmade Christmas decor to authentic artisan goodies, there are plenty of treasures to be found. Moreover, there's a ton of entertainment on offer, including an array of fun activities like gingerbread house competitions, advent calendar contests, and even a Lantern Parade!
Christkindlmarket, Chicago, Illinois
Want to visit one of the oldest Christmas Markets in the US? Head to Chicago, where you'll find an annual celebration steeped in tradition – and sausages.
Yes, the Christkindlmarket in Chicago is known for its array of sausages so it's a real treat for anyone wanting to try some savory sausages and other German-inspired food alongside your mulled wine.
Chicago's Christmas Market is also known for its woodworking vendor booths selling beautiful pieces, including coveted cuckoo clocks.
Families will enjoy the Kinder Club aspect of Chicago's Christkindlmarket, which organizes fun kid activities like holiday-themed scavenger hunts.
Read More: The Perfect One Day Itinerary for Chicago
Christkindlmarkt, Bethlehem, Pennsylvania
It should come as no surprise that a town called Bethlehem would know how to do Christmas right.
Thanks to its German roots and old-world charm, a trip to this cozy town in Pennsylvania will have you feeling as though you've been transported back in time to a town deep in the Alps.
The town's annual Christmas Market (Christkindlmarkt) is a mecca for fun holiday activities, including impressive ice-sculpting demonstrations, life-size Christmas houses, and a calendar filled up with live entertainment that will have you wishing you could stay just a little longer.
Grand Central Holiday Fair, New York City, NY
Christmas in New York City may sound a little cliché, but the city is famed for being one of the best holiday destinations for all the right reasons.
Even though there is a plethora of markets spread all over the city, a true classic to check out is The Grand Central Holiday Fair, which is set inside the Vanderbilt Hall at Grand Central Station. Seriously, a stroll through this Christmas market will make you feel as though you're in an old-fashioned movie!
Another Christmas Market to check out while you're in NYC is the Union Square Holiday Market, which is a great place to do some holiday shopping since it usually features over 150 vendors selling a variety of wares.
Read More: How to Spend 1 Day in NYC
Christkindlmarkt, Denver, Colorado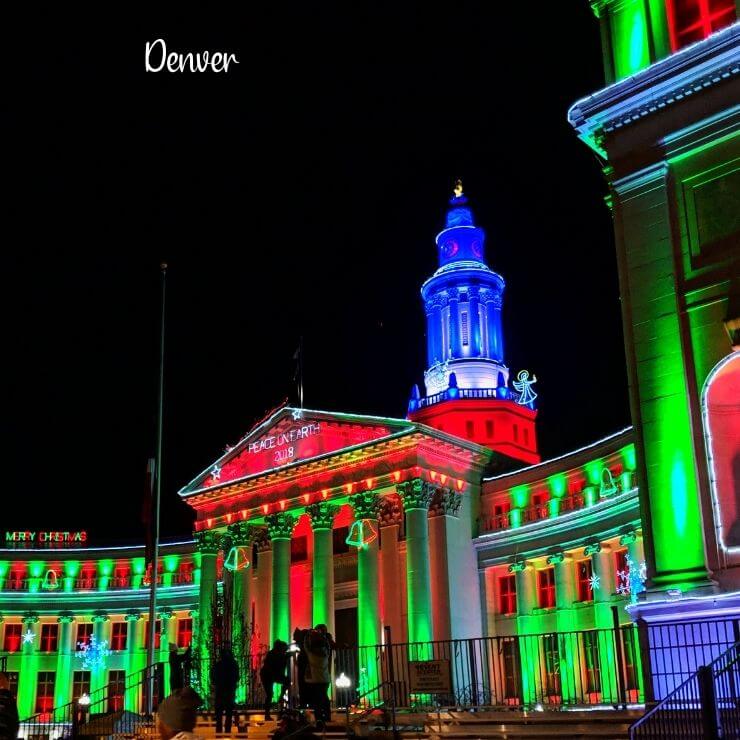 Stroll through stalls selling the cutest handmade decor, gaze at thousands of twinkling lights, or simply sit down with a glass (or two!) of gluhwein in hand and watch the time go by.
Denver's annual Christkindlmarkt was modeled to look just like the ones in Germany do by the city's German Cultural Foundation, so it's no wonder it made it to the list of the very best Christmas Markets in the United States.
An added bonus? Denver sits pretty close to some of the best ski resorts in the USA, which means you can take advantage of a trip and combine it with a few days of epic winter sports in nearby alpine towns.
Read More:
Best Places in the US to Visit for Christmas
Best Winter Destinations in the USA for Sun or Snow
---
I hope this list of Christmas markets in the USA helped you pick out your next holiday destination! Even though we sometimes dream of traveling somewhere overseas to celebrate the holiday season, it's actually pretty cool to know we've got a few awesome Christmas markets of our own to check out here in the United States, too!
What are some other Christmas markets in the USA that are worth hopping on a plane for? Let me know your faves in the comment section below!