8 Ideas for Pacific Northwest Getaways and Vacations
The Internet is awash with places to go in the New Year, so instead of compiling a list of where in the whole world to vacation, I decided to focus a bit closer to home. Here are eight places to go in the Pacific Northwest now.
Some of these destinations are ones I've heard about through the PNW grapevine that they're starting to reach the "cool" sphere, and some I've visited before that I loved and want to plan a getaway to again.
My 8 Picks for Top Places to Visit in the Pacific Northwest Sooner Than Later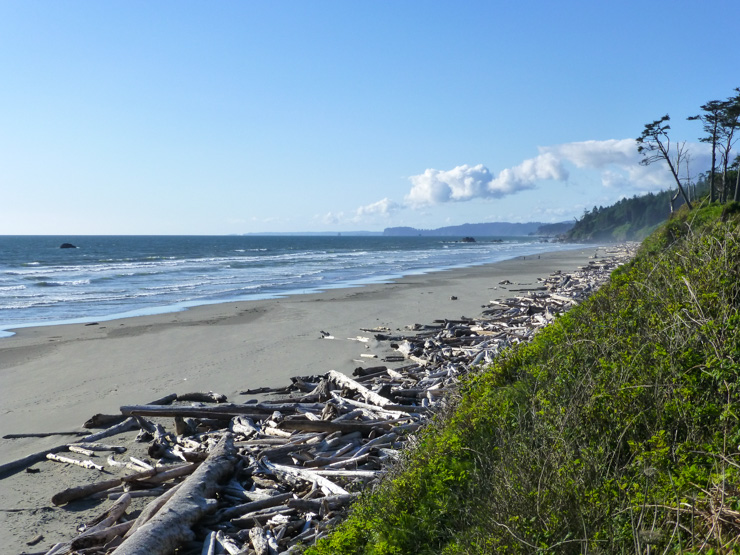 Orcas Island, Washington
Orcas Island is part of the San Juan Islands, located in the middle of the Puget Sound off the northern coastline of Washington. You can get there via ferry from the mainland and the main ferry pulls into Friday Harbor on the larger island of San Juan Island (Yes, it's confusing — there is a San Juan Island that is part of the San Juan Islands).
From there it's another ferry ride to Orcas Island. Though I've heard both islands (and the other, smaller San Juan Islands) are absolutely beautiful, Orcas Island is where to head if you want to escape all the day trippers and find a bit more remote, rugged wilderness.
Visiting the San Juan Islands and Orcas Island in particular has been at the top of my must-do list since moving here, but we just can't seem to get the timing right. We almost went there for our summer vacation last year, but the only time that worked with my husband's work schedule (and before I was way too far into my third trimester of pregnancy) was in June and after a long, gloomy Seattle winter we didn't want to risk more rain and clouds.
So…I obviously recommend going to Orcas Island in the summer from what I've heard.
What makes Orcas Island so great? Calm Puget Sound coastline, the chance to see migrating killer whales, beautiful parks, and charming fishing villages. And did I mention amazing views? Must. Go. Soon.
Snoqualmie, Washington
Snoqualmie is famous for its waterfall, but I don't think this small city about 45 minutes east of Seattle gets enough attention for its other parts.
First though, in case you haven't heard of it, let's talk about that waterfall: Snoqualmie Falls.
It is a massive 268-foot drop and is as productive as it is beautiful since its energy is harnessed into power by an underground generator. If you do the hike down to the base of the falls you can see some of this power plant.
Snoqualmie Falls varies in its size and strength depending on the time of year and amount of recent rainfall. Toward the end of winter after all that PNW rain, the waterfall is massive. I've been before when the mist being made from the bottom of the waterfall is so thick and wet you feel like you're in a rainstorm and can barely even see the waterfall! It's crazy. There's also a cute little gift shop to warm up in and get a cup of coffee or Snoqualmie Falls memorabilia. And if you want somewhere super luxurious and impressive to stay, book a night at Salish Lodge and Spa which looks right over the top of the waterfall.
But like I mentioned, Snoqualmie has more than just a giant waterfall. Snoqualmie also has an old town area that has cute little shops and restaurants, plus a brewery (the aptly named Snoqualmie Brewery). Across from the town buildings is an old-timey railroad station. In Snoqualmie Station is a tiny museum you can tour and around it are old trains, some of which you can go in and explore. I've taken Lulu here before and she loves running around all the old trains. Snoqualmie Station also has a steam train that runs on weekends.
Also, in Autumn, drive across the river behind Old Town Snoqualmie and around some winding roads through the woods and you'll come to this amazing view (plus some great hiking trails):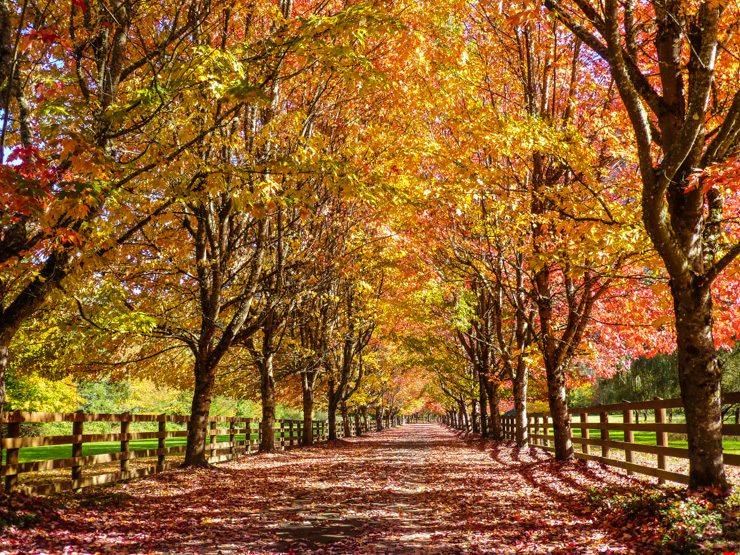 I wrote more about this awesome gated entrance in my Rockwood Farms post.
The last thing that makes Snoqualmie worth a visit is that it's right where the Cascades Mountain Range begins and has amazing views of the mountains, including the majestic looking Mount Si.
Yachats, Oregon
I just learned about Yachats, which is located along the Oregon coast, and immediately wanted to visit it as it sounds super cool. Why so cool? Because it's home to Thor's Well, a massive sinkhole by the ocean that dramatically sucks in water during high tide.
Yachats is also near Cape Perpetua, a lookout point that provides the highest vantage point for views along the entire Oregon coastline. Like elsewhere in the Pacific Northwest, Yachats is also close to lots of gorgeous hiking trails.
I loved my time in Rockaway Beach (near famous Cannon Beach) a couple summers ago and would love to go back to the Oregon Coast. Yachats seems a bit more off the beaten path with wild nature and a welcoming little town center.
Hoh Rain Forest, Olympic National Park, Washington
I went here in 2016 and probably am not going to get back here in 2018, BUT I had to include it in this list so YOU go to the Hoh Rain Forest in 2018. It is an actual rain forest (did you know Washington has rain forests??? I did not until I went there) and it is stunning in how green and mossy it is.
I wrote a whole blog post about spending a weekend in Hoh Rain Forest so won't go into too much detail in this post except to say it is truly an American gem and should be at the top of people's must-see U.S.A. travel list along with the likes of NYC, Yellowstone, and the Golden Gate Bridge. Yup, that's how amazing I think it is.
Edmonds, Washington
I have been to Edmonds for an afternoon, but would love to go back. I enjoyed the small downtown area of this Puget Sound-adjacent city about 40 minutes north of Seattle. During my day there, we had a delicious lunch at the Cheesemonger's Table, which we enjoyed on the patio (on an actually sunny day!) while my Lulu danced in the sunshine.
Maybe this has clouded my preference for the place because it was just such a lovely day, but I think Edmonds is special for other reasons because…after lunch we headed to the beach and I was ecstatic to see an actual sand beach!
Washington mostly has rocky beaches. We only stayed a few hours in Edmonds (I was toward the end of my pregnancy with Vivi at the time and got tired quickly) but both my husband and I loved it and thought it reminded us a bit of the small coastal cities of California that we frequented often when we lived there. (When the sun is out anyway.)
Vancouver Island, British Columbia
Vancouver the city has been on my must-visit list for many years, but after moving to the Pacific Northwest a couple years ago I started learning more about Vancouver Island.
Located a short distance off the coast of Vancouver, Vancouver Island is mostly known for Victoria, the pretty port town on its south coast.
Vancouver Island is much more than just Victoria, though. Travel north and it is rugged coastline with crashing waves and vast wilderness. Some of the resorts along the water's edge, like this one, look amazing.
Read More: One Day in Tofino, the Jewel of Vancouver Island
Seabrook, Washington
I keep hearing great things about this coastal town from friends who have visited. Seabrook is a masterplanned beach community that is beloved in its simplicity. It is truly about getting away from it all and enjoying Pacific Northwest nature and time with family and friends.
Seabrook has just a handful of eateries and bars and there's just one market and a few other shops. There are also some community-centered spots like a basketball court, playground, and garden. The real allure though is the proximity to the beach and long coastal walking trails and bike paths. I've seen pictures pop up in my friends' facebook feeds and it looks like a truly special place ideal for a family vacation.
Wine Country: Walla Walla
Walla Walla is a wine region of eastern Washington. It's not a behemoth like California's Napa or a well-known up and comer like Oregon's Willamette Valley, but it is definitely a known, well-respected wine region of those who live in the Pacific Northwest and I'm hoping to visit it soon.
—> You Also May Enjoy Reading: One Day in McMinnville, the Gateway to Oregon's Wine Country
I'm intrigued by the fact that eastern Washington has a much drier, arid climate than western Washington, so would like to see the change in scenery…and of course, I'm interested in trying its wines!
Walla Walla is especially known for Cabernet Sauvignon, Merlot, and Syrah, the latter of which is one of my favorite types of wine. In fact, I am drinking a glass of Walla Walla Syrah right now while typing this. (Cheers!)
And…an honorable mention: Suncadia Resort in Cle Elum, Washington is always a good idea. 🙂
Which Pacific Northwest Getaway Sounds Best to You?
So there you have it, eight places in the Pacific Northwest to travel to in 2018. I don't know if I'm going to get to all of them, but I'm going to try! If I had to pick three it would be Vancouver Island, Orcas Island, and Walla Walla (sorry Oregon, I'll get to you later!).
Guess I'm in a salt water and wine mood. Wait, I'm always in the mood for sea views and wine… 😉 Happy New Year and happy 2018 travels! Where do you want to travel in the PNW first?