Bond with Your Besties on a Girls Trip to These Fun Illinois Destinations
Illinois has some perfect spots that make for an excellent girl's getaway. If you're looking to plan a girl's trip with your friends, Illinois has plenty of destinations that will fulfill your needs. Illinois has everything from bustling city life to laid-back sanctuaries perfect for a relaxing weekend. No matter what you're looking for, I'm certain that you will find it in Illinois.
Dependent on the time of year that you choose to visit, be sure to plan accordingly. Being so close to the great lakes, Illinois can get to very cold temperatures in the winter seasons, and in the summer months, the temperatures can become quite hot and humid.
The spots that we selected to share offer a variety of experiences so you will certainly find one that fits the vibe of your friend group. Whether you enjoy a boozy and wild weekend or maybe a laid-back and relaxing one, Illinois may be the spot for you.
1. Alton, IL: Perfect for the friend group looking for a laid-back and educational trip
Alton is home to a lot of historic monuments, museums, and arts. Alton is the perfect place for you if your friend group enjoys learning and embarking on a trip throughout history.
In Alton you will find cultural monuments including The World's Tallest Man Statue and the Elijah P. Lovejoy Monument. If you are looking for some activities to add to your itinerary you should include the National Great Rivers Museum, the Jacoby Arts Center, and the Lewis and Clark State Historic Site.
Finally, Alton has beautiful scenic views and outdoor activities including the Great Rivers Scenic Route, the Gordon F. Moore Community Park, and Riverview Park. If you are visiting in the summer season, Riverview Park is a hot spot for outdoor events including festivals and concerts.
—> You Might Also Want to Read: Best Day Trips in Missouri
2. Litchfield, IL: The ideal stop for the adventurous and outdoorsy friend group
Litchfield is the perfect destination for those that enjoy spending their time outdoors and taking in nature around them. If you're looking to splash in the water, Litchfield has a variety of water experiences to enjoy.
Lake Lou Yaeger offers the seclusion and calm of the lake experience.
Milnot Beach is also popular, though it has more of a family-friendly, busy scene. Still, it will be fun for friends who want a variety of ways to spend a beach day. At Milnot Beach you can all join in beach activities such as sand volleyball and sandcastle building, or simply lay out on the sandy beach and enjoy the sun.
Are you and your friends thrifty shoppers? Litchfield has a lot of great shopping including antique shops at Today's Treasure Mall and the well know Litchfield Pickers Market where you will find a variety of pieces to fit your needs. Litchfield Pickers Market is open to the public from April through October and offers an antique shopping experience at affordable rates.
Finish off your evening with a movie at the Sky View Drive-In. It's not quite as common to find drive-in movie theaters these days so if you do not have the privilege of having one in your hometown, be sure to take advantage of this experience in Litchfield. Sky View offers double and triple feature experiences varying from your favorite classics to the new releases in theaters today.
3. Chicago, IL: The getaway that is perfect for friends that loves the hustle and bustle of the city
If exciting city sights and world-class shopping are more of the vibe you're looking for, then Chicago is an obvious choice for your girl's weekend in Illinois. The city of Chicago has so much to offer including shopping along the Magnificent Mile, entertainment, fine and unique dining experiences, and so much more.
Shopping is a must during a day in Chicago, the Magnificent Mile is appropriately named as it is a stretch of shopping, hotels, and dining experiences in the city of Chicago. There are over 450+ retailers ranging from clothing and department stores, to luxury shopping, and even toy and home décor retailers.
Popular dining experiences in Chicago include hometown favorites such as Portillos Hotdogs and Giordano's Pizza, as well as fine dining experiences at Michael Jordan's Steakhouse and Steak 48.
If you all are sports fans, Chicago is a great spot to visit as they are home to several popular professional teams. Dependent on the time of the year, you may be able to catch a game from hometown teams: the Chicago Bears, the Chicago Cubs, or the Chicago White Sox. Wrigley Field is a can't-miss experience either way!
Read More: How to Have an Unforgettable Girls Trip to Chicago
4. Geneva, IL: Perfect for friends that love a classic town filled with shopping, brunch, and more!
Geneva is one of the most quaint and classic cities I've had the pleasure of visiting. It reminds me of one of the towns out of a Lifetime movie. If you enjoy shopping, the downtown Geneva Historic Shopping District is one that you do not want to skip out on. The Geneva commons is filled with national retailers including Banana Republic, White House Black Market, Barnes & Noble, Crate & Barrel, Pottery Barn, and so much more.
If you're looking for a fun tasting experience, be sure to check out Penrose Brewing Company. This fun tasting room offers a variety of beers including their core line which features favorite like Goofy Boots and Taproom IPA, and more as well as featured and limited releases. Penrose also has a taproom that allows you to bring your own food to enjoy while you sit back and enjoy the tastings of their beers.
The Geneva Chamber of Commerce also hosts a variety of annual events including Swedish Days, Festival of the Vine, and so much more. Be sure to check out their special events calendar to add these experiences to your trip itinerary.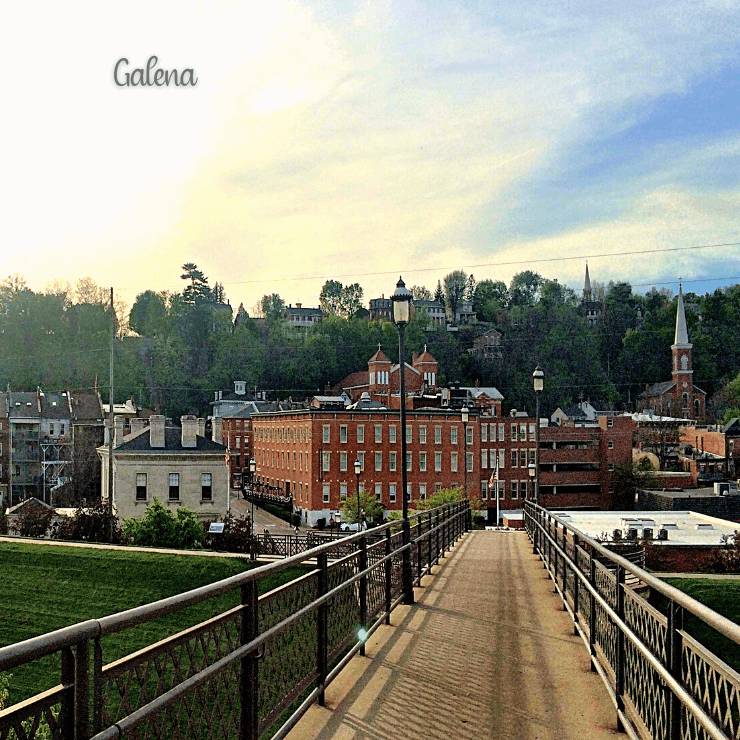 5. Galena, IL: A girls getaway that has beautiful scenic views paired with fine experiences
Galena is a city filled with breathtaking views and scenic experiences. Galena is generally regarded as a relaxing and calm city, which makes for the perfect R&R getaway with your girls.
You will find some of the most beautiful views in Galena at Grant Park, the Casper Bluff Land, and Water Reserve. You definitely don't want to skip out on seeing Thunder Bay Falls.
If you're looking for something fun and out of the ordinary to do you can find experiences such as Goat Yoga, The Haunted Galena Tour, and the chance to channel the afterlife with Psychic Medium Chris McBrien. One of the reasons we find Galena such an exciting town is that it has so many unique experiences.
Illinois Has Much to Offer on a Girls Trip
While Illinois may not be the first state that comes to mind when planning a girls getaway, it truly has so much to offer and you can have a one-of-a-kind trip experience. No matter what type of experience you're looking for, Illinois is sure to have the answer for you and your gal pals!