Where to Go in Missouri for a Girls Trip: Big Cities, Amusement Parks, and All-Inclusive Luxury
If you and your besties are thinking about planning a girl's getaway trip in Missouri, you came to the right place. Whether you're looking to have a relaxing and calm weekend at a resort or to go to a destination where you can let loose and have a night out of dancing and cocktails, you can find that it in Missouri. And we're going to list out all the top spots below!
We chose spots for a girls trip located throughout Missouri. These selections will fit a wide variety of needs and wants for your girls trip.
These places in Missouri are known for their attractions and weekend getaway thrills.
And remember — Depending on the time of the year that you visit, the Missouri weather conditions can be brutal from very hot and muggy summers to frigid and snowy winters, so be sure that you and your friends are planning and packing accordingly for your time of visit.
St Louis, MO: Big City Fun
St Louis is most well-known for its iconic Gateway Arch. However, the city has much more to offer to its visitors than just cool architecture. There are trails for hiking and exploring, parks for enjoying the nature around you, and plenty of attractions for you to enjoy. I would describe St Louis as a good getaway spot for a friend group that enjoys a wide variety of experiences on their trip.
One of the top can't-miss attractions in St Louis include the aforementioned Gateway Arch; whether you just go to see it or you actually take the tram ride to the top, it will be fun to experience with your friends.
Other attractions that are popular amongst visitors include the ZACK theater where you can enjoy plays, films, concerts, and musicals, 4Hands Brewing Company, Amazing Scavenger Hunt Adventure, the Amp Up Action Park, and Ballpark Village, the home of the St Louis Cardinals.
Some great dining options in St Louis include an award-winning steak at the 1904 Steak House, Acero where you can enjoy specialty plates of pasta, and BB's Jazz, Blues & Soups where you can enjoy St. Louis-style dining while enjoying the live music of jazz and blues artists on a nightly basis.
Kansas City, MO: City Lights and Shopping Galore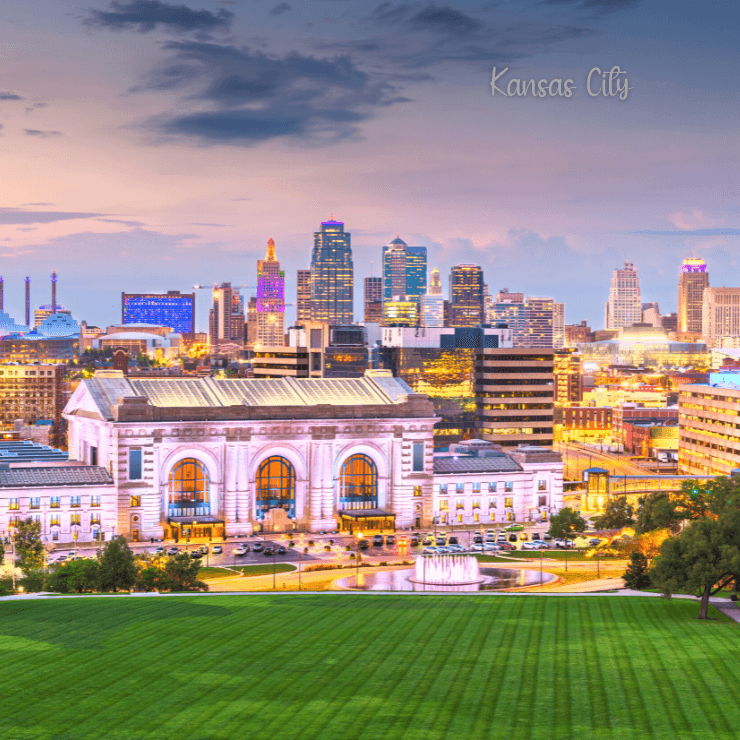 Kansas City is a city perfect for the friend group that enjoys a night on the town, live jazz music, and delicious eats. Some of the most notable experiences in Kansas City include visiting 18th & Vine, the historic Jazz district of Kansas City, KC Live in the Power & Light District, the College Basketball Experience, and the Arabia Steamboat Museum where you can discover the history of the 1856 Shipwreck that has been known as the "Titanic of the Missouri River".
If you and your girls love to shop 'til you drop, you'll be glad to hear there are incredible shopping areas in Kansas City. Popular shopping spots include Country Club Plaza where you will find high-end designers including Kate Spade and Michael Kors, and The City Market, the largest farmers market in the area where you can find fresh produce, flowers, baked goods, artisan crafts, and so much more. The Garment District is also a cool place for shopping.
If you are looking for good dining experiences on your trip, try some of these! Vietnam Café has delicious pho and Asian cuisine, farm-to-table dining at Rye, your favorite comfort food favorites at PotPie (of course, their potpie is incredible!), and finally enjoy some incredible Mexican street tacos at Carniceria y Tortilleria.
We think Kansas City is such a great spot for a girls trip, we even wrote a dedicated post about it:
Branson, Missouri: Amusement Park Fun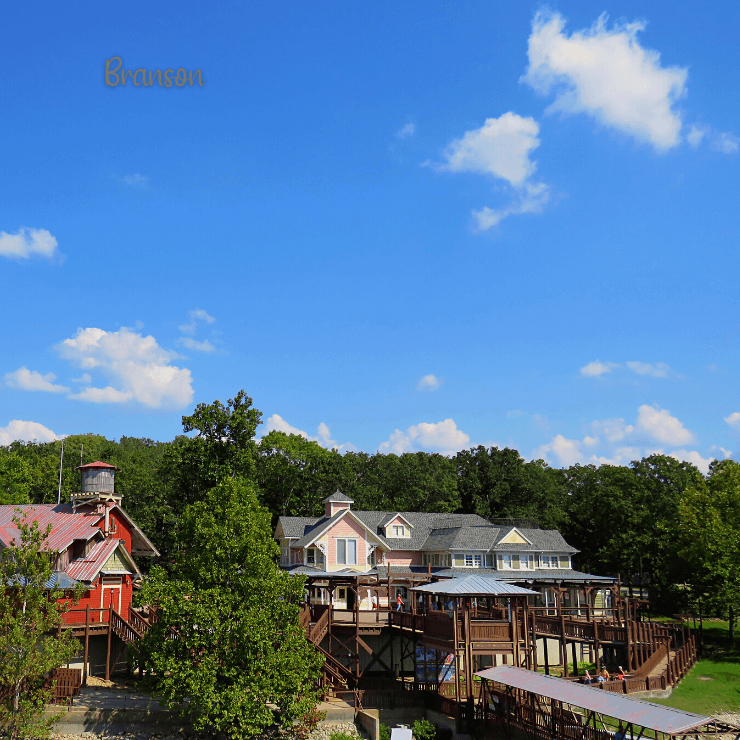 Branson is more commonly thought of as a "family-friendly" city because there are a lot of activities that are fun for families including theme and water parks. But a place like this can also be great for a girl's group that is wanting to enjoy some fun and adventure!
One of the can't-miss experiences in Branson is visiting Silver Dollar City, an 1880s theme park that features record-breaking roller coasters and an on-site cruise dining experience. Branson is also home to Fritz's Adventure Park, an indoor adventure park that features ziplining, ropes courses, slides, tunnels, and more. Other notable experiences include the Titanic Museum Attraction, the Branson Ferris Wheel, and Snowflex Tubing at Wolfe Mountain.
When it comes to making plans for dining, some great restaurants include Gettin' Basted, a delicious barbecue spot, Cantina Laredo, where you can enjoy class Mexican dishes with delicious margaritas, and finally enjoy a fine steak at Saltgrass Steak House, a Texas-themed steakhouse restaurant.
Stonewater Cove in Shell Knob, MO: All-Inclusive Resort with Onsite Spa
Rounding out our list is Shell Knob, Missouri. We have included Shell Knob primarily because it is the home of the all-inclusive resort and spa, Stonewater Cove. This resort is a trip of its own, making it the perfect choice for a girl's group that wants to enjoy a getaway filled with relaxation, pampering, and serenity. There are a variety of outdoor experiences to enjoy including hiking trails, kayaking, and relaxing yoga.
The Treehouse Spa offers a wide variety of services including several types of 60 and 90 massages such as Swedish, prenatal, deep tissue, and more. Additionally, they offer other healing treatments including pedicures, facials, and more.
Your all-inclusive resort package includes your stay in one of the fabulous rooms or suites within the resort as well as access to unlimited snacks and non-alcoholic beverages, all of your meals, and an array of other amenities including a hot tub and pool to enjoy. Some of the most delicious meals offered at the Lodge Restaurant include pastries and biscuits and gravy for breakfast, lunches include a variety of sandwiches and burgers, and dinners are typically something such as delicious Missouri barbecue or perhaps a delicious steak.
Have Fun on Your Missouri Girls Trip!
If you are in the Missouri area or even if you are looking to travel to Missouri for your girls getaway, I hope that this article has provided you with some insight into what Missouri has to offer you and your friends.
Read More:
Best Girls Trips in the USA
Best Girls Trips in Washington, D.C.
One Day Itinerary for Omaha, NE