The Best Things to Do in Nantucket if You Only Have One Day on the Island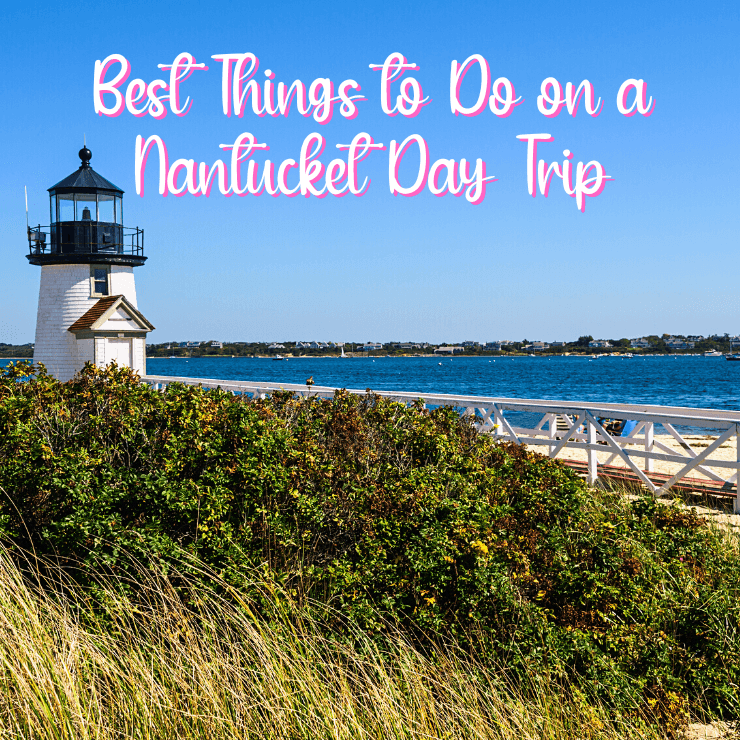 If you're looking for a charming coastal town that makes for the perfect day trip, Nantucket Island is hard to beat.
Located off the coast of Cape Cod, Massachusetts, the island of Nantucket offers a unique blend of natural beauty, historic architecture, and cultural experiences. From strolling along the pristine beaches to savoring local seafood delicacies, there's something for everyone on this enchanting New England island.
In this guide, we will take you through a perfect day in Nantucket Island, so you can make the most of your visit.
Here's my suggested itinerary for a day trip to Nantucket. I was so lucky to get to spend a day in Nantucket with my uncle when he lived there and he took me around to all the must-see places on the island.
From that, I've put together this 1-day itinerary for Nantucket that highlights the best parts for visitors, plus some ways to change it up depending on your interests. 
Start the Day with Brunch
Nantucket boasts several excellent brunch spots, but one of the best is Brant Point Grill.

Brant Point Grill, located in the White Elephant Hotel, has an upscale vibe and a mouth-watering seafood-focused menu. Try the lobster Bloody Mary while you soak in the waterfront view and wait for your yummy meal.

What is There to Do in Main Town, Nantucket?
One of the best things to see and do in Nantucket is visit its Main Town area (also called Nantucket), and it's the perfect way to spend the morning during your day trip.

Main Town is home to historic streets and buildings just waiting to be explored. There are many well-preserved homes and mansions from the 18th and 19th centuries that provide insight into Nantucket's history and culture. Visitors can also take a stroll down cobblestone streets and visit the Whaling Museum to learn about Nantucket's whaling past (more on that next!).

Main Town is also a great place to shop, with a variety of boutiques, galleries, and specialty stores dotting the streets. Visitors can find unique souvenirs and gifts such as handmade jewelry, locally-made pottery, the famous Nantucket seagrass baskets, and clothing in the iconic Nantucket-red color.
For those looking to take home a taste of the island, Nantucket is famous for its cranberry and blueberry products, so be sure to stop by one of the local stores to sample some of these delicious treats.

Main Town is also home to some of the island's best restaurants and cafes, offering a range of dining options from casual to fine dining. Visitors can enjoy fresh seafood, locally-sourced produce, and a range of international cuisine in a charming and relaxed atmosphere.
Visit the Whaling Museum to Learn About the Island's History
Also located in Main Town is the Whaling Museum, a must-see spot during a day trip to Nantucket.
The Whaling Museum is a fascinating destination that offers visitors a glimpse into the island's rich history of whaling. Founded in 1930, the museum is housed in a former candle factory that was once used to process whale oil. Today, it features a variety of exhibits and artifacts that highlight the whaling industry's impact on Nantucket and the world.

One of the museum's most popular exhibits is the fully restored skeleton of a sperm whale, which measures an impressive 46 feet in length. Other exhibits showcase the tools and equipment used by whalers, including harpoons, scrimshaw, and navigational instruments. Visitors can also learn about the social and economic impact of whaling on Nantucket and the broader world.

In addition to its educational exhibits, the Whaling Museum is also committed to promoting whale conservation. The museum works closely with local organizations to support research and advocacy efforts aimed at protecting whales and their habitats. By sharing the history of whaling and its impact on these magnificent creatures, the museum hopes to inspire visitors to take action to protect them for future generations.
Get Lunch or an Afternoon Snack
If you had an early brunch and get hungry during all your shopping and gallery browsing, grab some lunch at the Nautilus, which serves up unique, globally-inspired dishes, many of which have a seafood flair. Nautilus is also known for its creative craft cocktails. 
Rent a bike and ride to Siasconset, a charming village with beautiful ocean views
Riding a bike to Siasconset from downtown Nantucket is a fantastic way to explore the island's beauty and history. The distance is approximately six miles.

Along the way, you'll see stunning views of the ocean, rolling hills, and charming neighborhoods with historic homes and beautiful gardens.

As you approach Siasconset, you'll notice the town's iconic rose-covered cottages, which have been preserved since the 17th century. Siasconset, also known as 'Sconset, is a picturesque village that is well worth a visit. It offers a peaceful, relaxed atmosphere, with narrow streets lined with over 800 rose-covered cottages. This quaint town also has a beautiful beach and several restaurants and shops.
Alternate Afternoon Option: Sunbathe on the Beach
Nantucket Island is home to some of the most picturesque beaches in the United States. With over 80 miles of pristine coastline, there's something for everyone.

For visitors looking to soak up the sun and enjoy the waves, here are the top three public beaches to check out:

Surfside Beach: This beach is known for its great waves and wide expanse of sand. It's perfect for surfing, boogie boarding, and beachcombing. Amenities include restrooms, showers, and a snack bar.

Madaket Beach: For those looking for a more peaceful setting, Madaket Beach is a great option. The area is home to a beautiful beach with calm waters ideal for swimming, surfing, and paddleboarding. Visitors can also explore the nearby Madaket Harbor, which offers a picturesque setting for boating and fishing. There are restrooms and showers available, but no other amenities.

Jetties Beach: Located near the town center, Jetties Beach is a popular spot for families and groups of friends. It has calm waters, plenty of space to spread out, and a playground for children. There are restrooms, showers, and a snack bar on site.
Stop by Cisco Brewers to sample local beer, wine, and spirits.
Cisco Brewers is a popular destination for beer lovers located on Nantucket Island. This brewery is known for its wide selection of craft beers, including its famous Whale's Tale Pale Ale and Grey Lady Ale. Visitors can enjoy tastings of their beers, as well as tours of the brewery to learn about the brewing process.

In addition to their delicious beers, Cisco Brewers also offers food options for visitors. They have a food truck on site that offers a variety of tasty options, from sandwiches to tacos. The brewery also frequently hosts food trucks from other local businesses, providing visitors with even more delicious dining options.

Overall, a visit to Cisco Brewers is a must-do for any beer lover visiting Nantucket Island. With delicious beers, great food, and a fun atmosphere, it's the perfect spot for a relaxing afternoon or evening with friends.

Enjoy Dinner at Cru, a Waterfront Restaurant with Delicious Seafood Dishes
Cru Restaurant on Nantucket Island is a must-visit dining destination for food enthusiasts. Located on Straight Wharf, the restaurant boasts stunning views of the harbor and offers a sophisticated yet casual atmosphere. Their menu features a variety of seafood dishes, including raw bar selections, sushi, and creative entrees.

One standout dish is the lobster roll, which is generously filled with succulent pieces of lobster and served on a buttery brioche bun. Another popular item is the seared scallops, which are perfectly cooked and served with a flavorful corn and bacon succotash. The restaurant also offers an extensive wine list, which pairs well with its seafood offerings.

Overall, Cru Restaurant provides a memorable dining experience that combines excellent food, attentive service, and picturesque views. It's a great place to celebrate a special occasion or enjoy a romantic dinner on Nantucket Island.
Or Eat Dinner at Black-Eyed Susan's
Another epic spot to eat in Nantucket is Black-Eyed Susan's. This is where I went for dinner while I was visiting Nantucket and it was fantastic.

It doesn't have the waterfront views, but it does have an intimate, homey dining room with friendly service and fresh, local ingredients making up the mouthwateringly delicious meals.
End the day with a sunset walk on the beach at Madaket.
If time allows with your ferry schedule, try to watch the sunset from Madaket Beach. This west-facing beach is known for its stunning sunsets and is a popular spot for locals and tourists alike to gather and watch the sun dip below the horizon.

If you're looking for a peaceful and scenic spot to spend the end of your day trip to Nantucket, Madaket is a memorable option.
How to Get to Nantucket
To get to Nantucket, you can take a ferry or fly into Nantucket Memorial Airport. There are three ferry companies that operate year-round from Hyannis, MA: Steamship Authority, Hy-Line Cruises, and Freedom Cruise Line.
The Steamship Authority offers the most frequent trips, with prices ranging from $18-$39 for one-way tickets and taking roughly an hour. Hy-Line Cruises offers a faster ferry service with prices ranging from $47-$73 for one-way tickets and taking roughly 50 minutes. Freedom Cruise Line offers a cheaper option, with prices ranging from $15-$20 for one-way tickets and taking roughly an hour and 20 minutes.
If you choose to fly, there are direct flights to Nantucket Memorial Airport from Boston, New York, and other major cities. The airport is located three miles southeast of downtown Nantucket, and it takes about 10 minutes to get there by taxi or rental car.
Are there car ferries to Nantucket? Can you bring a car to Nantucket?
Yes, there are car ferries to Nantucket. You can bring a car to Nantucket via the Steamship Authority ferry, which operates year-round from Hyannis, MA. However, reservations are required in advance for vehicles.
Spending More Time Along the Coast of New England? These Itineraries Might Help: