One Day in a City Itinerary: Dublin, Ireland
Short on time in Dublin? Here's what you must do and see if you need to explore Dublin in a day.
The Dublin of today is one that has recovered from centuries of political and economic repression and Dubliners are increasingly keen on reclaiming Irish culture before it's lost for good. As a result, Irish song and dance can be found all over the city pretty much any night of the week. Lucky for tourists who are short on time to Dublin, this makes it easier to both see the sights of the city and experience the culture. Here is what to see during your one day in Dublin to make sure you view the top sights while experiencing Dublin's vibrant and fun culture.
Besides what to do in Dublin, this guide also includes tips on what to pack, where to sleep, and where to eat.
This post contains affiliate links for brands I trust, which helps me to cover the costs of running this site at no extra cost to you. Thanks for supporting One Day in a City! 
Irish Houses of Parliament & Bank of Ireland: A Good Place to Begin Your Introduction to Dublin History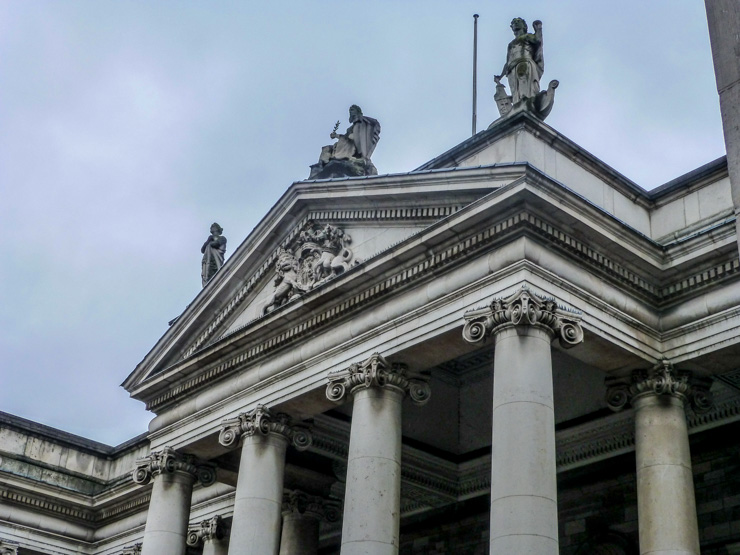 Across from the main entrance to Trinity College along College Green street is the old 18th century Irish Houses of Parliament. Today, the building houses a bank, but originally the building was full of nobles who had the British monarch's money to make laws, ultimately leading these laws to not always be the most fair. The nobles built the Parliament building to help the economy of Dublin look prosperous.
The Parliament consisted of a House of Commons and House of Lords and members of the Parliament had to be landowners who were part of the Church of England. The old Parliament signified wealth and privilege in the hands of the few and based on church affiliation; as such, it is a good building to take a look at as it was an important part of Ireland's history until the end of the 18the century when this Parliament was abolished due to England's desire to have all government representatives based in London.
While at the old Parliament, look for the statue of a lady with a harp, a representation of Irish symbolism across from the English imperialism crest.
Before we go onto the next must-see site, wondering how best to get around Dublin? Download my helpful Dublin Transportation Tips…

Dublin Transportation Cheat Sheet
Get my free Dublin Transportation Cheat Sheet sent to you now by entering your email below. This helpful 2-page document tells you the best ways to get to and around Dublin.
Trinity College: A Historic University Housing the Famous Book of Kells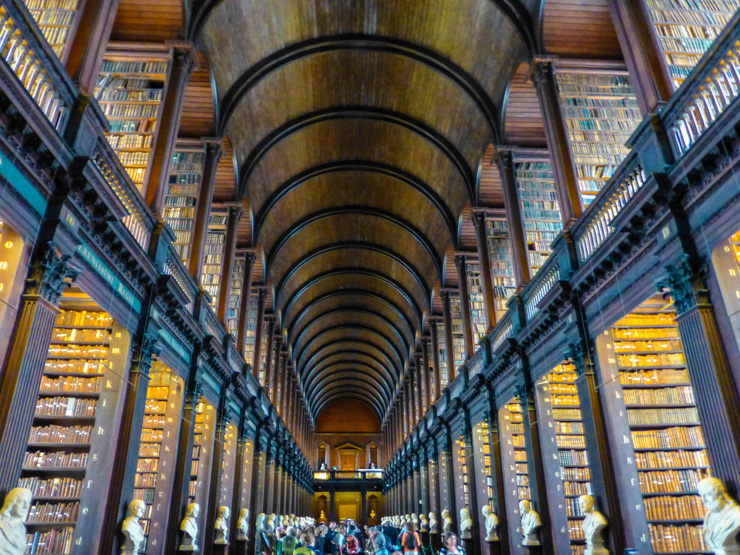 Trinity College is Ireland's oldest university and is a neatly situated complex of impressive 18th and 19th century buildings. The university was started during the English reign of Elizabeth IV and is built on the remains of a 13th century monastery. Graduates of Trinity College include Samuel Beckett, Jonathon Swift, and Oscar Wilde – all of whom were part of the Church of England. While the grounds of Trinity College are pleasant to walk around to admire the architecture and landscape, the main draw of Trinity College is inside its Old Library: the Book of Kells. The Book of Kells is from the 8th century and is elaborately illuminated in Trinity College's Old Library. The Book of Kells includes beautiful pages of Irish monastic art and is set up in order to give visitors a historical perspective and understanding of the book.
Dublin Castle: An Introduction to Old Dublin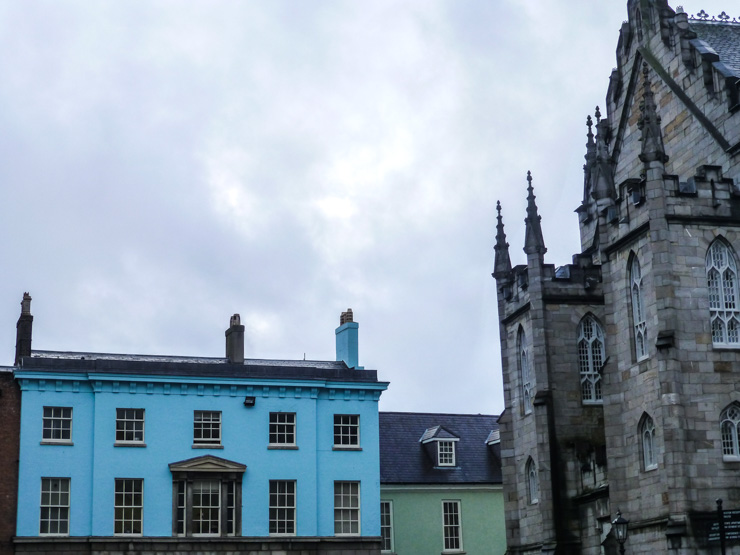 Dublin Castle is located in the oldest part of Dublin and was a fortified place to house the monarchy in Ireland during the 19th century, though the British monarchy hardly ever visited it. It's important to note that Dublin Castle is not really a castle anymore. Most of it was destroyed by a fire in the late 1600s and as Dublin didn't need a fortified castle anymore (Ireland was already securely conquered), Dublin Castle was rebuilt with non-fancy office buildings.
Today, there is just a remnant of the original fortification, but within it some of Dublin Castle's previous grandeur remains and it houses some museums as well as the ancient remains of a Viking fort. Another interesting element to this site is behind Dublin Castle in the garden, which is assumed to have once been a pool as Dublin's name means Black Pool (dubh linn in Gaelic). While at Dublin Castle, look for the untraditional Statue of Lady Justice as she is not blindfolded and is looking in toward the castle with her back toward town.
History buffs will also enjoy visiting Dublin Castle due to the square of the upper part of the castle being the location where Michael Collins came to ceremoniously take the keys to Ireland, after which the British flag came down and British troops rapidly left.
Dublin City Hall: Frescoed Magnificence and Governmental Significance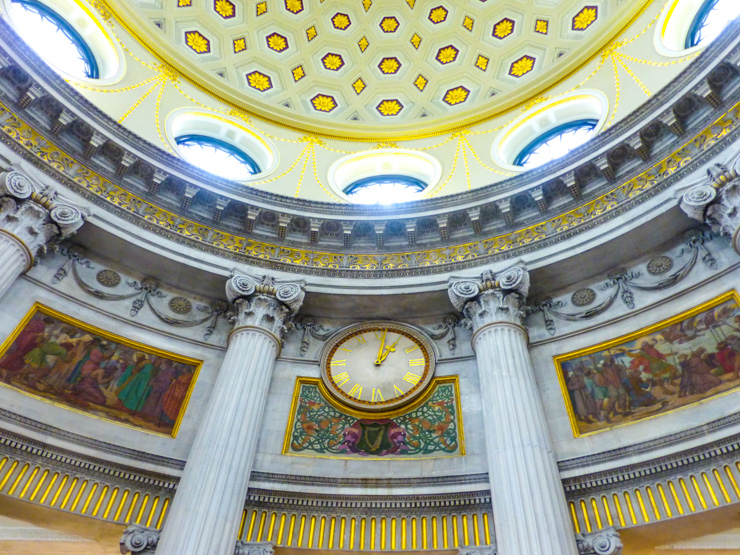 Dublin City Hall is a Georgian building that has a prominent place in Dublin's history as the first victims of the Easter Rising happened around this building and the first Irish government was housed in it. Walk inside Dublin City Hall to see the impressive floor décor. The crest of the city is in the center of the rotunda along with images of the scales of justice and a sword for the law. There are also crests drawn to represent the west, south, and north of Ireland. (No east as Dublin is in the east.) The paintings on the wall surrounding the rotunda depict scenes from the city.
Christ Church Cathedral: Part of the Church of Ireland with a Historic Crypt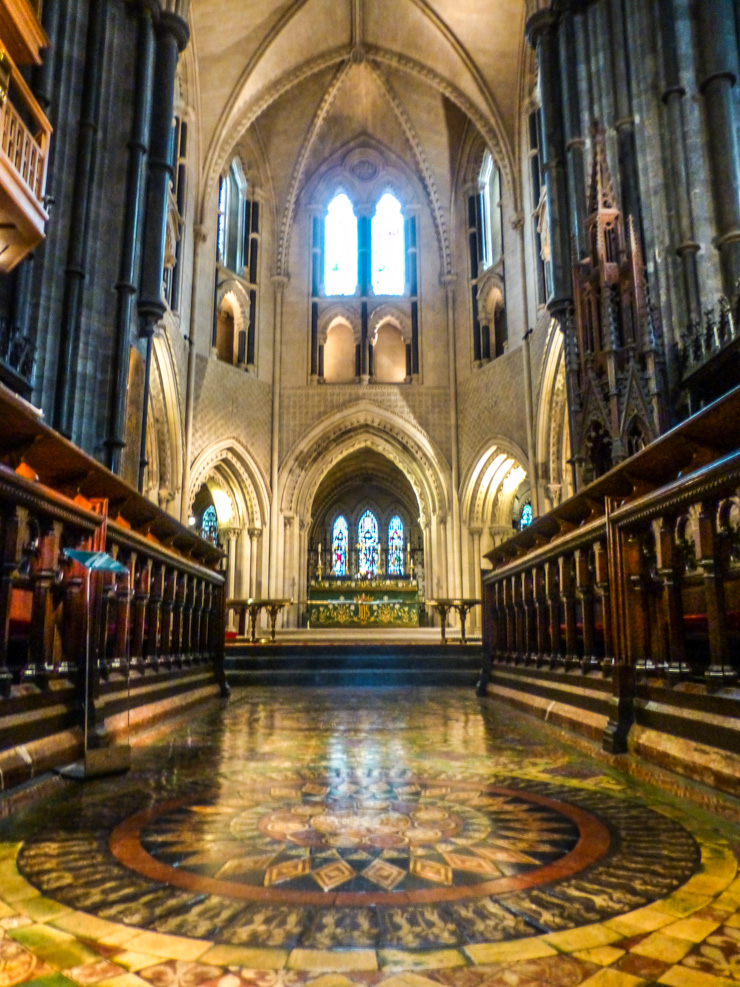 Christ Church Cathedral is part of the Church of Ireland. It is located at one of the highest points of the city. The church building was originally built by the Normans, but most of its construction and architecture is from the 19th century. Its ancient history is still prominent though as the Viking era of Dublin is located beneath Christ Church. In the 1970s, two million artifacts from the Vikings were taken out of ground under and around Christ Church Cathedral. Some of what was found can be seen in the Cathedral crypt. Below the nave is where you'll find the Christ Church Cathedral Crypt, which houses a dimly lit museum with illuminated artifacts from the treasury and church plus religious statues and perhaps the most random but interesting item – a mummified cat and rat found in the church organ in the 1860s.
St. Stephen's Green: Green Space within Dublin's City Center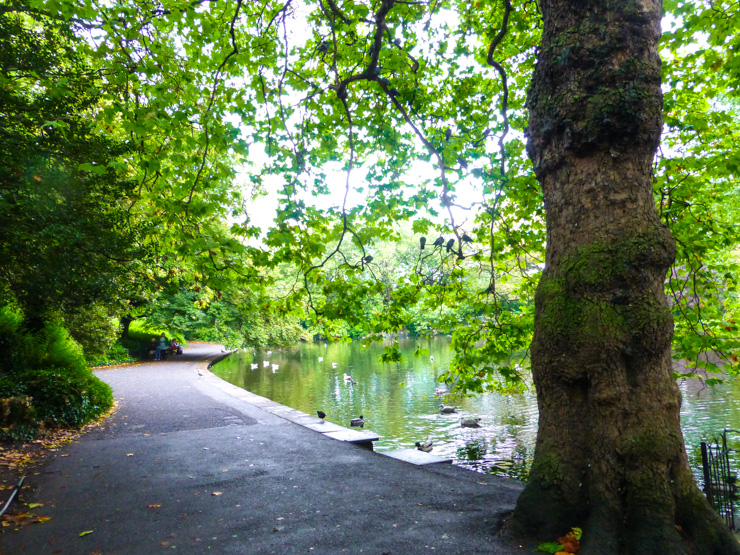 St. Stephen's Green is a pretty, leafy Victorian park in the center of Dublin. It has been a public park since 1880 and is 22 acres. St. Stephen's Green has fountains, flowers, lakes, a waterfall, and peaceful walking trails. The park is adjacent to Grafton Street and also close to Trinity College and other top Dublin sites, making it a good break point from sightseeing during your day in Dublin. While walking around St. Stephen's Green you'll see sculptures of Henry Moore, James Joyce, Robert Emmet, and other figures from Dublin's history. There are also numerous memorials in St. Stephen's Green, including one for the Great Famine as well as one in honor of the respected Irish writer and poet William Butler Yeats. At the Fusiliers' Arch entrance you can also still see bullet marks from the Easter Rising.
What to Pack for Your Trip to Dublin
Sunglasses (Yes, the sun does sometimes shine in Dublin!)
Raincoat or Poncho (And yes, it does rain a lot in Dublin.)
Comfortable, water-resistant shoes — You'll be doing a lot of walking.
A secure purse or daypack that crosses your body and which you can keep in front of you (no backpacks, which will help to deter pickpocketing).
This is a must if in Dublin in summer.
AND THE ONE THING I ALWAYS PACK (Don't just trust your memory!)
Little Museum of Dublin: A Little Bit of Everything from Dublin's History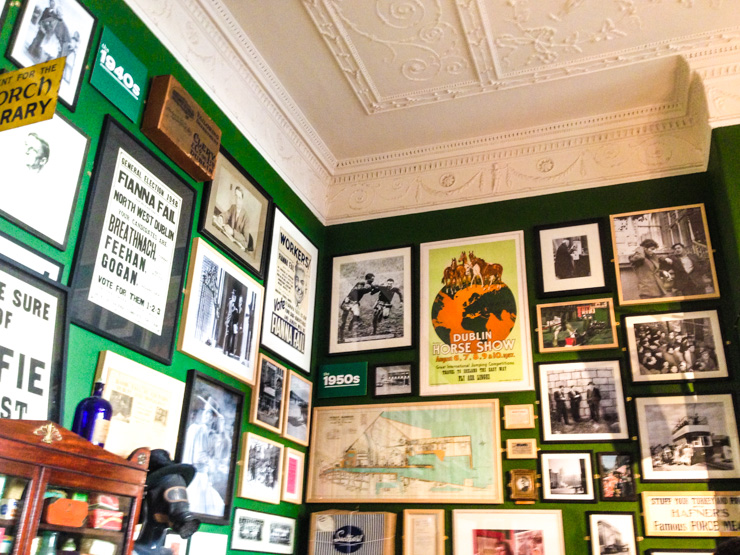 The Little Museum of Dublin is an excellent way to learn about Dublin's varied history. Located in an elegant Georgian townhome near St. Stephen's Green, the Little Museum of Dublin takes up just a few rooms, but packs in historical significance. The artifacts and memorabilia in the Little Museum of Dublin are all donated by the Irish people. From old advertising posters to the podium President Kennedy used when on a visit to Dublin, you'll find lots of treasures in the Little Museum of Dublin. So colorful is the history of many of the articles in the museum, that you'll want to hear about them first hand; the best way to do that is to take a tour while at the Little Museum of Dublin, which is offered every hour on the hour and is included in the price of admission.
Guinness Storehouse: More than Just a Pint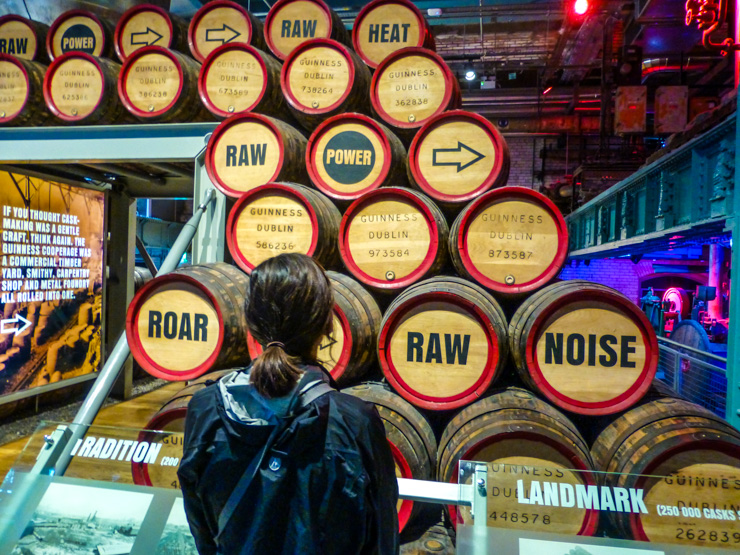 Even non-beer drinkers are intrigued by the layout and information found within the walls of the Guinness Storehouse. And if you're only going to try Guinness once in your life, it may as well be from where it originates. Guinness is an Irish Stout made from water, barley, hops, and yeast – four ingredients expertly mixed together according to a secret recipe. The Guinness Storehouse is set up to focus on each of these ingredients and the process of making the beloved Irish beer.
After touring the Storehouse and learning about the four main ingredients of Guinness, the history of the company and how the company used to advertise, you'll culminate your experience at the Gravity Bar on the top floor of the Guinness Storehouse. The Gravity Bar is a circular room with floor to ceiling windows that offers excellent views of the Dublin cityscape and you can get a perfectly poured pint of Guinness there to enjoy.
Old Jameson Distillery: Learn the Art of Irish Whiskey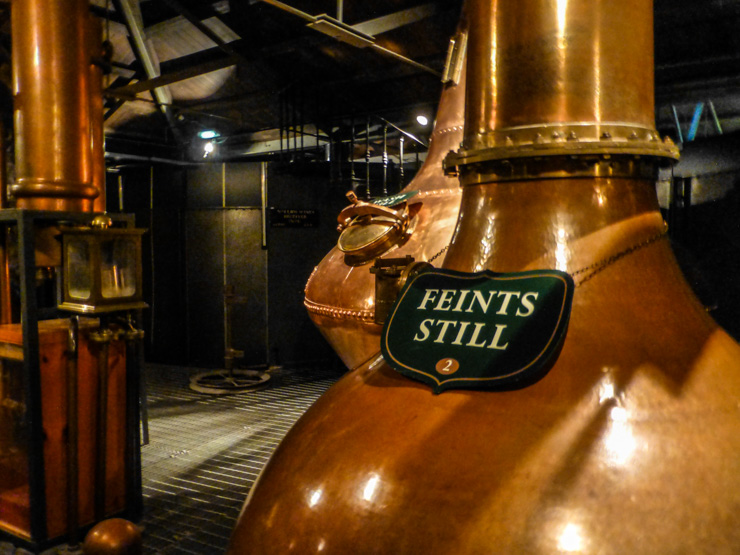 If whiskey is more your thing than beer then end your one day in Dublin by heading to the Old Jameson Distillery instead of the Guinness Storehouse. The Old Jameson Distillery tour is an hour long (last tour starts at 5:30 p.m.) and begins with an audio and visual presentation.
The second part of the tour is a guided portion that walks you through the seven stages of whiskey production. Your guide will go over the combination of malted barley and unmalted barley that gives Jameson Whiskey its much loved taste. In addition, you'll learn what makes Irish whiskey different from Scotch and American whiskey.
During the third part of the tour, you'll have the chance to put this knowledge to work if you so desire as the third portion involves comparative tasting of Irish, Scotch, and American Whiskey. With each guided tour, only a select number of volunteers get to do the tasting; however, everyone gets the distillery's signature drink, which is Jameson Whiskey with ginger ale and lime. If you don't have the chance to do a comparative tasting during the tour, but want to do one after watching it, you can purchase a comparative tasting sampler (€8) at the onsite Jameson bar after the tour.
Temple Bar: More History and More Beer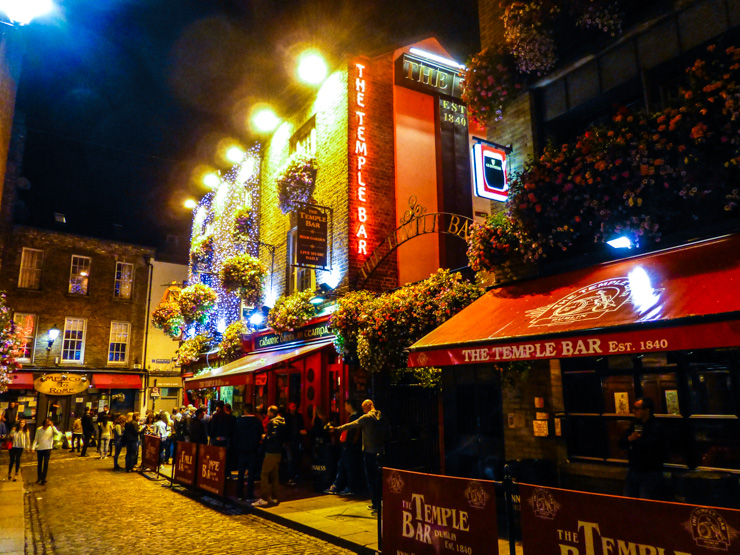 After the sun goes down, head to the Temple Bar area of Dublin. Despite its reputation today for having a great nightlife, the name for Temple Bar actually has nothing to do with drinking establishments. The word "Temple" in Temple Bar refers to the family who owned the area while "Bar" actually refers to an old wall in front of the River Liffey. The Temple Bar neighborhood was originally home to grain warehouses and stately houses and was quite prosperous before falling on hard times after Parliament was relocated to England in the early 1800s.
Temple Bar is now back to being prosperous, though this time it's due to the many reverlers who descend onto its many bars each night for some fun and debauchery as Temple Bar is the place in Dublin to be at night due to the many lively bars and pubs that line its streets. Find a pub offering live Irish music to spend your night at.
Where to Sleep in Dublin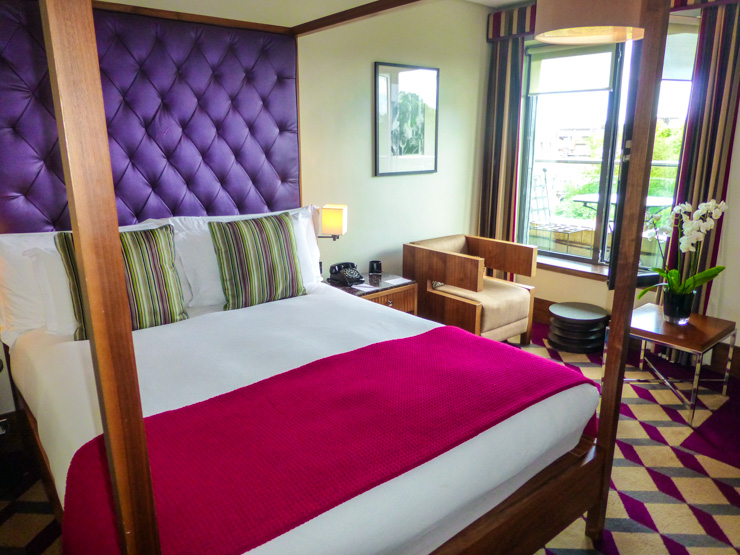 If short on time, do yourself a favor and stay right in the city center of Dublin. It makes it so much easier to see the main sites of Dublin and gives you easy access to some of the most popular nightlife spots in Dublin at which to end your day. Do yourself another favor and book yourself into the Fitzwilliam Hotel. After two visits spent outside the city center, my last stay in Dublin was at the Fitzwilliam Hotel and I was delighted with how fast it was to get to everything I wanted to see. Located right next to both Grafton Street and St. Stephen's Green, the Fitzwilliam Hotel is ideally located and even has rooms with balconies overlooking the treetops of St. Stephen's Green.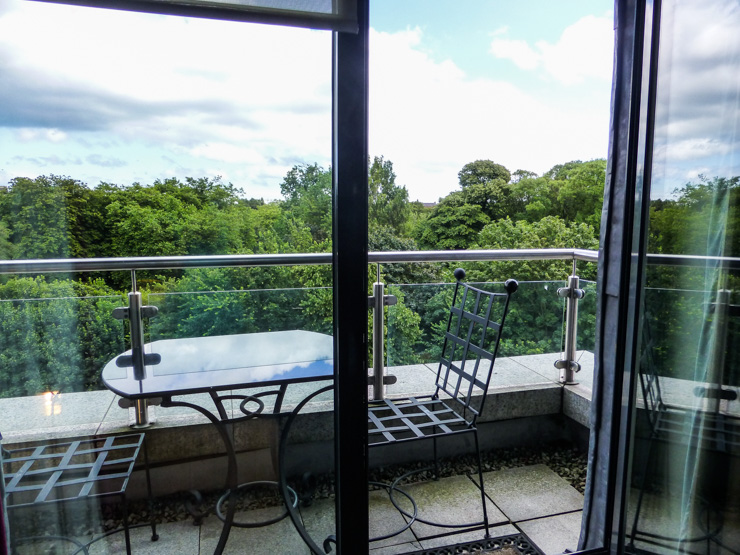 Inside the luxury hotel you'll find well-appointed rooms with bright colors (a plus in often rainy Dublin), top-notch service, and amenities such as an onsite bar lounge and restaurants, a spa, and a helpful concierge desk. Fitzwilliam Hotel also realizes that many travelers to the city are short on time to explore, which is why they put together a Dublin Walking Tour podcast that teaches you about some of the history of the area surrounding Fitzwilliam Hotel.
Fitzwilliam Hotel is also home to two restaurants and a lounge that features a modern Afternoon Tea. I ate at Citron while there (will need to go back someday to eat at Fitzwilliam's acclaimed and luxurious Thornton's Restaurant) and loved the fact that just about all of the ingredients are sourced from around Ireland.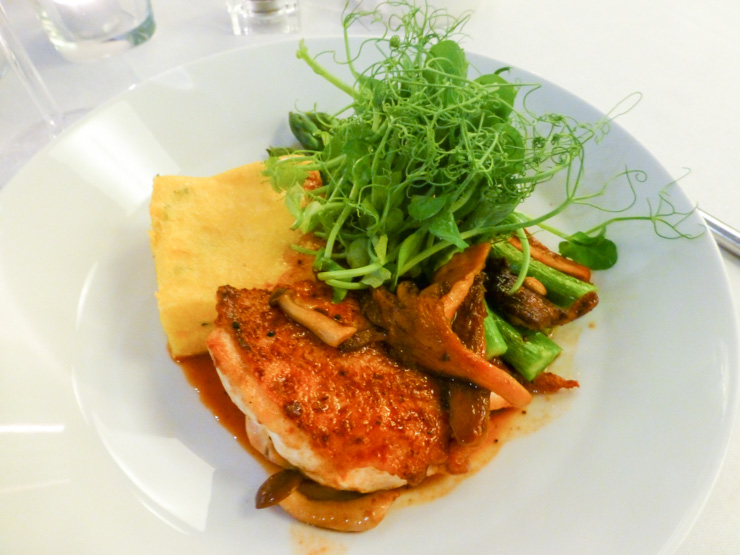 Citron is also where the breakfast buffet is served each  morning, which includes a massive offering of sweet and savory items.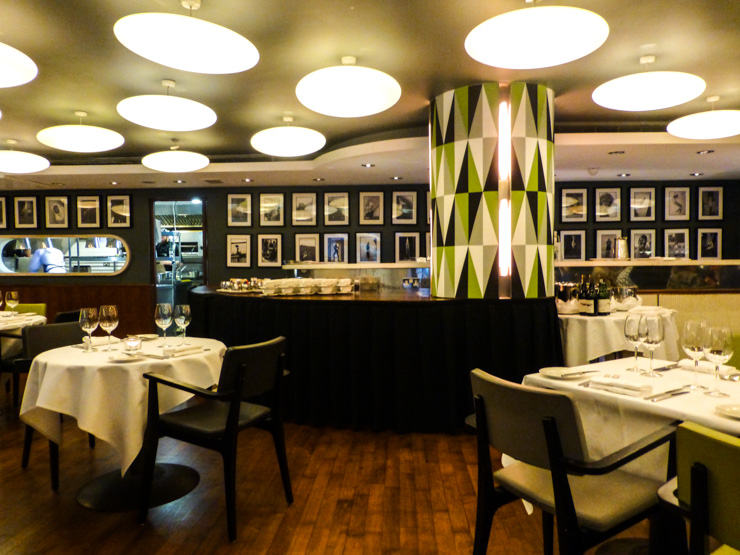 Afternoon Tea at the Inn on the Green (the bar/lounge) was also a lot of fun. Our server explained this wasn't the traditional type of tea we might be used to — it did have scones (which were delicious!) but most of the other items were culinarily creative, like tuna tartare with avocado in a sesame cone and a langoustine and truffle wonton with lemon aioli.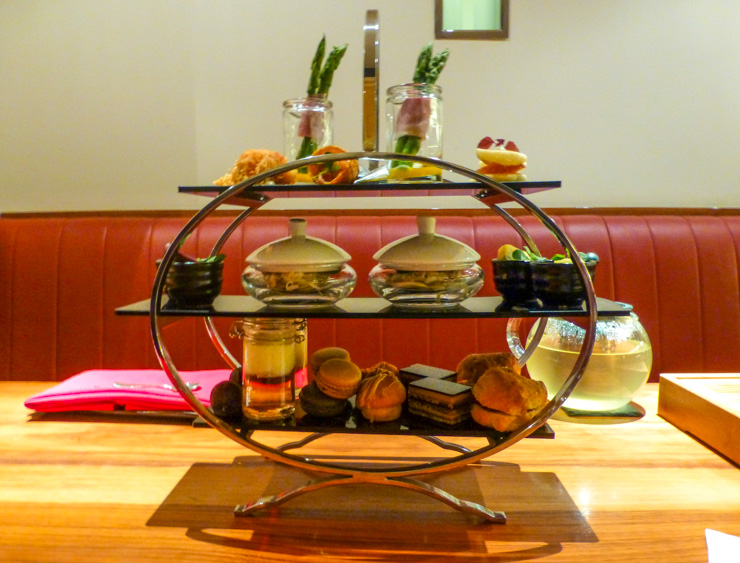 As for drinks, the tea selection was quite extensive and the experience ended with a cocktail; I chose the yummy cucumber cup made with gin, elderflower liqueur and muddled cucumber.
Psssst…Follow me on Instagram for more travel inspiration and tips! 🙂
[instagram-feed]
Where to Eat in Dublin
In addition to the above mentioned restaurants at Fitzwilliam Hotel, I had some other delicious and memorable meals in Dublin.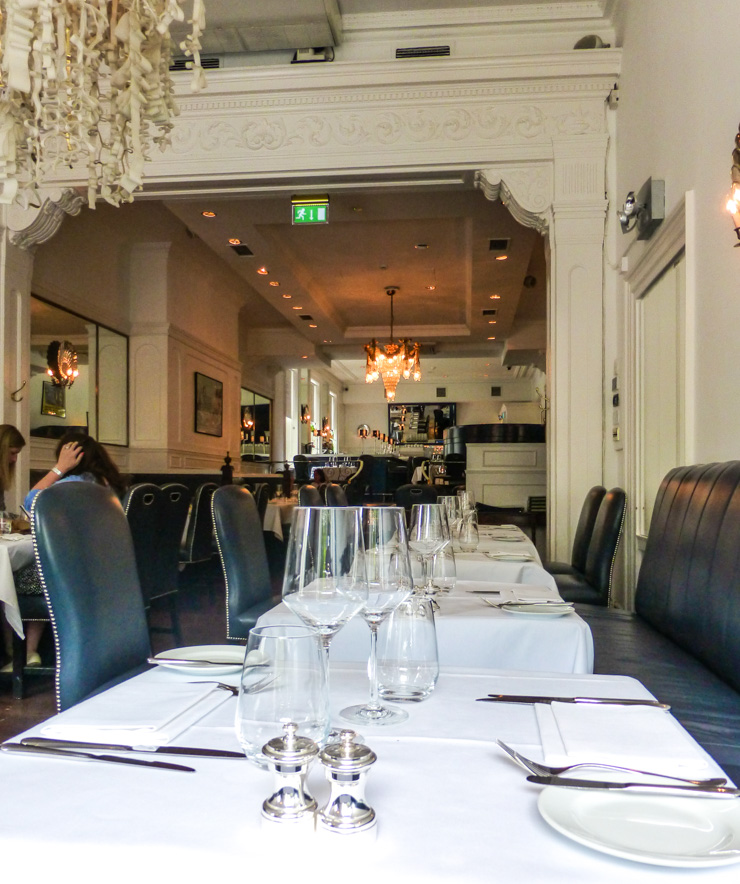 First off, this dining room is just stunning. I felt like I'd walked into a condensed, cozy version of Santorini with the blue and white decor that pulled in lots of elements of the sea. The ocean theme was fitting since the restaurant of the Cliff Townhouse (which also looked like a fabulous place to stay while in Dublin if you like smaller, boutique accommodations) focuses on seafood.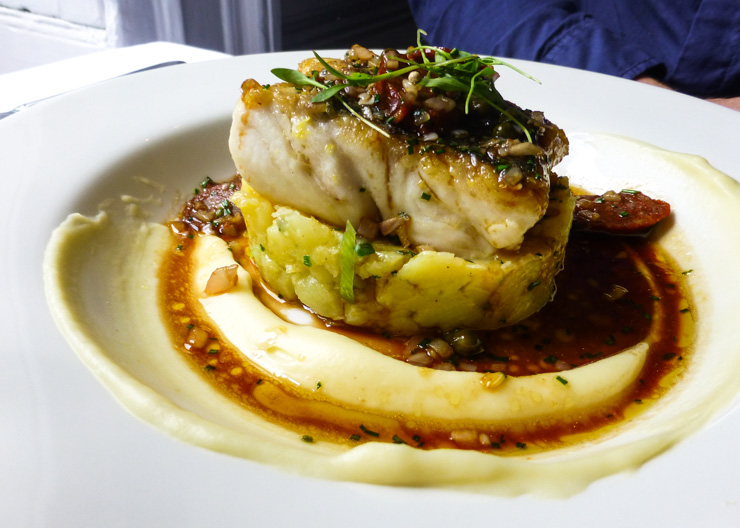 Highlights of my meal included a smoked salmon marinated in beetroot; the seafood pie that included fresh cod, trout, haddock, and prawns; and the raspberry frozen yogurt dessert that had a surprise addition of pop rocks on top! I couldn't stop giggling while eating it. After such a sophisticated meal, it was fun to end it by feeling like I was ten again for a few minutes. Be sure to make a reservation for dinner as Cliff Townhouse fills up quickly.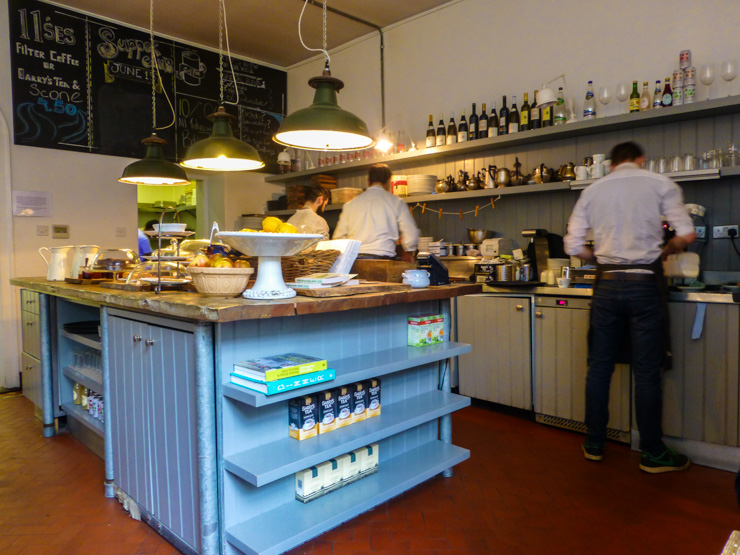 Even if you're not a breakfast person or even if your hotel includes breakfast, do yourself a favor and get yourself over to Hatch & Sons Irish Kitchen one morning while you're in Dublin for its Irish breakfast. Not only is the ambiance totally cottage chic located in a basement floor of one of the townhomes lining the perimeter of St Stephen's Green next to the Little Museum of Dublin, Hatch & Sons is also simple, delectable deliciousness. Plump bacon and juicy sausage was mixed in with perfectly poached eggs. It sounds basic and boring, but it was soooo flavorful and savory, especially with one of the craft salts on the table sprinkled on top. Plus, the presentation was just darling.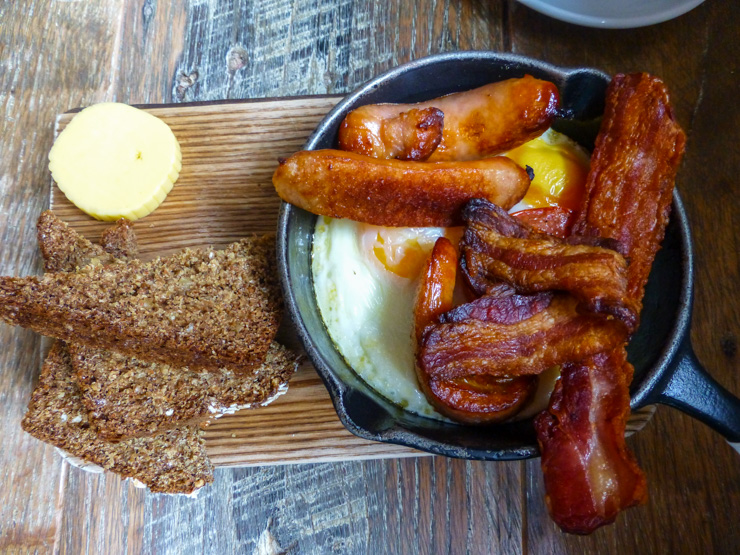 To be honest, the food here was pretty average. But, the experience of the storytelling dinner definitely made it stand out. Brazen Head's storyteller was animated and easy to understand, and I was totally amazed by how raptly she kept both my attention and my husband's as she regaled us with stories of folklore and fairies from Ireland's past. Afterward, the bar area downstairs was fun to get a drink in since it had live music, a charming patio, and is, after all, supposed to be the oldest pub in Dublin.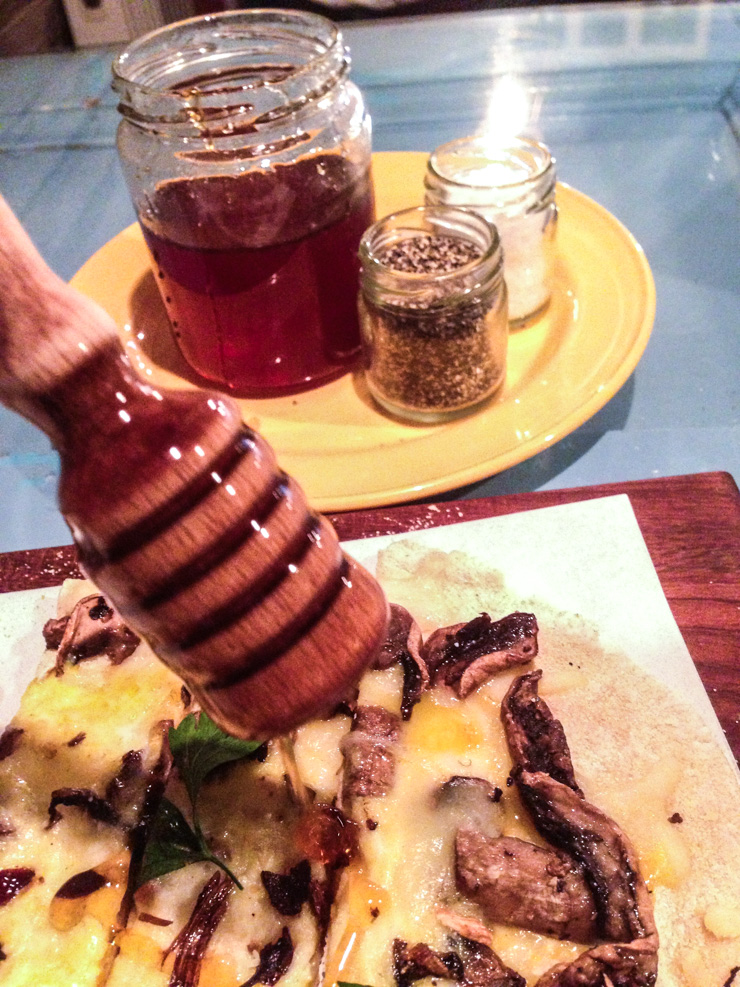 This eatery is tucked away along a side street of Dublin and feels both hip and welcoming at first glance. Craft beer is available and Skinflint's specialty is pizza. The toppings are pretty gourmet with ingredients like smoked pimenton, golden raisins, serrano ham, blue cheese and lots more. This in itself sets the pizza apart, but then…it's brought out with honey. I had never put honey on my pizza before. Let me tell you — it elevates a slice of pizza into new levels of deliciousness.
Don't forget to download my helpful Dublin Transportation Cheat Sheet!
Dublin Transportation Cheat Sheet
Get my free Dublin Transportation Cheat Sheet sent to you now by entering your email below. This helpful 2-page document tells you the best ways to get to and around Dublin.
Visiting other areas of Ireland during your trip? You may find these articles helpful:
One Day in Limerick
From the Cliffs of Moher to Castles: What to See in the Irish Mid-west
Best Ways to Experience Irish Music in Ireland
A Floating Body in Kilkenny
Foynes Maritime Museum: Tour a Flying Boat and Make an Irish Coffee
Found this information helpful? Pin it again for later!
Note: I was provided discounted or complimentary accommodation and meals at Fitzwilliam Hotel, Cliff Townhouse, and Skinflint, but — as always — all opinions are completely my own. 
This article was originally published on June 2, 2014 and updated after my July 2016 trip to Dublin, Ireland.