One Day in a City Itinerary: Amsterdam, the Netherlands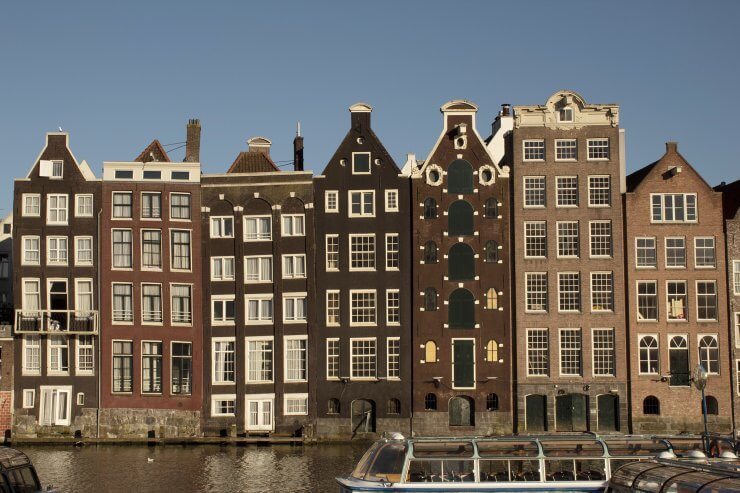 With delightful canals and adorable crooked houses, Amsterdam is a popular place in Europe to spend a day. From historic courtyards to the infamous Red-Light district, there are plenty of interesting attractions and many cool things to do in this town even if you have just one day in Amsterdam.
However, this can make it hard to know what to do if you are short on time in Amsterdam.
We're here to help. If you're heading to the Netherlands and only have one day in Amsterdam, keep reading this post to know what are the main attractions that you just can't let pass.
You also may enjoy reading: Best Things to Do on a Day Trip to Giethoorn From Amsterdam
One Day in Amsterdam Itinerary
Before I get into the detailed itinerary, here's a recap of what you'll find below and (in case you're the type who likes lists!) a quick list of my top recommendations for what to do in Amsterdam.
Enjoy Breakfast Eating an Amsterdam Delicacy
The key to enjoying a full day in a city is to get up early. So, start your day at the Winkel 43 for the best apple pie in Amsterdam. Apple pie is something taken very seriously in the Netherlands and this place is famous for having delicious pies. If you decide to come here later in the day know that it may be crowded, but maybe you can order to take away and eat it as you explore the city. A little energy is always welcome, right?
Visit the Anne Frank House
Near Winkel 43 is the house where Anne Frank's family and another Jewish family hid from the Nazis. Yes, right there in the center of Amsterdam. Needless to say that this place is moving and it gets to you. They display the original diary, other diaries she had, videos, as well as audio. Anne Frank's manuscripts are a part of the UNESCO World Documentary Heritage.
On the last floor, you'll reach their claustrophobic hiding place. The secret annex is partially refurbished, but you get the feeling of how horrible it was to live there as you have to wait for other people to move along so you can walk. The secret annex is tiny,, but still also relatively large, compared to most hiding places found across Europe.
Important to remember: it is not allowed to take pictures inside the house.
One Day Tip: More than 1.2 million people visit the Anne Frank House every year, so in order to avoid long queues they sell tickets online. Even if they start selling at the museum, my advice is to buy it online anyway. I went there twice and in both times I waited in the cold and rain for over an hour.
Dedicate Some of Your Day to Wandering the Amsterdam Canals
Time to relax a bit. One of my favorites thing to do in Amsterdam is totally free! To wander. Yeah, just wander along the Canal Ring, a UNESCO Heritage Site, by the way. Stroll and appreciate the view of the sweet crooked houses and plenty of houseboats along the way. The Canal Ring includes the following canals: the Singel, Herengracht, Keizersgracht, and Prinsengracht.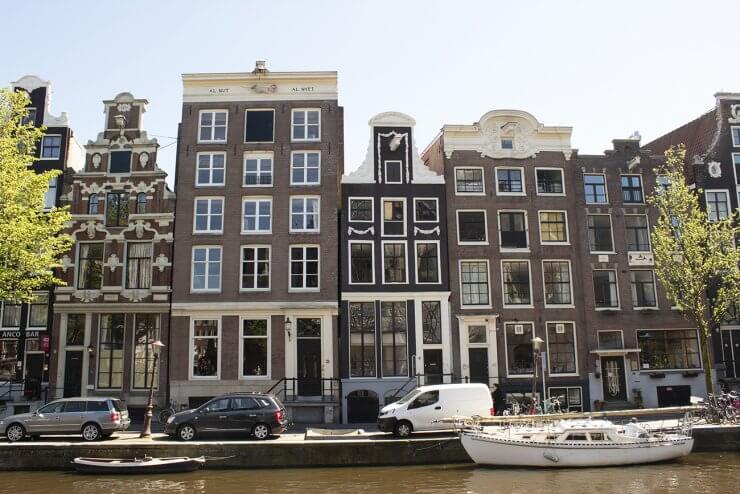 Museum Square
Head to one of the liveliest squares in the city, the Museum Square! If you're hungry, grab a bite at one of the "automatic" machines for food located in the square. The Febo chain is fairly famous in the Netherlands and you can just put your coins into it, open the little door and take your snack. As simple and fast as that.
So, back to the itinerary! You'll find four excellent museums in this square and I'm sure one of them will please you.
One Day Tip: I suggest you choose just one museum since you only have a day in Amsterdam and that will give you more time to explore other parts of the city.
Here are some additional tips about each of the four museums to help you decide which one to visit.
Van Gogh Museum
My favorite museum in the Netherlands, by far, is this one – the Van Gogh Museum. Imagine seeing Van Gogh's originals with your own eyes! His painting "Almond Blossoms" is just brilliant, in my opinion.
It's difficult for me to choose one highlight, so I'll mention a few: the above mentioned Almond Blossoms as well as Sunflowers and The Bedroom.
On the ground floor is the museum's shop. It can totally drive you crazy with so many sweet souvenirs and cool things to buy. If you want to see everything, reserve 1.5/2 hours.
Ps: I couldn't resist, so I bought a 1,000 pieces puzzle of Almond Blossoms.
Van Gogh Museum Ticket Price: 18 euros
Rijksmuseum
The national museum is open after a 10-year reform and it certainly doesn't disappoint you. The Rijksmuseum is huge (reserve 3 hours and you won't see everything yet).
The facade is one of the best photo hotspots in Amsterdam, so if you're into photography, don't forget your camera!
Plenty of Dutch, Egyptian, and Asian art, are showcased in the Rijksmuseum, among others. The highlight though is the Night Watch from Rembrandt, a Dutch painter. This is probably his most famous art piece and it is fairly big, measuring in at 3.63 m x 4.37 m/ 12 ft x 14 ft.
Fun fact: Look for Rembrandt in the middle of the painting, between a guard with an iron helmet and a man in green.
Rijksmuseum Museum Ticket Price: 17.50 euros
Stedelijk Museum
Modern art lovers will find a special place in this museum. The Stedelijk Museum showcases not only modern, but also contemporary art pieces, furniture, photography, and video art. It's an interesting place for sure, as the walls and museum's disposition give you the feeling you're in an urban environment.
Stedelijk Ticket Price: 17.50 euros
Moco Museum
Street and pop art fill the rooms of this peculiar, interesting museum. The Moco Museum showcases the work of contemporary artists like Roy Lichtenstein and Banksy. Yeah, THE Banksy.
His work and the critiques he makes on political and social aspects by creating simple yet impressive graffiti are just amazing. A real eye-opener.
Among the museum's highlights are the Girl with Balloon, Flower Thrower, and Barcode.
One Day Tip: The same rule applies here. Buy your tickets online and skip the lines, or arrive at the end of the afternoon. It will probably be not so crowded around 5pm.
Moco Museum Ticket Price: 12.50 euros
Begijnhof for Some Peace and Quiet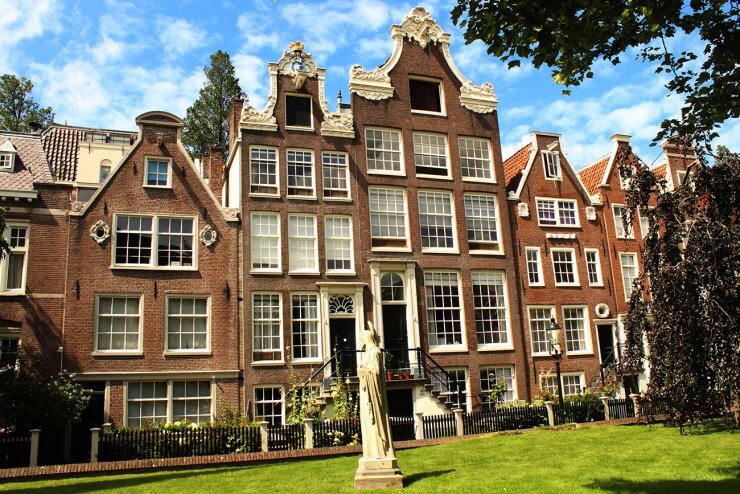 Now, before reaching the next attraction, escape the hustle and bustle of Amsterdam for a few minutes. Head to the quiet Begijnhof, a beguinage next to one of the busiest streets in the city, but yet a calm and peaceful place.
The Begijnhof enchanted me the first time I came here, and every time I need somewhere to rest my mind, I come here.
Not that it's empty. Oh, no! Many tourists come here to take photographs, but it's much quieter than the rest of the city. There are two churches in the Begijnhof, as well as residential houses, so remember to not talk loudly and respect their privacy.
Red-Light District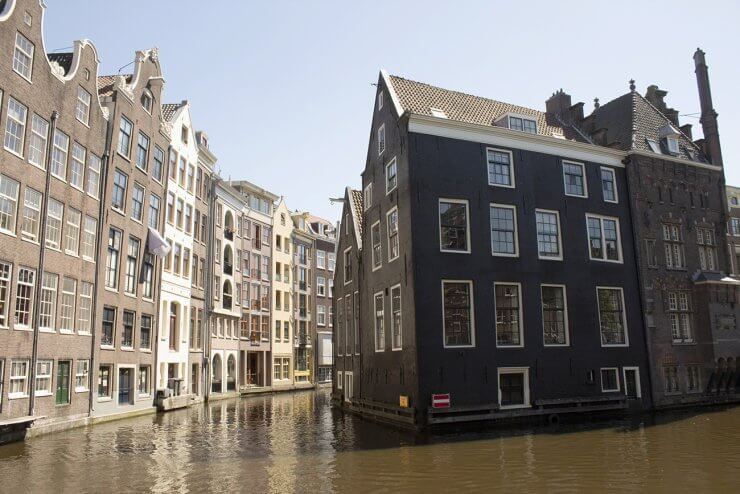 Next up for your one day in Amsterdam is to go to Amsterdam's most popular area: the Red-Light District. It may sound crazy that I'm sending you to a red light district right after you walked by a beguinage, but this area is also gorgeous and it's worth the visit. Definitely!
The Red-Light is the oldest area in Amsterdam and it's perfectly safe (although pickpockets are a global reality, so watch out for that). This area also shows a little bit of what it is like to live in the Dutch capital: an open-minded city, where a lot is tolerated, but it's also controlled by many rules.
Full of stores dedicated to the art of sex as well as explicit "theatres", the red light is not a taboo in the Dutch society, but it's not their pride either.
It's a photogenic area, if you ask me; I love to take photos of the Old Church and the canals, and such shots that you should take yourself as well, but never (EVER) take photos of the girls. This is the biggest rule here. If they think you're pointing the camera at them, they'll call their security and you may see your camera fly into the canal. Apart from this rule, my advice is just to wander around and appreciate the striking architecture of the old Amsterdam, and the quirky stores.
Don't Miss Amsterdam North
To see a different side of Amsterdam during your day there, head to the Central Station and take the (free) ferry heading to NDSM, a former shipyard, behind the station. There you'll find a gorgeous graffiti of Anne Frank, made by the Brazilian artist Kobra, on the walls of NDSM.
Hungry already? There is a hip restaurant called Pllek inside a ship container by the water's edge. I can assure you that if the weather is nice, you'll probably never want to leave this place.
If the weather isn't nice, I recommend you take the other ferry, the one to the Eye Filmmuseum, and have some drinks in the bar of this museum. The view of the Central Station is pretty amazing from there, especially at night.
One Day Tip for Adventure Seekers in Amsterdam: Looking for some adventure in the city? Then go up in the building next to the Eye Filmmuseum, the A'DAM Lookout, and swing in the highest swing of Europe. If you do, prepare your camera and look up in the elevator. 😉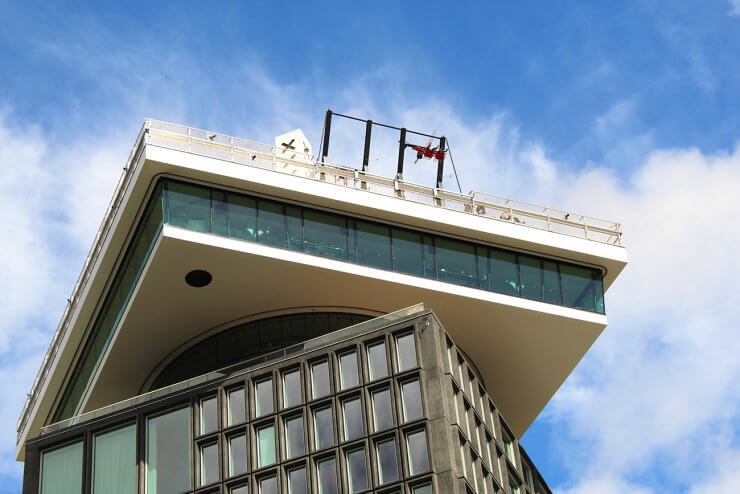 One day in Amsterdam is certainly not enough to completely see and feel the city, but I'm sure you can have a lot of fun and surprise yourself with the beauty of this place if you follow this guide.
So now tell me, is there any other special place in Amsterdam you were planning to visit or that you've heard of? Drop your answers in the comments!
About the Author: Bruna is the voice behind the travel blog Maps 'N Bags. Her blog focuses on providing travel tips to help other travelers discover the world as well, including this post about day trips from Amsterdam if you find yourself with more time in the Netherlands. She has been to many countries and cities across the globe and has plenty of travel hacks to share! Apart from her blog, she is also passionate about beer, coffee, laughing, animals, photography…the list is long! Learn more about Bruna on Maps 'N Bags. You can also follow her adventures on Facebook and Instagram.
Enjoyed this post? Pin it to read again later!