How to Spend the Perfect 24 Hours in Edinburgh
As Scotland's capital city, Edinburgh is filled with history and culture. Harry Potter fans will also love that it's where the series all started. Though there is so much to see and do in Edinburgh, you can still make the most of your time even if you only have one day in Edinburgh.
In case you have one night as well, I'm sharing my 24-hour itinerary on the hot spots to hit in Edinburgh below, plus transportation tips.
One Day in Edinburgh Itinerary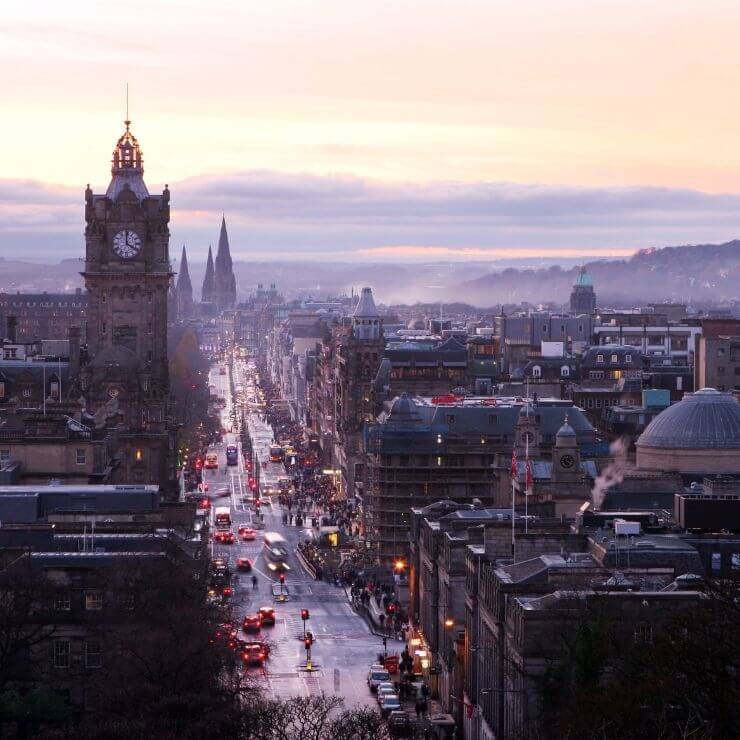 My Edinburgh itinerary will have you starting your day at Edinburgh Castle and ending it with an incredible dinner, while experiencing lots of other Edinburgh attractions in between! Let's begin.
Edinburgh Castle
The Edinburgh Castle is one of the most exciting and historic sites the city has to offer and is a great place to start your day in Edinburgh. It's the most famous of Scottish castles and the oldest part of the castle was built back in the twelfth century.
Edinburgh Castle is home to the Honours of Scotland, the Stone of Destiny, and the National War Museum of Scotland.
If you want to see the famous firing of the one 'o clock gun, which occurs every day except Sundays, switch this up with Princes Street (the next section of this itinerary below) and head to Edinburgh Castle after lunch instead.
You can purchase your tour tickets for Edinburgh Castle online in advance to guarantee the best prices and times. Tours of the castle are offered in English, French, German, Spanish, Italian, Japanese, Russian, and Mandarin. The tour is well worth it; you won't want to miss Scotland's number one paid tourist attraction.
Scottish National Gallery
A quick walk from Edinburgh Castle is the Scottish National Gallery, which is one of Scotland's top free attractions for visitors. The Scottish National Gallery houses Scotland's gorgeous collection of fine art dating back to the Renaissance all the way to the 19th century.
It should only take you an hour to view the beautiful artwork crafted by artists like Monet and Van Gogh. If you're bringing children along, they'll be able to participate in an interactive storytelling session. You can also take a drawing class for yourself if you find yourself with extra time in Edinburgh.
End your gallery tour with some delicious coffee and cake at the Garden Cafe in the Scottish National Gallery. It's an award-winning Scottish cafe and uses local growers to provide its food. You'll be enjoying your refreshments all with a view of Princes Street Gardens.
To remember your tour, you can purchase a souvenir from the gallery shop.
The Scottish National Gallery is the perfect one-hour experience during your day in Edinburgh to get a taste of Scottish art.
Princes Street
Looking for the best shopping and restaurants in all of Edinburgh? Look no further than Princes Street! You'll also get the perfect view of Edinburgh Castle too.
Along Princes Street, you'll be able to find some popular UK shops, such as Boots and H&M, as well as the bargain shops like Primark and Poundland.
You can get a bite to eat at any of the nearby cafes when you're ready for lunch.
Besides the view of Edinburgh Castle, this street is home to several more historic sites, such as the Scott Monument. This is the perfect place for a photo op, too.
When you're worn out from a few hours of shopping and sightseeing, you can take a rest at the Princes Street Gardens: Lay in the perfectly green grass, check out the war memorial and admire the gorgeous floral clock.
If you're visiting in the winter, Princes Street Gardens even turns into a Winter Wonderland with a Christmas Market and Ice Rink.
Holyrood Palace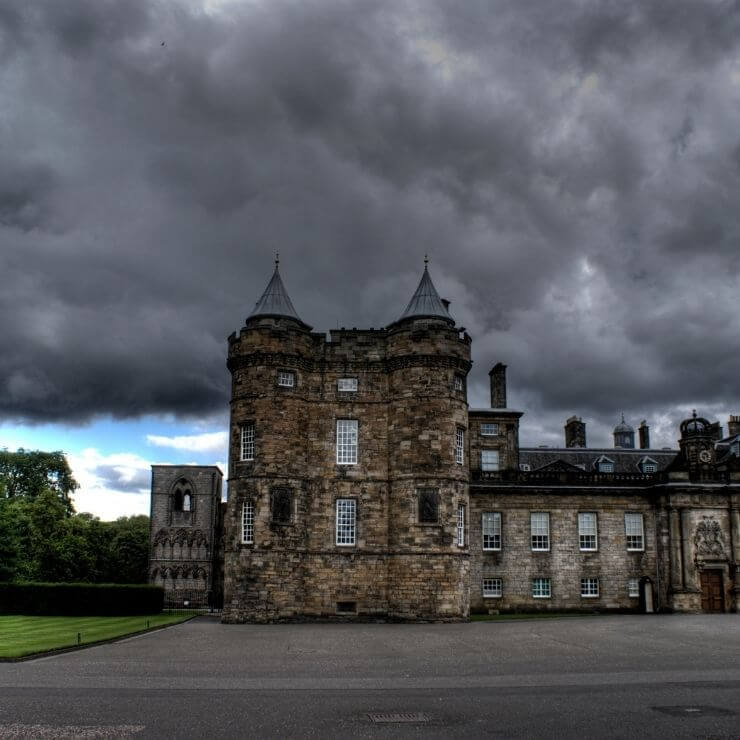 If shopping isn't really your scene, do a quick walk down Princes Street just to check it out and then head to Holyrood Palace.
It's about a mile walk to get to Holyrood Palace from Princes Street and Edinburgh Castle, hence the nickname the Royal Mile that was given to this stretch of road in Edinburgh.
The walk takes about 25 minutes, but along the way you'll pass historic sites, including the St. Giles Cathedral and the Edinburgh Dungeon, plus see the modern Scottish Parliament.
As for Holyrood Palace (officially called Palace of Holyroodhouse), it is the residence of the British Monarch when she is in Scotland and is a grand sight to behold.
Heart of Midlothian
Also along the Royal Mile is a unique piece of Scottish history: the Heart of Midlothian.
The Heart of Midlothian is a beautiful mosaic located right outside of Edinburgh's St. Giles' Cathedral. The heart marks where the entrance of Edinburgh's Old Tolbooth was, which was demolished in 1817.
Edinburgh locals will often spit on the heart, claiming it as a sign of good luck. The Old Tolbooth used to be a prison and execution site, and locals spit on the mosaic to represent their hatred for the prison that was once there. Although it used to symbolize such a negative meaning, the spitting is seen as bringing good luck and fortune.
The Edinburgh football team Heart of Midlothian F.C. is named after this mosaic as well. With all the hustle and bustle around the city, don't miss viewing the Heart of Midlothian even if you have just one day in Edinburgh.
Camera Obscura
Camera Obscura & World of Illusions is a huge tourist attraction in Old Town Edinburgh. This attraction houses more than one hundred interactive exhibits in a 6-story building overlooking the city. It's also Edinburgh's oldest purposeful building and tourist attraction!
Within its "World of Illusions" you can view optical illusions, solve puzzles, and even go through a mirror maze and a vortex tunnel. Besides being a tourist attraction, Camera Obscura is a learning center about illusions and photography.
A visit to Camera Obscura is a great way to get your brain going for a few hours at Edinburgh's oldest tourist attraction.
The Elephant House
Are you a huge Harry Potter fan? Head to the Elephant House in Edinburgh, and you can enjoy some gourmet coffee, tea, and refreshments right where J.K. Rowling wrote her books!
The Elephant House also famous as a place of inspiration for several other authors who wrote novels there. If you use the cafe's restroom, you'll find the walls covered in graffiti notes with Harry Potter quotes and thank you messages to the author.
The Elephant House sells merchandise such as t-shirts, mugs, and badges labeling itself as the birthplace of Harry Potter. You'll also see a wall covered in newspaper articles and photos of J.K. Rowling, including some that she even signed herself.
You definitely won't want to miss this popular coffee and tea house during your 24 hours in Edinburgh if you're a Harry Potter fan.
Candy Bar & Diner
Don't eat too much at the Elephant House, because next on my Edinburgh itinerary is theCandy Bar & Diner on George Street where you'll find tasty cuisine and sweet treats.
The Candy Bar & Diner has a huge menu to peruse, from sizzling fajitas to big burgers. The service is always fast and friendly and their food is affordable. If you're there on a weekend night, you can show off your dance moves with their resident DJ.
In addition to its 14-page food menu, the Candy Bar & Diner has fun candy-themed cocktails you can try. I had a popsicle in my prosecco, and that was the most fun cocktail I've ever had!
Nightlife in Edinburgh
If you're looking for some late night drinks, head to the Grassmarket area of Old Town, where you can have drinks in pubs or go dancing in clubs while surrounded by buildings dating back to Medieval times.
You might also enjoy reading:
One Day in London
One Day in Manchester
One Day in Dublin
Edinburgh Transportation Tips
If you don't want to drive around Edinburgh, you can easily get around by walking or public transport. If you're already in Edinburgh for the day, you can easily plan your journey around the city with Lothian buses.
If you're traveling from outside of Edinburgh, I'd suggest planning a bus route with First Group. Airlink 100 also services 24-hour bus routes to the airport.
If you prefer to travel by taxi, there are over 1,000 black cabs that can be hailed within the city center. Though if you're just traveling within the Edinburgh city center, I would strongly suggest walking to your next destination. You'll be able to make quick pit stops into shops, restaurants, and just take in the views on your journey.
Enjoy Your Day in Edinburgh
Ultimately, getting around Edinburgh in 24 hours isn't as intimidating as it seems. Although there are a ton of things to do, you'll be able to get through each attraction in an hour or two. You'll have room to fulfill everything on this list before your time is up. Be sure to take in Scotland's gorgeous views and landscapes while you're at it!
Found this article helpful? Pin to read again later!
About the Author: Dani is a 24-year-old travel & style blogger from Orlando, Florida. She aims to create helpful content for the daily woman to feel empowered through travel, fashion and beauty. Her dream is to travel to central Europe one day and write about her experiences there. You can follow her adventures on her blog, dailywithdani.com, or on Instagram.